Fresh Blueberry Coffee Cake Recipe ~ Delicious, Moist Blueberry Coffee Cake Loaded with Fresh Blueberries Bursting with Flavor then Drizzled in an Almond Icing!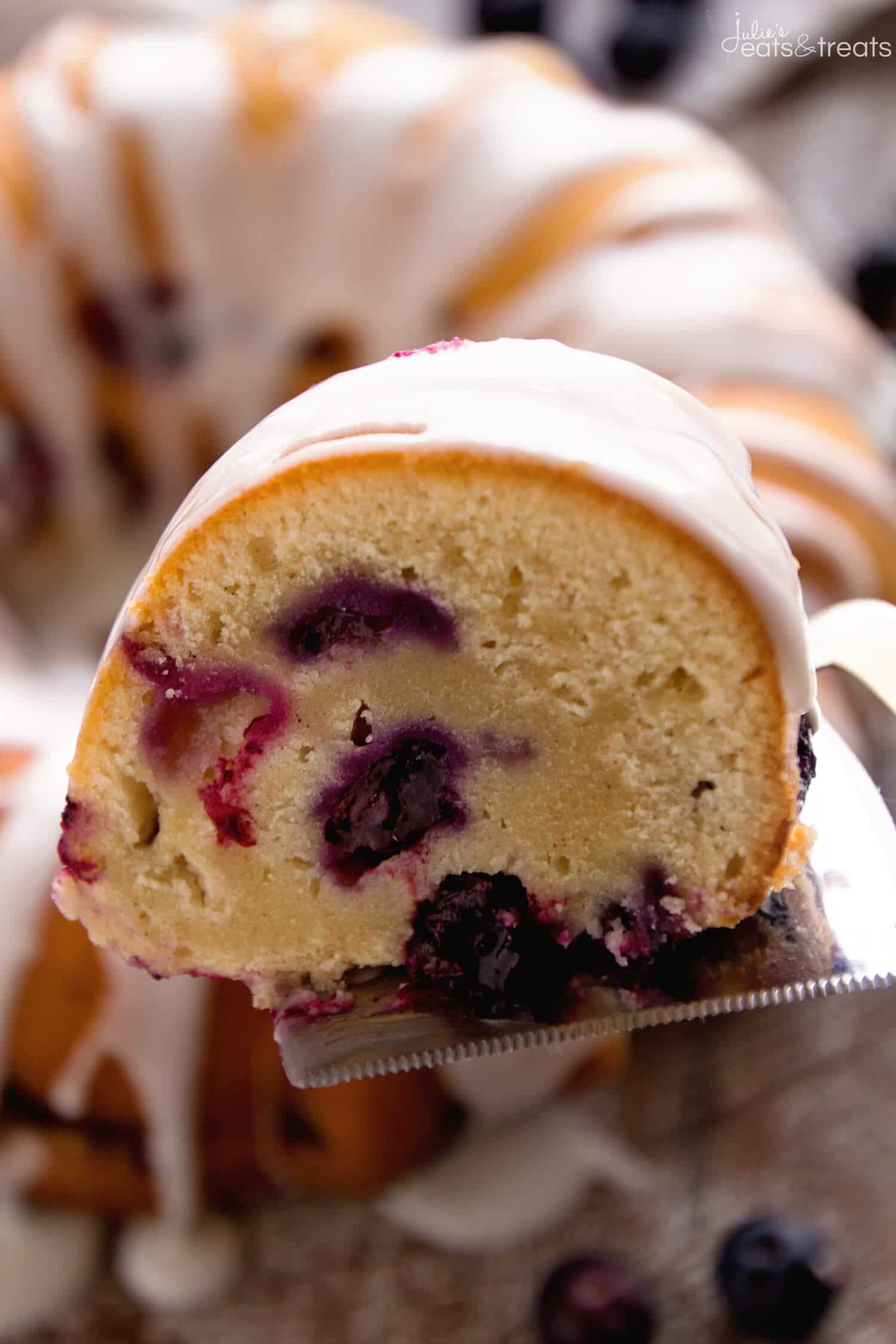 Is it bad that I am enjoying the fact that my husband is out of town for work tonight? I've gotten so much accomplished and it's been so nice and peaceful. I think I might be an awful wife for thinking this thought. Please…oh please….tell me I'm not.
I'm a rather independent person and I have to admit getting married was quite the adjustment for me. We are coming up on our one year anniversary and I can't say there haven't been a few bumps in the road. I love my husband dearly but sometimes two people just have differences. I'm hoping a few of you can relate to this. I lived alone for three years before getting married. We did not live together before we got married. I'm not on a soapbox about this subject but we just decided we were not going to. I'm glad we didn't because we were excited about this aspect and it was truely a treat to get married and be able to live together. Well a treat most of the time that is. I had a big adjustment factor. I was used to coming home and the house was clean, just as I had left it. The cupboards were stocked, just as I had stocked them. The bathroom was neat and tidy, just as I had left it. Boy was my world rocked when I came home and nothing was as I had left it. There were a few, or a lot, of not so pretty moments as I learned to try to relax, something I admit I'm not great it, and let the small things slide. We've come a long ways but I'll admit sometimes I need some me time to relax and get things accomplished.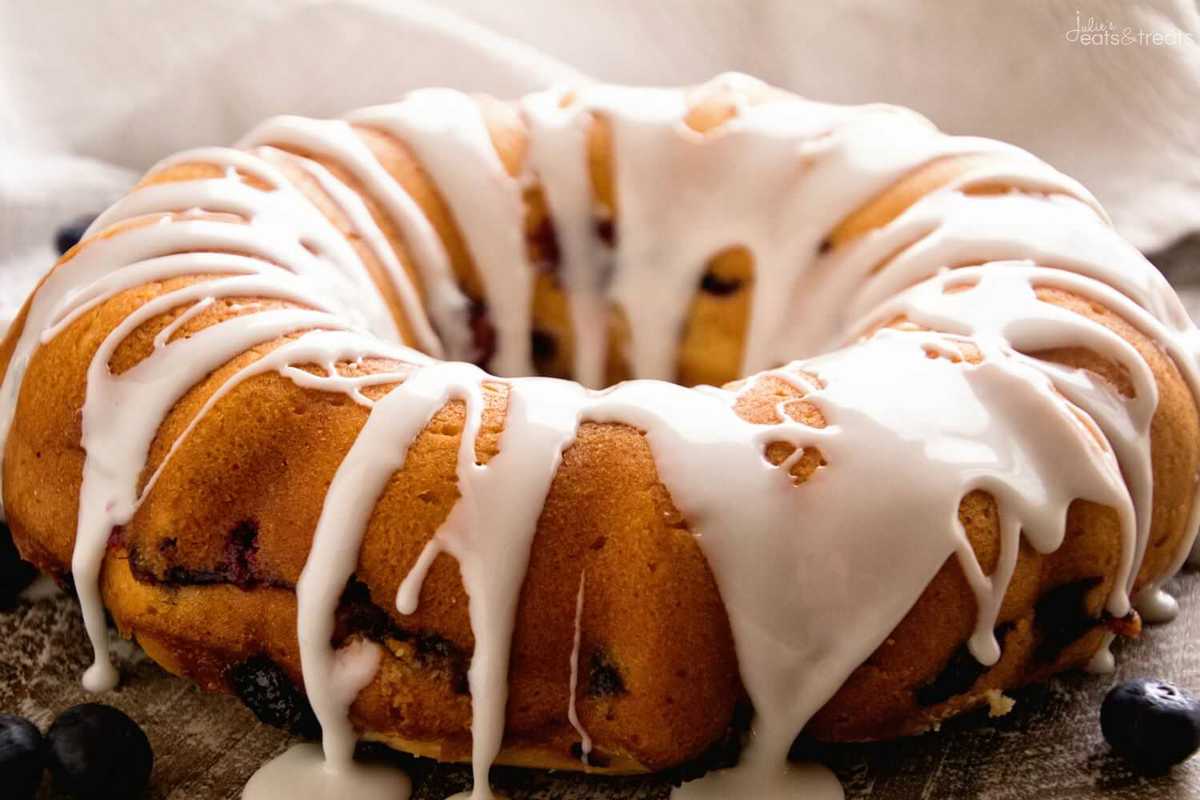 The hubby is actually building a cabin about an hour away and will be gone during the week for the next month for sure and I'm thinking it might be good to have time to miss each other and look forward to seeing each other just like we used to when we lived an hour apart. It might be like dating again. I think when we get married we lose a little bit of something special. I miss that excitement and thrill of looking forward to seeing each other and spending time together. The hubby being gone a bit just might be a positive thing in our relationship…I'm going to say that I miss my hubby already even though I did get a lot done. There's no one here to give me that hug when I get frustrated or tease me about something stupid I did (not that it happens often at all!).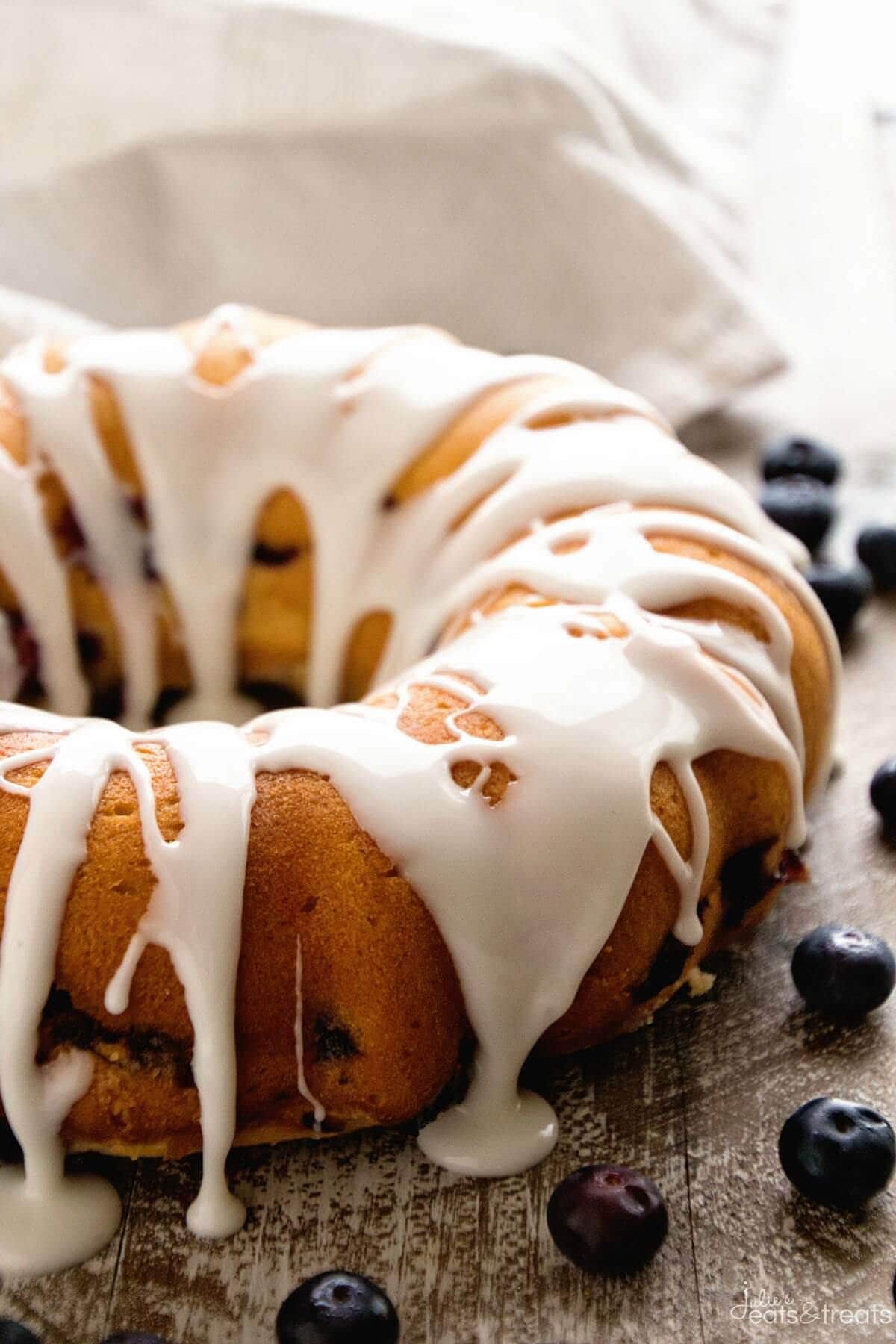 Whoa…I think I got off on a tangent there! Now for the recipe I'm going to share with you. It's blueberry season and I had to pick up a few cartons of blueberries when they were on sale at the grocery store. The hubby isn't a blueberry fan so the coworkers got treated to this recipe. It's a very delicous coffee cake and I would describedthe texture more like a pound cake than light and fluffy. The hubby did try a piece and he said it was pretty good for being blueberry. He thought that maybe I could subsitute strawberries because he really liked the plain part of the cake. The coworkers were dashing into the kitchen to grab a piece after I let them know it was in there. One even emailed me while she was eating it to tell me how good it was! Enjoy!
If you love this recipe you will love my Crumb Cake, too!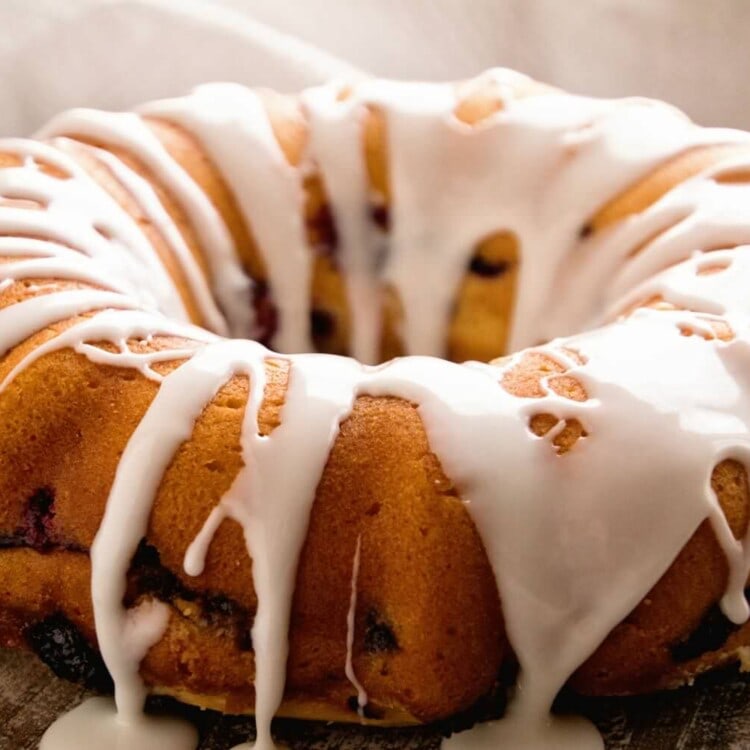 Fresh Blueberry Coffee Cake
Fresh Blueberry Coffee Cake Recipe ~ Delicious, Moist Blueberry Coffee Cake Loaded with Fresh Blueberries Bursting with Flavor then Drizzled in an Almond Icing!
Ingredients
Cake
1 1/2

c.

fresh blueberries

1 1/3

c.

white sugar

divided

2

Tbsp

cornstarch

1/2

c.

butter

softened

2

eggs

2

c.

flour

1/2

tsp

salt

1

tsp

baking powder

1

tsp

cinnamon

1

c.

sour cream

1

tsp

almond extract
Glaze
1 1/2

c.

powdered sugar

1-2

Tbsp

milk

1

tsp

almond extract
Instructions
Preheat oven to 350 degrees F. Grease tube or bundt pan.

In a small saucepan, combine blueberries, 1/3 cup sugar and cornstarch. Cook over medium heat 2-3 minutes, or until thick. Stir constantly and set aside.

Cream butter and sugar. Add eggs one at a time, beating well after each until light and fluffy.

Combine flour, salt, baking powder and cinnamon. Add to creamed mixture alternately with sour cream. Add almond extract and mix.

Spoon half of mixture into prepared pan. Spoon half of blueberry mixture into pan. Add remaining batter, then blueberries. Swirl with a knife gently.

Bake 50 minutes. Let stand 5 minutes before removing from pan. Place on a serving dish.

Prepare glaze: Mix glaze ingredients. Add milk until it reaches desired consistency. Drizzle over top of cake.
Nutrition Information
Serving:
1
,
Calories:
505
kcal
(25%)
,
Carbohydrates:
92
g
(31%)
,
Protein:
5
g
(10%)
,
Fat:
13
g
(20%)
,
Saturated Fat:
7
g
(44%)
,
Cholesterol:
58
mg
(19%)
,
Sodium:
196
mg
(9%)
,
Potassium:
144
mg
(4%)
,
Fiber:
1
g
(4%)
,
Sugar:
58
g
(64%)
,
Vitamin A:
425
IU
(9%)
,
Vitamin C:
3.1
mg
(4%)
,
Calcium:
57
mg
(6%)
,
Iron:
2.1
mg
(12%)
Updated 4/27/16
Recipe Slightly Adapted From: Recipe Girl
Things You Might Need for this Recipe!