These little devils are heavenly. I mean melt in your mouth amazing.
I was quickly informed by my hubby that these are a "keeper". I'm so glad he's starting to talk to my language and quickly informs me what his thoughts are about a recipe.
The best part about these bars is it's all common ingredients that I usually have on hand, so when I need to whip up a quick patch of bars at a moments notice I have the ingredients and they are so super duper easy. Plus they taste amazing so you can't really go wrong!
The recipe says you can freeze them and they never get hard so you can just grab and go at anytime. I can not say that any of our bars made it to the freezer so I can't assure you this works but I would think it would!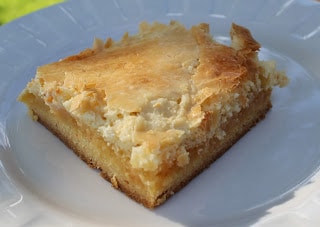 Gooey Butter Bars
Printer Friendly Recipe
Ingredients
Crust
1/2 c. butter, melted
1 egg
1 pkg yellow cake mix
Filling
2 eggs
3 1/2 c. powdered sugar
1 (8 oz) pkg cream cheese, softened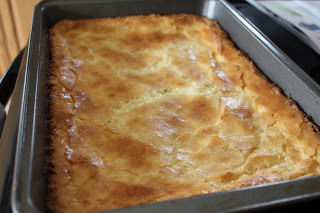 1. Mix crust ingredients together and pat into bottom of greased 9×13 inch pan.
2. Beat together filling ingredients and spread on top of crust.
3. Bake at 325 degrees for 45 minutes.
*May freeze. They don't get hard in the freeze, so you can grab at anytime!