Peanut Butter Balls with Rice Krispies
I'm stuck. On dessert. Have you noticed?
Don't worry I've ate other meals, but nothing worth writing about it. It seems like I'm a on a cooking block…instead of writer's block. Nothing is scrumptious enough to share with you other than my tried and true recipes. Wish me luck on getting out of my slump!
This yummy little Goof Balls are addicting. Terribly addicting. I always make them for Christmas, but I should really make them more often, or not. The thing is … they'd go straight to my hips. My hips are plenty big as it is so I might ban them to Christmastime.
The recipe originates from my Aunt Cheryl. She's a master in the kitchen. I knew I "had" to have the recipe when I had them the first time. She also makes one wicked apple pie. I have that recipe yet.. but I have yet to attempt that one. Pies scare me. I need to embrace them and get over my fear. Someday a pie might just show up on this little old blog if you are lucky!
If you like this recipe you might like my Oreo Balls, too!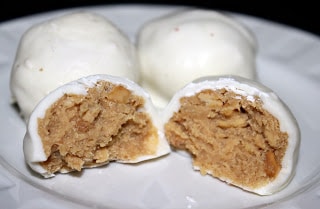 Goof Balls
Printer Friendly Recipe
Ingredients
1/4 lb soft butter
2 c. crunchy peanut butter
2 c. powdered sugar
3 c. Rice Krispies
12 oz semi sweet choc chips or chocolate almond bark
1 tbsp Crisco
1. Combine butter, peanut butter, powdered sugar and Rice Krispies. Chill 1 hr.
2. Form mixture into balls the size of a walnut. Melt chocolate chips or almond bark with the Crisco in a double boiler (you can microwave this also). Dip balls into chocolate mixture.
3. Set on waxed paper. Store in refrigerator.