Peanut Butter Balls with Rice Krispies
Peanut Butter Balls with Rice Krispies are an easy no-bake candy for Christmas! The sweet chocolate coating pairs perfectly with the crunchy peanut butter middle. These are a delicious sweet and salty treat that can't be resisted.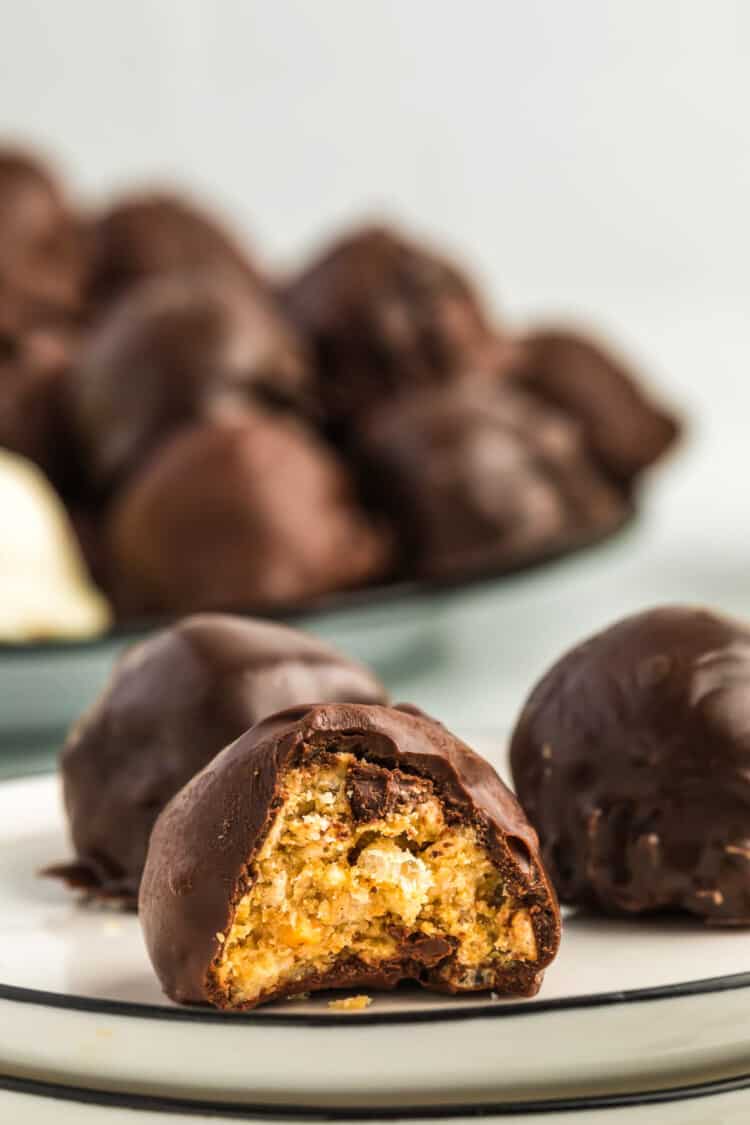 Peanut Butter Balls with Rice Krispies, which my family lovingly refers to as Goof Balls, are quite possibly the most addicting treat you'll make this holiday season. They're quick, easy to whip up, and make perfect gifts, or goodie bags.
This recipe was passed onto me by my Aunt! After just one taste, I was hooked and simply needed to know how to make them. And with her blessing, I'm happy to pass on a traditional Christmas sweet from my family to yours.
What are Peanut Butter Balls with Rice Krispies
Think of a traditional Buckeye candy that's made with crunchy peanut butter plus Rice Krispies then dipped fully in chocolate! Perfectly sweet and salty!
Why You'll Love These Crunchy Peanut Butter Balls!
You'll achieve impressive results with only a handful of ingredients.
Easily scalable recipe means you can make however many you need: whether you're feeding a whole party or just your family.
Make these Goof Balls ahead of time and store them in your freezer for whenever a sugar craving strikes.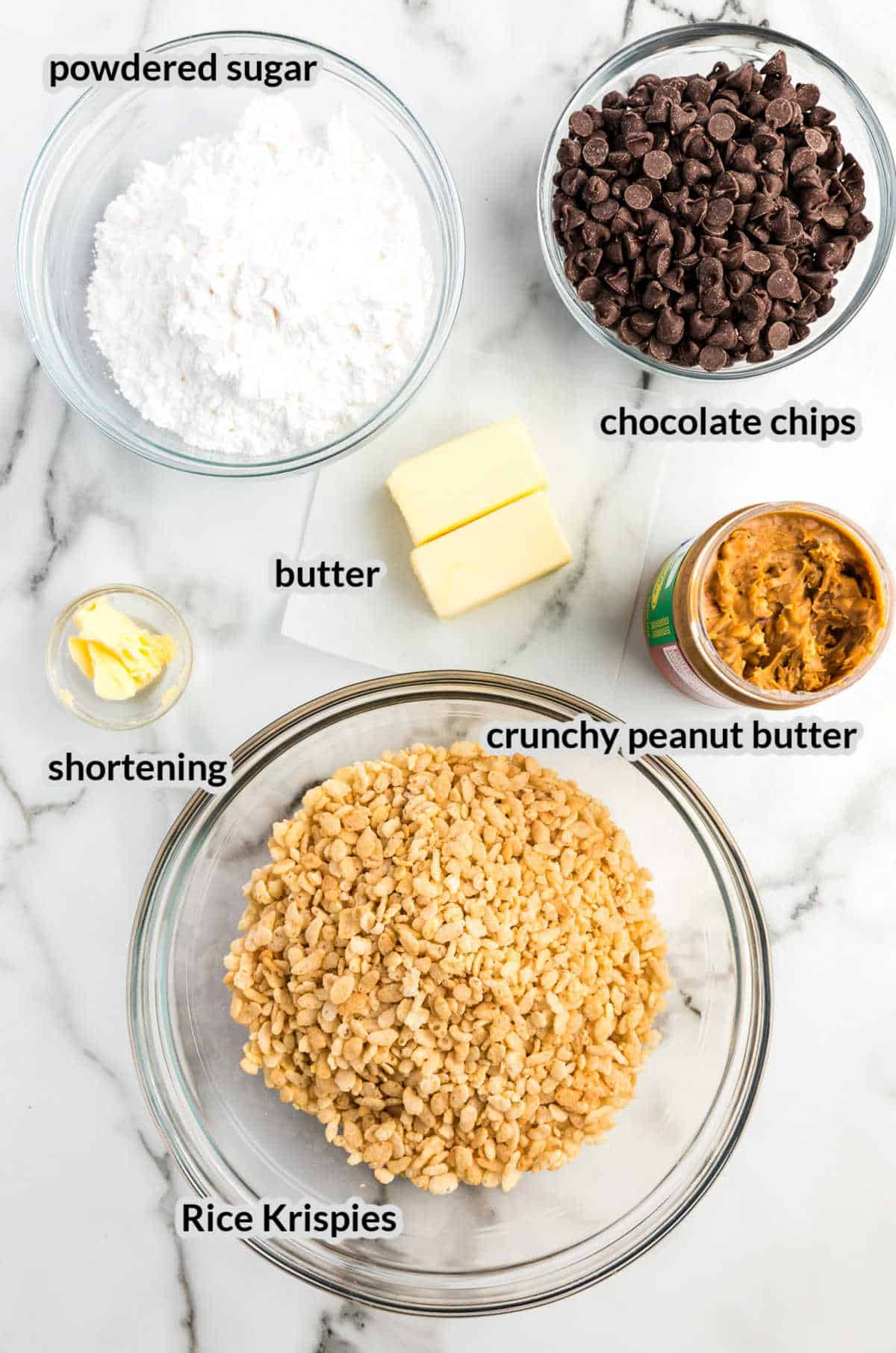 Ingredients Needed for Peanut Butter Balls!
Butter – Softened, unsalted butter works best for this recipe since the peanut butter already adds plenty of salty flavor.
Peanut Butter – Crunchy peanut butter adds texture to these super simple treats. Still, you could use smooth peanut butter for a more truffle-like consistency.
Powdered Sugar – Powdered sugar helps bind everything together and won't create a grainy texture like you might get from granulated sugar.
Rice Krispies – I use regular Rice Krispies. But you could riff on this recipe by using Chocolate Rice Krispies for chocolatey peanut butter heaven.
Chocolate Coating – I love the flavor that chocolate almond bark gives these treats, but feel free to customize this step. I also think the almond bark melts easier and gives the peanut butter balls the smoothest coating. You can also try semi-sweet chocolate chips, dark chocolate, or even white chocolate chips or almond bark.
Shortening – Reach for butter flavored shortening, but in a pinch regular shortening or even butter can be used in this recipe.
Substitutions
Chocolate – I love using chocolate or white almond bark because I think this melts the best and gives the smoothest coating on these peanut butter balls, but you can also use chocolate chips, any kind of melting chocolate or candy melts.
Shortening – The best option is regular shortening, but you could use butter flavored, butter or oil to help smooth out the chocolate and give that shiny, smooth coating.
Peanut Butter – For the "crunch" in these I prefer to use crunchy peanut butter, but smooth peanut butter can be used. You could even chop up peanuts with your smooth peanut butter if you didn't have crunchy!
How to Make Peanut Butter Balls with Rice Krispies
Mix Filling & Chill – Combine butter, peanut butter, powdered sugar, and Rice Krispies. I find it easiest to mix everything but the powdered sugar first. Then incorporate the sugar since it will thicken the mixture to an almost dough-like consistency. Chill in the refrigerator for at least an hour.
Form the Balls – Once chilled, you can start forming the Peanut Butter Balls. You're shooting for walnut-sized treats, so you can eyeball the measurement and roll them between your hands. If you have a #24 cookie scoop on hand, that's a perfect size.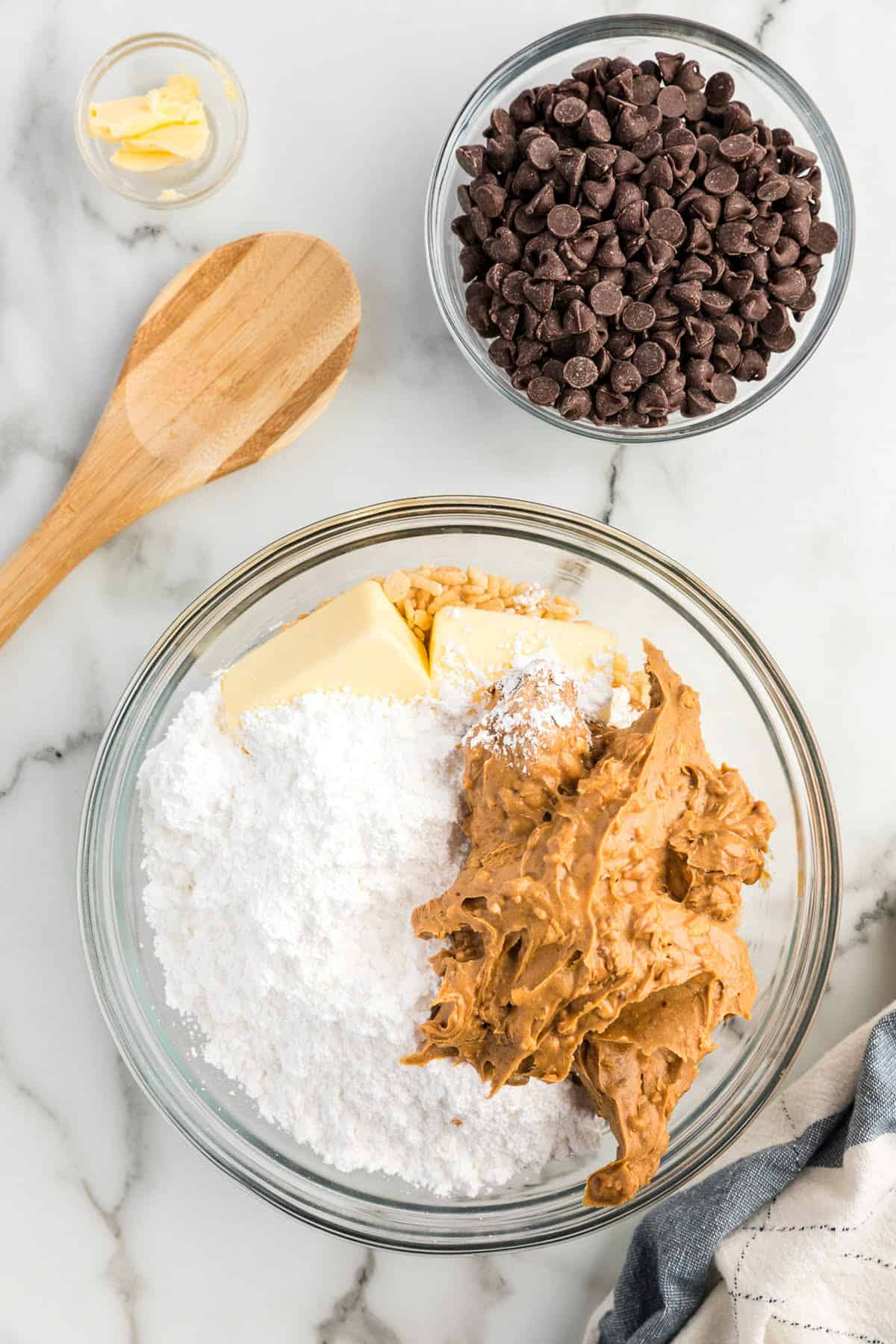 Melt the Coating – Next, melt the chocolate and Crisco together in a double boiler or microwave. If you're going to use the microwave, only do so in 15-second intervals, stirring between each to prevent the coating from burning.
Coat and Set – Finally, dip the Goof Balls into the melted coating and then move them to a sheet pan lined with waxed paper to set. I found the least messy way to do this is to use a fork.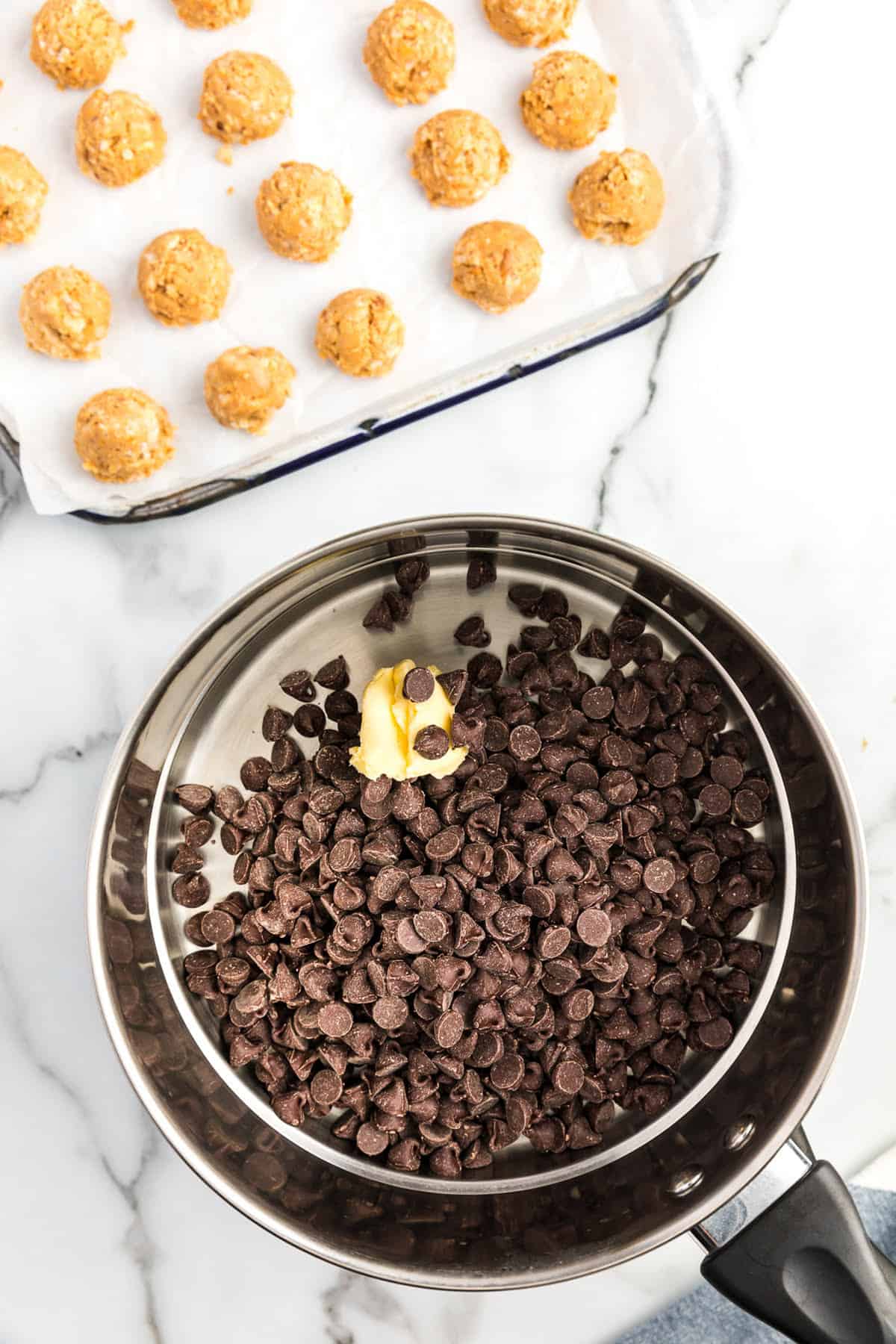 How to Melt Chocolate
Melting chocolate can be a little tricky. You can either melt the chocolate on the stovetop or the microwave.
Using almond bark is going to make it easier to melt because it doesn't seize like chocolate chips if it gets a little to hot. Almond bark is more forgiving.
If you use the stovetop to melt the chocolate I recommend using a double boiler. If you don't have one you can create one by boiling water in a pot then placing a heat-safe boil with your chocolate on top of the pot.
A double boiler will melt your chocolate more evenly. Make sure to stir the chocolate frequently. You can also use a regular saucepan, but I recommend using a low heat to melt the chocolate to prevent seizing.
If you use a microwave place the chocolate in a microwave safe bowl, heat the chocolate for 20 seconds, stir and continue this until chocolate is completely melted.
Pro Tips and Tricks!
Mix the butter, peanut butter, and Rice Krispies before adding the powdered sugar. This way, you can ensure you've thoroughly combined the mixture before thickening it.

For uniform balls every time, use a cookie or ice cream scoop to measure the filling.

Swap out the Rice Krispies with another cereal for a surprising take on this recipe.

Don't skip the Crisco in the coating since it helps the outside form a soft outer shell.

Store Goof Balls in an airtight container in the fridge or freezer.
Serving Suggestions
Maybe you're looking for another truffle-like recipe to serve alongside these unique Goof Balls. Look no further than these Oreo Balls. They offer a completely different flavor profile to round out a spread. But, they look similar enough to the Goof Balls for a cohesive dessert presentation.
No holiday dessert spread is complete without these Rolo Pretzels. They're equally simple to the Goof Balls and make a perfect addition to Christmas Cookie Platters.
Following along with the theme of bite-sized holiday treats, you have to taste my Eggnog Fudge. It's loaded with creamy, spiced eggnog flavor and chock full of walnuts. It's another low-effort, high-reward treat to make those busy Christmastime events a little less stressful.
Can I make Peanut Butter Balls ahead of time?
They are the perfect make-ahead dessert since they store the best in the fridge and can be served chilled or at room temperature. Plus, they freeze great so make them prior to the holidays, store in the freezer and thaw in the refrigerator overnight.
Can I use a different kind of nut butter?
Other nut butters, like almond butter or cashew butter, have more oil and a looser consistency than chunky peanut butter. They'll still work in the recipe, but you will probably have to add additional powdered sugar until the filling comes together.
Can I add mix-ins to the peanut butter filling?
Use this recipe as a jump-off point since it's perfect for customization. For example, you could swap the Rice Krispies for pretzel bits or add them into the mix. Try incorporating M&Ms, toffee bits, raisins, or dried cranberries. Your options are truly endless with these versatile peanut butter balls.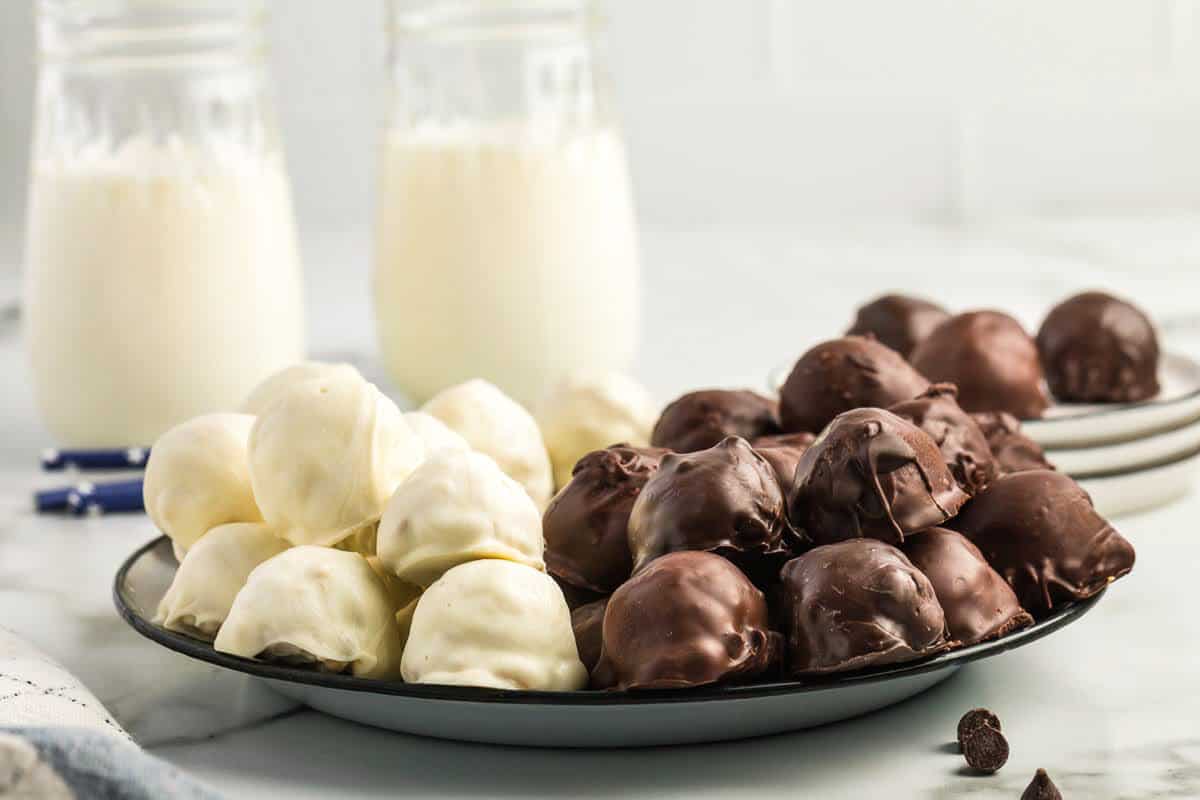 I hope you enjoy this easy no-bake candy for Christmas as much as I do. If you like this recipe you might like my Oreo Balls, too!
More Easy Christmas Candy!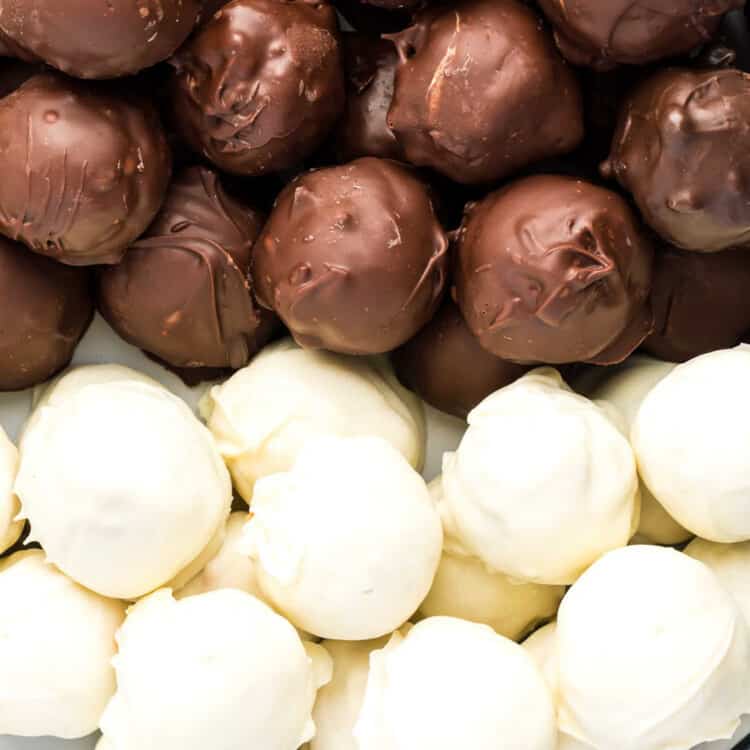 Peanut Butter Balls With Rice Krispies
Crunchy No-Bake Peanut Butter Balls are an easiest Christmas Candy! A peanut butter ball with crunchy peanut butter and Rice Krispies that is dipped in chocolate.
Ingredients
4

Tablespoons

salted butter

softened

2

cups

crunchy peanut butter

2

cups

powdered sugar

3

cups

Rice Krispies

12

ounces

semi sweet choc chips or chocolate almond bark

1

Tablespoon

butter flavored shortening
Instructions
In a bowl combine softened butter, peanut butter, powdered sugar and Rice Krispies with hand mixer until well mixed. Cover bowl with plastic wrap and chill in the refrigerator for one hour.

After mixture has chilled form mixture into balls the size of a walnut place on sheet pan lined with parchment paper.

In a saucepan or double boiler melt chocolate chips or almond bark over low heat with the shortening. You can also use a microwave to melt chocolate just make sure to melt in small increments, stirring after each time so you don't seize (burn) the chocolate. Dip balls into chocolate mixture.

Place peanut butter ball on fork tines, dip into melted chocolate, remove and let any excess chocolate drip off then place back onto baking sheet lined with parchment paper.

Let cool until chocolate is set. Store in an airtight container with parchment between layers. These keep best in the refrigerator or freezer so they don't melt.
Nutrition Information
Serving:
1
peanut butter ball
,
Calories:
188
kcal
(9%)
,
Carbohydrates:
17
g
(6%)
,
Protein:
4
g
(8%)
,
Fat:
12
g
(18%)
,
Saturated Fat:
4
g
(25%)
,
Polyunsaturated Fat:
2
g
,
Monounsaturated Fat:
5
g
,
Trans Fat:
0.1
g
,
Cholesterol:
4
mg
(1%)
,
Sodium:
93
mg
(4%)
,
Potassium:
164
mg
(5%)
,
Fiber:
2
g
(8%)
,
Sugar:
11
g
(12%)
,
Vitamin A:
199
IU
(4%)
,
Vitamin C:
1
mg
(1%)
,
Calcium:
13
mg
(1%)
,
Iron:
2
mg
(11%)