Grandma's Lemon Raspberry Sherbet Dessert
Grandma's Lemon Raspberry Sherbet Dessert ~ Salty Crust Topped with Creamy Raspberry Filling and a Tart Lemon Topping!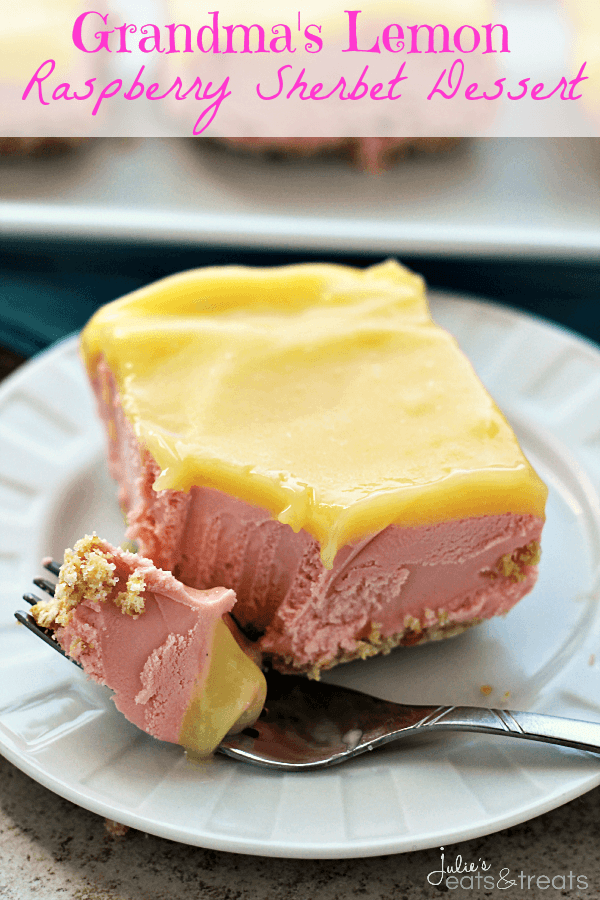 I've always said that the recipes that are handed down from generation to generation is truly the ones that I get excited for because you know they are crowd pleasers throuhg and through. You can't really go wrong with them! I've gone through about all of my family's recipes that are staples and now I'm officially moving onto my hub's family. I mean that's why I married him and all obviously. Well that and he's a hottie. Right? Yup. Puke.
Anyways his family is full of amazing recipes too. I just love learning about their history and the memories that go with them because that honestly is half the fun for me. Then I cross my fingers, attempt the recipe, and hope it goes well because obviously their is a standard to live up to. A high, high standard.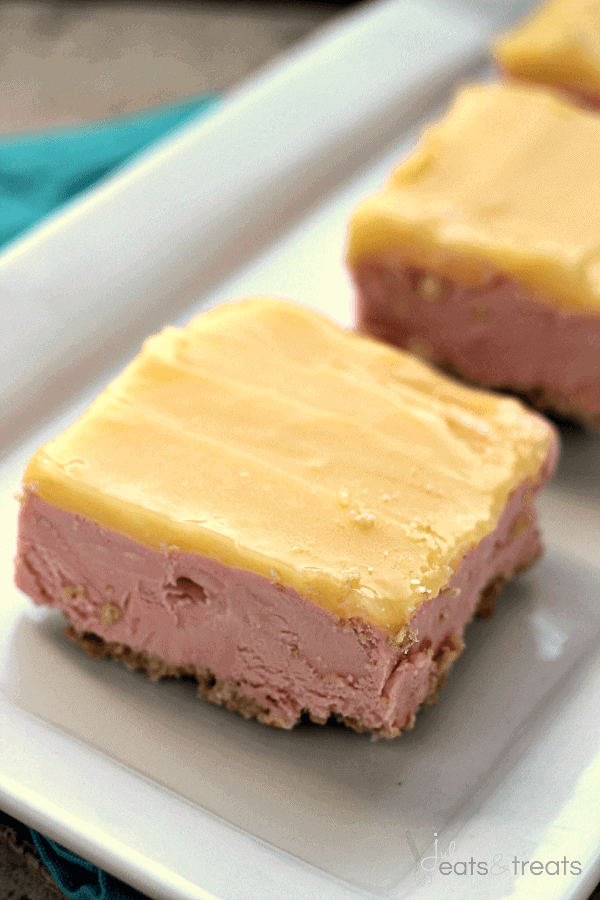 I attended an evening bridal shower for Jason's cousin's soon to be bride. Confused yet? Just go with it was a bridal shower and someone that I'm sorta related to was getting married and all will be good. After that fun festivities of a few games and opening of presents we were treated to a delicious treat.
Wait, back up, presents. Can I just say I want to have another bridal shower? I mean that stuff that they get it awesome! I seriously considered keeping the present I bought. Those pans, man those pans, truly quality there. I sure hope they went to a loving home because they almost didn't make it. Just saying….
If you want to send me some bridal presents I'm all down with that.
Anyways, back to the recipe since that's why you came right?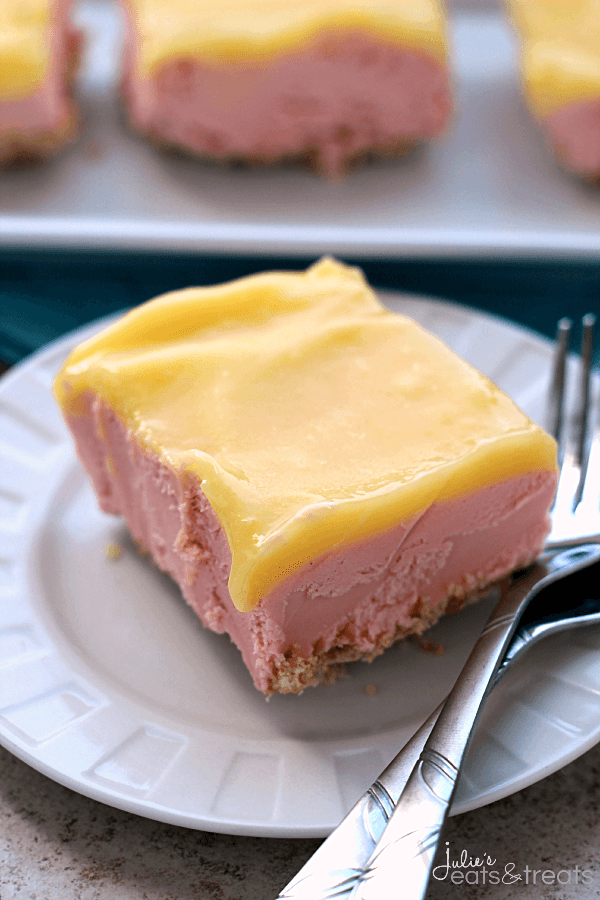 As we set down to our seats at the table with massive, gigantic pieces of this amazing Lemon Raspberry Sherbet Dessert the stories started flowing and I was touched by the smiles around the table. The story goes that the hub's grandma made this recipe often and it was always in the same Tupperware container. In fact she made it so much that there were lines etched on the bottom of the container from cutting it each time. I mean that tells you right there it was well received every time she made it!
I can see why. The amazing crust has a salty flavor from the Ritz Crackers then it's piled high with the ice cream and sherbet for a sweet touch. Then it's topped with a tart lemon topping. I mean all those flavors melding together in your mouth is pretty much like heaven on earth. Perfect for the summertime when you need a refreshing treat to cool off with!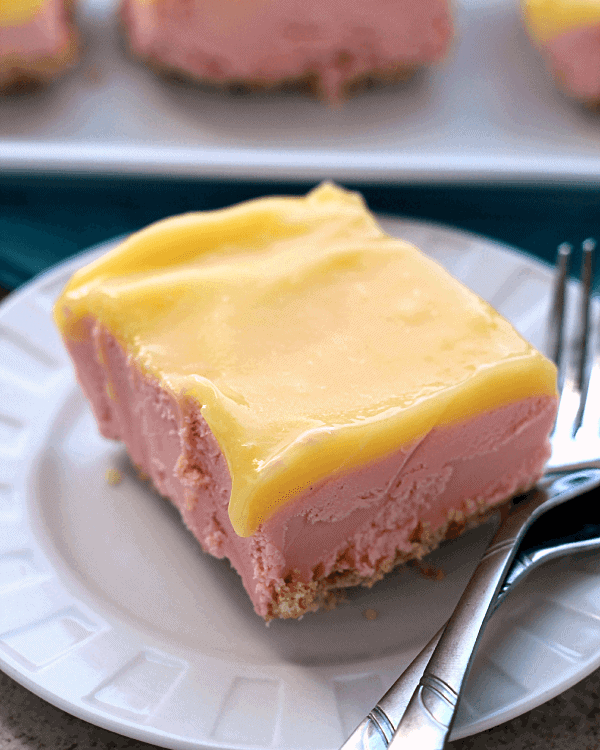 Grandma's Lemon Raspberry Sherbet Dessert
Salty Crust Topped with Creamy Raspberry Filling and a Tart Lemon Topping!
Ingredients
1 1/2

c.

crushed Ritz crackers

4

Tbsp

sugar

7

Tbsp

butter

melted

2

qt

vanilla ice cream

softened

1

qt

raspberry sherbet

softened
Topping
9

Tbsp

butter

1 1/2

c.

sugar

6

Tbsp

lemon juice

3

eggs

beaten
Instructions
In a medium sized bowl mix together cracker crumbs, sugar and butter; press into a 9 x 13 inch pan and place in freezer until froze.

In a large bowl mix ice cream and sherbet until well combined. Spread over crust and freeze for a few hours.

For the topping melt the butter in a saucepan then add sugar and lemon juice. Mix until combined.

Beat eggs in medium size bowl. Add a small amount of the lemon mixture to the eggs and stir until combined. Gradually add the egg mixture to the hot filling. Heat this mixture over low heat, stirring continuously and cook until thickened. This will take about 10 minutes. If you cook it on a higher heat it may curdle. Cool completely.

Spread over ice cream mixture and return to freezer.
Nutrition Information
Serving:
1
,
Calories:
651
kcal
(33%)
,
Carbohydrates:
85
g
(28%)
,
Protein:
7
g
(14%)
,
Fat:
31
g
(48%)
,
Saturated Fat:
17
g
(106%)
,
Cholesterol:
113
mg
(38%)
,
Sodium:
430
mg
(19%)
,
Potassium:
335
mg
(10%)
,
Fiber:
2
g
(8%)
,
Sugar:
66
g
(73%)
,
Vitamin A:
925
IU
(19%)
,
Vitamin C:
4.2
mg
(5%)
,
Calcium:
226
mg
(23%)
,
Iron:
1.3
mg
(7%)