Green Bean Corn Casserole
Green Bean Corn Casserole ~ Easy and Delicious Side Dish Loaded with Corn, Green Beans, and Cheese!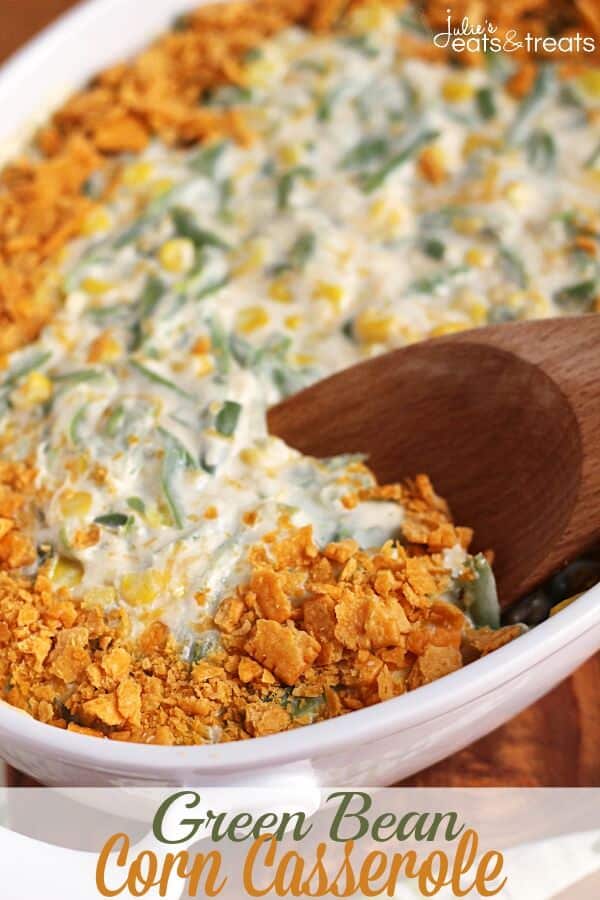 I know, I know it's not even Halloween yet and I'm giving you a dish perfect for Thanksgiving. I'm as bad as the stores aren't I? Wait, if I was then I'd be feeding you mint. Just wait for maybe a week or two and I'll being doing that. I've got to make it past Halloween first before I bombard you with Christmas treats. I swear I will not be one of those stores!
I remember when it was a horror that they displayed any Christmas items before Thanksgiving. We were aghast from this. Now it's moved onto before Halloween and there are a few comments about it but not much is said. Pretty soon we'll be replacing our Red, White & Blue on the 4th of July with Red and Green. A new definition to "Christmas in July" will be had. I guess we really must be to blame though. The stores would not push Christmas early if we didn't start buying Christmas presents and decor that early. Or maybe they would? Maybe they are just trying to get us to buy into Christmas early and spend more money because the season lasts longer. Any one know the true answer?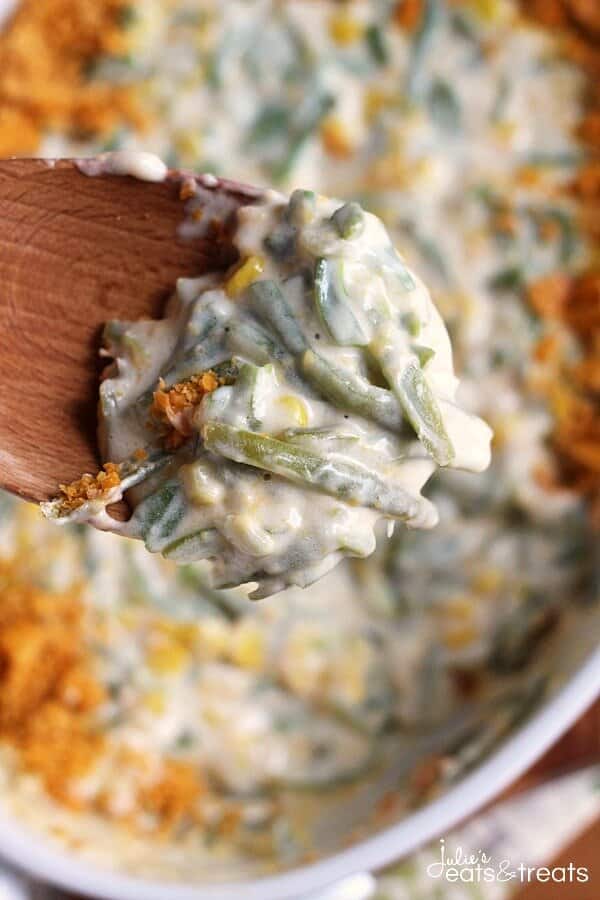 That leads me to my next question. Have you started Christmas shopping yet? I have. I'm not one to usually do this early. I usually start maybe before Thanksgiving but really it's mostly after. I start with the big Cyber Monday sales and try to do a lot of it online because I live in the middle of no where and it's just easier than driving hours, trying to beat the crowds and still ending up short. Sure there are a few things that I actually go buy that I can't get online, but the majority of it is online. It's cheaper that way too. Trust me the bill grows as you hit the mall!
This year I have started and have knocked out a few people. Wait that sounded real bad. You know what I mean right?! This little bundle of joy that is arriving around Thanksgiving time is going to put a damper on my Christmas shopping so I'm trying to be proactive about things. My husband quite frequently rolls his eyes at me when I'm trying to brainstorm gift ideas right now, but he is not the one that is going to be caring for a newborn and trying to finish Christmas shopping. I'm trying to be smarter and proactive about this situation!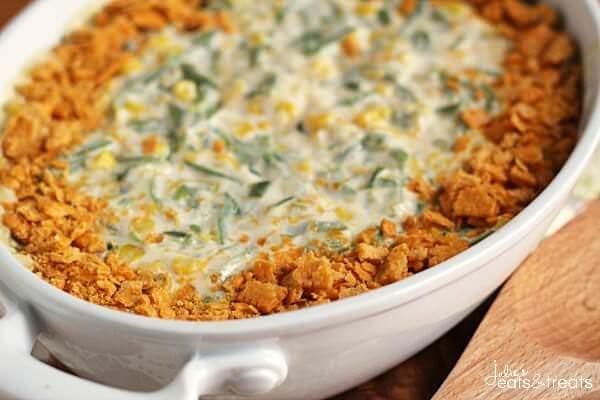 As we move past Halloween and look forward to Thanksgiving obviously the feast is going to enter your mind. If you are up for a new twist on the typical Green Bean Casserole then my friends, I introduce your new favorite, Green Bean Corn Casserole. It' still creamy, loaded with green beans, but it has cheese, corn and cheesy crackers to take it up a notch.
Surprise everyone at your Thanksgiving feast with this new dish that will soon become your favorite! If you want another easy side dish recipe my Glazed Carrots is delicious, too!
More great Green Bean Dishes!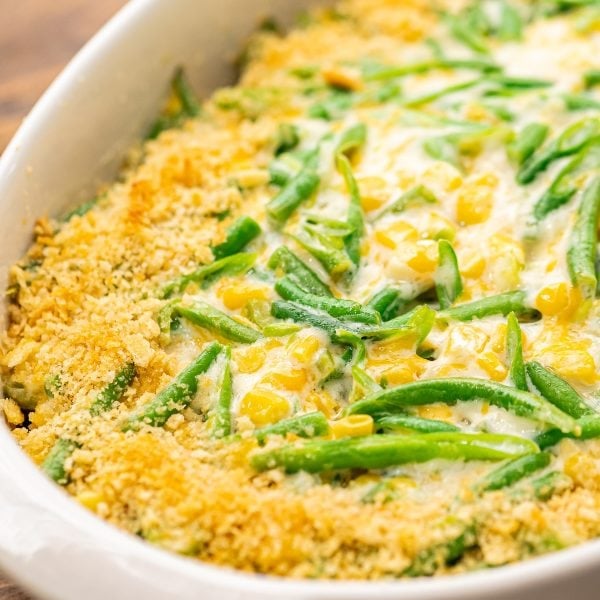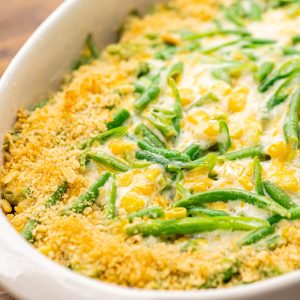 Green Bean Corn Casserole
Easy and Delicious Side Dish Loaded with Corn, Green Beans, and Cheese!
Ingredients
10.75

oz

can cream of celery soup

1

c.

sour cream

1

c.

shredded Cheddar cheese

1/2

c.

finely chopped onion

2

cans French Style green beans, drained

14.5 oz each

2

c.

frozen corn

thawed

1/4

c.

crushed cheese crackers

Butter flavored spray
Instructions
Preheat oven to 350 degrees.

In a large bowl combine soup, sour cream, cheese and onion. Mix in corn and beans.

Transfer to 2 quart baking dish prepare with non-stick cooking spray.

Cover and bake 25 minutes in preheated oven. Uncover and sprinkle crushed crackers around outside of edge of pan. Spritz crackers with butter flavored spray. Bake 15 more minutes.
Nutrition
Calories:
334
kcal
Carbohydrates:
31
g
Protein:
13
g
Fat:
19
g
Saturated Fat:
10
g
Cholesterol:
53
mg
Sodium:
475
mg
Potassium:
520
mg
Fiber:
5
g
Sugar:
5
g
Vitamin A:
1297
IU
Vitamin C:
18
mg
Calcium:
312
mg
Iron:
2
mg
Looking for more Side Dishes?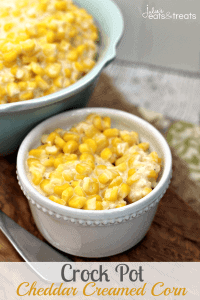 Crock Pot Cheddar Creamed Corn ~ The perfect easy side dish for your main dish! Throw it in the Crock Pot and forget it!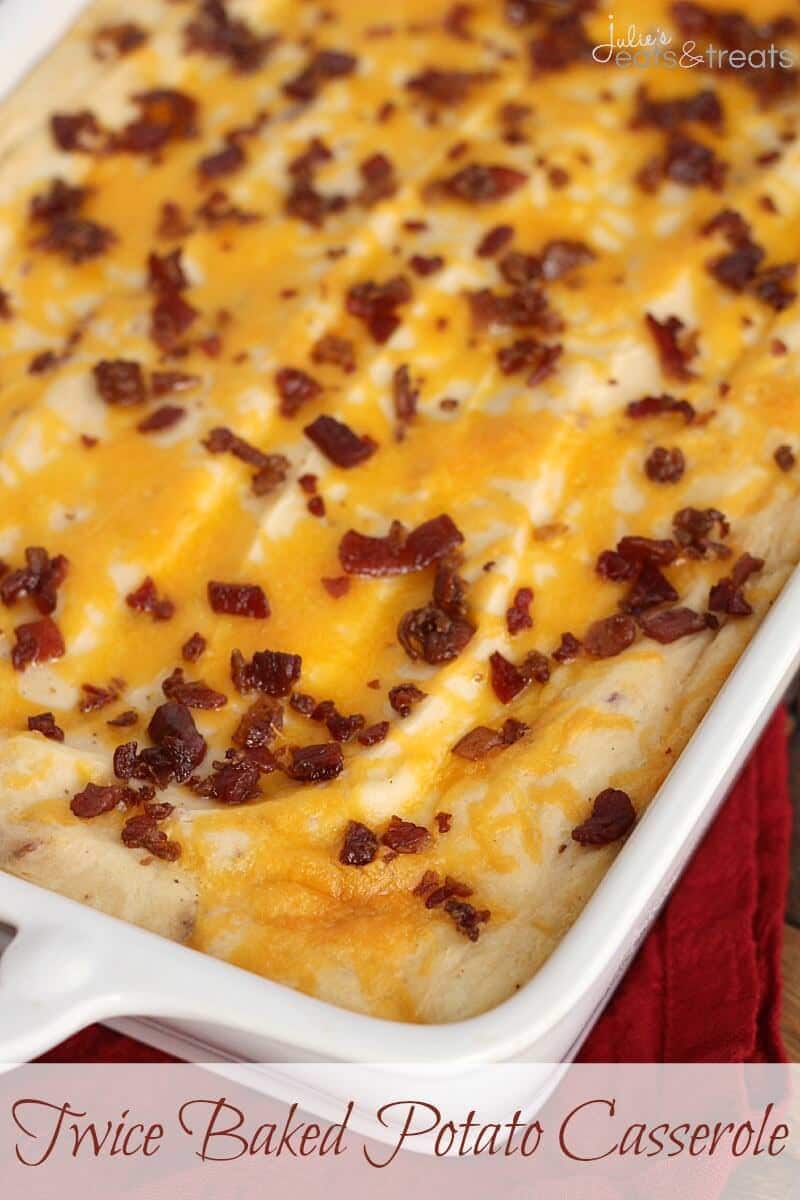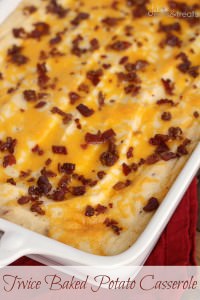 Twice Baked Potato Casserole ~ Light Fluffy Potatoes Loaded with Cheese, Bacon and Sour Cream!