Grilled Chicken Bacon Ranch Sandwich
I have a favorite sandwich at Perkins and I hardly ever get there so I decided to try to imitate one at home the other night. Honestly how hard could it be to make a sandwich? Not to hard thankfully! It wasn't quite as good as there's as they have the yummy chicken strips that are deep fried and totally unhealthy for you, but besides that I thought this sandwich was great.
The best thing is it's totally adaptable to whatever you want. If someone doesn't like something or wants to add another topping it's easy to do and you don't feel like a short hand cook when meal time comes along.
I used my Oven Baked Bacon on these sandwiches and it was great. I like my bacon nice and crispy and this definitely got it crispy!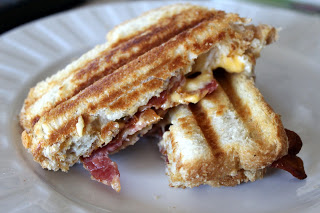 Grilled Chicken Bacon Ranch Sandwich
Printer Friendly Recipe
Ingredients
4 pieces Sourdough bread
1 3/4 c. precooked chicken strips/chicken strips
2 Tbsp ranch dressing
1 c. shredded cheddar cheese
6 slices bacon
1. Cook the bacon on the stove or in the oven. Drain bacon.
2. Brush one side of each slice of bread with butter. Brush the opposite side with 1/2 Tbsp ranch dressing. Place the chicken on top of the ranch dressing (if you are using frozen chicken strips make sure to bake them first). Sprinkle 1/2 c. cheddar cheese on top of chicken. Top with bacon and the other piece of bread, buttered side out.
3. Cook in a frying pan on stove or in a panini press. Flip once first side is golden brown if using a frying pan. Cook until cheese is melted.
Shared on the following sites – Please give them a visit!