These were sure a hit! I made them on Saturday for lunch. Oh wow what a perfect Saturday. It was seriously one of those days you just don't ever want to end. For once we had nothing going on at all. Zippo. Nada. Nothing. Amazing I tell ya! The hubby was peacefully outside working on the garage while I was inside doing laundry, cleaning. The usual Saturday chores, but it was nice to be able to take my time because I knew I didn't have to be anywhere. The windows were open. A breeze was flowing through the house. It was just so peaceful. I kinda want to go back to that day.
This recipes comes from the blog Life by Jill Marie. This is kinda funny and I just have to share this with you if you don't know me very well. Jill is actually my high school classmate's mom. I grew up having Jill as one of my "basketball moms". We were like a family. Our traveling team was on the road for basketball about 2-3 months in the late winter early spring every weekend. I think there was around 12 of us girls and I have to admit the parents were kinda like surrogate parents to me. Ah the memories. I never ever thought I'd be blogging and sharing recipes along with Jill and exchanging tips and tidbits with her. If you haven't checked out her blog I highly recommend it. She's an amazing lady and an even better cook/baker!
The recipe I'm sharing with you is super easy to throw together and the ingredients are ones you might even have on hand. It's perfect for a quick lunch. Like I said earlier it was a big hit with the hubby. In fact you will notice that it makes 8 servings. Ummm we had none left. Yup that's right none. I had 1 1/2 rolls. Now you do the math and figure out how many the hubby ate. After he ate one and was oohing and ahhing over it. I said I'll send the leftovers with you this week for lunch. He looked at me and said ummm I don't know if there will be any leftovers. We had two left and then he looks at them and says well that's not enough for a meal and gobbled them down too. Enjoy!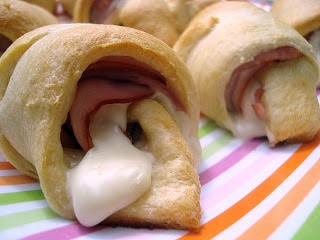 Ham & Cheese Crescent Rolls
Printer Friendly Recipe

MY LATEST VIDEOS
Ingredients
1 can crescent rolls
8 thin slices ham
4 slices cheese
1. Preheat oven to 350 degrees.
2. Separate crescent rolls into 8 triangles. Cut each slice of cheese in half. Place a slice of ham on each triangle. Place a strip of cheese down the center of the ham. Fold edges of ham in to match the shape of the crescent roll. Roll each crescent roll up ending at the tip of the triangle. Place tip down on a greased cookie sheet.
3. Bake 15-19 minutes or until gold brown.
Adapted from: Life by Jill Marie