Healthy Sweet and Sour Pork with Spaghetti Squash
This healthy sweet and sour pork uses spaghetti squash in place of noodles, and is grilled not fried! It's quick, easy and delicious!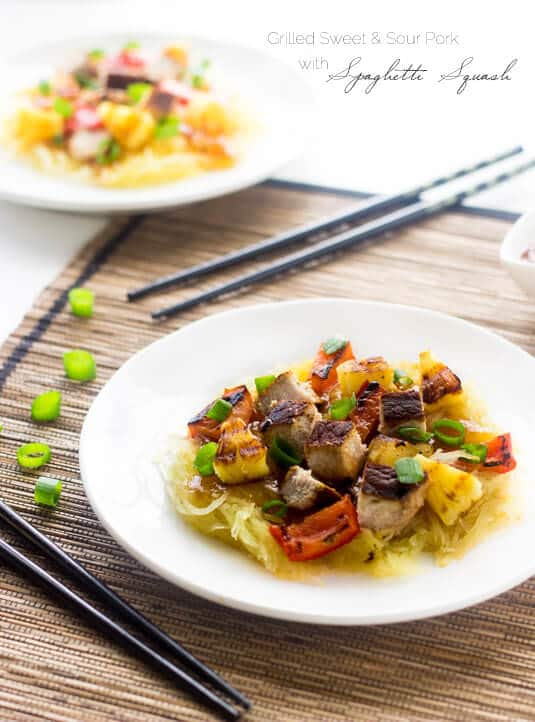 If you've ever visited my blog, Food Faith Fitness, you may know that I have a bit of a "thang" for odes.
So I've got another one comin' at ya today.
Oh Asian Take out
You're so delicious, of that there is no doubt
But, I wish that your goodness was not so deep fried
Because after eating you, I put my skinny jeans on and cried
Is there a way to eat you every day?
And not have my waistline pay?
YES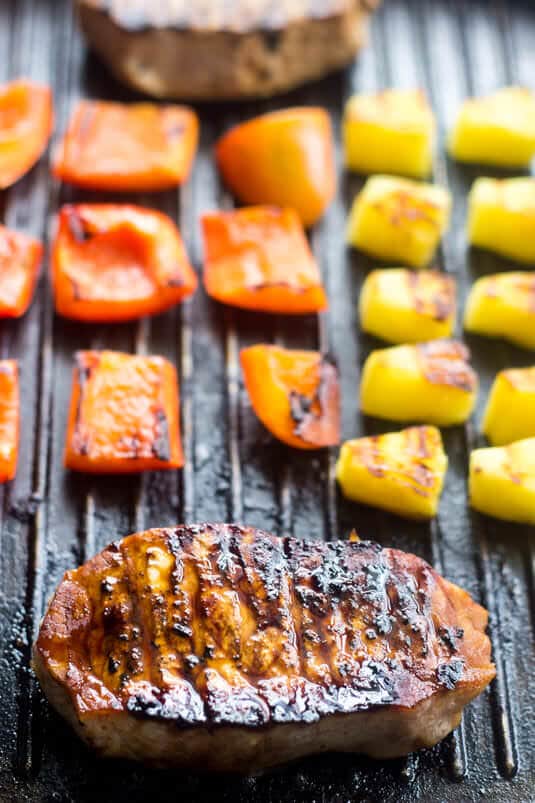 Okay, so the last line didn't rhyme or anything, but the ode was asking me a question and it would have been rude not to give it an answer.
You understand. Maybe.
I really don't need to tell you about the ah-may-zing feeling that I get when I go face-first into a big ol' pile of Chow Mein and sweet and sour pork; I KNOW that you get it too.
And, if you don't, who are you?
HOW-EV-ER, the way that my belly and, as mentioned in the ode, my pants feel after aforementioned going-face-first-into-plate-of-takeout? I NAT LIKE IT.
Obvi there needed to be a solution.
And, as you may guessed from the whole "YES" thing above, I have come up with one.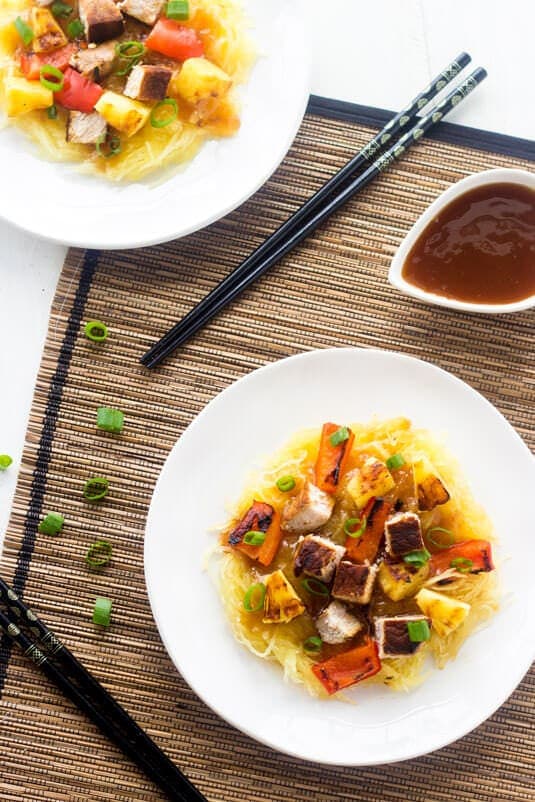 One that is still ALL THE saucy…but uses a little bit of squashy.
Apparently I turned into the Dr.Seuss of takeout in the past few paragraphs.
I don't even know.
Back to sweet and sour pork.
Opinion time: Spaghetti squash. Do you like it? Hate it? Does it confuse you that a vegetable is being called spaghetti so you don't really know if it's a pasta or if it TRULY is a vegetable and you don't know what to believe about life anymore?
Overly dramatic run on sentences FTW.
I ADORE using spaghetti squash in place of noodles, and it worked SUPA well to absorb all the goodness in this dish.
Instead of breading the pork and deep frying it up to its eyeballs, I just grilled it. Healthy AND summer-ific.
You like it.
The sweet and sour sauce is pretty true to what you would be slurpin' in traditional takeout, because you just don't mess with some things right? Right.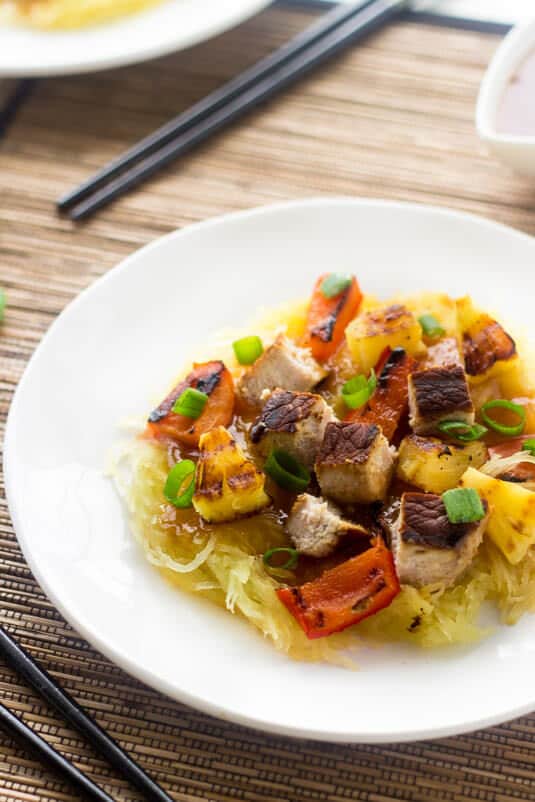 There you have it folks. Easy, healthy, takeout-fakeout that doesn't need to be reserved for no-holds-barred weekend eating.
You could even make it on a MONDAY.
Things be gettin' crazy.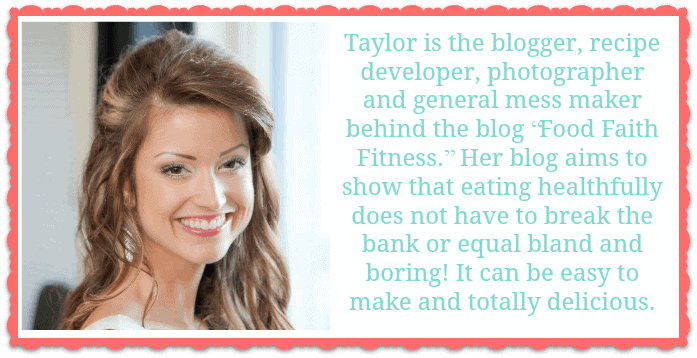 Find Taylor here!
Food Faith Fitness ~ Facebook ~ Twitter ~ Pinterest ~ Google + ~ Instagram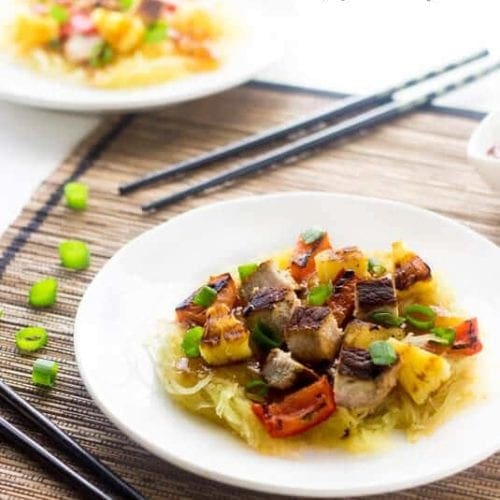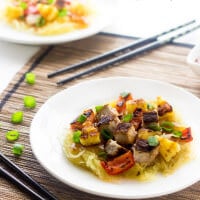 Healthy Sweet and Sour Pork with Spaghetti Squash
This healthy sweet and sour pork uses spaghetti squash in place of noodles, and is grilled not fried! It's quick, easy and delicious!
Print
Pin
Rate
Ingredients
1

Cup

Pineapple juice

1 1/2

Tbsp

Soy sauce

3

Tbsp

Rice Vinegar

1

Tbsp

Reduced-sugar Ketchup

1/4

Cup

+ 3 Tbsp Brown sugar

packed

1/4

Cup

+ 2 Tbsp water

1

Tbsp

+ 1 tsp Cornstarch *

4

Pork chops

I use a lean center cut

1

Large spaghetti squash

1

Large red bell pepper

cut into large chunks

1 1/2

Cups

Pineapple chunks

drained

Green onion

sliced (for garnish)
Instructions
In a large bowl, whisk together the pineapple juice, soy sauce, rice vinegar, ketchup and brown sugar until well mixed and the sugar is dissolved. Place the pork chops into the bowl, cover and refrigerate for at least 3 hours.

To roast the squash:

Preheat your oven to 400 degrees and spray a baking sheet with cooking spray.

Cut the squash in half and scoop out all the seeds. Place the squash cut side down on the prepared tray and bake until it is fork tender, about 30-40 minutes. Let cool.

To prepare:

Preheat you grill to medium/high heat and place the pork chops, pineapple and red pepper chunks on it. Cook until the meat is no longer pink inside, but be sure to not cook it to long or it will be very dry. It takes about 2-4 minutes per side**. Transfer the pork, pineapple and pepper to a plate, cover and keep warm until the sauce is ready.

To make the sauce:

Pour the pineapple juice mixture that the meat was marinating in into a large sauce pan and add the water and cornstarch. Whisk quickly so that the cornstarch dissolves without getting lumpy.

Turn the heat to high and bring the sauce to a boil, letting it boil until it begins to thicken (about 1 minute) stirring constantly.

Turn the heat down to medium and cook, stirring frequently, until the sauce thickens - about 5-7 minutes more. Please note that it thickens up quite a bit, so don't cook it too long or you will have jello once it cools!

To serve:

Scrape the spaghetti squash out of it's shell with a fork and divide among plates. Top with pork, pineapple, pepper, sauce and garnish with sliced green onions.

DEVOUR
Notes
*The sauce is not quite as thick and gummy as take-out restaurants (I like it better a little thinner.) If you want it really thick, add 1 more tsp of cornstarch
**the pineapple may take less time to cook,so just watch to make sure that it doesn't burn!
Nutrition
Serving:
1
g
|
Calories:
521
kcal
|
Carbohydrates:
75
g
|
Protein:
32
g
|
Fat:
11
g
|
Saturated Fat:
3
g
|
Cholesterol:
89
mg
|
Sodium:
530
mg
|
Potassium:
1209
mg
|
Fiber:
7
g
|
Sugar:
58
g
|
Vitamin A:
1350
IU
|
Vitamin C:
68.9
mg
|
Calcium:
118
mg
|
Iron:
2.6
mg
LEAVE A COMMENT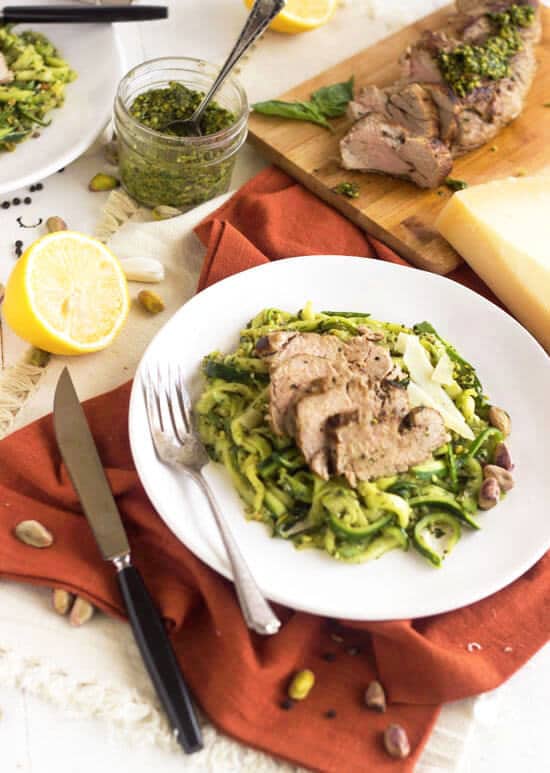 Zucchini Noodles with Pistachio Pesto and Roasted Pork Tenderloin – A healthy and quick meal that is fancy enough for company, or easy enough for a weeknight dinner!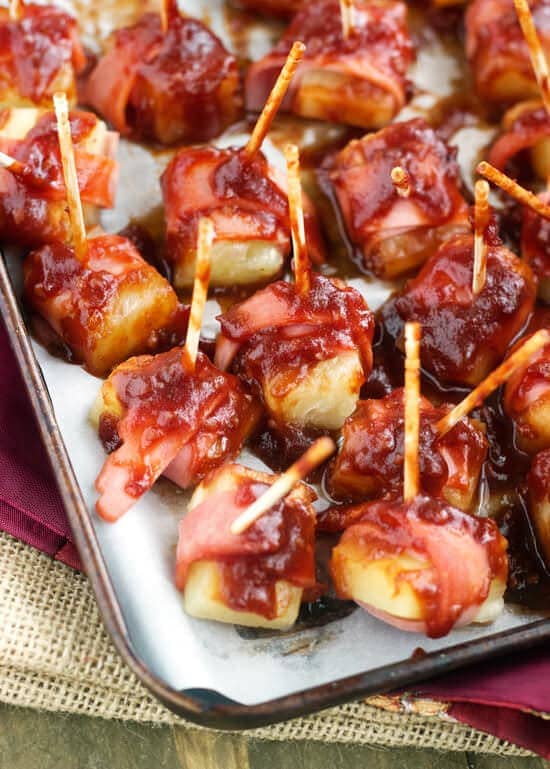 Sweet and Sour Bacon Wrapped Pineapple Bites – A spin on the classic bacon wrapped water chestnuts with a twist. Healthy, easy and delicious!