Happy Labor Day! I hope you have had a wonderful long weekend and have made the most of our final fling before summer is over. I can't believe it's already September. I actually love fall, but I live in Minnesota and I dread winter. If it was only a few months long I could handle it. For example if it snowed December 1st and it was melted by January 1st now that's my kind of a winter, but unfortunately that isn't even a possibility. I'm lucky if the snow melts in March and more than likely it will be April. I become a very cranky person in the winter. My poor hubby!
Fall on the other hand is perfect weather. I love the crisp mornings and leaves turning colors. Pulling out my sweaters and cuddling up in jeans in a hoodie. Nothing better than that in my opinion. I grew up on a farm so fall is ingrained into my brain as being harvest time. I usually call my dad in the mornings to check in on the farming progress. I remember growing up when I would often tell him that my school events could be skipped, well should be skipped, to get that crop out of the field. True farm girl for you huh? I actually live in my hometown so I get to go ride in the combine with my little brother who now farms with my dad. My mom is big on bringing a hot supper out to the field every night for the guys and gals. I think that they work for the supper most of the time. Every once in a while I'll volunteer to do that and I think she's about ready to kiss me for it!
Today we are trying to finish the siding on the garage. My hubby is currently out pounding in nails and asking when I'm coming to help, so I suppose I should wrap this post up and help him. I'm not a big help but I think he enjoys the "moral" support more than anything and if that keeps him happy I'm more than happy to oblige. Look for a post and pictures later over on Beyond Food. Hopefully we can get it all sided today before our Labor Day picnic at my aunt's house. My other aunt and uncle for Arizona are in town so it should be a good time. Which reminds me…my dad came to help side on Saturday. Showed up hungry so I had to feed him and then my uncle from AZ came walking up the driveway. Needless to say he ate, visited and left never to pound a nail! He might be getting teased for that one for a while!
I'm sharing another zucchini recipe today. Don't worry pretty soon I'll move onto the apple and pumpkin recipes for fall! It's a healthy muffin recipe since I've had a few requests for some more healthy options I'll try to do that once in a while! Enjoy!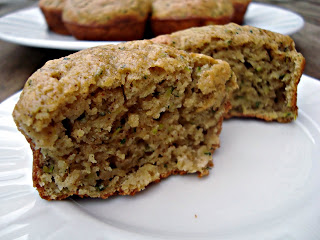 Healthy Zucchini Muffins
Printer Friendly Recipe
Ingredients
1 1/2 c. all-purpose flour
1/2 c. white sugar
1/2 c. brown sugar, packed
1 1/2 c. grated zucchini
1/2 tsp salt
2 eggs
1/2 tsp cinnamon
1 tsp vanilla extract
1/3 c. applesauce, unsweetened (You can also use canola oil)
2 tsp baking powder
Cinnamon and sugar for topping (optional)
1. Preheat oven to 375 degrees. In a large bowl, whisk together flour, sugars, salt, baking powder and cinnamon. Set aside.
2. In a different bowl, combine grates zucchini, eggs, vanilla and applesauce. You can substitute oil for the applesauce, but I was trying to be healthy! Stir well to combine, then gently stir into flour mixture. Be careful not to overwork this – it will lead to dense muffins and no one wants those!
3. Fill lined or greased muffins tins about 3/4 full. I use a cookie scoop to do this and it works wonderfully. You can sprinkle cinnamon and sugar on for topping. Once again I omitted this because I was trying to be healthy! Bake for 25 – 35 minutes or until golden brown.