Chocolate Covered Cherries
Do you love Chocolate Covered Cherries as much as me? I grew up on the store bought treats, but now that I know how to make them at home I'll never have them another way. These are the perfect Christmas treat recipe. Your holidays won't be complete without these!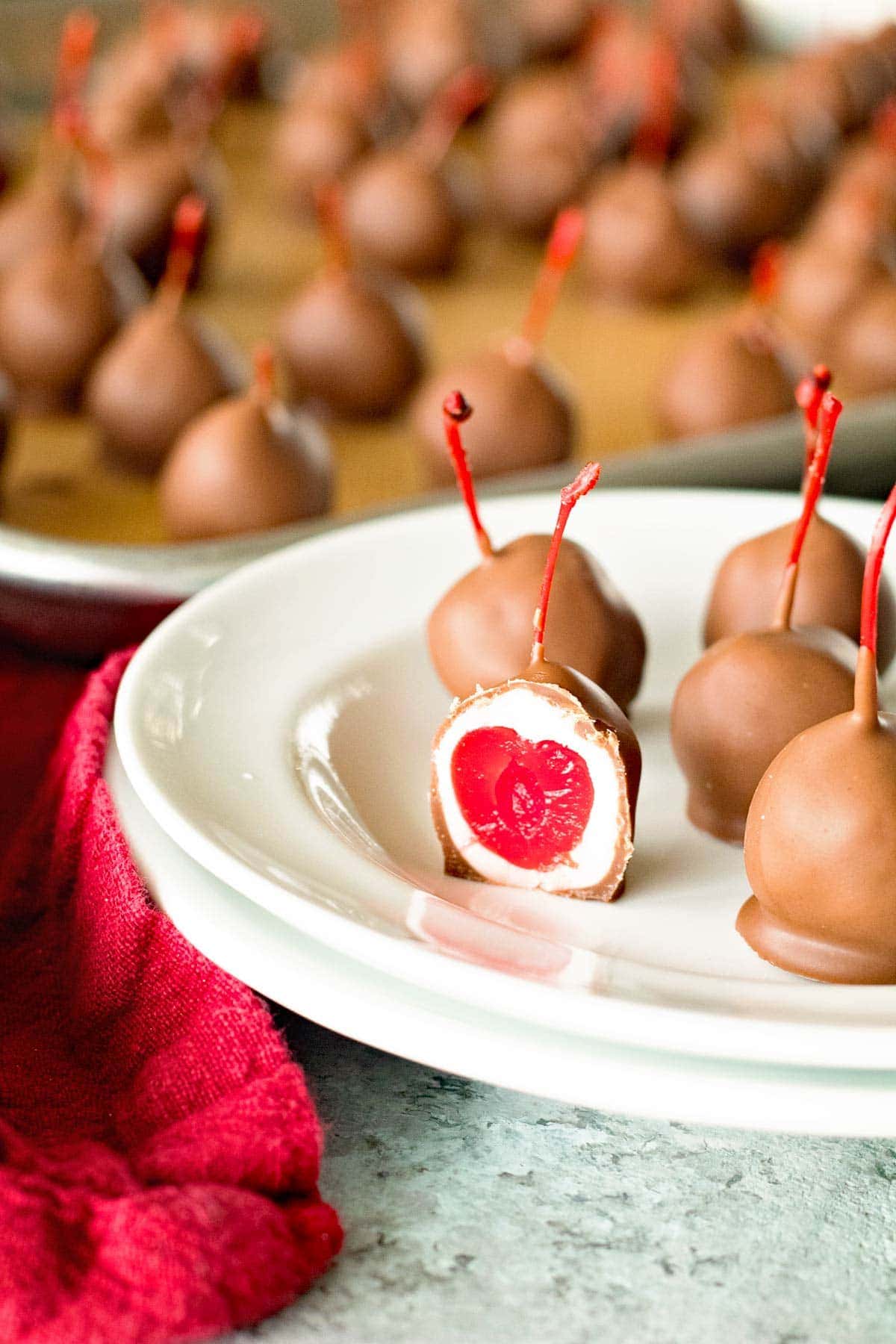 Memories. They are a great thing aren't they! As I get older they get a little bit more treasured every year. I also try to focus on creating them for my kids. These Chocolate Covered Cherries made me reminisce about Christmas as a child.
You see, no one like them but my Dad and I, so we always fought over them! Not sure why we fought, as there were plenty to go around. We always ate the ones from a box, but I had to try to make my own this year!
They weren't nearly as hard as I had it in my head they would be, just took a bit of time and planning. You just take a Maraschino Cherry, roll it in a powdered sugar mixture and dip it in chocolate almond bark.
The hardest thing is just waiting to let them sit up between the rolling in powdered sugar and dipping. I filled in that time by making a batch of my famous Chocolate Covered Potato Chips. Also, these are best if they sit for two weeks, but I dug right into a few and thought they were great too!
Ingredients Needed
Powdered sugar

Butter, softened

Milk

Almond extract

Maraschino cherries with stems , well drained

Chocolate almond bark

Shortening
How to make Chocolate Covered Cherries Recipe
Mix together the sugar, butter, milk and almond extract until combined.
Roll into 1 in. balls and flatten each ball into a circle. Wrap around cherries and tightly roll in hands.
Place the cherries on a lined baking sheet.
Cover and refrigerate overnight.
Melt the almond bark and shortening according to package directions.
Dip cherries into the chocolate, cool on waxed paper to harden. Store in a covered container.
Best if made 2 weeks ahead!
Expert Tips!
Dry off cherries on a paper towel, blotting to remove as much juice as possible.
Keep fondant mixture cold, if your hands start to stick to it, rinse your hands in cold water!
Refrigerate cherries wrapped in fondant before you dip them in chocolate!
Use Chocolate Almond Bark instead of chocolate chips to dip them because it's easier to work with!
Refrigerate for two weeks or longer, before enjoying for the best results!
Can chocolate covered cherries be frozen?
Actually no, don't freeze the chocolate covered cherries. Because there is so much moisture in the cherries when they freeze, the cherries expand. The layers crack and though they taste good, they won't look pretty and presentable at all.
Some other Christmas Treats I grew up making are Oreo Truffles, Peanut Butter Ritz Cookies, White Chocolate Molasses Cookies, and White Chocolate Dipped Gingersnaps.
Are chocolate covered cherries and cordial cherries the same thing?
The difference between the two is cordial cherries contain alcohol. I like my version because they are family friendly!
What is the best way to store Chocolate Covered Cherries?
After cooling, store in an airtight container in the refrigerator.
Go grab the ingredients to make this Chocolate Covered Cherries Recipe and start creating your own memories! I assure you they are 100 times better than the store bought ones!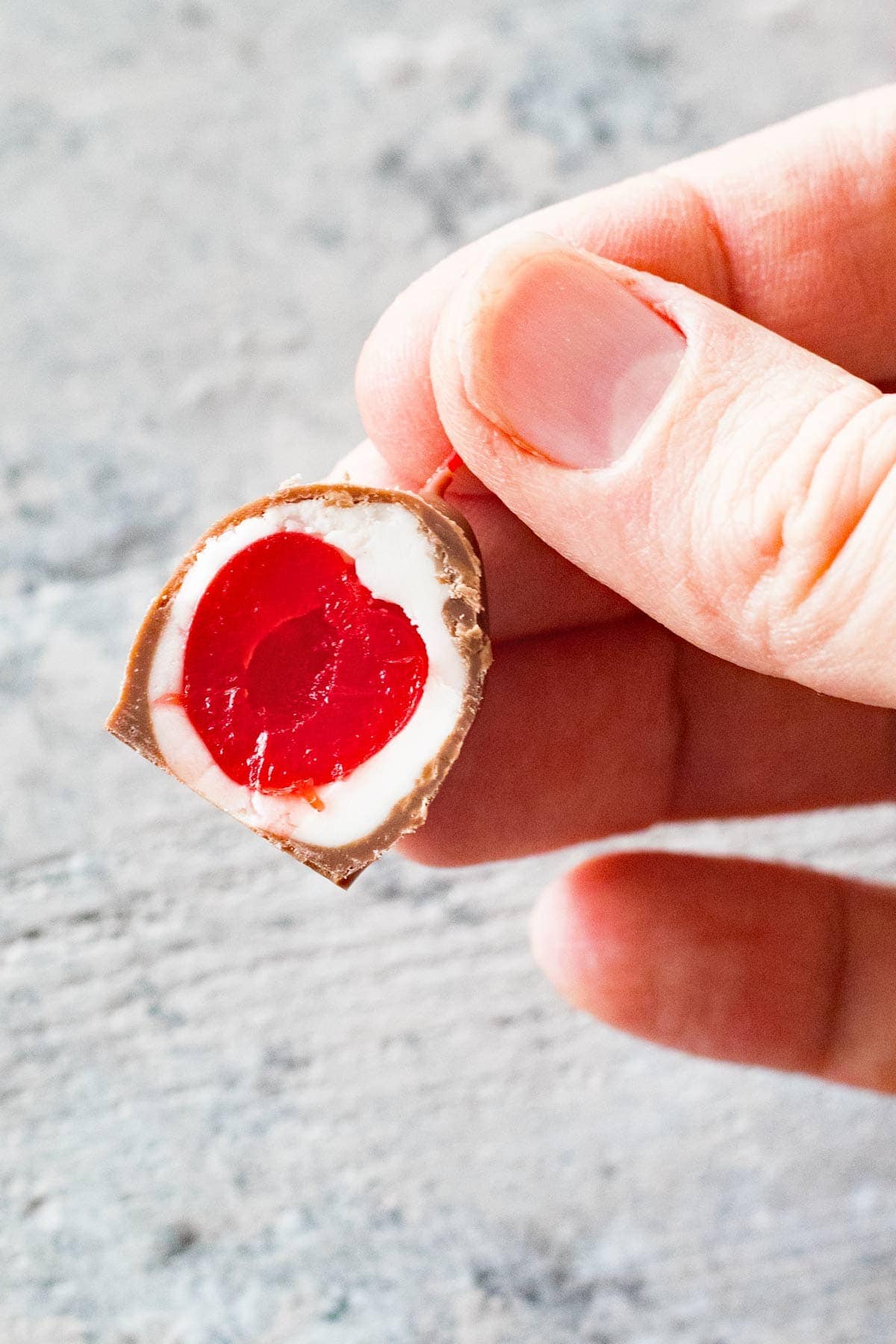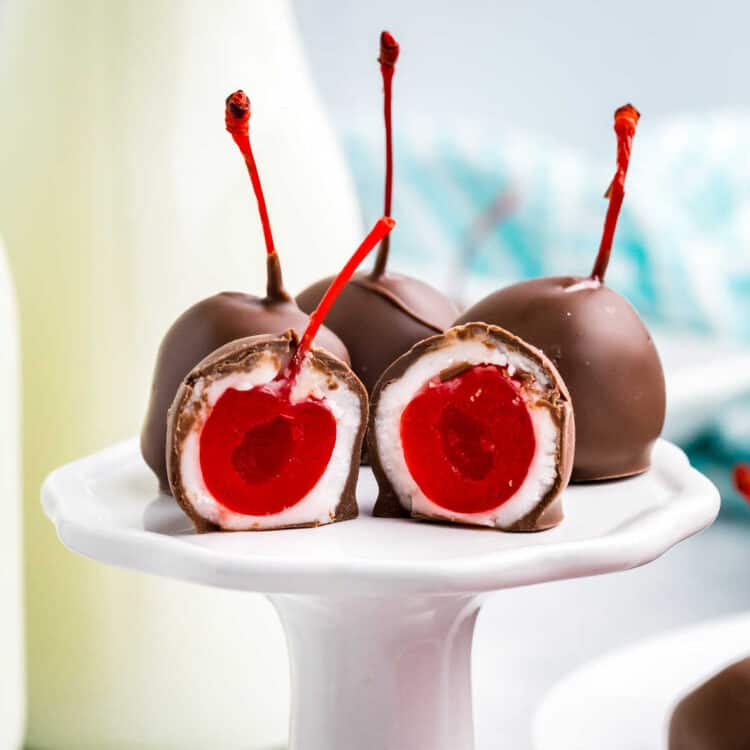 Chocolate Covered Cherries
These chocolate covered cherries are great to make ahead and store in the freezer for the perfect Christmas treat recipe. Your holidays won't be complete without these!
Ingredients
2 ½

cups

powdered sugar

¼

cup

butter

softened

1

Tablespoon

milk

½

teaspoon

almond extract

2

jars maraschino cherries with stems

8 oz each, drained

24

ounces

chocolate almond bark

2

Tablespoons

shortening
Instructions
In a large mixing bowl combine sugar, butter, milk and almond extract. Mix until combined. Knead into a large ball.

Roll into 1 inch balls and flatten into a 2 inch circle. Place cherry on top and wrap around cherries and tightly roll in hands. 

Place covered cherries on waxed lined baking sheet with stems pointing up.

Cover loosely and refrigerate 4 hours or overnight.

Melt the almond bark and shortening in microwave according to package directions.

Holding on to stem, dip cherries into chocolate, set on waxed paper to harden. Store in a covered container at room temperature. To get the gooey center we recommend them sitting for 2-4 weeks.
Nutrition Information
Recipe Slightly Adapted from Taste of Home