Homemade Tropical Coconut Granola
 Homemade Tropical Coconut Granola ~ Homemade Granola Loaded with Dried Pineapple, Apricots, Golden Raisins, Cranberries, Shredded Coconut and Macadamia Nuts!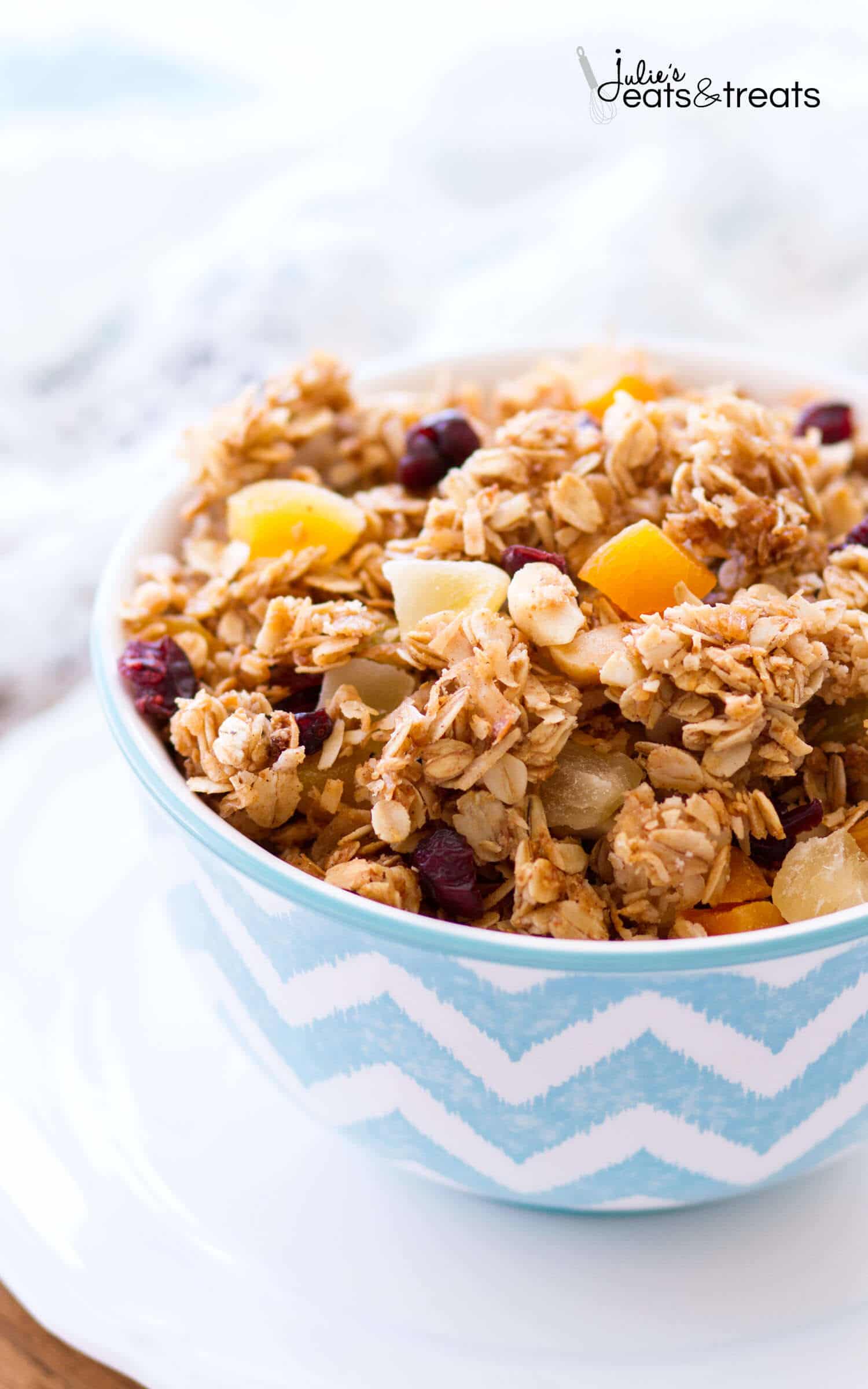 This homemade Tropical Coconut Granola is filled with shredded coconut, coconut oil, and coconut sugar! Dried pineapple, apricots, golden raisins, cranberries, and macadamia nuts give this easy coconut granola a tropical flavor. This homemade granola recipe is so easy, you may never buy store-bought again!
Growing up, cereal and milk were household staples. If I didn't have a bowl for breakfast, you can rest assured I was having one after I got home from school. In college, my kitchen cabinet was pretty much filled to the brim with different cereals (a girl's got to have options, you know??) and baking supplies.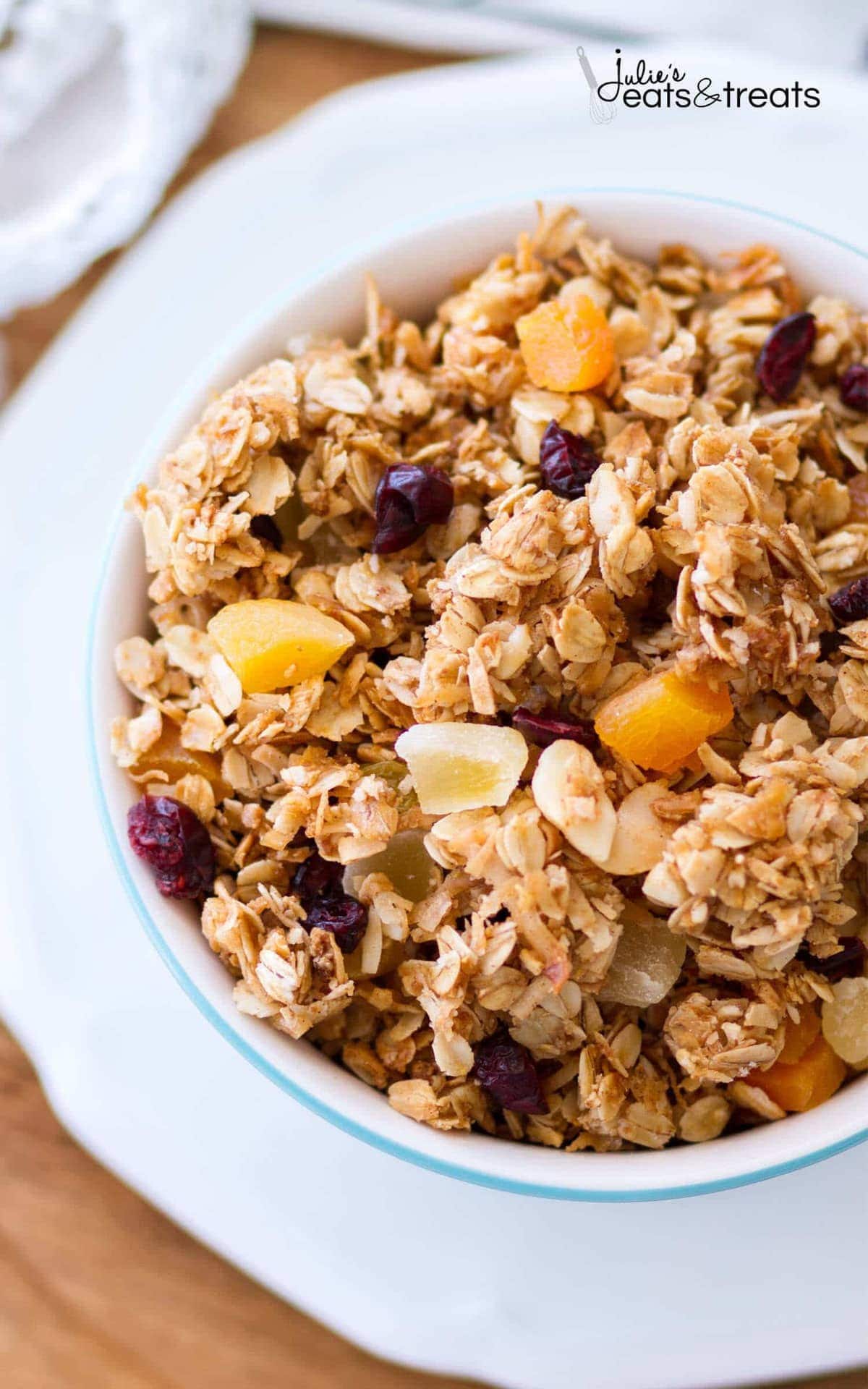 It was pretty much standard that anyone who stopped by was offered either a bowl of cereal or some homemade snickerdoodles. Let's just say, our apartment was a pretty popular place most of the time.
In fact, it was in college that I first tried my hand at homemade granola. It ended up being a giant charred mess, mostly because our old oven was pretty janky and partly because I didn't set a timer. Whoops. Luckily, I did not set off the fire alarm, and luckily for all of you, I did try my hand at homemade granola once again. 😉 A while back, I made homemade Crunchy Peanut Butter Granola (because the clusters are the best, right?!), and today, I'm sharing Tropical Coconut Granola.
Tahiti in bowl, guys. I'm just saying.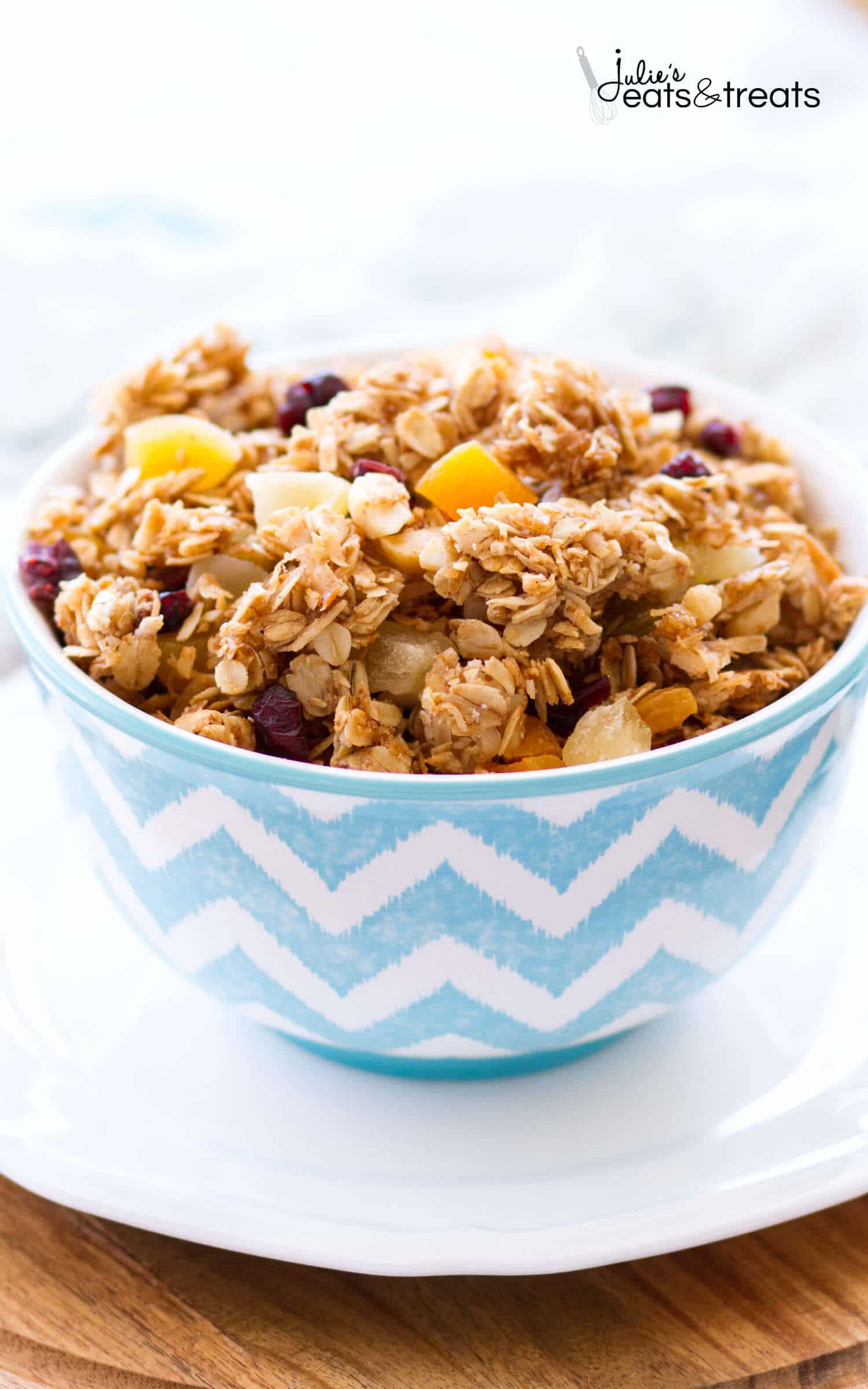 You are going to be blown away by how easy homemade granola is to make! It only takes a handful of ingredients, and the recipe is incredibly versatile. The most difficult part of the recipe, is that you need to stir it every 10 minutes to ensure the granola bakes evenly.
I used dried fruit, like dried pineapple, dried apricots, and golden raisins to give this coconut granola a tropical twist. You can definitely use any dried fruit you have on hand, or you can use fresh fruit. Additionally, I chose macadamia nuts instead of almonds for this recipe, because they are more tropical, in my opinion. 🙂 However, substitute any nuts you want in this recipe.
Oh! Banana chips! They would be perfect in this recipe too!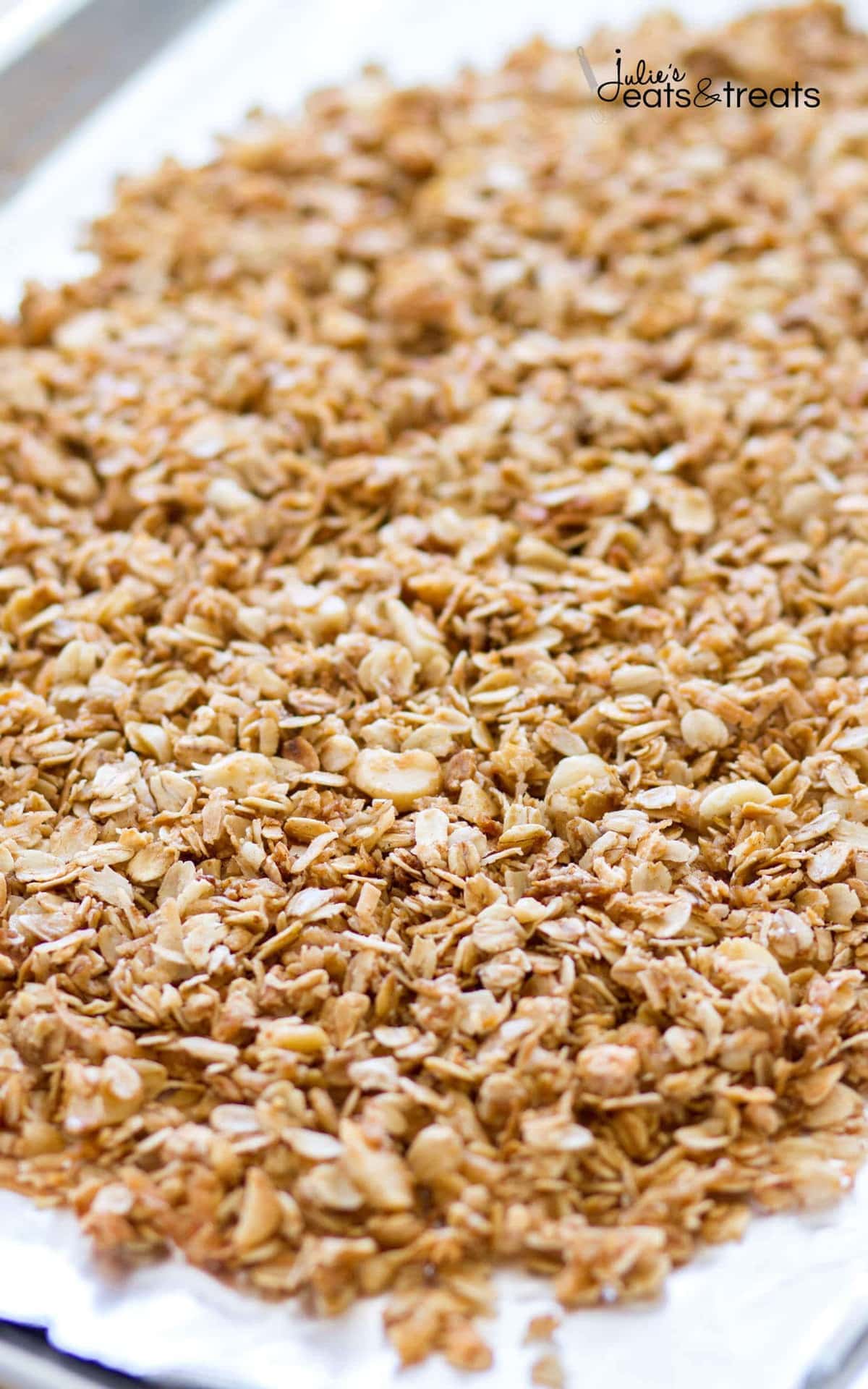 Also, on a side note, you will notice that I used coconut sugar in the recipe. Coconut sugar is an unrefined sugar, with a slight hint of coconut flavor. However, you can easily substitute brown sugar for coconut sugar if you prefer.
Lastly, you can melt coconut oil in the microwave. It only takes about 10 seconds or so though, so keep a watchful eye while it is melting.
This recipe takes about 10 minutes to prepare, and 30 minutes to cook. You could have this bowl in your hand in less than an hour… I'm just throwing that out there.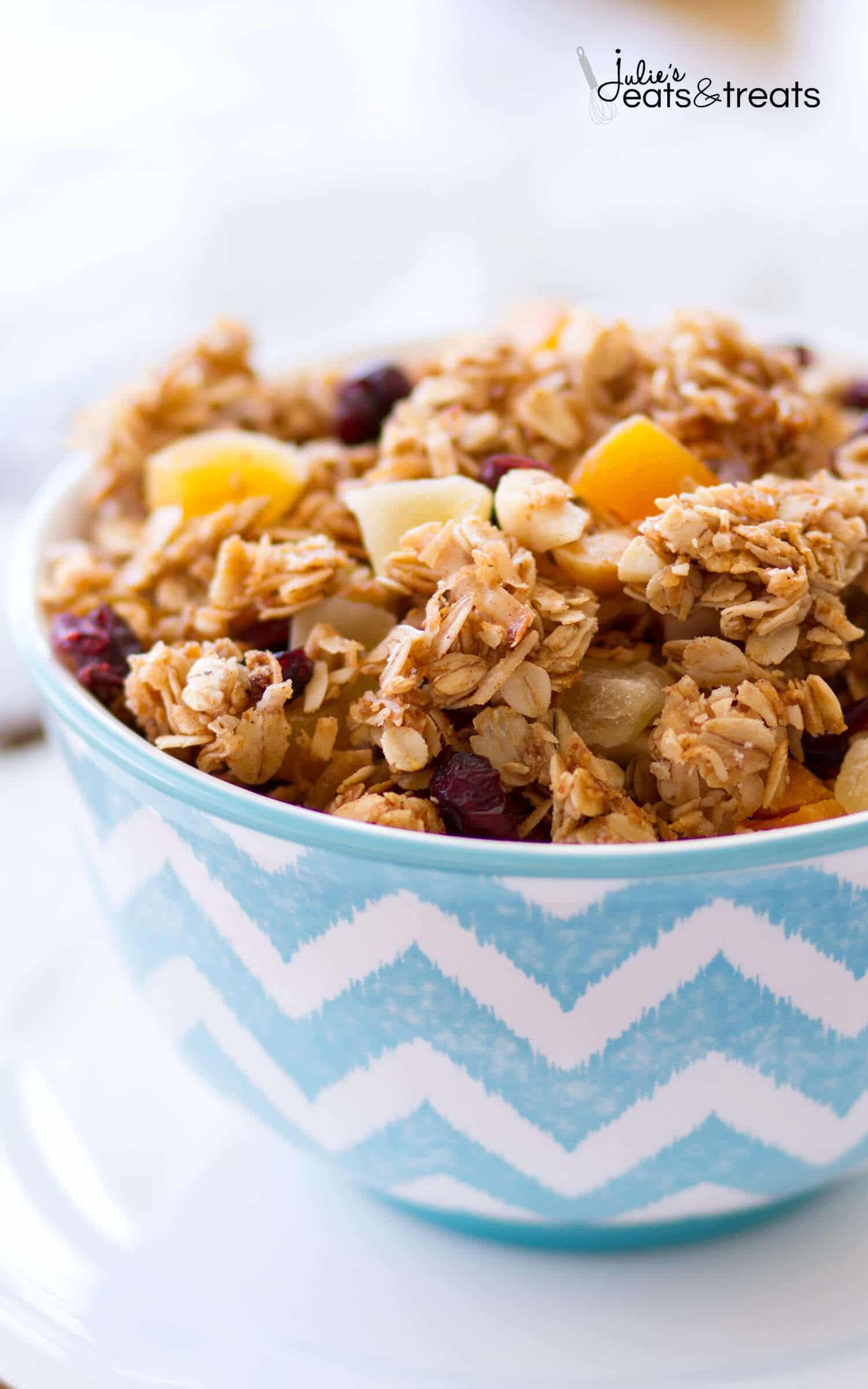 Use this homemade tropical coconut granola recipe as cereal, as a yogurt topping, and as an ice cream topping! Or, be like me, and eat it by the handful! It's just soooo good, I can't help myself. Seriously, the possibilities are endless.
Happy eating! Hopefully you love this recipe as much as I do!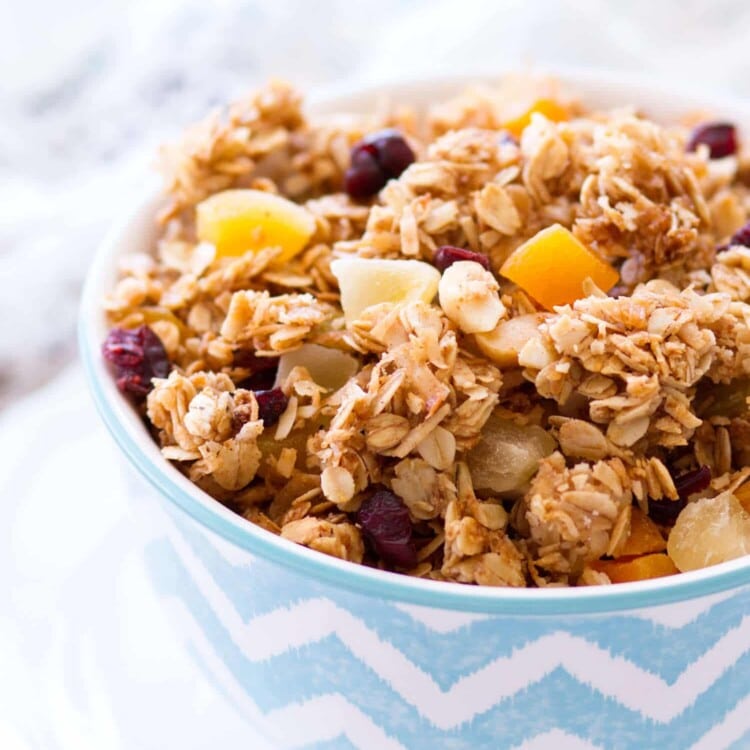 Tropical Coconut Granola
Homemade Granola Loaded with Dried Pineapple, Apricots, Golden Raisins, Cranberries, Shredded Coconut and Macadamia Nuts!
Ingredients
3

cups

old-fashioned rolled oats

1

cup

shredded coconut

I used sweetened

1/2

cup

unsalted macadamia nuts

roughly chopped

3

Tbsp

coconut sugar

or brown sugar

1/4

tsp

salt

1/4

cup

coconut oil

melted

1

tsp

vanilla extract

1/2

tsp

almond extract

1/4

cup

maple syrup

1/4

cup

honey

1/3

cup

dried apricots

chopped

1/3

cup

dried pineapple

chopped

1/3

cup

dried golden raisins

1/3

cup

dried cranberries
Instructions
Preheat oven to 325 degrees and line a large baking sheet with non-stick foil.

In a large bowl, mix oats, coconut, coconut sugar, macadamia nuts, and salt together.

Add in melted coconut oil, vanilla extract, almond extract, maple syrup, and honey. Stir until well combined.

Spread the granola onto the baking sheet in an even layer.

Bake granola for 30-35 minutes. Every 10 minutes, take the granola out of the oven and stir/flip granola (this helps it bake evenly). Press granola back into an even layer and put back into the oven.

Allow granola to cool about 20 minutes. Transfer granola into a ziplock bag or airtight container (if any granola is in large chunks, carefully break it into smaller pieces, if desired). Add in dried fruit.

Enjoy!
Nutrition Information
Calories:
348
kcal
(17%)
,
Carbohydrates:
51
g
(17%)
,
Protein:
4
g
(8%)
,
Fat:
15
g
(23%)
,
Saturated Fat:
8
g
(50%)
,
Sodium:
93
mg
(4%)
,
Potassium:
255
mg
(7%)
,
Fiber:
4
g
(17%)
,
Sugar:
27
g
(30%)
,
Vitamin A:
155
IU
(3%)
,
Vitamin C:
1
mg
(1%)
,
Calcium:
35
mg
(4%)
,
Iron:
1.8
mg
(10%)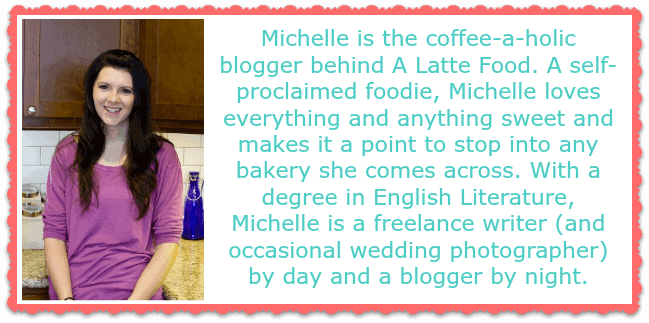 Connect with Michelle here!
Facebook ~ Pinterest ~ Instagram ~ Twitter
More from A Latte Food: