How to Meal Plan for Busy Families!
How do you get your dinner on the table during the week? How do you get out of a rut of what to make for dinner? Today I'm sharing some of my tips for Meal Planning! How to Meal Plan for Busy Families will help you create a plan for the week so you don't feel overwhelmed when dinnertime rolls around!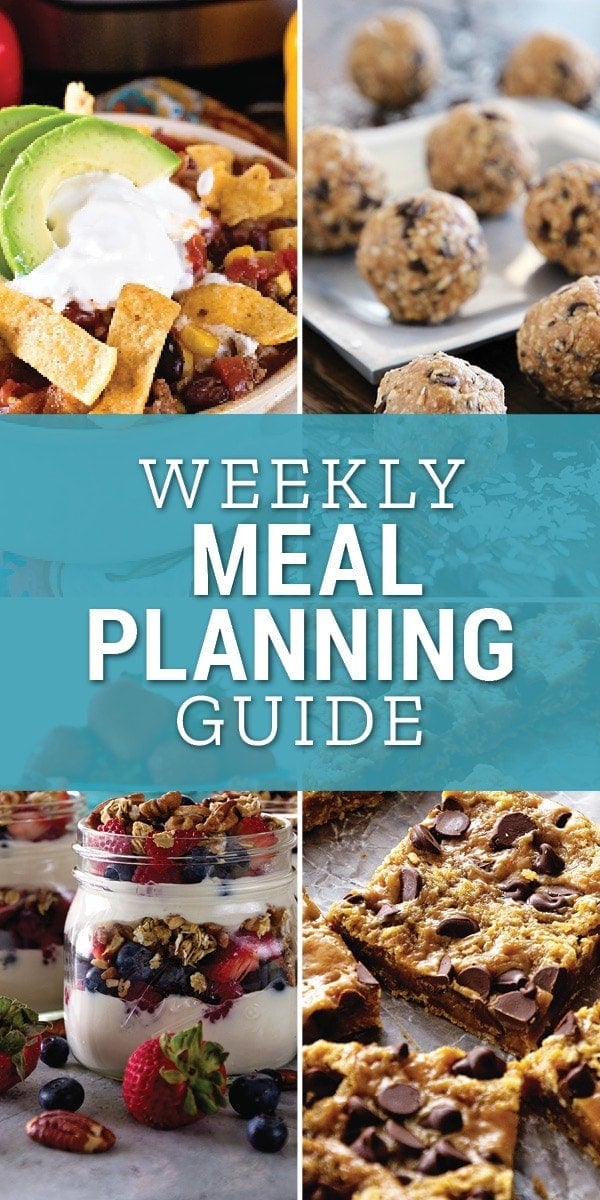 What is Meal Planning?
This is the beginning of figuring out how to meal plan. I prefer to think of it as the way you organize yourself to cook a meal. It can be breakfast, lunch or dinner. It is the plan you make before you shop. I prefer to make the plan over the weekend, shop for groceries on Sunday and take care of all the prep on Sunday. Some people plan for a month, some for a week or two. You can freeze neatly labeled packets of soup and stew, prep a meal and store it in individual containers for lunch etc.
Always remember there is no right way to meal plan and no wrong way to meal plan. Figure out what you need and then tackle it. Find out what works best for you and your family. I like to meal plan a week at a time, but your thing might be planning for a month!
[et_bloom_inline optin_id="optin_11″]
Tips for Meal Planning!
Spend time each week looking for recipes. You may hoard recipes on Pinterest, in folders or love to browse cookbooks. Whatever your way is, enjoy it. This shouldn't be torture. Find out how you like to store your recipes and go from there.
Ask your family for their input! I always make sure to ask the hubs and kids if they have any requests for the week. Sure, the kids typically ask for the same thing every week, but it helps me pick out a few meals I know they will be happy with then I fill in the blanks with new recipes I want to try or old favorites.
Check the weather. This seems silly right? But, think about it, if it's rainy and cold you want something more comforting, if it's warm and sunny you might want to grill. This will help you decide which direction to go in when you are picking out your recipes!
Start a calendar. Don't over think this. Just print one off, keep it in your phone or whatever works for you. Then you don't have to scratch your head trying to remember what you had planned for that night.
Have some fun! Create theme nights like soup night, pasta night, taco night, pizza night etc. This will help you figure out which recipes you are looking for and making it more manageable. Plus, this kids love fun stuff like this!
Choose a shopping day and make a list. I know, I know, I sound like your mother, but make sure you have a list! It's frustrating getting home and forgetting things. Trust me, I've been there!
Check what's on sale. Some of you will be big into this. You like to check what's on sale and then plan your meals around those ingredients. Other people, like me really could care less. Once again go with what works for you!
Plan for leftovers! Most of us have some tolerance for leftovers. I embrace them and luckily my family does too! I plan a few big meals with enough leftovers for another meal or lunches. If you end up with a lot of leftovers and you don't want to eat it again just freeze it. Those freezer meals come in handy when you are in a pinch another night.
Prep food after grocery shopping. This makes the weeknights less hectic and more enjoyable. It's worth the bit of time it takes you before starting a week. Wash and dry lettuce, chop onions, roast vegetables, brown sausage or hamburger, shred zucchini etc.
Cook components of your meals or your entire meal. Sometimes I even cook a whole meal and divide it into individual containers for lunch. You can roast a chicken and then use it for sandwiches and pasta the rest of the week. I like making up casseroles and then having them in the fridge just to grab and throw in the oven after work.
Be strategic and freeze meals. If you are making a batch of soup double it and freeze half of it. Making sauce? Double it and throw half in the freezer. It's so nice to have a freezer with a few options in it because sometimes life happens and you need a back up plan!
Keep a well stocked pantry. Make sure your spices are stocked, chicken broth, olive oil etc. It's terrible to run out of these things in the middle of cooking. I love to use my Alexa in my kitchen to put things on the grocery list that integrates with my phone. I use the AnyList app and it categorizes it my section in the grocery store which is a must for me!
Be Flexible! You guys, life happens roll with the punches. Sometimes you need to switch around meals in the middle of the week. That's ok. The main thing I love is that I have 5 recipes I know I have the ingredients for and can make that week. The day I have on my calendar to make them is not set in stone. Sometimes I end up short on time or craving something else. That is just fine!
If you find yourself with an incredibly busy schedule one week or find this overwhelming another great option is to sign up for meal kit delivery!
A few of our Favorite Recipes for Meal Planning!