Irish Car Bomb is super easy with only three ingredients! All you need is Irish Cream Liqueur, Irish Whiskey and a Guinness Beer! We recommend using Bailey's for the Irish Cream Liqueur, and Jameson for the whiskey. Half the fun in this bomber style shot is dropping the shot into the beer! A quick tip, drink it quickly or you're left with a curdled glass of beer, whiskey and Irish cream!
I've been sharing some super fun recipes just for St. Patrick's Day like a Snakebite, Grasshopper Drink, Pickleback, Irish Trash Can and Green Beer so I know you're ready for a party, right?

If you are looking to fulfill your sweet tooth of St. Patrick's day don't miss the St. Patrick's Day Desserts list I have! It's always a super popular post!
Well now it's time for one more drink recipe! So I'm going to start with the obvious question…
What is an Irish Car Bomb?
With only three ingredients the Irish Car Bomb recipe is easy to make and this drink packs a punch! It's meant to be chugged or drank very quickly! Because if you don't the Bailey's (cream Liquor) is quickly curdled by the whiskey and beer.
Ingredients Needed
Guinness Beer – a dark stout Irish beer is the beer of choice!
Jameson Whiskey – This Irish (of course!) whiskey is a fairly smooth blend and fairly inexpensive.
Bailey's Irish Creme – Go for the good stuff here, after all this is a party!
How to make it
Pour the Guinness into a pint glass about half full
In a shot glass layer, the Bailey's on the bottom with the whiskey on top.
Drop the shot directly into the beer and drink quickly!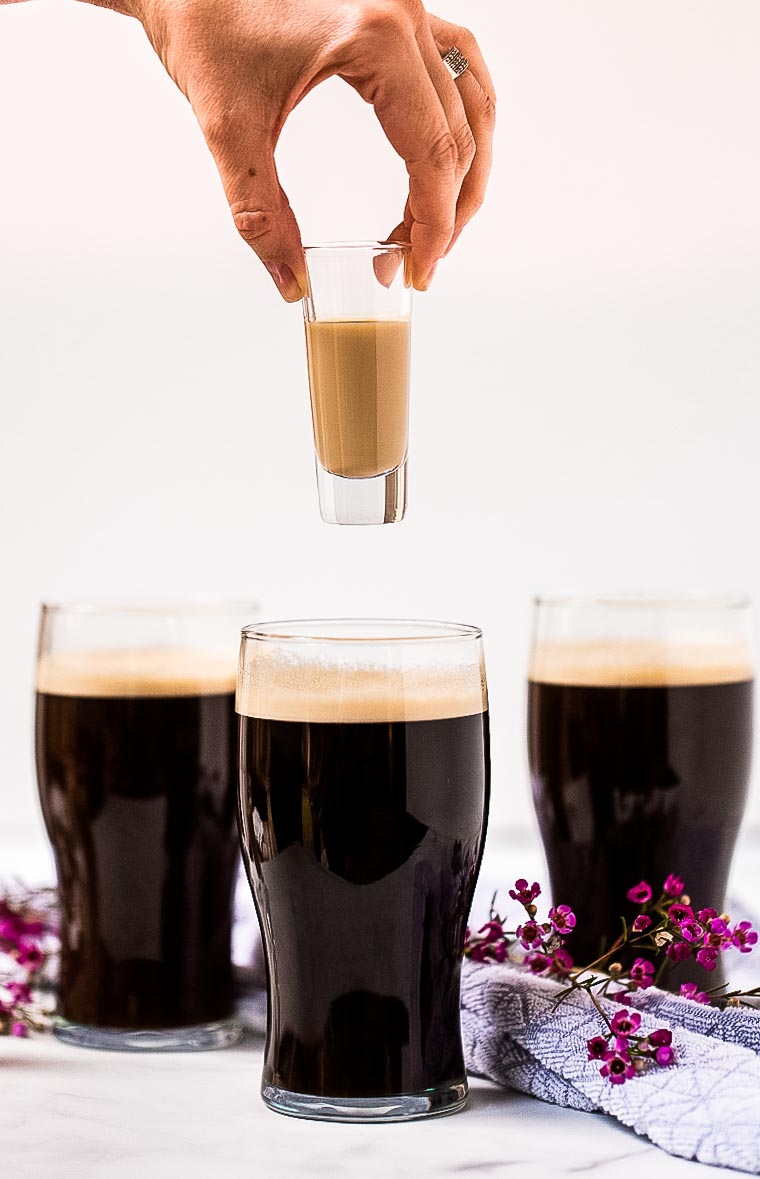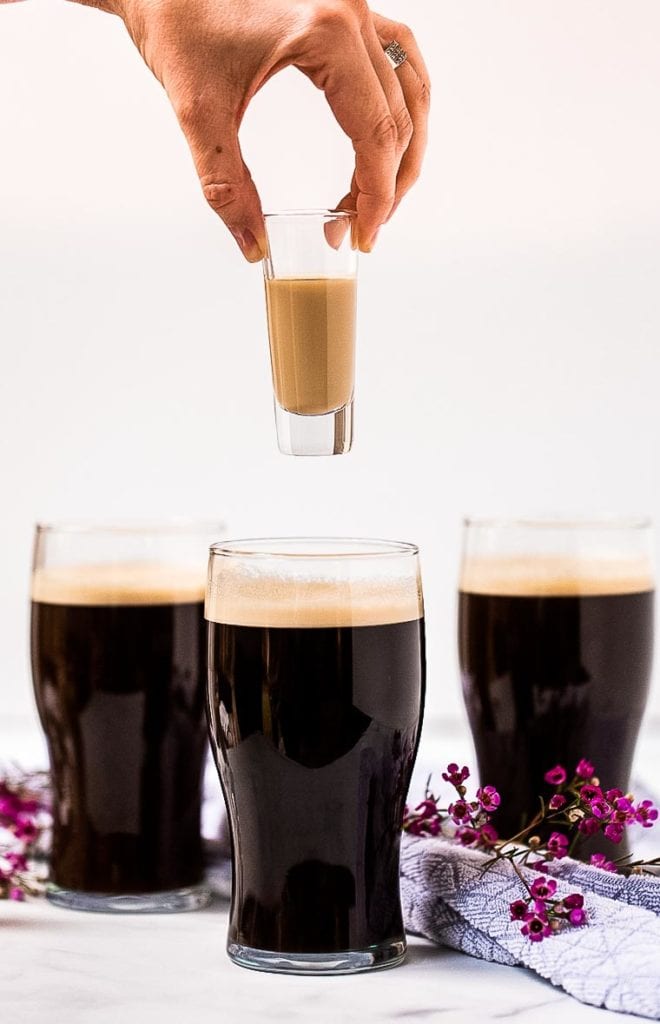 Are you a person that goes all out for St. Patrick's Day or a person that lays low?
Personally, with three children I'm the person that lays low these days!
Why is this called an Irish Car Bomb?
The ingredients in this drink are typically Irish and because the shot is "bombed" or dropped into the drink, hence the name!
Why do you have to it fast?
Because as previously mentioned if you don't drink it quickly the creme liquor curdles and ew! It won't taste good at all! Don't worry though, it won't curdle in your stomach after drinking. Hey this is a party drink, have fun with it!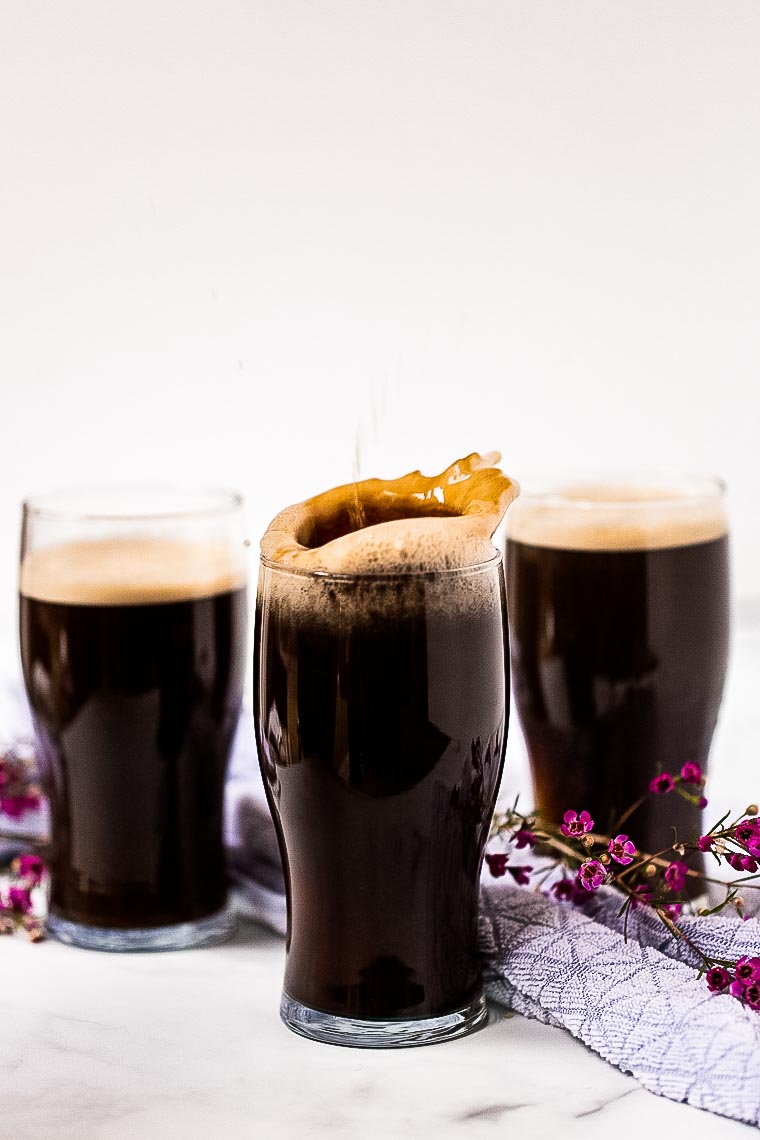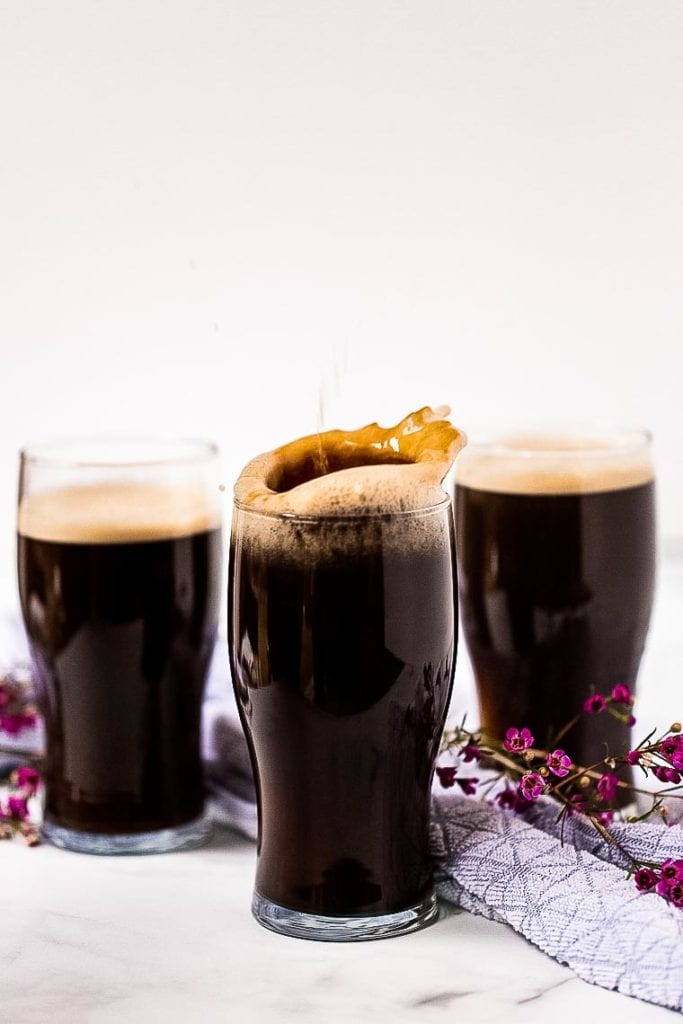 This recipe is perfect for those of you that go all out and celebrate St. Patrick's Day in full force.
I have someone close to me that does that so I need to make sure to share this with her!
We are talking the St. Patrick's Day parade, full attire of themed clothes and a fun night out.
She also has no children, so I'm going to go with that's my problem!
This is probably the most important part of this post. Now that you've had this epic party you probably know what's next, right?
Best food for hangovers!
Of course, if you don't drink too much you won't have a hangover, that's the best solution but if you do….
I'm expecting an epic party here, so be sure to take pictures and tag me on Instagram at @julieseatsandtreats or #julieseatsandtreats – lampshades on head optional! ?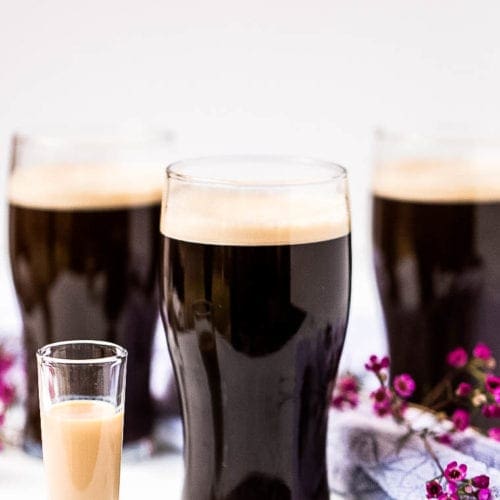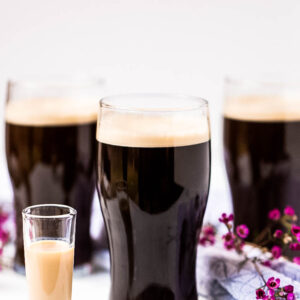 Irish Car Bomb
Only three ingredients in this fun bomber style shot! Drink it quickly though or you will be left with a curdle glass of beer, whiskey and Irish cream!
Ingredients
1/2

oz

Irish Cream Liqueur

such as Baileys

1/2

oz

Irish Whiskey

such as Jameson

1

Guiness Beer
Instructions
Add Irish Cream Liqueur and Jameson to shot glass, layering Irish Cream on the bottom

Pour Guinness into pint glass 3/4 of the way and let settle

Drop shot glass into Guinness and drink quickly
Notes
Remember if you don't drink it quickly the creme liquor curdles.
Nutrition
Calories:
276
kcal
Carbohydrates:
19
g
Protein:
2
g
Fat:
1
g
Saturated Fat:
1
g
Sodium:
18
mg
Potassium:
122
mg
Sugar:
2
g
Calcium:
18
mg