Lasagna Roll Ups are a great twist on traditional lasagna! You get all your favorite flavors of lasagna in this recipe but they are stuffed in a lasagna noodle that is rolled up. Think lasagna noodles stuffed with spaghetti sauce, mozzarella and ricotta cheese, Gourmet Garden lightly dried parsley and stir-in garlic paste. It's also a freezer-friendly recipe so it's great for meal prep. Get excited to dive head first into this recipe!
We love pairing this easy Lasagna Roll Ups recipe with our favorite Olive Garden Bread Sticks and easy Greek Salad. A great quick and easy weeknight dinner that the entire family will love! Try this Baked Ravioli Casserole is loaded with ground beef, marinara sauce, spices, cheese ravioli and topped with lots of melted cheese!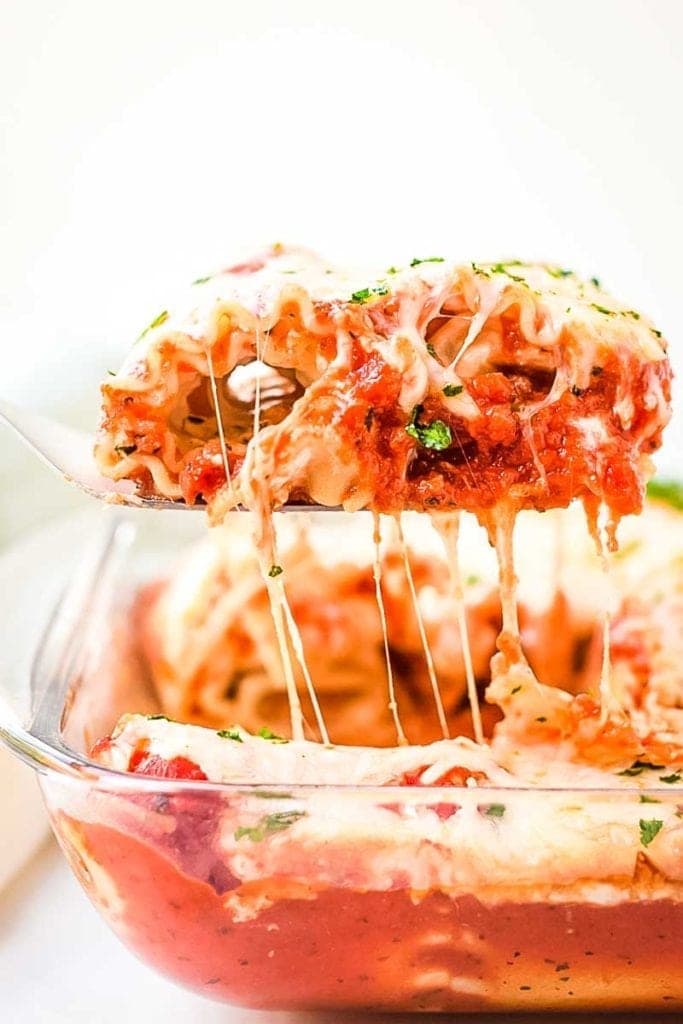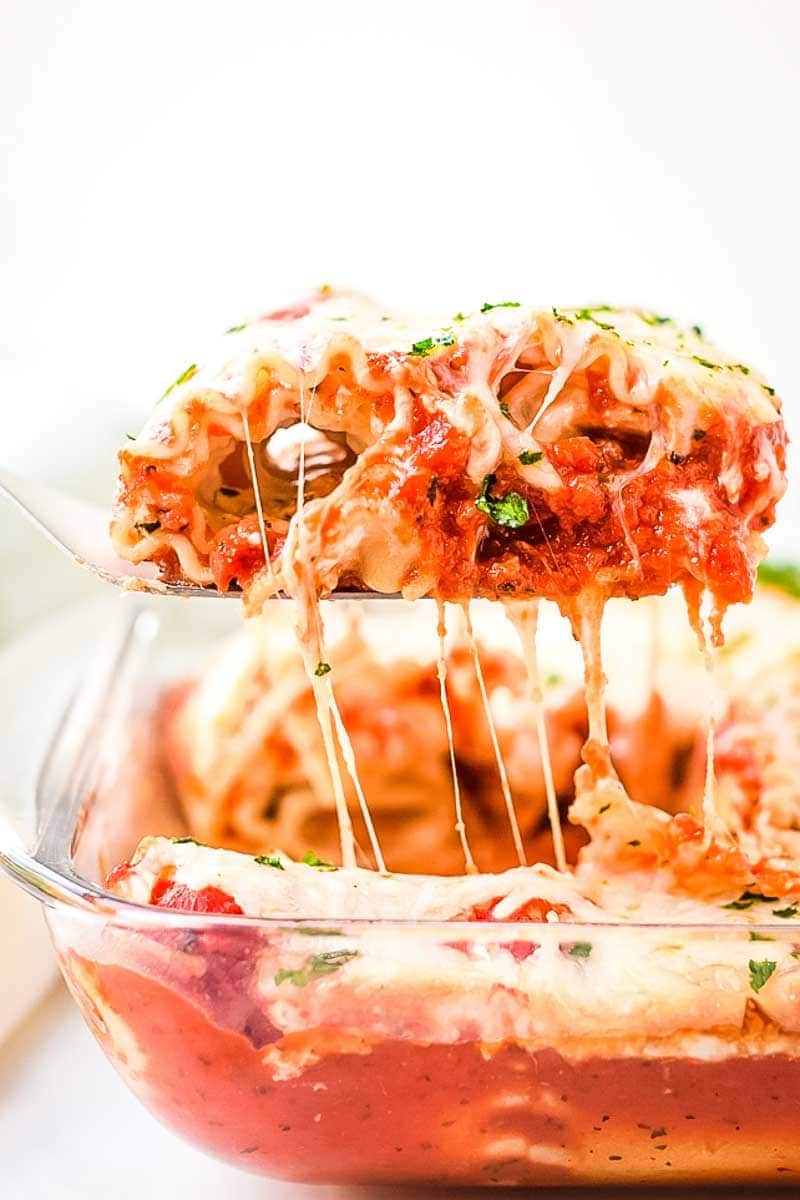 The Best Lasagna Roll Ups Recipe!
This post is sponsored by Gourmet Garden. All text and opinions are my own.
My family loves anything with pasta in it or any casserole. That's why I knew this easy Lasagna Roll Ups recipe we going to be a hit before I even made it. One of my most popular recipes is the Alfredo version of this and I knew you guys wanted this one too!
I mean what's not to love about a family friendly meal that is easy, you can make ahead and it's freezer friendly?
This recipe checks all the boxes for a winner that's for sure!
Tips for making Lasagna Roll Ups!
Here are a few of the more frequently asked questions when making Lasagna Roll Ups.
If you have a question that isn't answered please leave us a comment below and we will do our best to answer it!
What are Lasagna Roll Ups?
Essentially they are a lasagna noodle that's been cooked and then it's stuffed with a cheese mixture and rolled up and put in a pan. It's a delicious twist on traditional lasagna that your family will love!
Can I make this ahead of time?
Yes! I love making them the night before and then sticking them in the fridge for the next day. That means when I get home from work or running kids around I can just pop it in the oven. I do recommend adding another 15-30 minutes to the baking time because the roll ups will be cold since they were in the fridge!
How to freezer Lasagna Roll Ups!
I often double the recipe and make one in a foil pan and pop it in the freezer for later. It's always nice to have a freezer meal for when life is a little crazy!
I recommend covering it with foil and then putting it in a gallon freezer storage bag.
They can be froze for up to 3 months in a standard freezer.
When you are ready to bake the Lasagna Roll Ups I recommend thawing them in the fridge overnight to speed up the cooking time. If you cook it from frozen it will take at least 1 hour to 1 hour and 15 minutes to bake.
What if the top starts browning to quick when baking?
That's an easy fix! Just cover with foil and put back into the oven to continue baking!
Where do I find Gourmet Garden Lightly Dried Parsley and Garlic Paste?
If you haven't tried Gourmet Garden's Lightly Dried herbs yet you can find them in the produce section at your local grocery store next to the fresh herbs and cut-up produce. I love keeping a variety of them on hand so my fridge is stocked when I need them, and they stay fresh in the fridge for up to four after opening!
Also, make sure to check out Gourmet Garden's stir-in pastes including my favorite garlic! Think –> No more stinky hands from fresh garlic and all of the flavor! The pastes last even longer, keeping their fresh flavor for three months!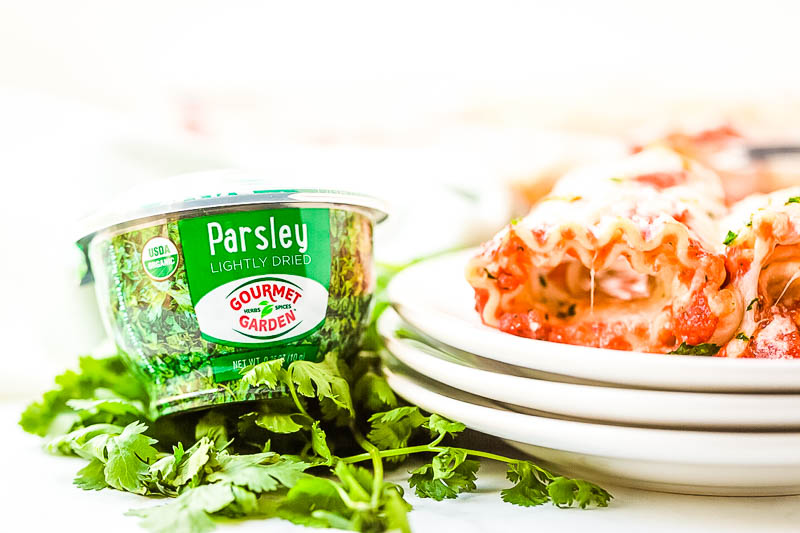 What do I need to make Lasagna Roll Ups?
How do I make Lasagna Roll Ups?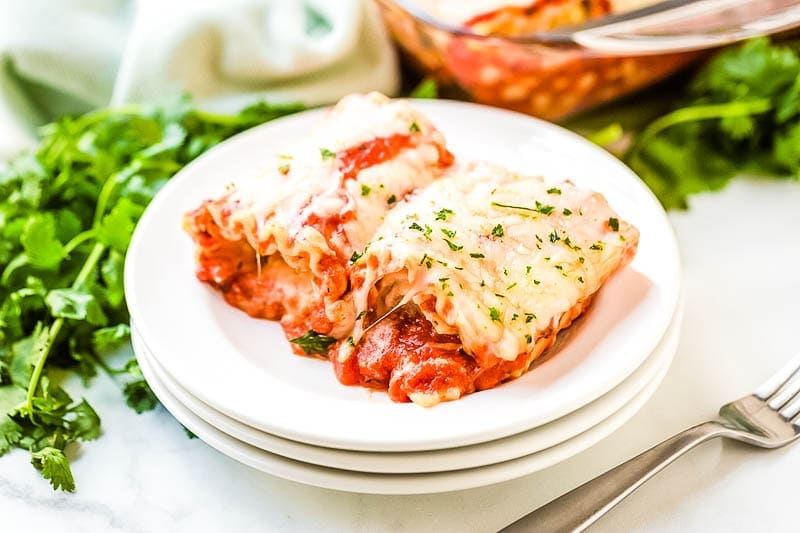 My Secret to Making Lasagna Roll Ups!
I'm going to let you in on one of my secret ingredients that I keep in my refrigerator at all times! It's Gourmet Garden's Lightly Dried Parsley. You might be wondering why this is my secret power!
It's because these products keep fresh in the refrigerator for up to FOUR WEEKS! It seems that every time I would buy fresh parsley I would go to my fridge and it would be wilted and limp. Not any more! I love how convenient it is to stock my fridge with lightly dried herbs so they are always there when I need them.
This is my third week incorporating Gourmet Garden products into my recipes and it's such a great time-saver! Being able to reach into the fridge and have fresh herbs and stir-in pastes on hand is just so convenient. You don't realize how much time you spend chopping fresh herbs and garlic/ginger until you have the convenience of Gourmet Garden! Check out some of my other favorite recipes I've created over the last two weeks using these lightly dried herbs and stir-in pastes are my famous Texas Caviar and Margherita Pizza which are perfect for the summer!
More Lasagna Recipes!
What side dishes can I pair with Lasagna Roll Ups?
Looking for a fun new twist on lasagna? Then this definitely is the recipe for you!
Love it? I knew you would! Rate it, please!! It would be awesome if you'd give it a five-star rating below!
If you snap any photos, don't forget to tag me on Instagram @julieseatsandtreats or #julieseatsandtreats that way I'm sure to see your pictures!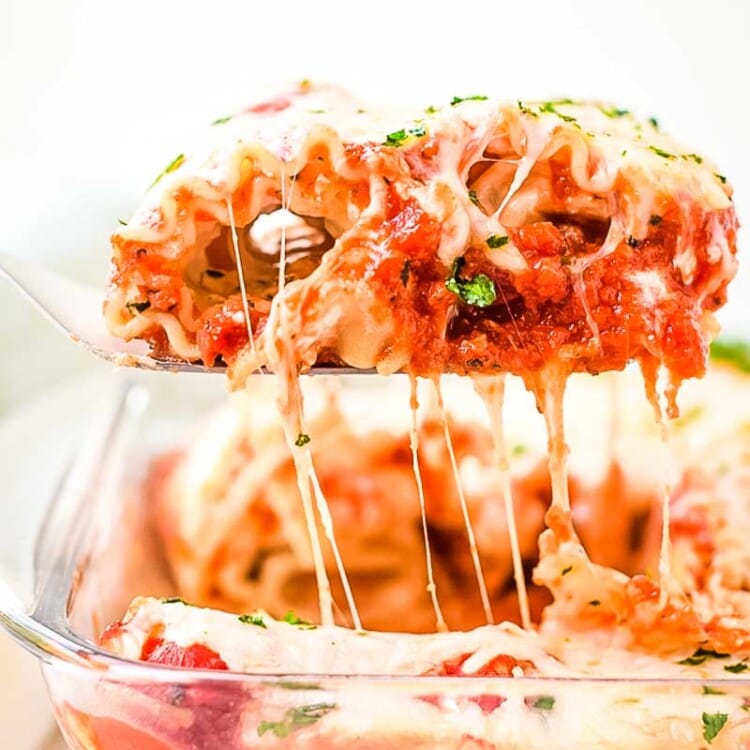 Lasagna Roll Ups Recipe
Quick and easy Lasagna Roll Ups recipe for dinner! Lasagna noodles stuffed with a ricotta cheese mixture, sauce and cheese!
Ingredients
9

lasagna noodles

2

c.

spaghetti sauce

15

oz

part skim ricotta cheese

1

egg

1/2

tsp

Gourmet Garden lightly dried parsley

1

tsp

Gourmet Garden stir-in garlic paste

1/2

tsp

salt

2

c.

mozzarella cheese

shredded
Instructions
Spray an 8×8 inch pan with non-stick spray. Pour 1 c. spaghetti sauce on bottom of pan.

Cook lasagna noodles until they are al dente. Don't overcook them as you will be baking them also. Drain and rinse the noodles with cold water so they don't stick together.

While they are cooking mix together 1 c. mozzarella cheese, ricotta cheese, garlic paste, salt and parsley in a bowl.

Lay out the noodles and blot the water off of them with a paper towel. Spread 1/9 of cheese mixture on noodle. Roll up the lasagna noodle. Place the roll-ups, seam side down in the pan. Repeat with all of the noodles.

Once they are all in the pan pour the rest of the spaghetti sauce over them. Top with the remaining cheese. Bake at 350 degrees for 30 minutes or until cheese is golden brown and bubbling on sides. If cheese browns to quickly, cover pan with foil and place back in oven.
Nutrition Information
Calories:
780
kcal
(39%)
,
Carbohydrates:
62
g
(21%)
,
Protein:
50
g
(100%)
,
Fat:
37
g
(57%)
,
Saturated Fat:
21
g
(131%)
,
Cholesterol:
167
mg
(56%)
,
Sodium:
2095
mg
(91%)
,
Potassium:
770
mg
(22%)
,
Fiber:
4
g
(17%)
,
Sugar:
8
g
(9%)
,
Vitamin A:
1780
IU
(36%)
,
Vitamin C:
8.3
mg
(10%)
,
Calcium:
921
mg
(92%)
,
Iron:
3.3
mg
(18%)