These little devils were supposed to have amazing powers and induce my labor. Four days later…I'm still sitting here pregnant. I guess I should just deal with the fact that Baby "E" is on it's own timeline and this is only the beginning of this timeline. Pretty soon it will show me just how much it's in control. I just try to tell myself I'm one day closer that yesterday to meeting this little babe. It really doesn't help much to relieve my anxiety of when it's going to happen.
These cupcakes are a bit time consuming and I thought if nothing else I was going to go into labor from slaving away over these for hours on my feet. Good thing that they were scrumptious and even if they didn't cause me to go into labor I enjoyed every bite of them.
I bet your wondering about the story behind the "Lemon Drop Cupcakes". My friend mentioned last week that she had heard a news story about these cupcakes inducing labor. I kind of rolled my eyes and then a few days later decided to research it. Well sure enough there's a story out there and then I found a blog post about a lady making her sister these cupcakes and it was 9 days before her due date and she went into labor. I thought it was worth a shot. Unfortunately I was just on a sugar high for several days after this attempt of self induction!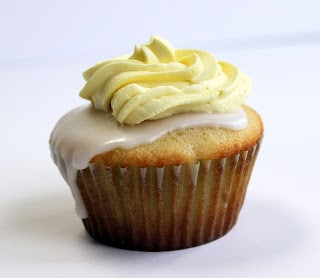 Lemon Drop Cupcakes
Printer Friendly Recipe
Ingredients
Cake Ingredients:
2 sticks butter at room temperature
2 cups white/granulated sugar
4 extra large eggs at room temperature
1/3 cup grated lemon zest (4-8 lemons, depending on size)
3 cups flour
1/2 teaspoon baking powder
1/2 teaspoon baking soda
1/4 cup freshly squeezed lemon juice
3/4 cup buttermilk, at room temperature
1 teaspoon vanilla extract
Lemon Syrup Ingredients:
1/4 cup freshly squeezed lemon juice
1/4 cup white/granulated sugar
Glaze Ingredients:
2 cups powdered/confectioners sugar
3 1/2 tablespoons freshly squeezed lemon juice
Buttercream Ingredients:
2 sticks unsalted butter, softened
3 cups powdered/confectioners sugar
1/2 teaspoon salt
1 tablespoon plus 1 teaspoon milk
1 teaspoon pure vanilla extract
2 tablespoons fresh lemon juice
Cake Directions:
Preheat oven to 350 degrees and prepare 24 cupcake tins with liners. Cream the butter and sugar in bowl of stand mixer with the paddle attachment until light and fluffy, about 5 minutes. Add the eggs one at a time, and lemon zest.
In another bowl, sift together flour, baking powder, baking soda and salt. In another bowl, combine lemon juice, buttermilk and vanilla. Add the flour mixture and the buttermilk mixture alternately to the batter, beginning and ending with the flour. Using an ice cream scoop, fill each cupcake liner 1/2 full and bake for 18-20 minutes or until a toothpick comes out clean. Do not over bake! Remove from oven and remove from cupcake pans as soon as possible. Let cool on a wire rack.
While the cupcakes are cooling, prepare the lemon syrup.
Syrup Directions:
Combine sugar and lemon juice in a heavy-bottom pan over low heat until sugar dissolves, stirring frequently. After cakes have cooled for 10 minutes, spoon the syrup over the tops of the cupcakes, about a tablespoon of syrup per cake. Then allow cakes to cool completely before glazing and frosting.
Glaze Directions:
Combine sugar and lemon juice in a bowl, mixing with a wire whisk until smooth. Using the back of a large spoon, smooth some glaze over the top of each cupcake. Each cupcake will use about 3/4 teaspoon of glaze.
Buttercream Directions:
In the bowl of a stand mixer, cream the butter and salt for about 30 seconds. Add the powdered sugar, milk, vanilla and lemon juice and beat 5-6 minutes until frosting is fluffy. If desired, add some yellow (gel or icing) food coloring. Add to piping bag and frost as desired. This makes plenty of frosting so don't skimp on topping those cupcakes!!
Sprinkle with yellow sugar pearls, sugar, or a lemon drop candy for decoration.
Recipe from: Lemon Sugar