I had a bag of white chocolate M&M's hiding in my pantry and I needed to use them up before I broke them open and started eating them be the handful. When I found this recipe I knew this is what they were went meant for.
I love how the cookies are crispy around the edges and nice and soft in the center. The best part is they stay this way! These were an accompaniment to the Crack Dip I made for the grill out we had this past weekend. I got rave reviews except from my niece who informed me that they were "Yucky!" repeatedly…so you'll have to either believe my little niece or the other ten of us that loved them!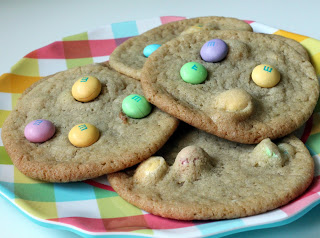 M&M Sugar Cookies
Printer Friendly Recipe
Ingredients
1 c. unsalted butter (room temp)
1/2 c. brown sugar
1 1/2 c. white sugar
2 eggs
2 1/2 tsp vanilla extract
2 1/2 c. all-purpose flour
1 tsp salt
1 tsp baking soda
1 tsp baking powder
M&Ms
1. Preheat oven to 350 degrees.
2. In a large mixing bowl cream together butter and sugars. Add the eggs and vanilla and mix until well blended. Add the flour, salt, baking soda and baking powder and mix well.
3. Chill the dough in the refrigerator for 2 hours. Scoop dough into tablespoon size balls and place on a cookie sheet lined with parchment paper. The cookies will spread so leave room for them to spread. (You can roll the dough in M&M's now or place M&M's on the cookies right after you take them out of the oven. I found it makes "prettier" ones if you do it after they are finished.)
4. Bake for 12-15 minutes until golden brown around the edges. Remove from oven and let rest on baking sheet for 2 minutes. Remove to wire racks to finish cooling.