Mummy Hot Dogs are such a fun twist on regular hot dogs perfect for Halloween dinner! Just wrap crescent roll strips around your hot dogs to look like bandages. Then bake them until they're golden and then pop on some tiny edible eyes. They're easy, cute, and delicious. Kids and adults alike will get a kick out of them!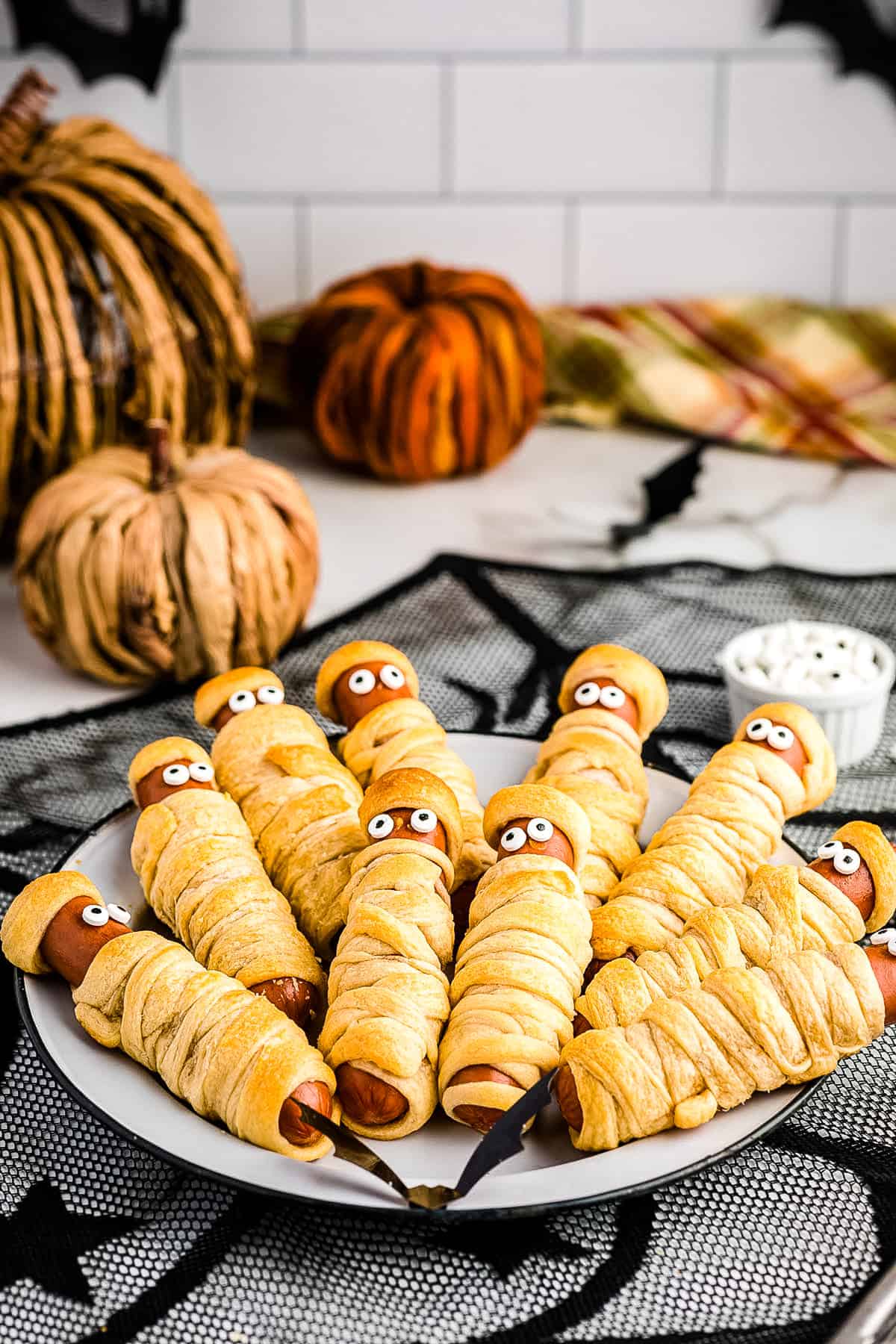 Need the perfect appetizer for your Halloween party? Then you have to make these mummy hot dogs! Just a little spooky a whole lot of flavor. They are essentially the Halloween version of pigs in a blanket. I mean, who would ever turn down a tasty hot dog wrapped in buttery flakey breading?
Our family loves crescent roll creations! There are so many thing you can make with crescent rolls, like breakfast crescent ring and apple dumplings. So now that these are joining the ranks, you can make them every year. Don't forget to make some Halloween sugar cookies so that you can have the spookiest snack table at your party.
Why You'll Love Mummy Hot Dogs
You can make a batch of these in just 20 minutes. They are great for a last minute recipe if you forgot to make an appetizer!
Not only can you serve these as an appetizer, but you can even send them in school lunches. Your kids will definitely have the coolest lunch in school!
All you need is four simple ingredients to make the cutest Halloween snack ever!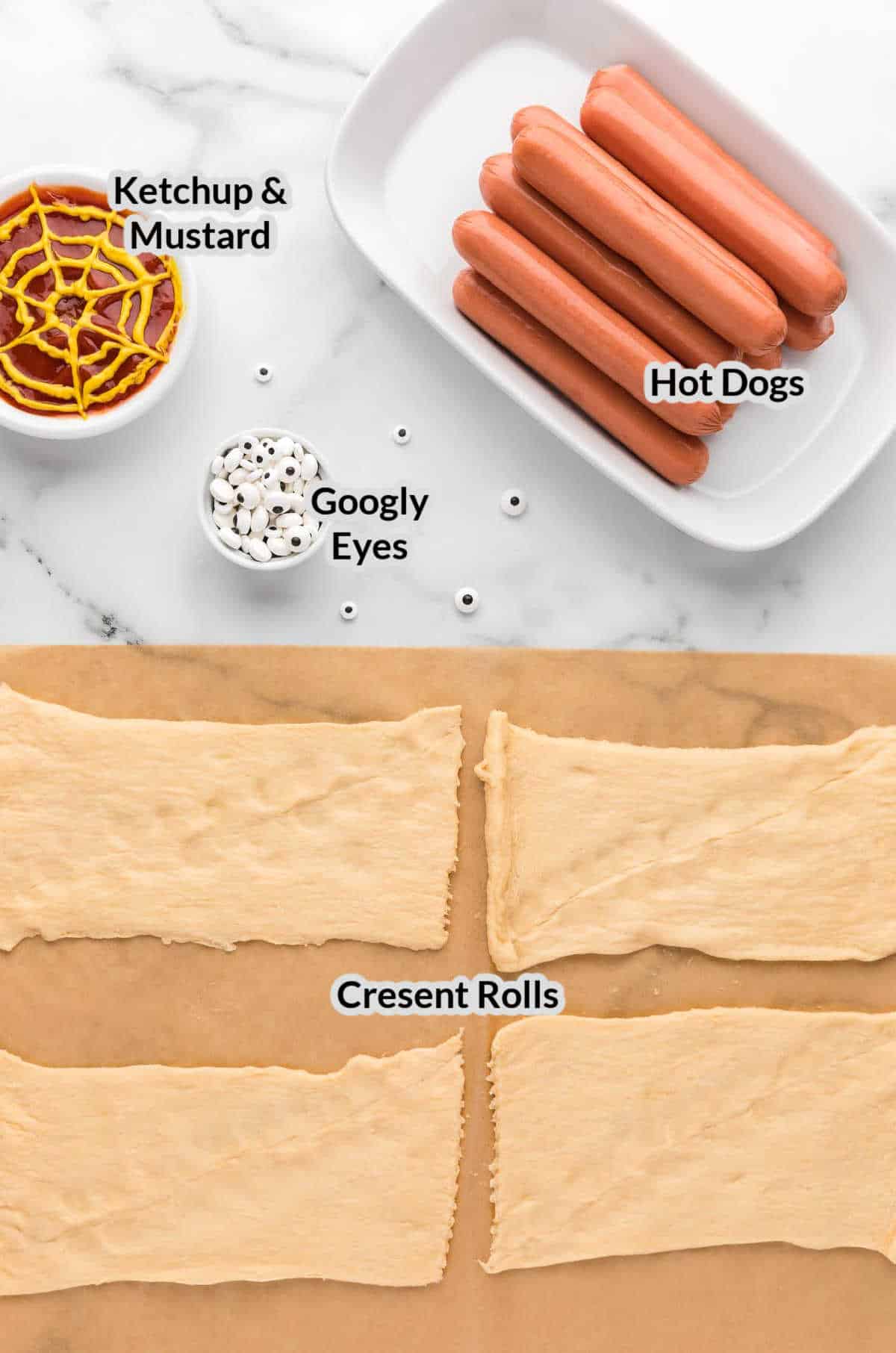 Ingredients for Mummy Hot Dogs Recipe
Crescent rolls – Grab your favorite can of crescent rolls from the grocery store to use in this super easy Halloween snack recipe.
Hot dogs – For the best and most delicious flavor, use all beef hot dogs. But really, you can use any of your favorite hot dog weenies!
Googly eyes – Candy google eyes make for the cutest, slightly spooky, stare from each mummy hot dog snack.
Ketchup and mustard – You need a little ketchup and mustard to "glue" the candy eyes in place, but keep some extra on hand to dip the hot dogs in too!
How to Make Mummy Hot Dogs
Preheat the oven to 375 degrees Fahrenheit.
Unroll the crescent roll dough and then separate at the pre-made perforations to make four different rectangle pieces. There will be perforations at an angle in each rectangle too. Press down on those to seal them.
Using a sharp knife, slice each rectangle horizontally to create ten strips of dough. You'll have a total of 40 pieces left when you are done.
Wrap four pieces of crescent roll around each hot dog to mimic the "bandages" of mummies. Only stretch the dough slightly to fit around the hot dogs, leave some space between the dough so you can still see the hot dog and have a place for eyes.
Place each wrapped hot dog onto a large cookie sheet. Then place into the oven and bake for 10-12 minutes until the crescent roll is golden brown and hot dogs are warmed through.
Remove the hot dogs from the oven and then place two dots of mustard or ketchup on the space for eyes. Press candy eyeballs into the dots of condiments.
Serve immediately with your favorite condiments!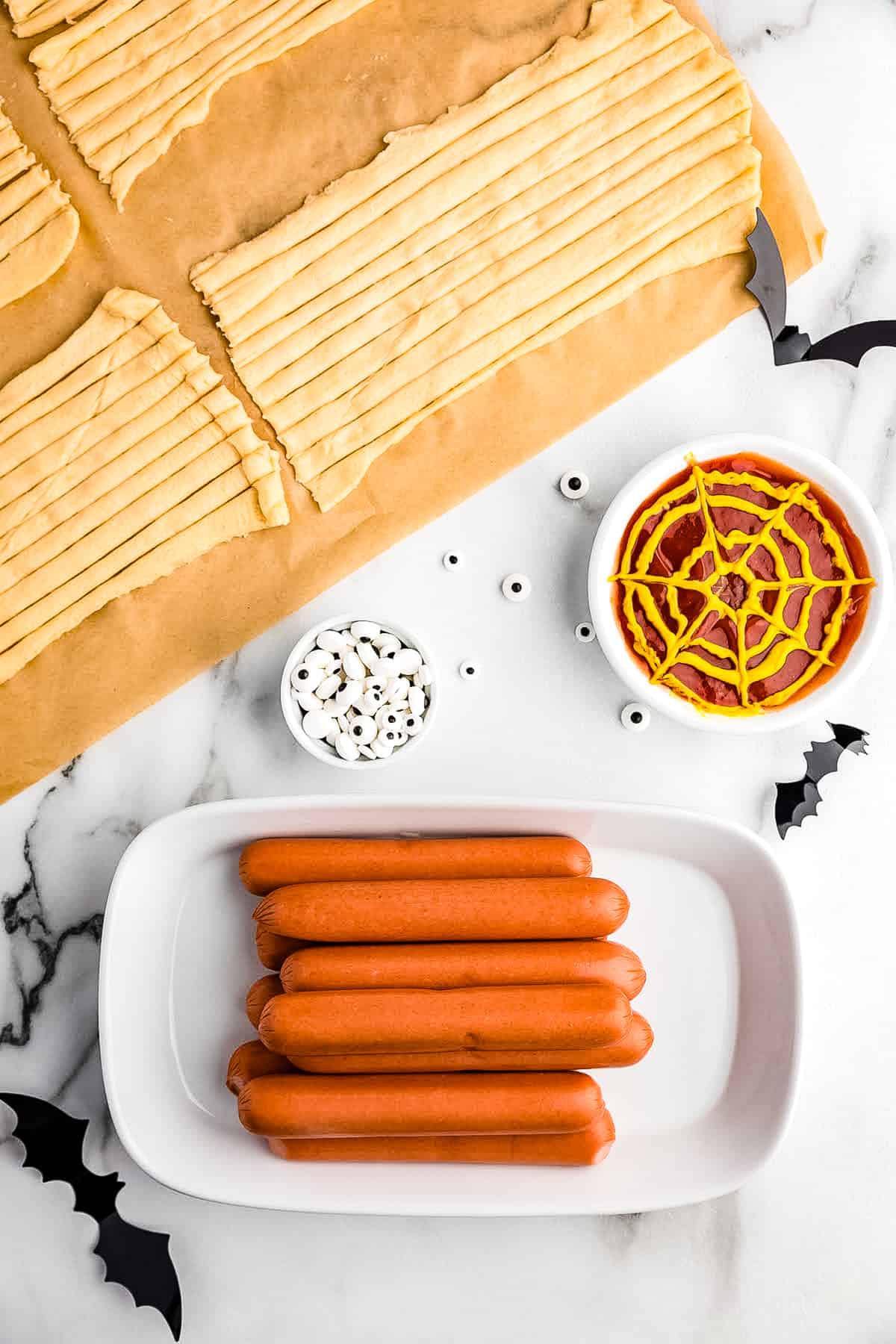 What to Serve with Mummy Hot Dogs
Aside from ketchup and mustard, you can use other delicious condiments. This burger sauce and some marinara suace would be a tasty dip for Halloween hot dogs.
Serve these spooky little appetizers with crockpot buffalo chicken dip or easy fried ravioli. Grab some more crescent roll dough and make pizza crescent rolls or air fryer pigs in a blanket too!
Want some extra kid friendly appetizers to go with this main dish? Mozzarella sticks and Instant Pot grape jelly meatballs are always a hit!
And for a fun fall sweet treat to go with your Halloween pigs in a blanket recipe, these pumpkin bars are always great!
How to Store Leftover Mummy Hot Dogs
Place leftovers into an airtight container. Store in the refrigerator for up to 3 days. To reheat, place in the microwave or oven until warmed through. Reheating in the oven will likely keep the crescent roll wrap a bit more crispy.
Is there anything I can add to mummy hot dogs?
Yes! If you want to have cheesy version, then slice up some cheese and wrap it around the hot dog before you add the crescent roll.
To add more flavor to the crescent roll wrap, melt some butter and add a bit of garlic. Brush the melted garlic butter onto the mummy hot dogs right after they come out of the oven!
Pro Tips
When wrapping the hot dogs, keep in mind that the crescent rolls will puff up while baking. Make sure the space you leave for eyeballs is large enough, even after the crescent rolls take more space.
Use a toothpick to add condiments to the hot dog where you will attach the candy eyeballs.
Serve on a spooky Halloween platter for extra festive and scary fun!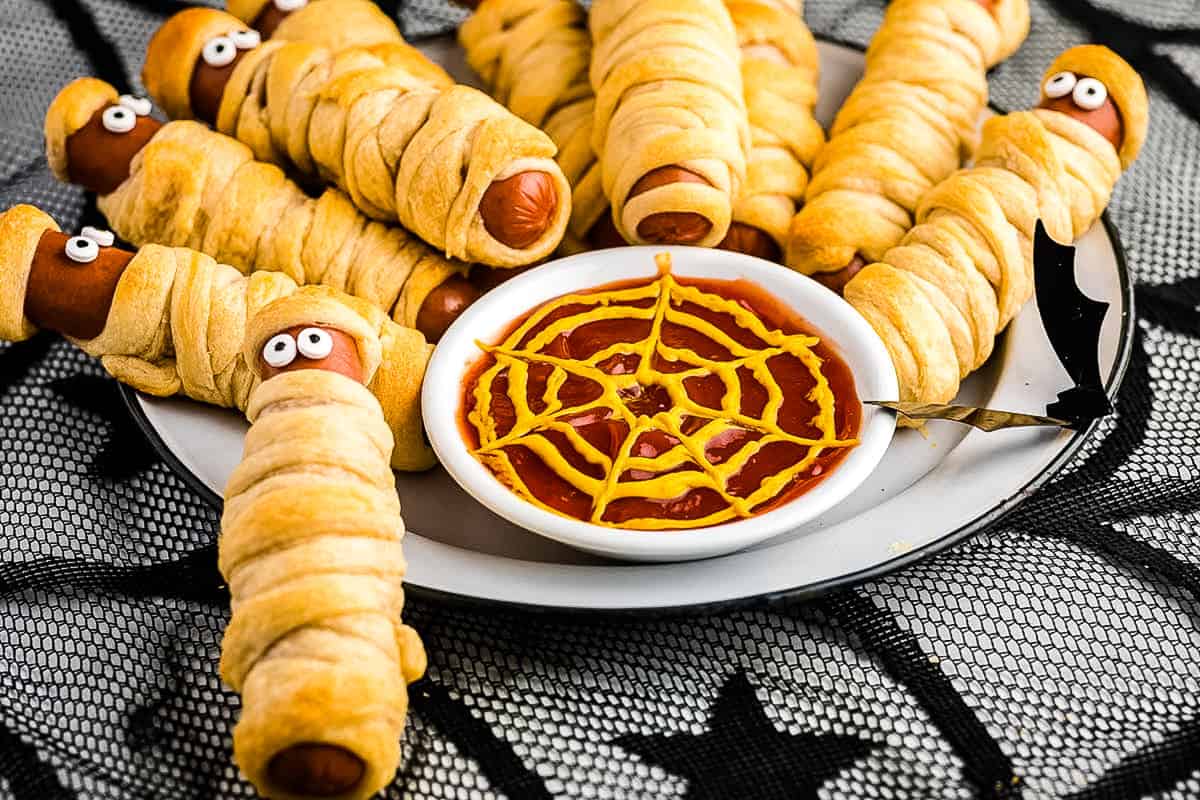 Spooky, savory, and silly…you've gotta learn how to make mummy hot dogs!
More Easy Appetizers You'll Love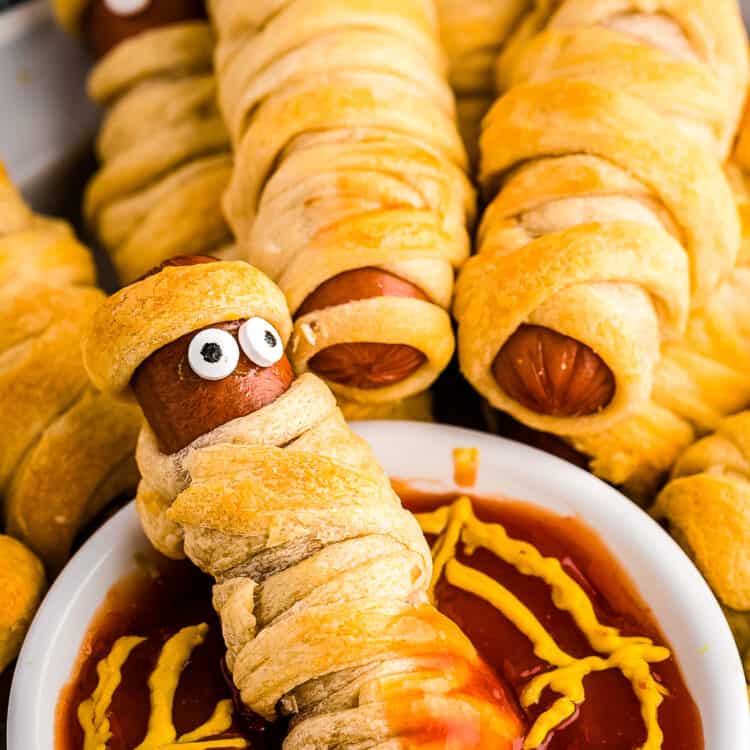 Mummy Hot Dogs
Hot dogs wrapped in pieces of crescent roll dough to look like bandages make these Mummy Hot Dogs adorable, delicious and such a fun Halloween recipe!
Ingredients
8

ounces

refrigerated crescent rolls

10

hot dogs

Mustard or ketchup

20

Edible Candy eyes
Instructions
Preheat the oven to 375 degrees Fahrenheit.

Unroll the crescent roll dough and separate at perforations to create 4 rectangles. Press the perforations in each rectangle to seal.

With a knife cut each rectangle lengthwise into 10 pieces of dough. You will have a total of 40 pieces when you are done.

Wrap 4 pieces of sliced dough around each hot dog to look like "bandages", stretching the dough slightly to fit the hot dogs. Leave some space so you can see the hot dog. On each hot dog, about ½ inch from one end separate the dough bandages to create space to put the candy eyeballs after baking. Remember the dough will slightly puff up when baked so make sure there's some room.

Place each wrapped hot dog on an ungreased large cookie sheet.

Place in a preheated oven and bake for 10-12 minutes or until the dough is lightly golden brown and hot dogs warmed through.

Remove from the oven. Place two dots of mustard or ketchup where you created the space for the candy eyeballs. Then place candy eyeballs on top of the mustard or ketchup.

Serve immediately.
Nutrition Information
Serving:
1
hot dog
,
Calories:
191
kcal
(10%)
,
Carbohydrates:
17
g
(6%)
,
Protein:
6
g
(12%)
,
Fat:
12
g
(18%)
,
Saturated Fat:
4
g
(25%)
,
Polyunsaturated Fat:
2
g
,
Monounsaturated Fat:
4
g
,
Cholesterol:
20
mg
(7%)
,
Sodium:
486
mg
(21%)
,
Potassium:
66
mg
(2%)
,
Sugar:
2
g
(2%)
,
Vitamin C:
0.04
mg
,
Calcium:
11
mg
(1%)
,
Iron:
1
mg
(6%)