No Bake Scotcheroo Pie Recipe
No Bake Scotcheroo Pie Recipe ~ A Delicious Peanut Butter Rice Krispie Pie Crust Topped with Butterscotch Pudding and Topped with Chocolate!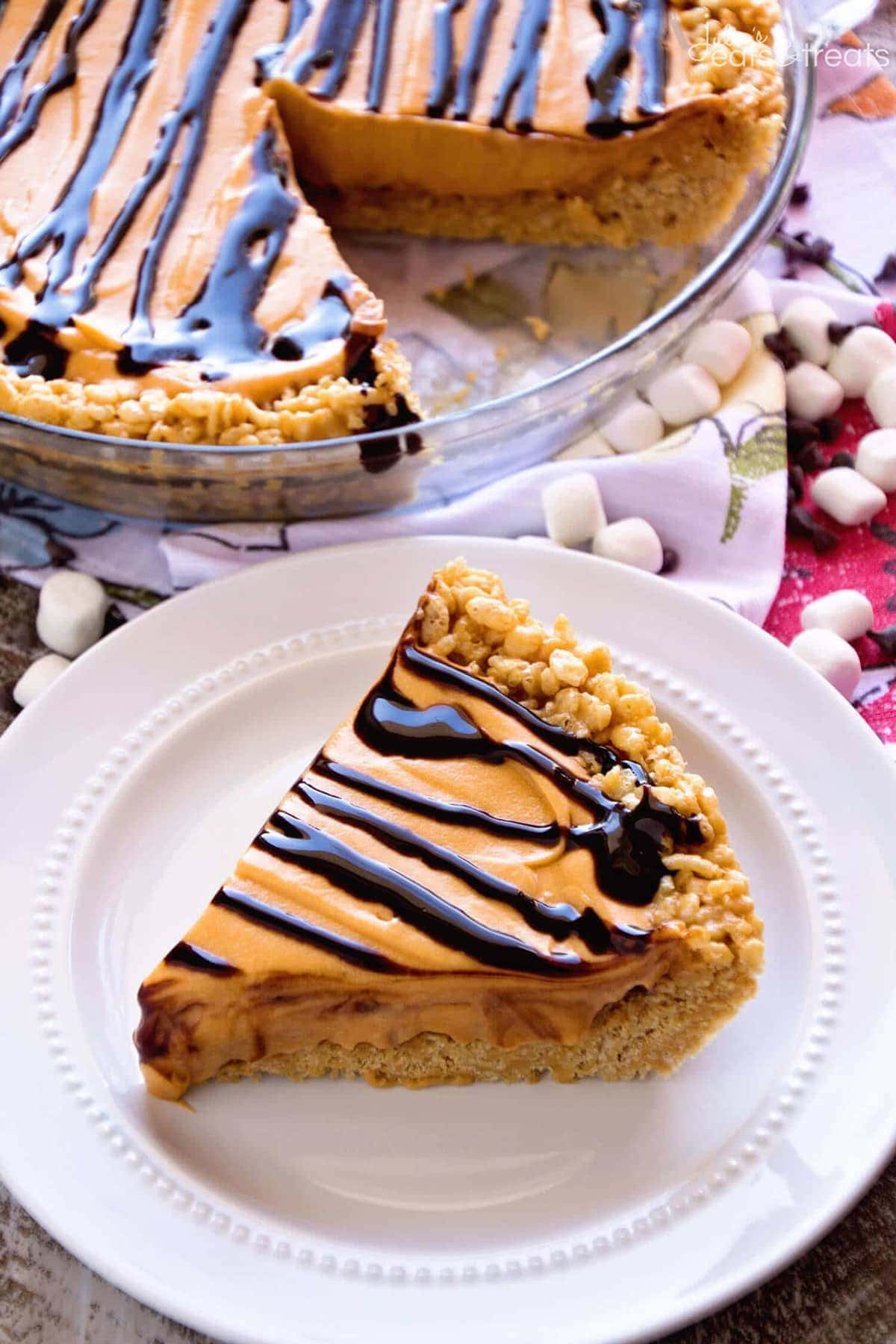 Miss K turns FOUR tomorrow? Where or where has the time gone? I'm busy making Crab Pasta Salad, Golden Oreo Dream Dessert, and ordering cakes. Uh, ya you read that correct. I totally ordered the cake. Don't shame me for that. I'm a normal human being and sometimes I opt for the easy way out. Please tell me that I'm not the only one that presses the easy button sometimes? Please, please, please.
You see my Mom was going to make cupcakes and then a few days ago Miss K looked at me and asked what kind of cake I was making for her. I informed her Grandma was making cupcakes. The result was a conversation of, "NOOOOoooooo MOM. I NEED A CAKE." I suggested a no-bake Chocolate Cheesecake. But that didn't fly either!
After much reasoning, begging and pleading Miss K won the battle. She is getting a cake, but it's going to come from the grocery store. You see I am NOT a dessert blogger that can make gorgeous cakes. Nope. Not happening. If I attempt to make one it's never pretty and I become cranky real fast trying to get it pretty. For the sake of my entire family, I embraced ordering the cake.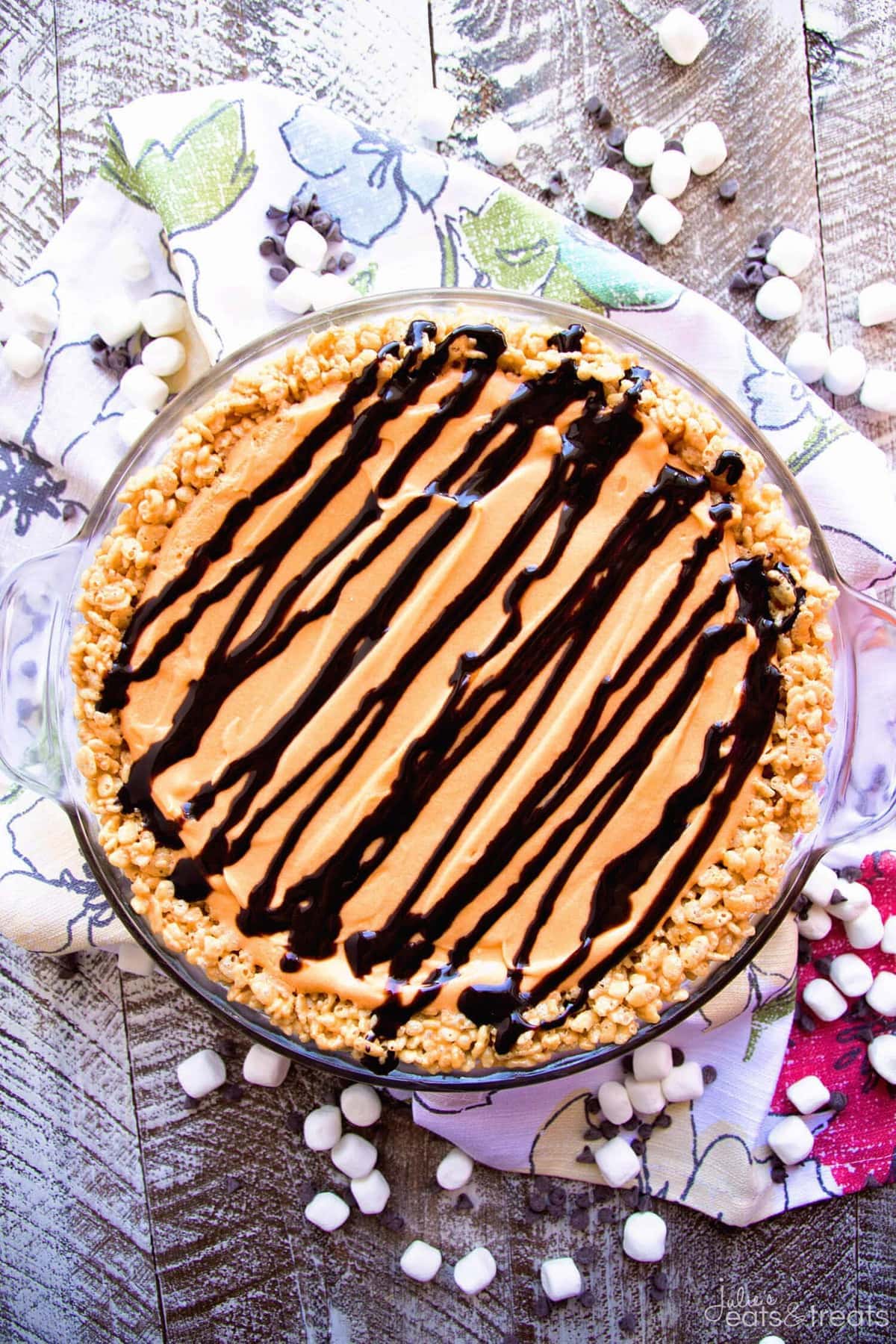 When the hubs mentioned going to the lake today after church that was the sealing factor. I wasn't going to have time to make the cake on Sunday. I didn't want to make the cake on Monday because it's Miss K's birthday and I would rather hang out with her. Do you blame me? I opted for some quality time with her over slaving over a cake! In all truthfulness I really do think I made the right decision. She's not going to remember if a cake was store bought or if it was homemade but she might remember me making a big deal out of her birthday and playing with her!
I'm pretty sure she's going to get donuts for breakfast with candles. I'm going to put balloons in her room and crepe paper in her doorway because birthday's are supposed to be FUN! She's been soooooo excited over her birthday. She keeps telling me how her cousins, Adam and Kendel, are going to play in her new playhouse and the older cousin, Cole, is going to get suck in the door to the playhouse and then she giggles. Oh, she giggles. She thinks that's the most halarious thing ever. Don't ask me why she decided he was going to get stuck but she did. I might have to pay him to go out there and act like he got stuck!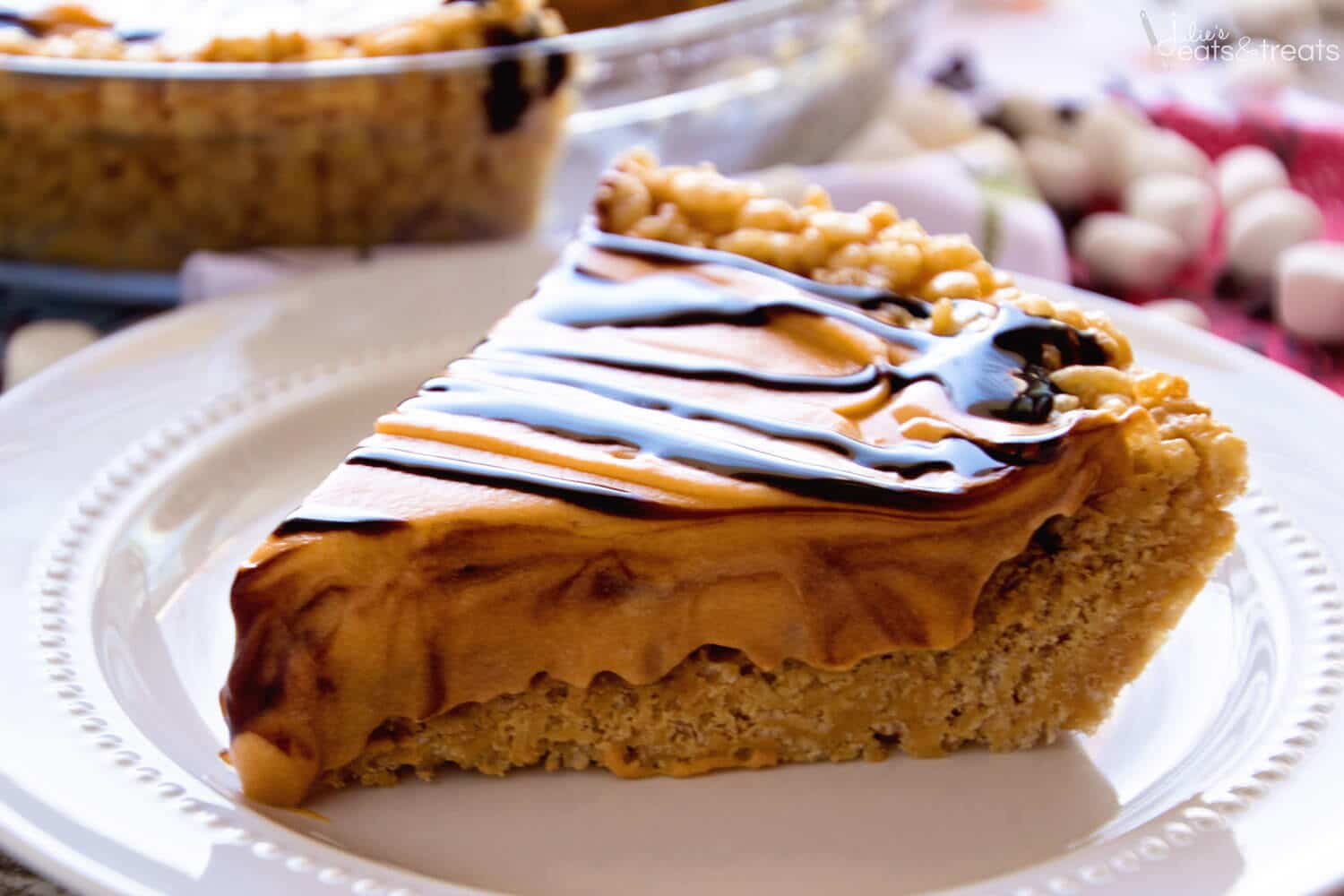 Speaking of that cousin Cole of Miss K's. He graduated high school on Friday night and I'm in denial. If I'm having this many troubles with my nephew graduating high school pick me off the floor when Miss K gets there OK? I'll be a puddle. With that being said Cole has a special place in my heart. I was only in seventh grade when he was boring and I pretty much thought being an Aunt was the coolest thing ever. I mean it is right?
I spent many nights babysitting him and the sister that followed. I attended many events and spoiled them as much as I could. It was fun being the young, single aunt that didn't have her own family and I was lucky enough to have them live close, other than when I left for college that I could hang out with them and see them as much as I wanted which was a lot!
He's also a pretty good taste tester. See. Told ya he was cool!
I know he'd LOVE this No Bake Scotcheroo Pie Recipe. We are all fans of Scotcheroo Bars around here, which I can't believe I've never shared. I need to get on that. Back to the pie. The "crust" is an ooey gooey peanut butter rice krispie mixture topped with butterscotch pudding and chocolate. Seriously. Give me a fork and watch me eat the whole thing. Well, actually don't watch me. That'd be embarrassing!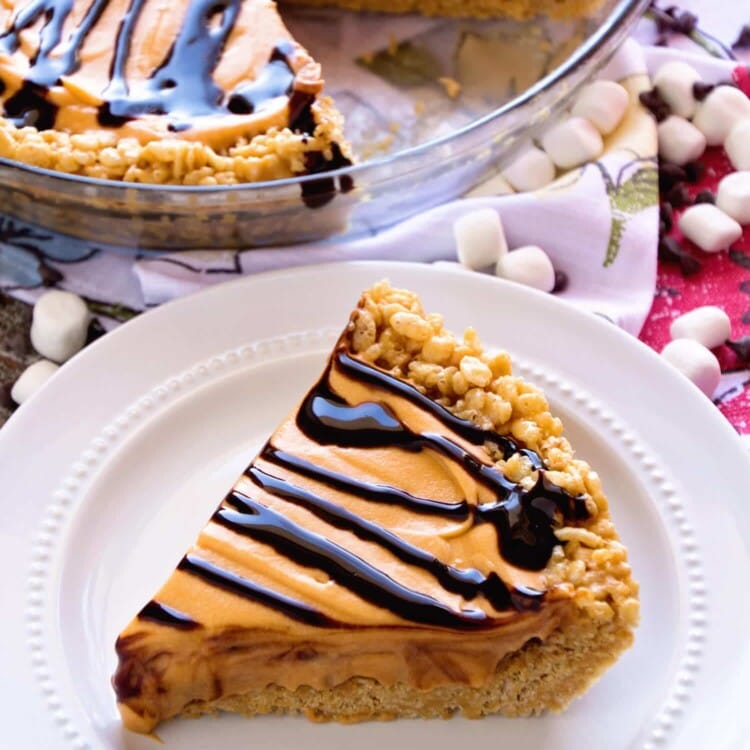 No Bake Scotcheroo Pie
A Delicious Peanut Butter Rice Krispie Pie Crust Topped with Butterscotch Pudding and Topped with Chocolate!
Ingredients
Crust
1/4

c.

butter

1/2

c.

peanut butter

3

c.

mini marshmallows

4

c.

Rice Krispies
Filling
1

3.5 oz box instant butterscotch pie and pudding filling

1 3/4

c.

milk

1/2

c.

Cool Whip
Instructions
Put butter, peanut butter and marshmallows in microwave safe bowl. Microwave for 30 seconds and stir. Repeat. The marshmallow should be melted but if you need to continue doing this for 30 second intervals until mixture is smooth.

Place Rice Krispies in a large bowl and pour peanut butter mixture over the Rice Krispies. Stir until completely combined.

Press into pie plate that has been coated with nonstick spray. Press up the sides to form a crust. Set aside.

In a mixing bowl whisk pudding mix and milk until it thickens. Fold in Cool Whip. Pour into crust.

Refrigerate for at least 2 hours so the pudding mixture is set.

Drizzle with chocolate sauce before serving.
Nutrition Information
Serving:
1
,
Calories:
973
kcal
(49%)
,
Carbohydrates:
193
g
(64%)
,
Protein:
15
g
(30%)
,
Fat:
18
g
(28%)
,
Saturated Fat:
7
g
(44%)
,
Cholesterol:
23
mg
(8%)
,
Sodium:
926
mg
(40%)
,
Potassium:
332
mg
(9%)
,
Fiber:
1
g
(4%)
,
Sugar:
78
g
(87%)
,
Vitamin A:
8165
IU
(163%)
,
Vitamin C:
74.9
mg
(91%)
,
Calcium:
91
mg
(9%)
,
Iron:
36.5
mg
(203%)
Things You Might Need for this Recipe!
Craving More Desserts? 
Follow My Dessert Recipes! Pinterest Board!
Follow Julie Evink | Julie's Eats & Treats's board Dessert Recipes! on Pinterest.
More No Bake Desserts on Julie's Eats & Treats!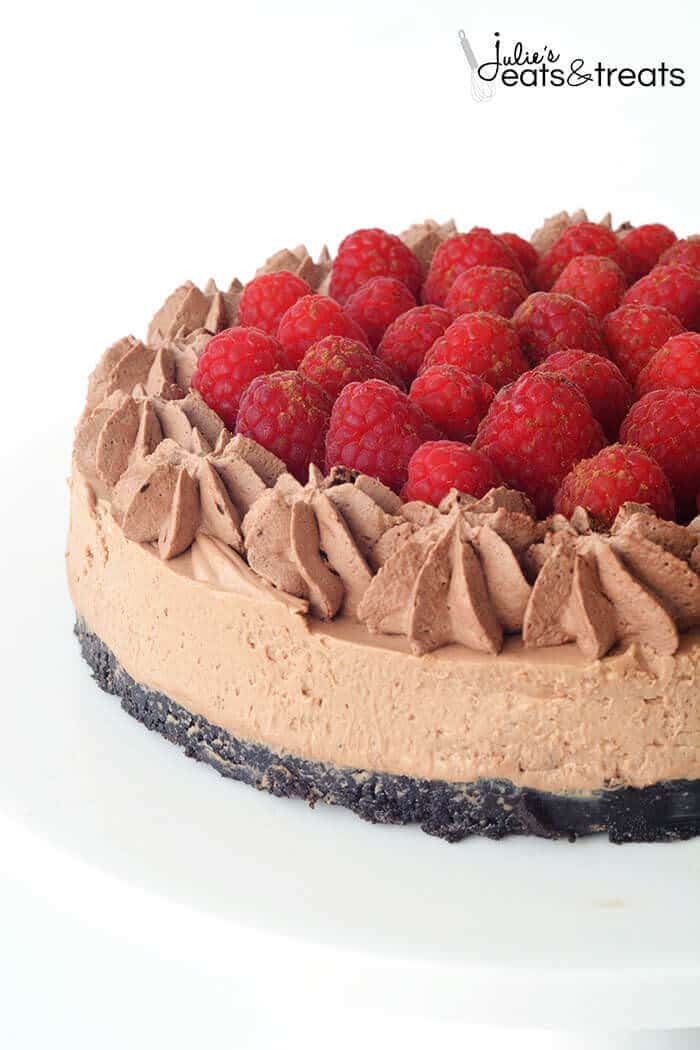 No Bake Raspberry Chocolate Cheesecake ~ Delicious, Easy Chocolate Cheesecake with a Delicious Oreo Crust, Creamy Chocolate Cheesecake and Topped with Fresh Raspberries and Chocolate Whipped Cream!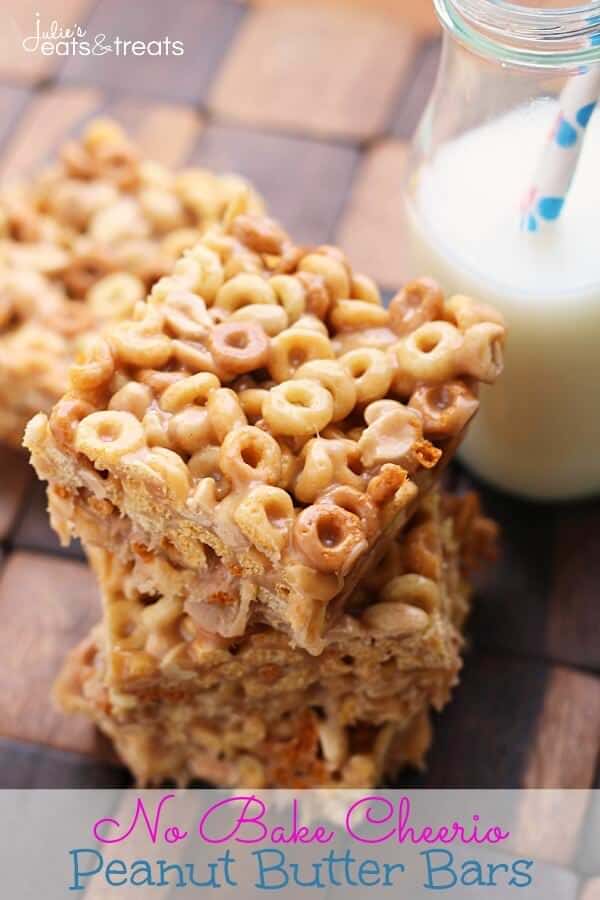 No Bake Peanut Butter Cheerio Bars ~ Ooey, Gooey, Peanut Buttery Bars stuffed with Peanut Butter Cheerios! So Delicious and So Easy!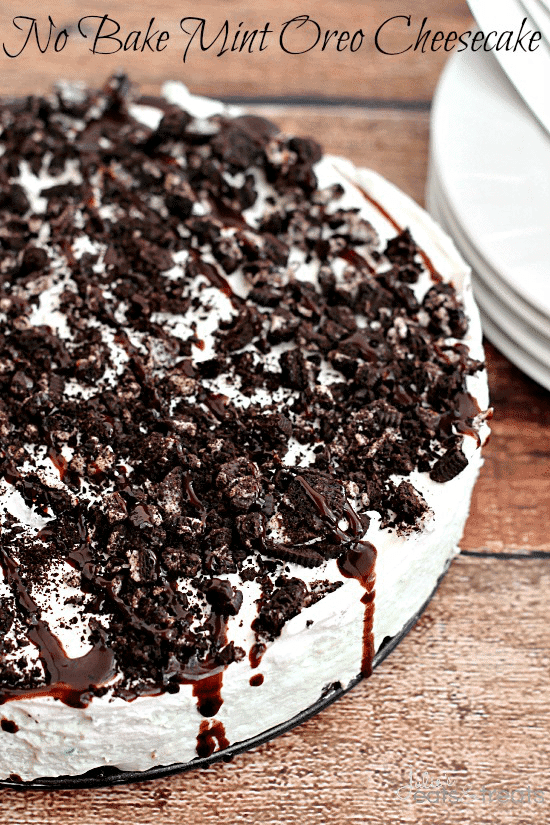 No Bake Mint Oreo Cheesecake ~ Oreo crust piled with light and fluffy cheesecake flavored with mint and topped with crushed Oreos and chocolate syrup!