These Easy No Bake S'mores Trifles are a fun twist on the classic summer dessert! Layers of Graham Cracker Crust, Milk Chocolate Ganache, Marshmallow Cream Filling and Chocolate Cream.
S'mores Trifles
These easy s'mores trifles are layers of graham cracker crust, milk chocolate ganache, marshmallow cream filling, and chocolate cream. They are creamy, dreamy, and oh-so-decadent!
Raise your hand if you L-O-V-E no bake desserts!
(You can't see me, but I've got both arms raised as high they'll go. From Mint Chocolate Ice Cream Pie to Banana Coconut Cream Pie to No Bake Scotcheroo Pie to these S'mores Trifles, I'll take no bake desserts anytime, anywhere.)
Now, technically, the toasted marshmallow on top are broiled in the oven. I don't know what exactly constitutes a no bake dessert (like, do you consider cooking things on the stove or melting something in the microwave count as no-bake??), but since I "broiled" the marshmallows instead of "baking" them, I'm calling these s'mores trifles "no bake." You could also use a kitchen torch! So, there would be no "baking" with that either…
Plus, the toasted marshmallows are more of a garnish, so they're technically optional…
So, I'm thinking this totally qualifies as a no bake dessert, right?? 😉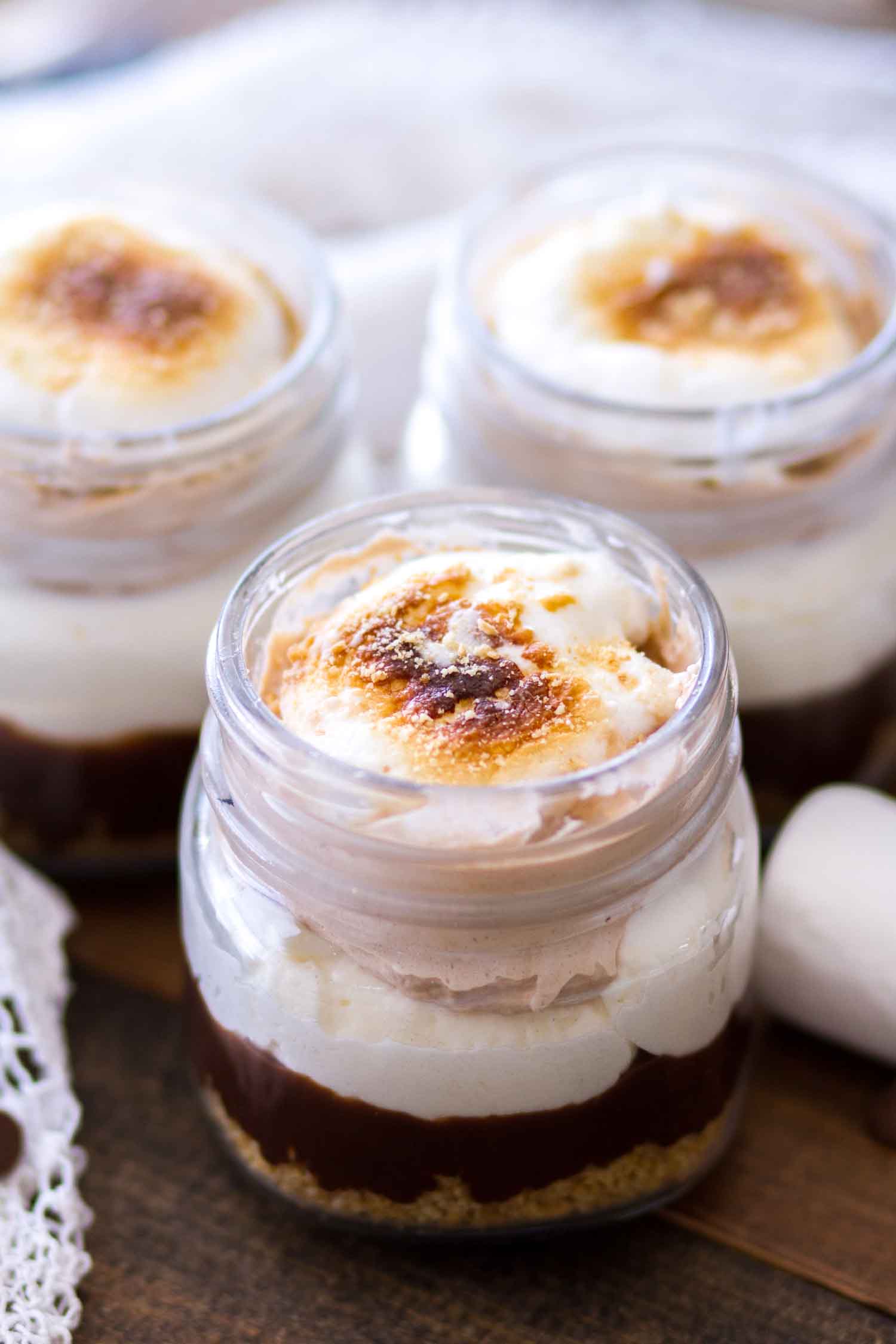 Trifle Dessert
All right, so whenever I hear the word "trifle," I can't help but think about Friends and the Thanksgiving trifle disaster.
Of course, that episode is a classic, but their explanation as to why Rachel accidentally combined a shepherd's pie and an English trifle never made a whole lot of sense to me.
This really is neither here nor there, but it's always kind of bothered me. If she turned the page to get to the end of the trifle recipe, and instead accidentally skipped to the next page and got the shepherd's pie recipe, how come the shepherd's pie filling was in the middle of the trifle?! Based on their explanation, shouldn't the bottom half be a trifle and the top half be a shepherd's pie, mashed potato topping and all? I just want to know how she got back to the end of the trifle recipe…
Anyway (I'm sure you're all looking for that word right about now 😉), you can rest assured that there are no peas, onions, or beef in this s'mores dessert. (Eeek, I cringe every time I think about the combination of custard and veggies.)
I've never actually had a traditional English trifle, and while I'm sure it would taste wonderful and all, I am super partial to these No Bake S'mores Trifles.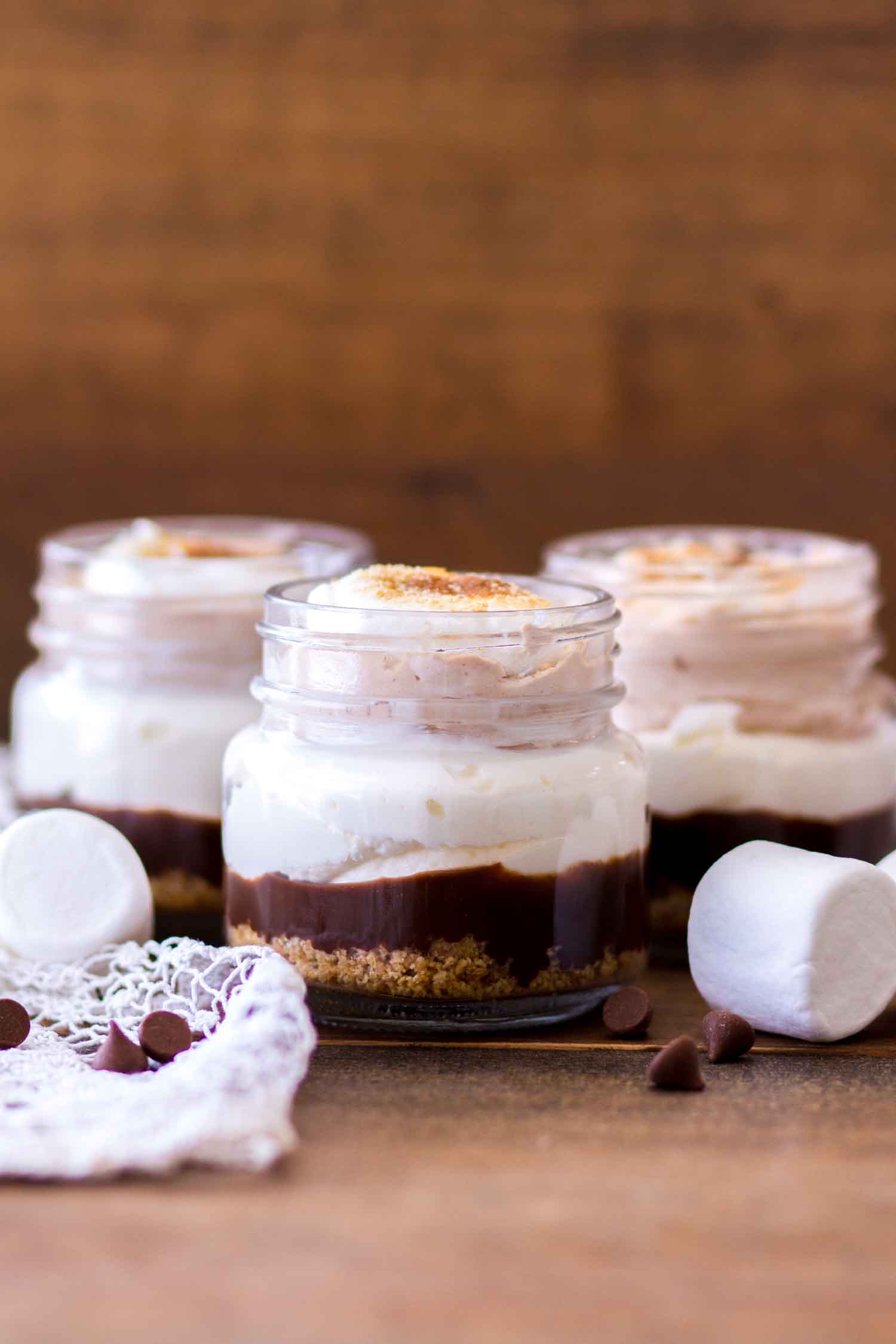 No Bake Desserts
How can anyone resist the flavors of the classic summer dessert?? And when those s'mores ingredients are transformed into layers of chocolate ganache, marshmallow filling, and graham cracker crumbs, this twist on the classic s'mores recipe is out-of-this-world delish.
It's probably no surprise I'm partial to this s'mores dessert (considering the fact I'm sharing this with you), but, if you love anything with chocolate, marshmallow, and s'mores-like in general, I am fairly confident you will love these No Bake S'mores Trifles!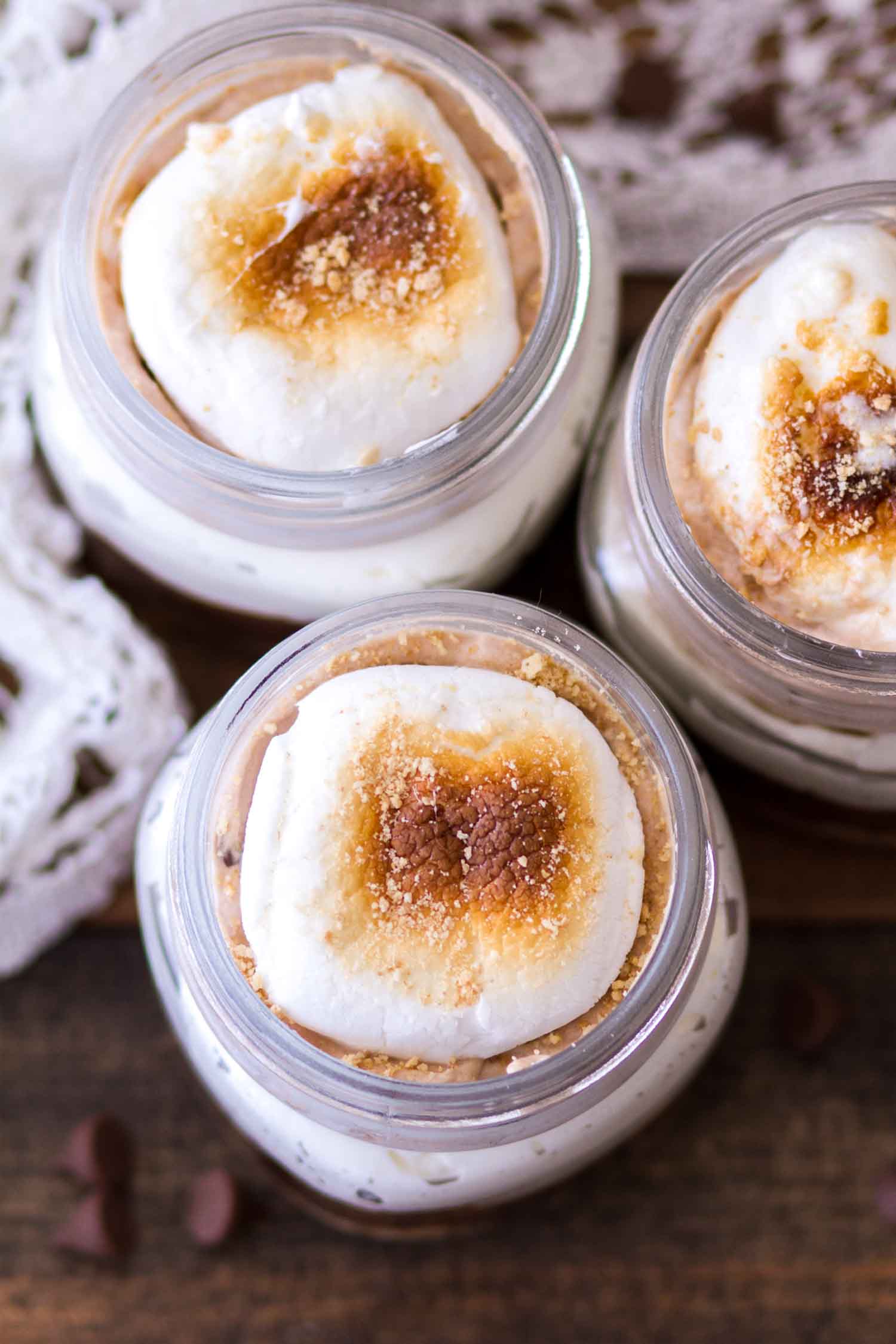 S'mores Trifle Ingredients to Make this No Bake Dessert:
graham cracker crumbs
melted butter
cream cheese
marshmallow cream
heavy cream (+ a couple Tbsp of powdered sugar)
milk chocolate
large marshmallows
These simple s'mores ingredients come together in just a few minutes too, making this an easy no bake dessert recipe!
No Bake S'mores Trifle Tips & Tricks:
This no bake chocolate dessert recipe can be made in a large trifle bowl (depending upon how large your trifle bowl is, you might need to double the recipe).
I chose to make these in half pint mason jars, because I wanted to make individual mini desserts for my family. Personally, I love mason jar desserts because you can seal them up and take them anywhere (like these Mason Jar Strawberry Shortcake Parfaits). They travel well and portions are already divvied out.
The marshmallow filling is a combination of marshmallow fluff, cream cheese, and homemade whipped cream. It's a play on a fresh fruit dip my mom used to make when I was younger (cream cheese + marshmallow fluff = the best strawberry dip evvvahhh), but I added in some homemade whipped cream to make the filling extra creamy.
How to Make Chocolate Ganache:
Ganache is one of my favorite things in the entire world! It's fantastic on pretty much any dessert, and you can use it in a variety of way.
For this easy chocolate ganache recipe, I used milk chocolate (because what's a s'more without milk chocolate). The only other ingredient you need for ganache is heavy cream.
Heavy cream is heated until it simmers (on the stove or in the microwave), then it's poured over the chopped milk chocolate (or milk chocolate chips). The mixture sits for a few minutes, then it is whisked until smooth.
Love at first bite. ❤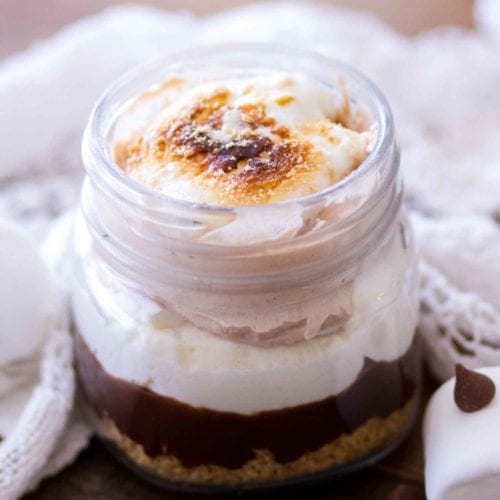 No Bake S'mores Trifles
These No Bake S'mores Trifles are a fun twist on the classic summer dessert! These easy s'mores trifles are layers of graham cracker crust, milk chocolate ganache, marshmallow cream filling, and chocolate cream. They are creamy, dreamy, and oh-so-decadent!
Print
Pin
Rate
Ingredients
Graham Cracker Crust
1 1/4

cups

graham cracker crumbs

4

tbsp

butter

melted
Marshmallow Filling
4

oz

marshmallow fluff (creme)

4

oz

cream cheese, slightly softened
Whipped Cream
1 1/4

cups

heavy whipping cream

3

tbsp

powdered sugar
Chocolate Ganache
1

cup

milk chocolate (chopped or milk chocolate chips)

1/2

cup

heavy whipping cream
Instructions
Graham Cracker Crust
In a bowl, mix graham cracker crumbs and melted butter. Divide the graham cracker crust between 6 half pint mason jars (or any dessert glasses; however, depending upon the size of each glass, this recipe could serve more than 6). Set aside.
Chocolate Ganache
Heat 1/2 cup of heavy whipping cream in the microwave (or on the stove) for about 30-60 seconds, or until the heavy cream is just about simmering. Place chopped milk chocolate in a bowl, and pour the heavy cream over the top. Allow to stand a few minutes before whisking the ganache until smooth.
Whipped Cream
With a hand mixer or standing mixer (with the whisk attachment(s)), whisk heavy whipping cream and powdered sugar until it reaches the consistency of whipped cream (stiff peaks).
Marshmallow Filling
Mix cream cheese and marshmallow fluff together, then add in half of the whipped cream and fold until combined.Fold 2 Tbsp of chocolate ganache into the remaining whipped cream.Divide the remaining ganache evenly between the 6 mason jar glasses, using a spoon to spread the ganache to the sides of the glass (if needed).Divide the marshmallow cream filling evenly into each glass, placing on top of the ganache.Lastly, divide chocolate whipped cream evenly, placing on top of the marshmallow cream filling.Refrigerate until ready to eat.
Optional
If desired, place 6 marshmallows on a baking sheet (I lined mine with a Silpat baking mat).Broil on high for 3-4 minutes, or until toasted to your liking. (You can also use a

kitchen torch

to toast them.)Allow them to cool a few minutes before using a spatula to remove them and place on top of each trifle.Refrigerate leftovers.
Nutrition
Calories:
690
kcal
|
Carbohydrates:
59
g
|
Protein:
5
g
|
Fat:
51
g
|
Saturated Fat:
30
g
|
Cholesterol:
136
mg
|
Sodium:
280
mg
|
Potassium:
193
mg
|
Fiber:
2
g
|
Sugar:
39
g
|
Vitamin A:
30.2
%
|
Vitamin C:
0.4
%
|
Calcium:
8.7
%
|
Iron:
8.9
%
LEAVE A COMMENT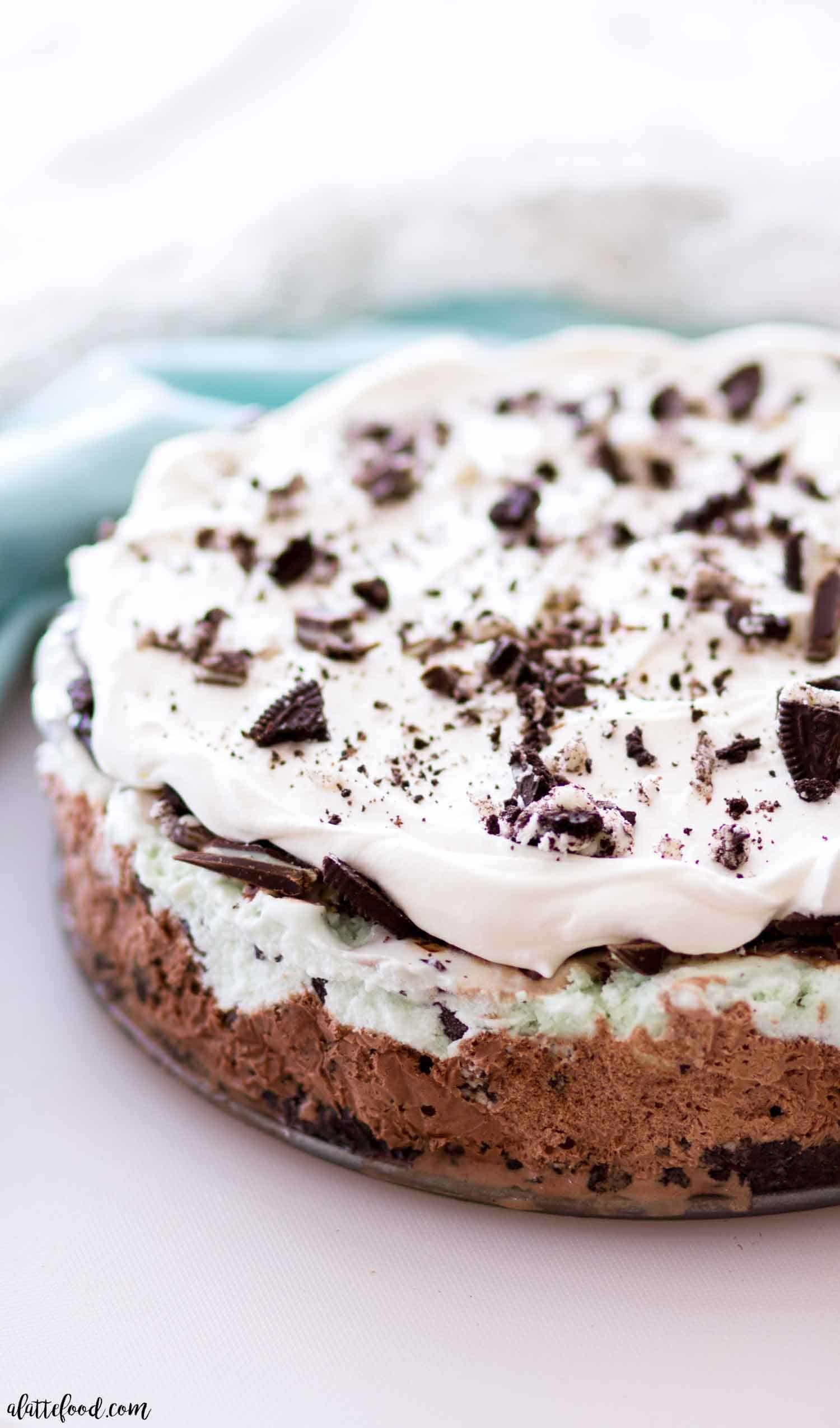 Mason Jar Strawberry Shortcake Parfaits