One-Pot Bacon Cheeseburger Mac & Cheese
One-Pot Bacon Cheeseburger Mac & Cheese – a super simple weeknight dinner that is hearty and comes together with minimal dishes!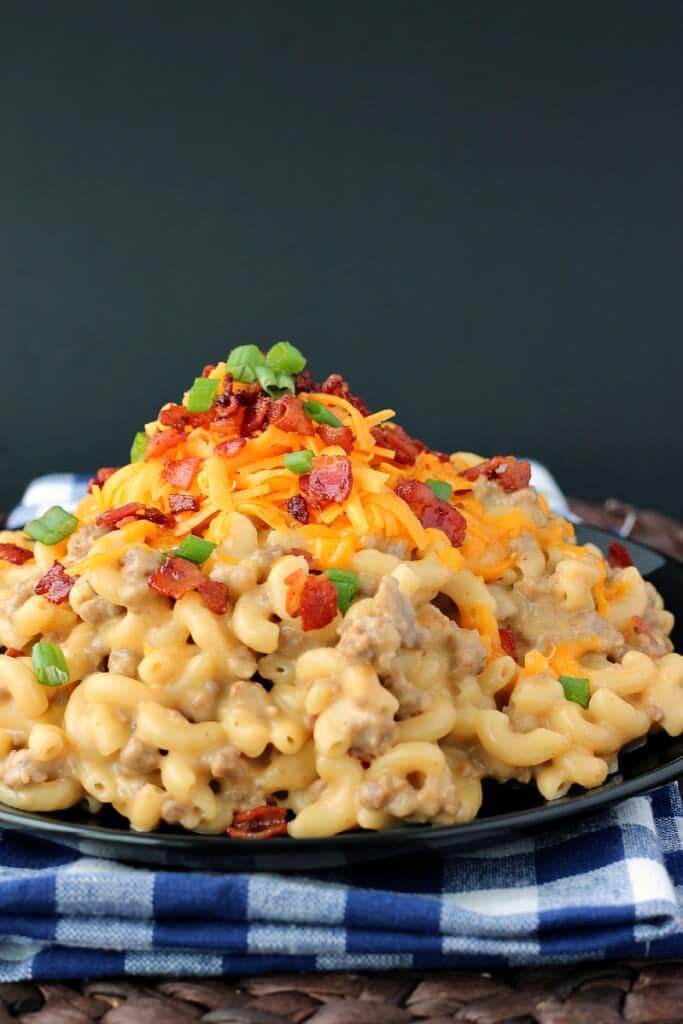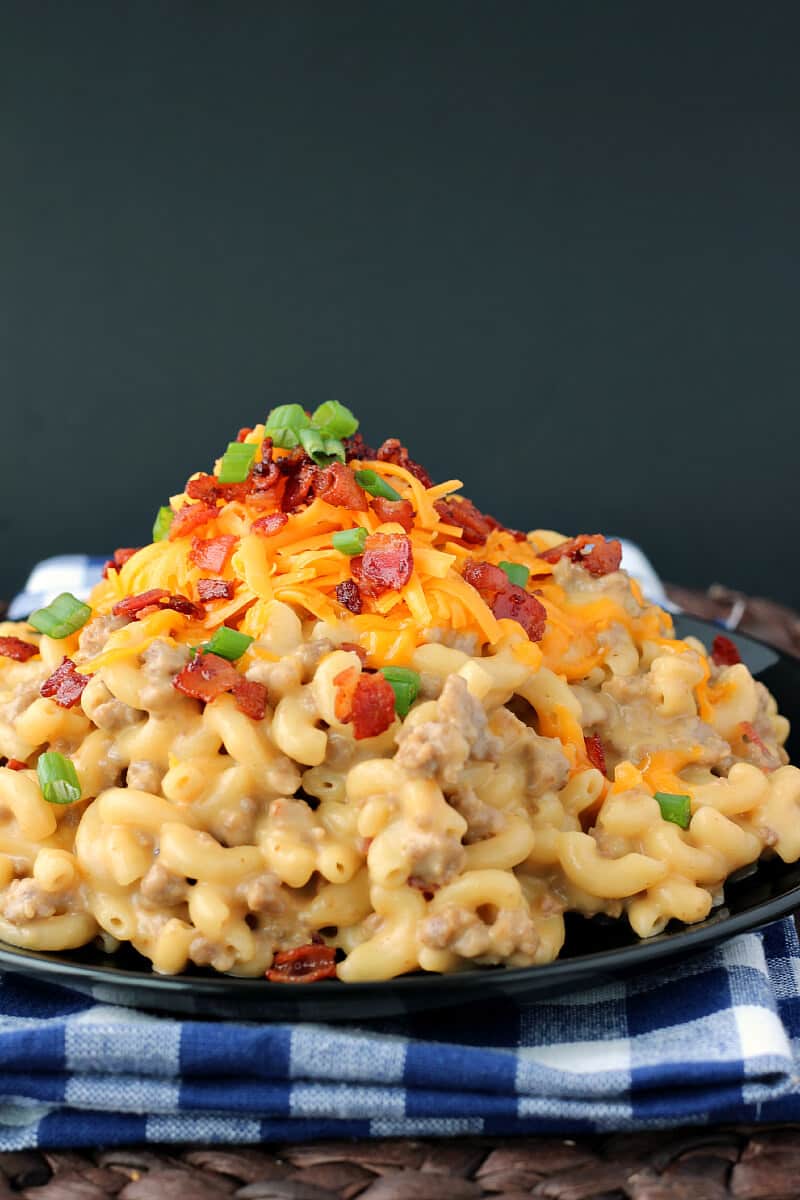 Before I started blogging, I thought there'd be no room for another food blogger because, really, how original can you be? Almost everything has been done before, and it's hard to find an idea that's new
But I did it anyway, and I've realized that sometimes people don't care if the recipes are some crazy, new way to make mac & cheese.
Sometimes people just want good food.
So I'm back again with you folks on Julie's Eats and Treats, bringing you some good food.
Bacon. Beef. Cheese. Pasta.
One pot. Few ingredients.
I just recently saw online that bacon has hit its peak as a "food trend". If I have any say in the matter, that will never happen.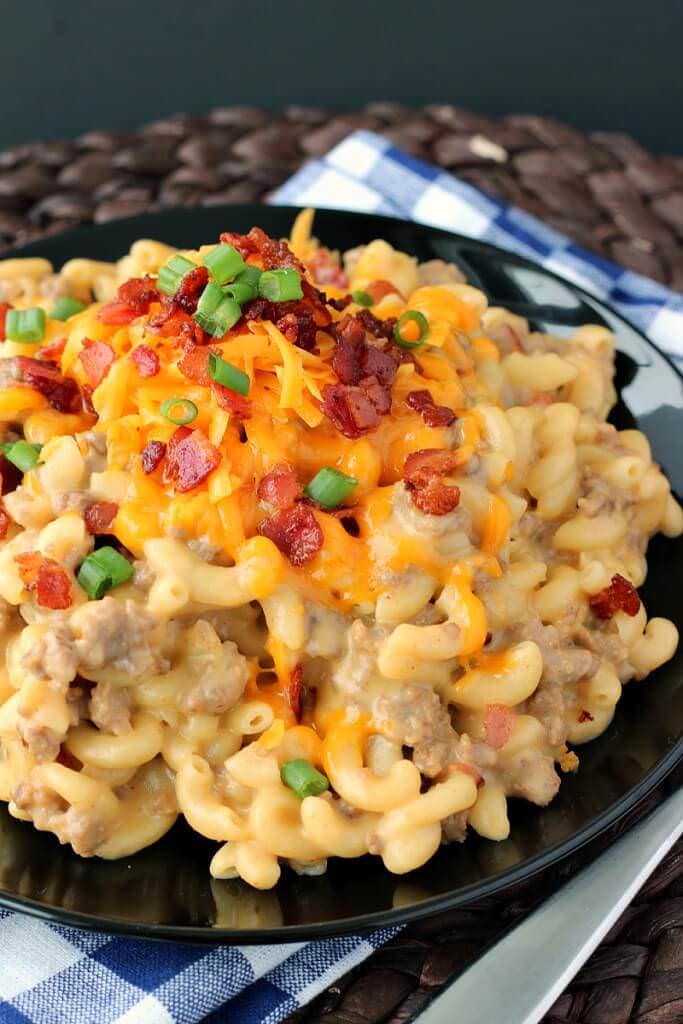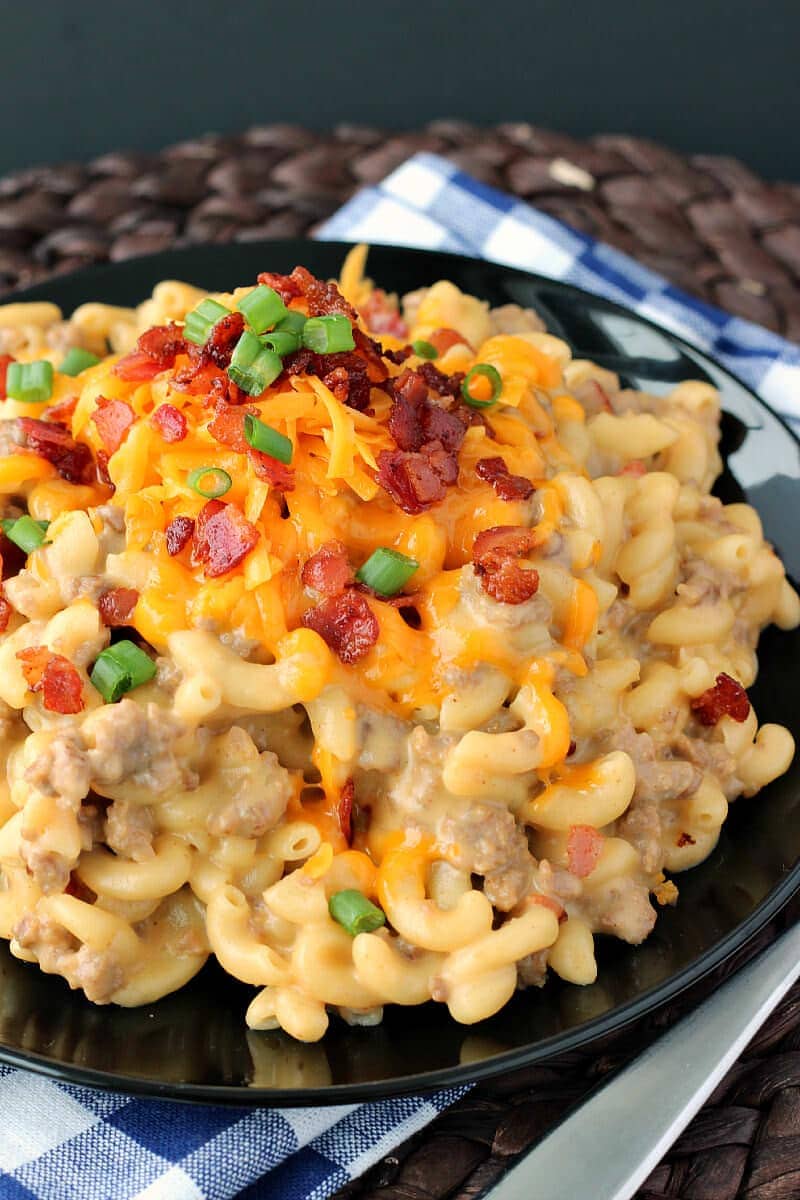 Now I'm not some crazy lady that has bacon at every meal (and I'm not judging you if you are a crazy bacon lady), but I just love the flavour it brings to every dish. And you don't even need a lot of it – just a sprinkle here or there, or a few slices chopped up and added to the base of a soup.
A smoky, sweet, salty bit of heaven.
And I don't care what the food trends might say some day about the one-pot pasta dish – it isn't ever going out of style in this house. And I'm guessing there are others out there who love it just as much as me!
With a toddler and a new baby (just like Julie!), I'm loving on all things quick, easy, and tasty. This definitely fit the bill!
I toyed with the idea of adding in other cheeseburger elements: mayo, mustard, ketchup, pickles, barbecue sauce, lettuce…. But I thought that would weird you out. And I don't really know anyone who is eating a cheeseburger for the veggies, so I didn't think you'd mind.
You could add in a ton of veggies though if you wanted: onions, peppers, chopped spinach, grated carrot. I would throw them in with the beef while it's cooking to soften them, and then continue on as the recipe says.
I do use healthier ingredients as much as possible: the lean ground beef, high fiber or whole wheat pasta, 1% milk and broth. You could easily change these up for the full fat/white versions, but I don't think you'll miss them if you go my way!
I have made one-pot mac and cheese with all milk before, but I actually like it with part water or broth better. I find the sauce is smoother than if using all milk. You could easily substitute milk for the broth if you desire.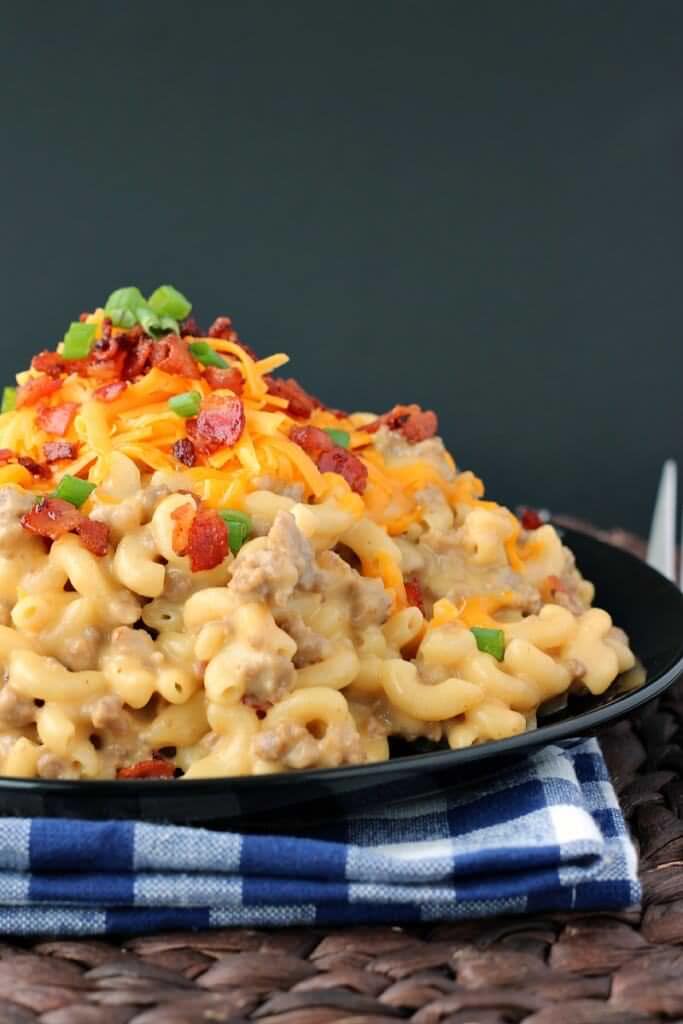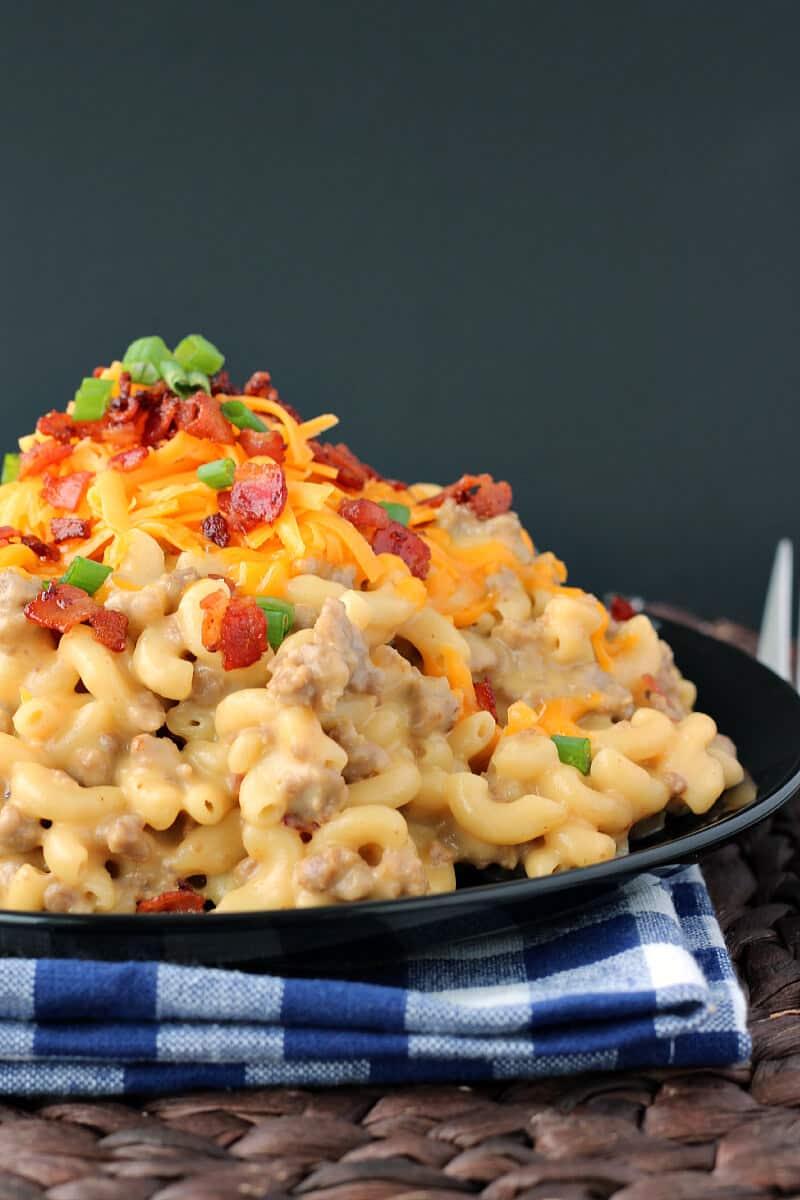 I try to make the foods I love as healthy as possible, so I can enjoy them without too much guilt.
*A note about pastas: I find that regular white pasta needs less liquid to cook than whole wheat or high fiber. I will include directions that work for both (with the adding of extra liquid at the end if needed). If you use white pasta instead, you just might not have to add the extra liquid at the end.
But if you leave it as is – meat, cheese, pasta – no one's judging here!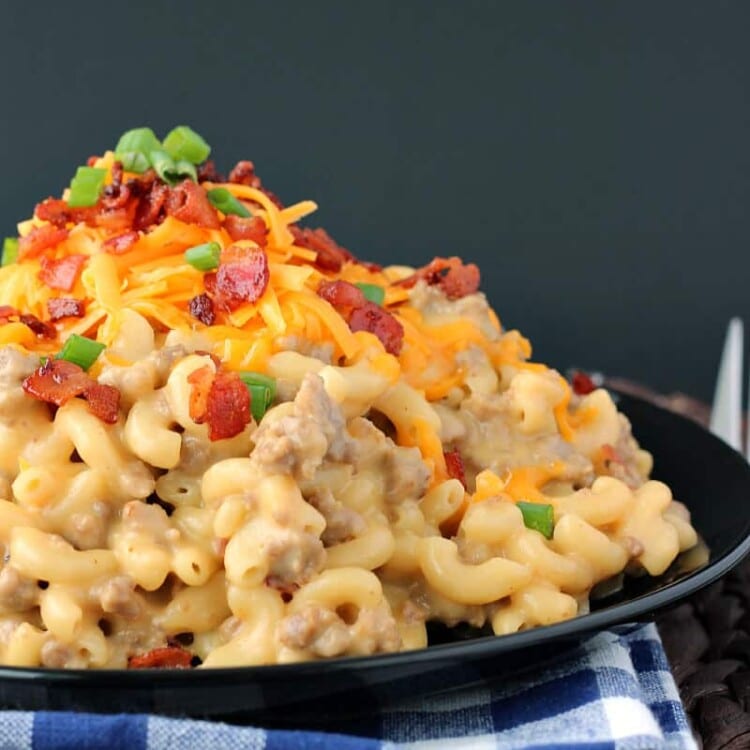 One-Pot Bacon Cheeseburger Mac & Cheese
A super simple weeknight dinner that is hearty and comes together with minimal dishes!
Ingredients
5

slices

bacon

chopped

1

lb

lean ground beef

3 ½

cups

high fiber macaroni

see note above for other types

1 ½

cups

chicken broth or water

2

cups

1% milk

½

tsp

salt

or more, to taste

Additional ¼ - ¾ cup 1% milk if needed

2 ½

cups

shredded cheddar cheese

Chopped green onions
Instructions
In a large pot, cook bacon over medium-high heat until crisp, stirring. Remove from the pot and drain on paper towel to soak up excess grease.

To the pot add the beef. Cook over medium-high heat, stirring often, until browned. Drain excess liquid or fat if there is any.

To the beef add the macaroni, broth/water, milk, salt and half of the cooked bacon.

Bring to a simmer over medium heat, cover and cook for about 10 minutes, stirring often. If all of the cooking liquid is used up before the pasta is cooked, gradually add in the additional milk. Continue cooking, uncovered, stirring, adding milk if necessary, until the pasta is al dente. (You want a little extra liquid in the pot because the cheese will thicken things up)

Add in 2 cups of cheese, and stir until melted.

Garnish with remaining cheese, bacon, and green onions if desired.
Nutrition Information
Calories:
632
kcal
(32%)
,
Carbohydrates:
50
g
(17%)
,
Protein:
41
g
(82%)
,
Fat:
28
g
(43%)
,
Saturated Fat:
14
g
(88%)
,
Cholesterol:
112
mg
(37%)
,
Sodium:
910
mg
(40%)
,
Potassium:
645
mg
(18%)
,
Fiber:
1
g
(4%)
,
Sugar:
5
g
(6%)
,
Vitamin A:
625
IU
(13%)
,
Vitamin C:
4.1
mg
(5%)
,
Calcium:
461
mg
(46%)
,
Iron:
3.1
mg
(17%)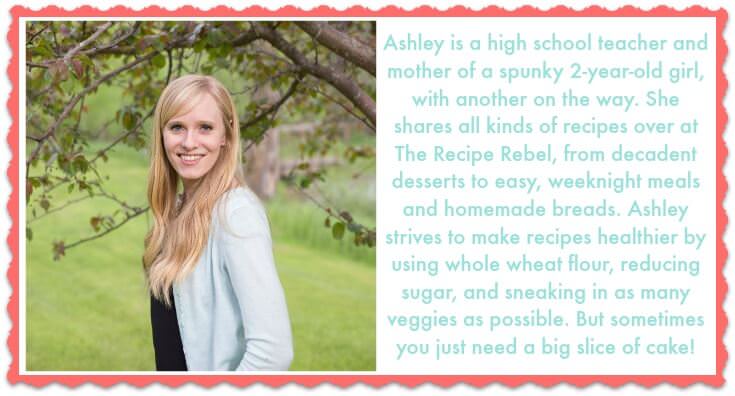 Connect with Ashley Here!
Facebook | Twitter | Pinterest | Google + | Instagram
You might also enjoy these easy meals!