One Pot Garlic Chicken Alfredo Recipe
One Pot Garlic Chicken Alfredo Recipe ~ Quick and Easy Chicken Alfredo Recipe Loaded with Garlic and Even on the Lighter Side! Perfect Weeknight Dinner Recipe!
You all know my obsession with Crock Pot meals. They are pretty much my favorite, but lately there's been a second obsession and I think you'll like it! I've been all about the one pot meals lately. I mean what's not to love about something that only makes on dirty skillet? Pretty much nothing, plus most of them are ready in about thirty minutes. For me, that's life changing. I need fast and easy as lately RyRy NEEDS food as soon as we walk in the door. You'd think she hadn't ate for the entire day! A few of my favorites are Light Italian Skillet Rice & Shrimp, One Pot Bacon Cheeseburger Mac & Cheese and of course Light One Pot Lemon Shrimp Alfredo. After I added this One Pot Garlic Chicken Alfredo to the round up of One Pot Meals it has became our new favorite!
Speaking of busy lives I've been trying to make more time for family and friends lately. I'll admit it's for an entirely selfish reason though! I'm scared that when I get older, my children leave and I'll be left with no friends because I neglected them for the last twenty years. Seriously. No offense to my parents because I truly adore them, but I had this realization after watching them. Let's get real they didn't do a lot of socializing when we were growing up. They were busy with us and that was enough. I'm not saying I didn't like that because I loved having my parents around, but they never did anything. Nothing. Well maybe once in a blue moon. Then I realized I was becoming my parents….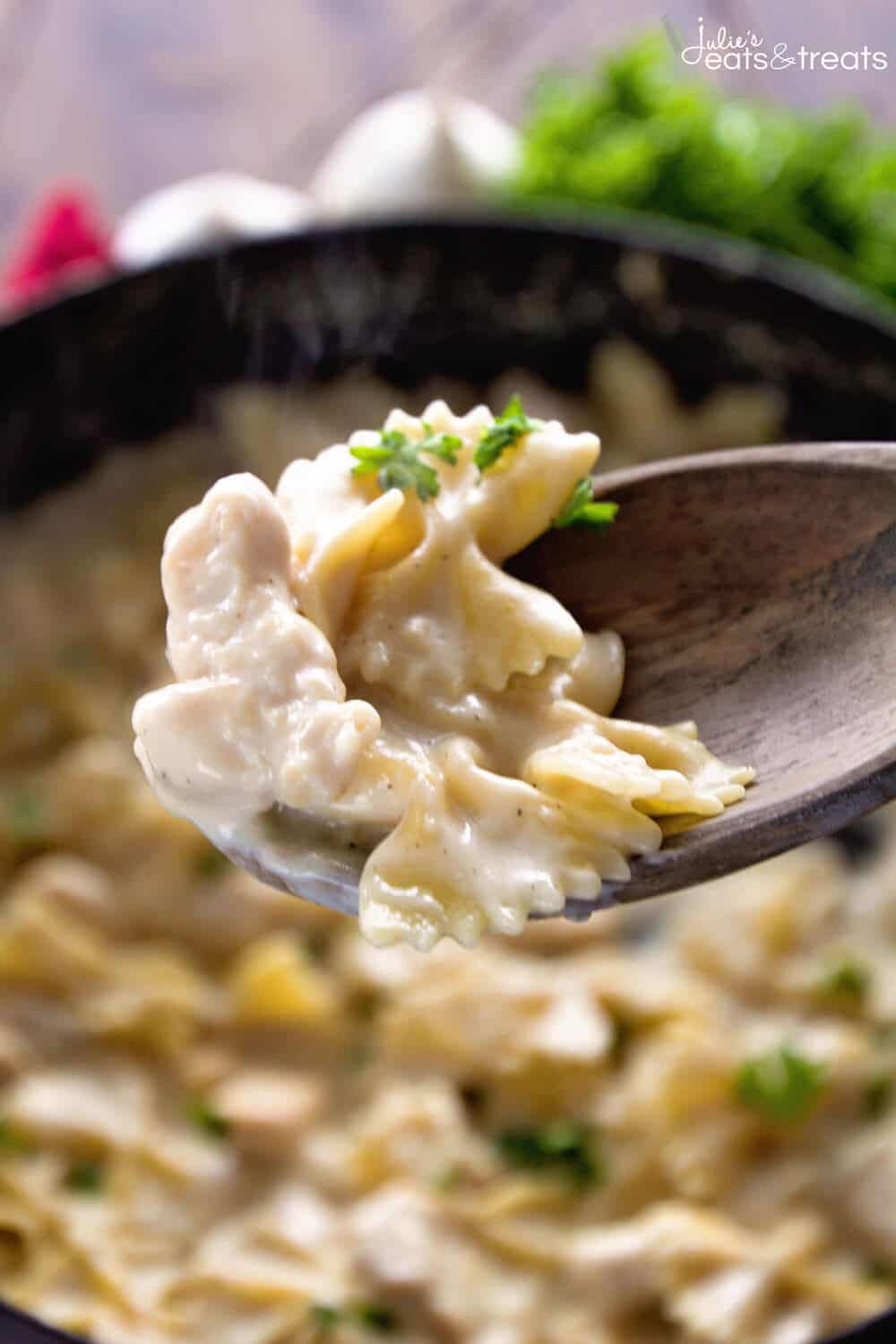 So busy with the everyday hustle and bustle of life I was starting to forget things like friends. Wrapped up in my own life and to busy to make time to hang out and enjoy some fun time. It was easier to stay at home on the couch than clean my house, make a meal and have people over. Duh, it still is easier but what fun is that? Oh don't get me wrong I do enjoy that couch from time to time but it's fun to break out of a routine and have some friends over. Therefore we decided to host a Super Bowl party this past weekend in the shop. Other than the fact that at times I was wishing for ear plugs due to the level of noise made by the kids it was a success! I think it might be an annual party then I'm forced into having people over! The hubs loves having parties in the shop and honestly it was so easy. I made a big batch of taco meat and we enjoyed a taco bar plus these adorable Football Scotcheroos!
Everyone brought an appetizer and we had so much food! Apparently the hot item was this awesome Pepperoni Pizza Football Cheese Ball! The parents enjoyed some adult time, the kids ran around like crazy people hyped up on sugar and there weren't even to many tears. Success!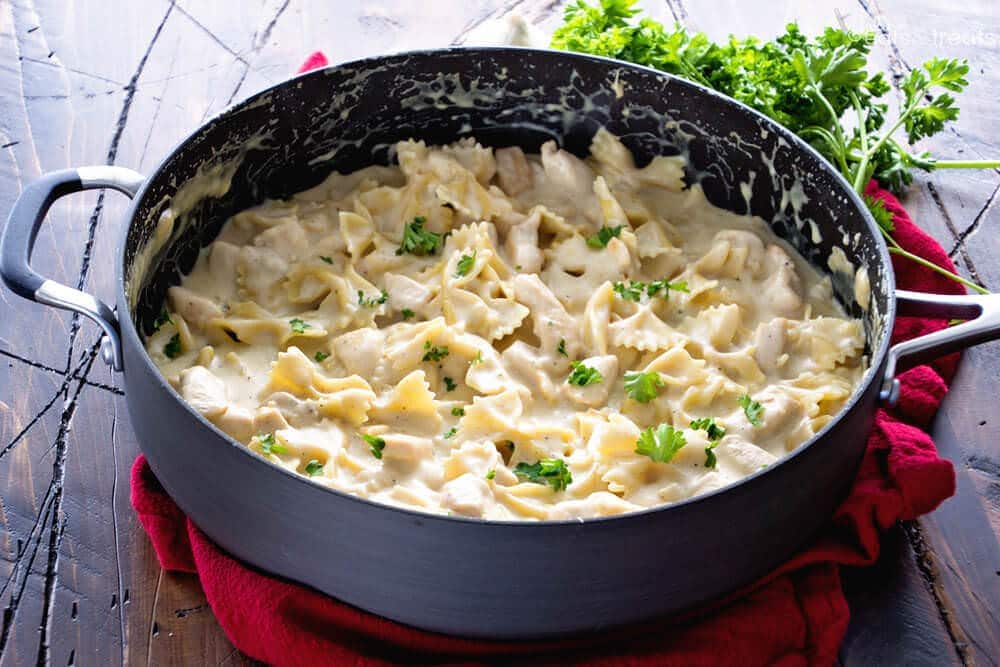 Now it's back to the reality of the week and I'm looking for fun dishes to feed my family. This One Pot Garlic Chicken Alfredo is amazing. Plus, it's so easy! It's prefect for the weeknights when life is hectic but honestly, you could make it for some friends when they come over because it's like you are eating at a restaurant! I made it as "healthy" as a pasta can get with no cream and anything like that so you don't have to feel guilty about indulging in it either!
Follow my lead and make sometime for your friends and family and invite them over for dinner!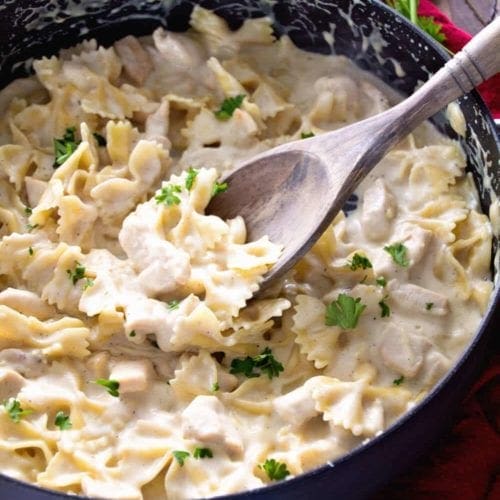 One Pot Garlic Chicken Alfredo Recipe
Quick and Easy Chicken Alfredo Recipe Loaded with Garlic and Even on the Lighter Side! Perfect Weeknight Dinner Recipe!
Print
Pin
Rate
Ingredients
1

lb

boneless skinless chicken breasts

2

Tbsp

olive oil

3

cloves

minced garlic

1/4

c.

all purpose flour

2

c.

chicken broth

2

c.

2% milk

1/2

tsp

seasoned salt

2

c.

bowtie pasta

uncooked

2

oz

reduced-fat cream cheese

1/4

tsp

pepper

1/2

c.

freshly grated Parmesan cheese

Fresh parsley for granish
Instructions
Remove any fat from chicken and cut into 1'' cubes.

Place 1 Tbsp olive oil and chicken pieces in a large skillet over medium heat. Cook, stirring occasionally until the chicken pieces are cooked through. Remove chicken from skillet and set aside.

Add the rest of the olive oil to skillet. Heat until warm and add the garlic and cook until fragrant, about 3 minutes. Add in flour and briskly whisk until dough forms.

Slowly add chicken broth while whisking vigorously. Whisk until smooth. Slowly add the milk while continuously whisking. Whisk in seasoned salt and pepper and allow to thicken over medium low heat.

Stir in uncooked pasta, tun up heat to high and bring the mixture to a boil. Reduce heat to medium-low and cover. Cook for 13-16 minutes, stirring occasionally or until pasta is cooked through.

Cut cream cheese into bite size pieces. Stir into pasta along with Parmesan cheese. Add chicken and heat through.

Garnish with parsley and serve.
Nutrition
Calories:
908
kcal
|
Carbohydrates:
108
g
|
Protein:
58
g
|
Fat:
25
g
|
Saturated Fat:
9
g
|
Cholesterol:
115
mg
|
Sodium:
1437
mg
|
Potassium:
1040
mg
|
Fiber:
4
g
|
Sugar:
10
g
|
Vitamin A:
490
IU
|
Vitamin C:
10.6
mg
|
Calcium:
533
mg
|
Iron:
3.2
mg
LEAVE A COMMENT
Craving More Easy Dinner Ideas? 
Follow My "Quick, Easy Dinner Recipes!" Pinterest Board for More Inspiration!
Follow Julie Evink | Julie's Eats & Treats's board Quick, Easy Dinner Recipes! on Pinterest.
On Julie's Eats & Treats!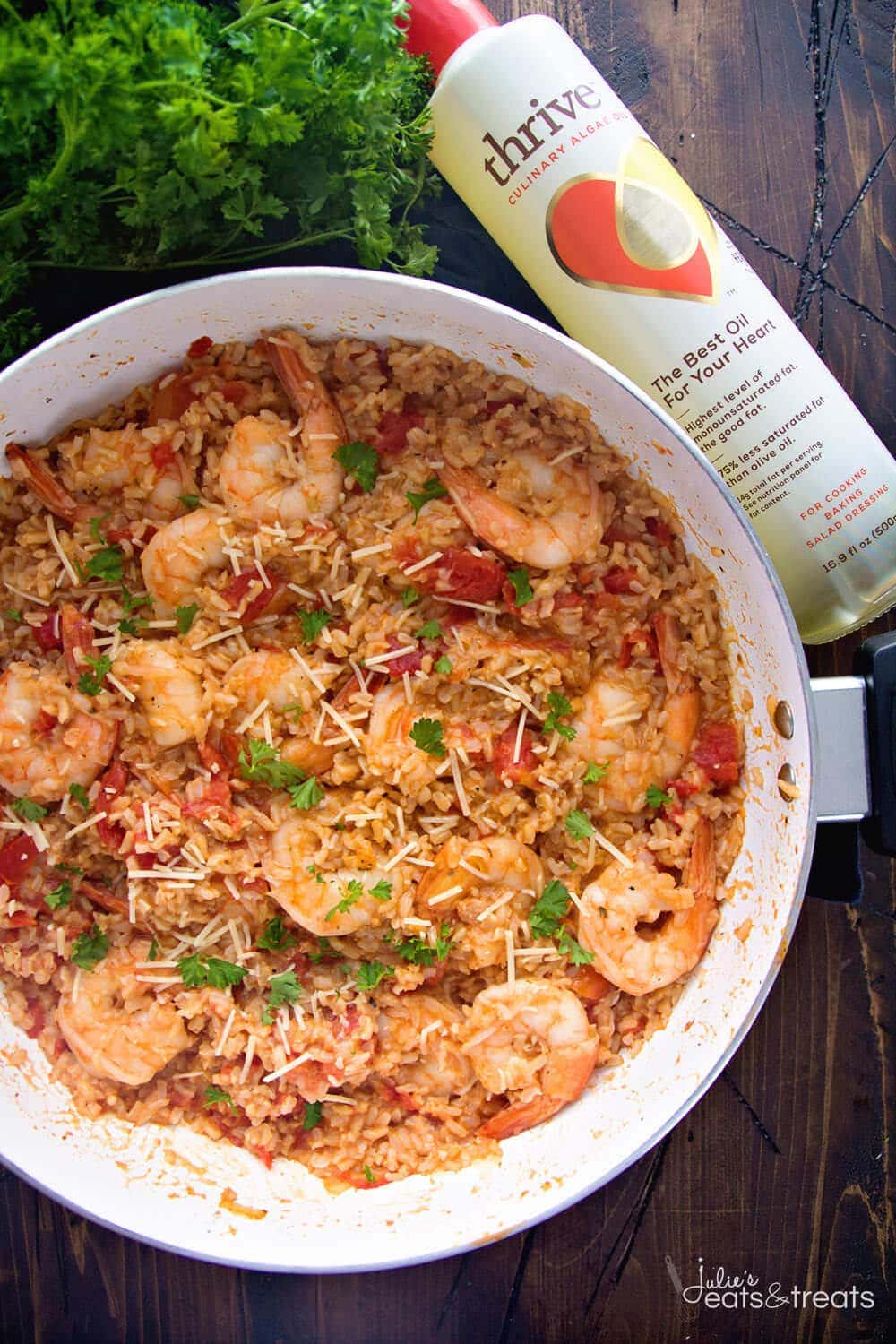 Light Italian Shrimp & Rice Skillet Recipe ~ Easy, One Pot Meal that's Full of Flavor! This has it all from Garlic, to Shrimp, Rice and Italian Tomatoes! This is the Perfect Dinner Ready in 30 Minutes!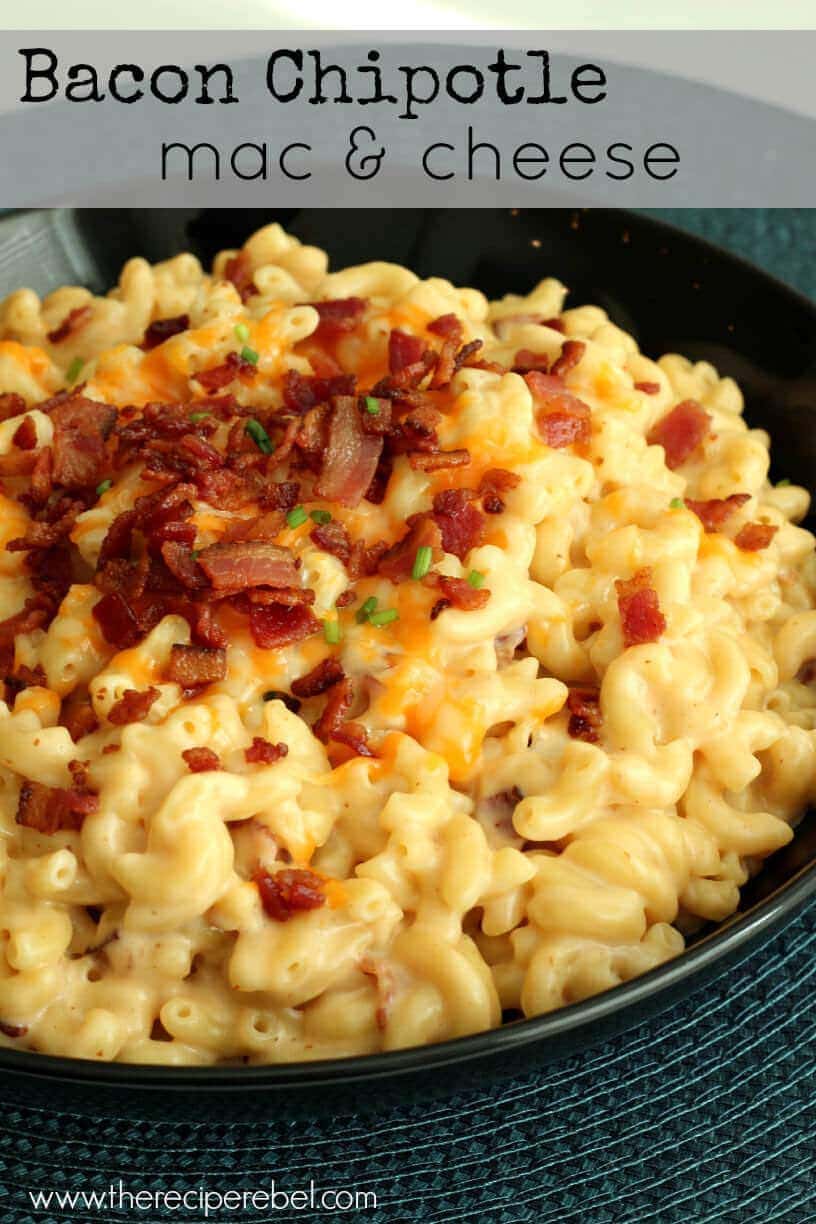 Bacon Chipotle Mac & Cheese ~ Only One Pot, 6 Ingredients and Ready in 25 Minutes!!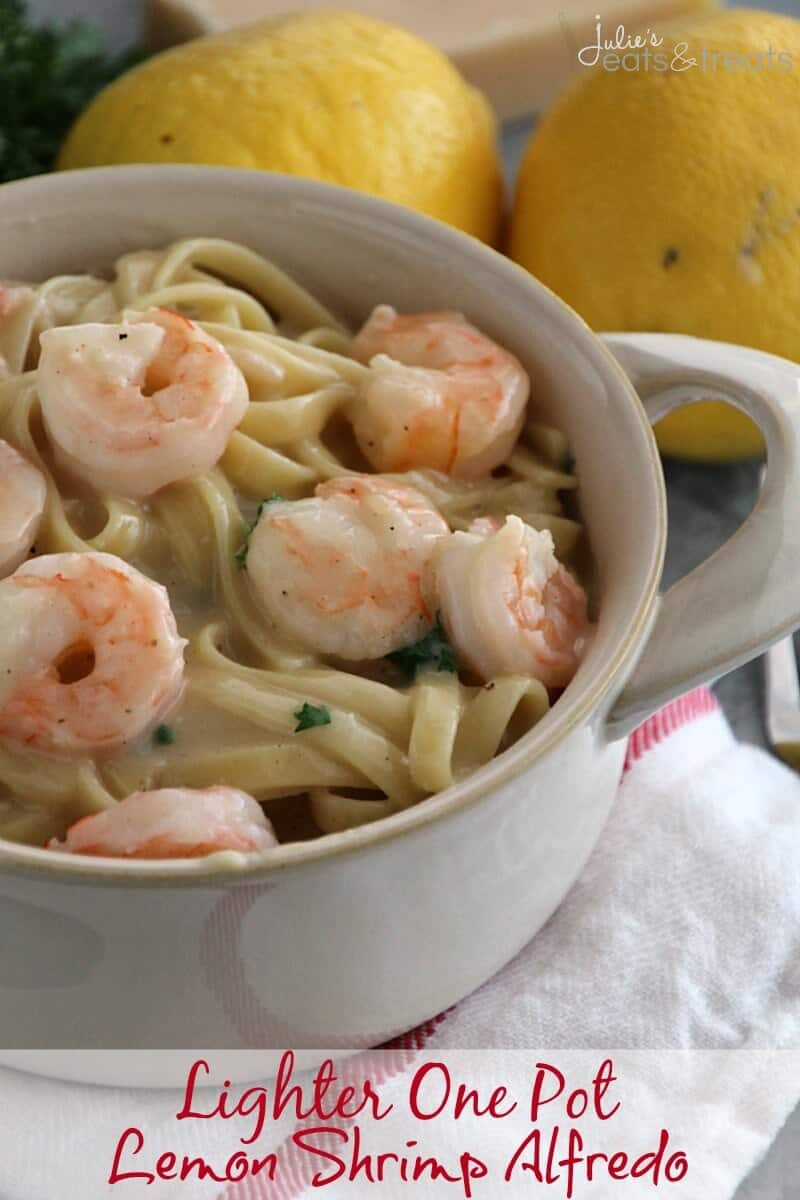 Lighter One Pot Lemon Shrimp Alfredo ~ Delicious and Easy Lemon Shrimp Alfredo that has been Lightened Up and Made in One Pot! Perfect for the Weeknight!