So I'm a little behind most of you it seems. I have never made Oreo Truffles. This popular treat has eluded me all these years so this year I decided to change this.
Let's say that my little brother was sure happy that I changed this because he couldn't keep his fingers out of these treats! In fact I made a treat plate for him, my brother-in-law (who happens to be little bro's best friend aka BFF) and little bro STOLE his Oreo Truffles off his plate. The little snitch!
I'm not going to lie. When others are stealing treats from each other because they like them so much, well it makes me happy. It equals a success in my mind!
These little babies are quick and easy to make so don't be like me and run away when you think about making them for years!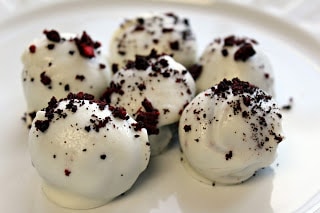 Oreo Truffles
Printer Friendly Recipe
Ingredients
1 package cream cheese, softened
1 package Oreos, crushed
1 package almond bark
1. Mix cream cheese and Oreos together. Make into small balls and place on a cookie sheet. Freeze for about 10 minutes.
2. Melt the almond bark (I used white, but you can use chocolate!) in a double boiler. If you don't have a double boiler just use the microwave. I find it easier in the double boiler because the almond bark doesn't get hard as fast.
3. Take the truffles out of the freezer and dip in the almond bark. Use forks to remove from the almond bark. Place on wax paper. Sprinkle crushed Oreos over truffles if desired.