Parmesan Crusted Tilapia is a quick and easy dinner recipe that is ready in under 30 minutes! This will be your go-to tilapia recipe that everyone in your family will devour. It has a simple Panko and Parmesan cheese coating that gives it a nice crunchy coating. If you are looking to mix in more fish recipes in your dinners this tilapia recipe is a simple, delicious recipe!
Quick & Easy Parmesan Crusted Tilapia!
Is fish part of your dinner rotation? I like tucking in a fish dish here and there (like Cauliflower Rice Fish Taco Bowls!) for my family just to keep things interesting and this Parmesan Crusted Tilapia is one of our favorites! My family loves Mexican Fish Stick Tacos and Cheesy Fish Stick Hashbrown Casserole, so I knew the first time I made this Parmesan Crusted Tilapia they would love it. It's crispy like their favorite fish sticks, but made from scratch with fresh tilapia fillets!
I know fish isn't always the most requested dinner, but when you bread some tilapia and pop it in the oven to bake it comes out hot and crispy. It's almost like fried fish but so much healthier. My family loves fried food and I like that I can make this crispy baked fish without all the oil (and mess!) from frying.
It's also super simple to make – you only need four ingredients and 30 minutes to make it!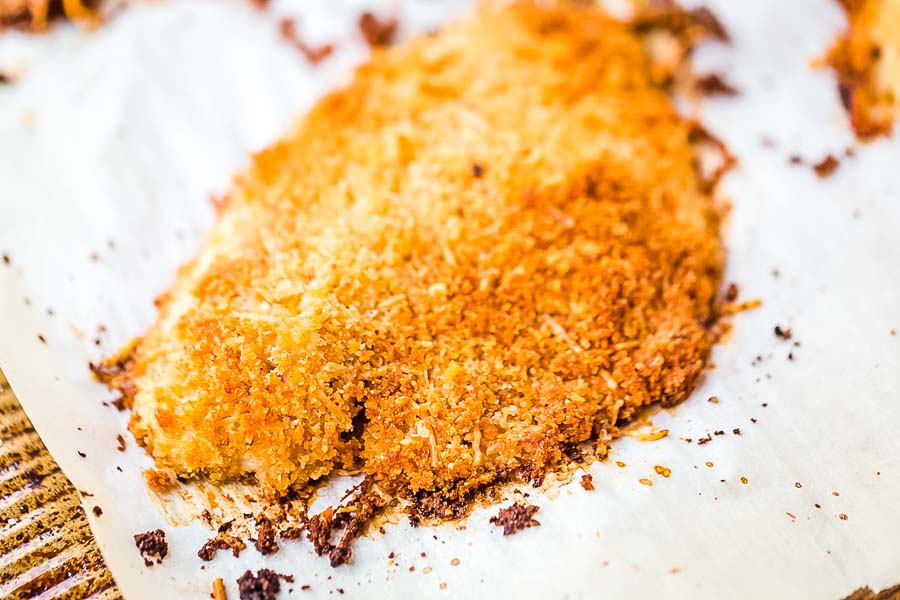 What do I need to make Parmesan Crusted Tilapia?
If you'd rather skip my (very helpful, I think) tips and tricks, essential cooking info, and similar recipe ideas – and get straight to this delicious easy Parmesan Crusted Tilapia recipe – simply scroll to the bottom of the page where you can find the printable recipe card.
tilapia fillets
panko bread crumbs
Parmesan cheese
melted butter
How do I make Parmesan Crusted Tilapia?
This Parmesan Crusted Tilapia is so, so simple to make!
Preheat Oven – Preheat your oven to 425F and spray a baking sheet with cooking spray.
Mix Ingredients – In a bowl mix the panko, cheese, and butter..
Prepare Tilapia – Place the tilapia on the baking sheet and cover the top of each fillet with the panko mixture.
Bake – Bake the fish for 15 to 20 minutes.
That's it! Easy, right? It's almost as easy as baking up a batch of fish sticks and I promise this Parmesan Crusted Tilapia is so good! When it comes out of the oven it has a golden, crispy bread crumb coating. Your family is going to love it!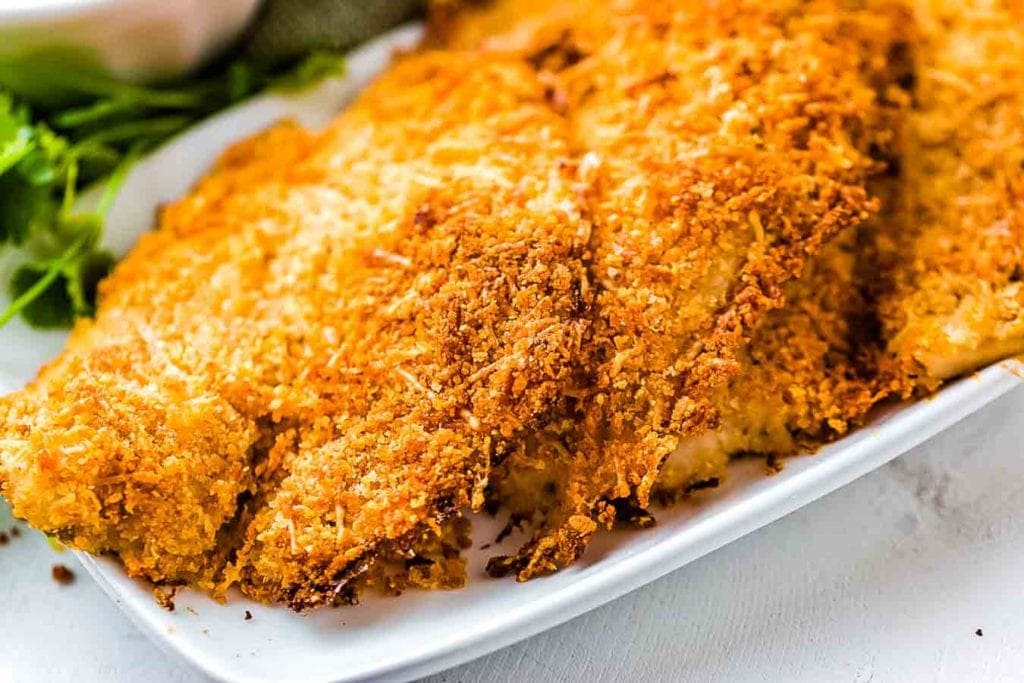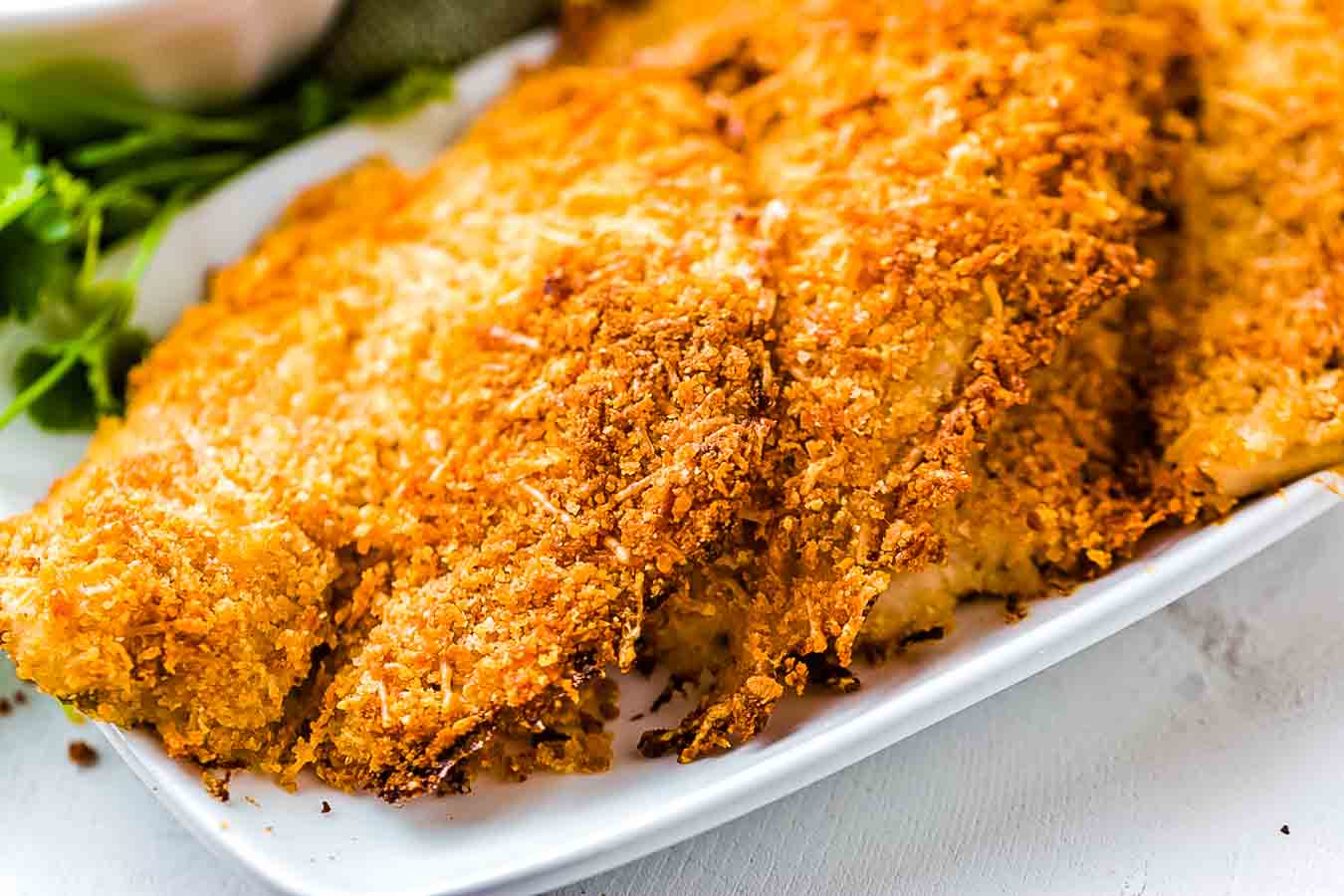 Tips & Tricks for Parmesan Crusted Tilapia!
If you've never cooked tilapia here are some answers to some frequently asked questions. If we didn't answer your question please leave a comment and we will do our best to answer it!
What does Tilapia taste like?
Tilapia has a very mild taste. So mild, in fact, that some people don't think it has any flavor at all! Its mild flavor is what I like best, though, because if you have picky eaters or you haven't cooked much fish it's a great fish to introduce to your family. I love it breaded, but the mild flavor also means you can dress it up with other flavors so it's very versatile.
How do you know when Tilapia is done?
The easiest way to know when tilapia is done is by checking with a fork. Fish that is fully cooked will be opaque, but since this tilapia is breaded you might not be able to see that easily. So, grab a fork and poke it into the thickest part of the fish. When you turn the fork the fish should easily flake. Fish cooks pretty fast so be sure to check it so you don't over bake it.
How to store leftover Parmesan Crusted Tilapia?
This Parmesan Crusted Tilapia is best hot from the oven. If you have leftovers you can wrap them and keep them in the refrigerator for three to four days, but that crispy panko coating may go a little soft on you and probably won't crisp up when you reheat it.
We recommend heating it in the oven if you can to keep the crispy coating as much as possible, but you can use the microwave just beware that it won't be as crispy! Still good, just not as crispy.
How long does leftover Tilapia last?
Leftover cooked tilapia will keep in the refrigerator for up three to four days. You can also freeze cooked tilapia for up to three months as long as you tightly wrap it and store it in an airtight container. Keep in mind these storage tips are for plain cooked tilapia!
I know you're going to love this Parmesan Crusted Tilapia! It's a quick 30-minute dinner and you're going to want a side dish so be sure to check out some of our favorite side dish recipes!
Side Dish Recipes to serve with Parmesan Crusted Tilapia!
We love this easy dinner recipe! If you love this recipe be sure to give this family favorite five stars!! Tag me with your photos at @julieseatsandtreats or #julieseatsandtreats so I can see your delicious dinners!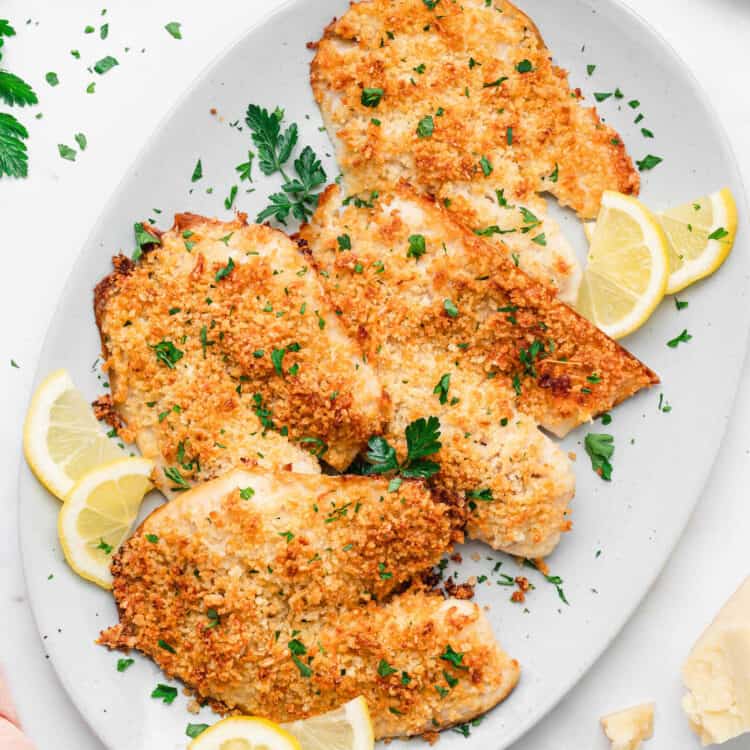 Parmesan Crusted Tilapia Recipe
Quick and Easy Baked Tilapia recipe in a delicious Panko and Parmesan topping!
Ingredients
4

Tilapia fillets

about 1 pound, thawed if you use frozen

½

cup

Panko Bread Crumbs

½

cup

Parmesan Cheese

shredded

3

Tablespoon

butter

melted
Instructions
Preheat oven to 425 degrees.

Spray cookie sheet with non-stick cooking spray.

Mix butter, Panko and Parmesan cheese together in a bowl. Lay Tilapia fillets on cookie sheet. Top with Parmesan mixture.

Bake for 15-20 minutes.
Tips
FRIDGE: Leftover cooked tilapia will keep in the refrigerator for up three to four days. Place it into an airtight container or wrap tightly in plastic wrap.
FREEZE: Wrap each fillet tightly in plastic wrap or foil and place it into a freezer safe bag. Or, place leftover fish into an airtight container. Freeze cooked tilapia for up to three months.
To reheat, place into the oven until warmed through. Keep in mind that the panko breading may not crisp up as much when reheated. But it will still taste quite delicious!
Nutrition Information
Calories:
472
kcal
(24%)
,
Carbohydrates:
22
g
(7%)
,
Protein:
49
g
(98%)
,
Fat:
21
g
(32%)
,
Saturated Fat:
12
g
(75%)
,
Cholesterol:
128
mg
(43%)
,
Sodium:
855
mg
(37%)
,
Potassium:
599
mg
(17%)
,
Fiber:
1
g
(4%)
,
Sugar:
2
g
(2%)
,
Vitamin A:
495
IU
(10%)
,
Calcium:
424
mg
(42%)
,
Iron:
2.6
mg
(14%)