Patriotic Sugar Cookie Ice Cream Sandwiches
Patriotic Sugar Cookie Ice Cream Sandwich ~ Soft Sugar Cookies Stuffed with Vanilla Ice Cream! Super EASY Using Refrigerated Cookie Dough!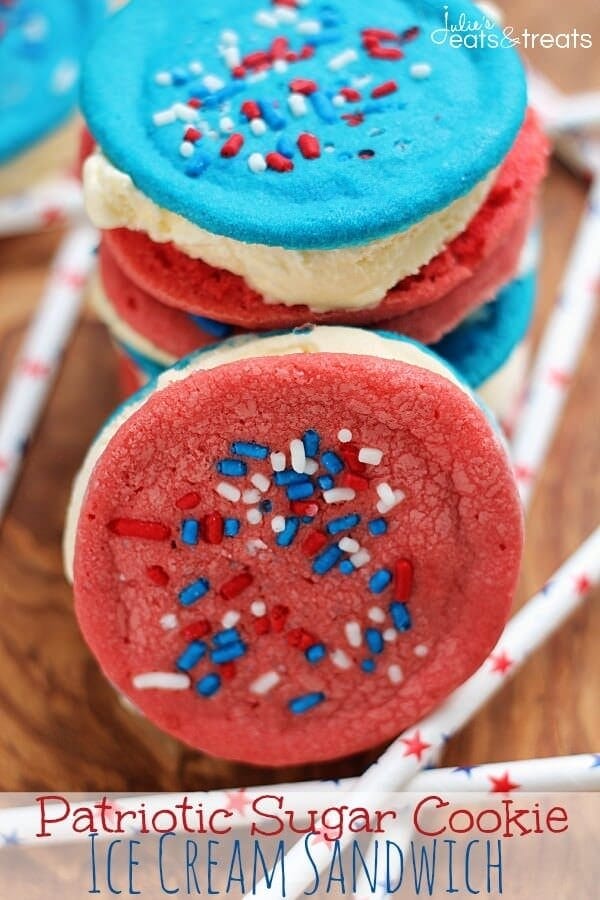 True friends are hard to come by. The ones you truly "click" with and you don't have to censor yourself because you never have to worry about they are thinking in their minds when you tell them something super crazy that probably should not have ever been said, but yet you said it anyways.
Once in a while crazy things happen and one of those friends come along. That moment you meet someone and you may just think, now she's cool and I want to be her friend.
That exact  moment happened to me about four years ago. It was a little tricky though because it was just some random girl that was going to design my wedding invites, whom I didn't know anything about and lived in a different town. Every time I met with her I always came to the same conclusion, I want to be her friend.
I suppose I could have stalked her, I supposed I could have really tried to be her friend, but I was a little bit apprehensive because I wasn't real sure on how to go about this business without coming off as a complete freak and scaring her off. So she designed the wedding invites, which were amazing, and we went our separate ways.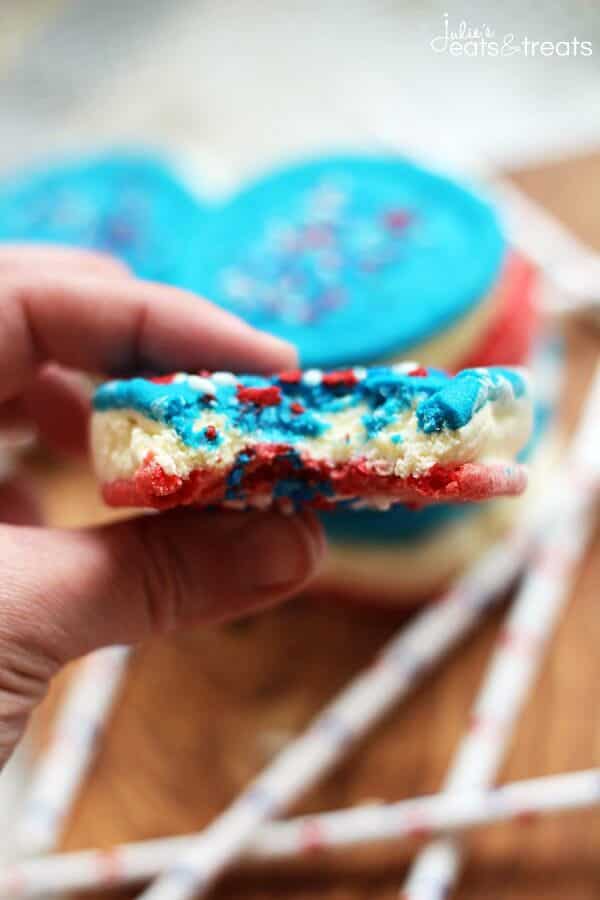 Fast forward about to years ago and I was looking for a photographer for my newborn pictures. This said wedding invite designer started dabbling in photography, which she ended up being pretty darn amazing at and we booked a session with her. Once again I thought, she is so cool and someday I'm going to be a real friend. We continued with photo sessions over the next year for Miss K and each time we got a little closer. I ended up asking her to play volleyball with us last fall and from there our "friendship" took off.
Today I am blessed to call Danielle a true friend that I have successfully stalked, befriended and now she will probably run away screaming because I have never really confessed to this story. I'm praying that she doesn't do this though!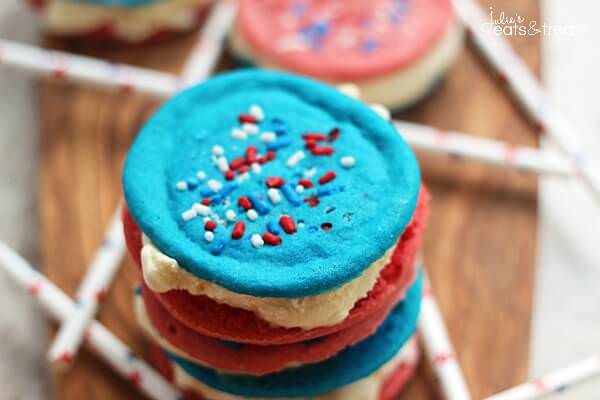 Danielle now blogs too, which could be me dragging her to the "dark side", over at Krafted Koch. Due to this blogging adventure she's taken on we've really had a chance to truly bond of the craziness of blogging. She is also probably my only "real life" friend that understands my blog prop hoarding slash addiction.
Let's just say I may, just may have a whole cabinet full of random bowls, plates, napkins, cutting boards, serving platters, paper straws…you get the drift.
This past week I celebrated my birthday and I arrived home to a birthday present on my front porch from Danielle. It was full of new blog props and I'm pretty sure I knew why five years ago I was giving this crazy urge to stalk her! Thank you Danielle for being my sounding board and for letting my stalk you even though you didn't know it. Thanks for the wonderful gift too! Please still be my friend….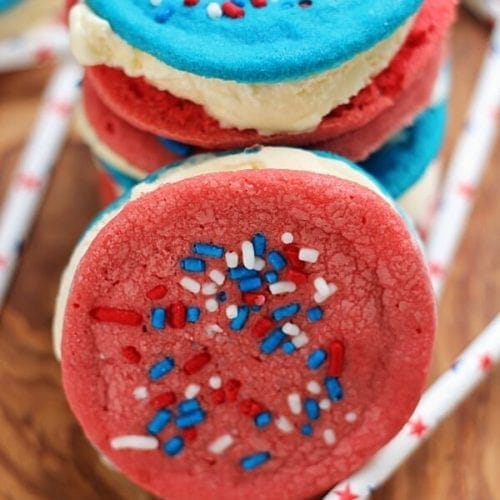 Patriotic Sugar Cookie Ice Cream Sandwiches
Patriotic Sugar Cookie Ice Cream Sandwich ~ Soft Sugar Cookies Stuffed with Vanilla Ice Cream! Super EASY Using Refrigerated Cookie Dough!

Print
Pin
Rate
Servings:
10
Ice Cream Sandwiches
Ingredients
1

16 oz package Pillsbury Refrigerated Cookie Dough

6

c.

vanilla ice cream

softened

Red Food Coloring

Blue Food Coloring

Patriotic Sprinkles
Instructions
Divide cookie dough in half and place in two separate bowls. Mix one bowl of dough with blue food coloring. Mix the other with red food coloring.

Make 10 cookies out of each color of dough. Flatten each cookie out and sprinkle with Patriotic sprinkles. Bake according to package directions. Cool.

Take one blue cookie, sprinkle side down, and place a 1/2 c. ice cream on top of cookie. Top with red cookie, sprinkle side up. Gently press cookies together to spread ice cream out evenly. Place in air tight container and store in freezer.
Nutrition
Serving:
1
g
|
Calories:
294
kcal
|
Carbohydrates:
33
g
|
Protein:
4
g
|
Fat:
15
g
|
Saturated Fat:
9
g
|
Cholesterol:
62
mg
|
Sodium:
113
mg
|
Potassium:
282
mg
|
Sugar:
30
g
|
Vitamin A:
600
IU
|
Vitamin C:
0.8
mg
|
Calcium:
182
mg
|
Iron:
0.1
mg
LEAVE A COMMENT
Looking for more  Patriotic Treats?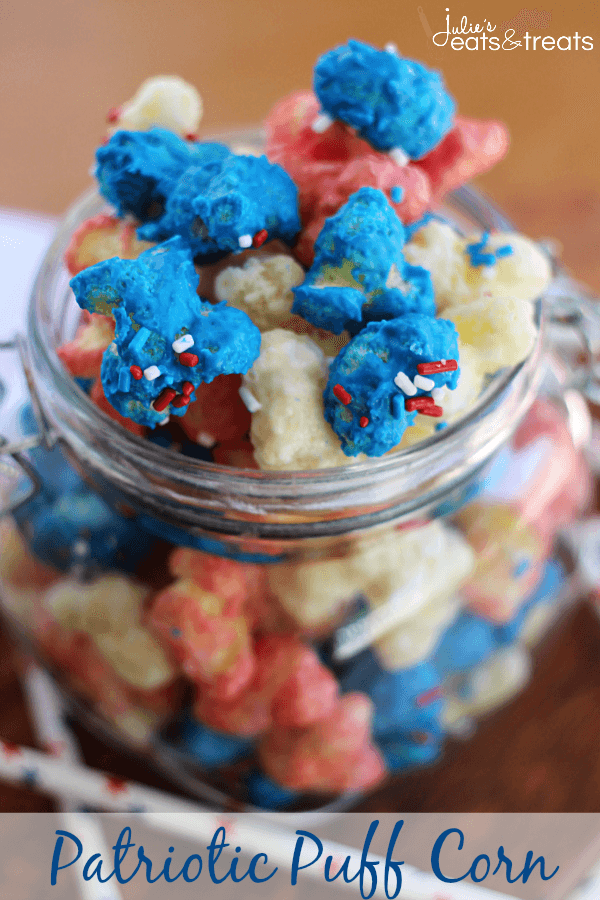 Patriotic Puff Corn ~ Light, Salty Puff Corn Drizzled in Sweet Vanilla Candy Coating! Melt in Your Mouth Deliciousness!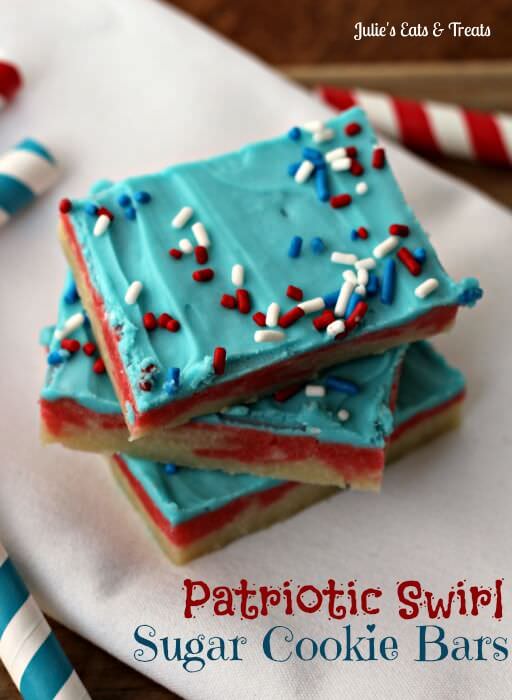 Patriotic Swirl Sugar Cookie Bars ~ Festive Red & White Swirled Sugar Cookie bars topped with blue cream cheese frosting!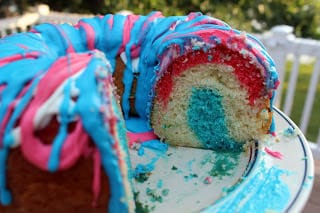 Firecracker Swirl Cake ~ Easy Cake to put you in the Patriotic Mood!