Peanut Butter and Banana Icebox Cake
Peanut Butter and Banana Icebox Cake ~ Homemade Light & Fluffy Peanut Butter Mousse Layered with Peanut Butter Cookies and Bananas and then Drizzled with Peanut Butter! The Perfect No Bake Dessert!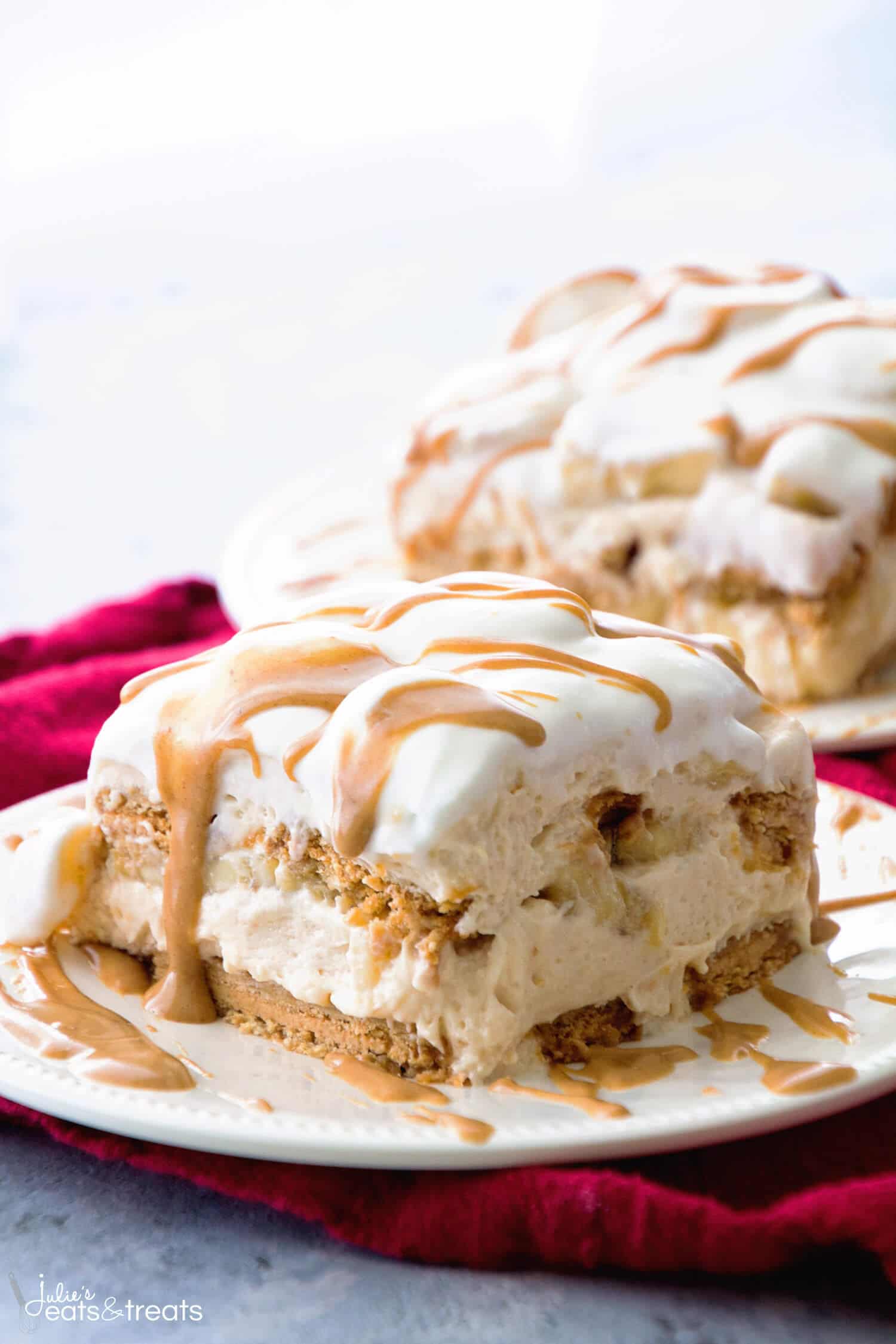 Ever since I was first introduced to Icebox Cakes I was in love! Can you believe I hadn't made one or even heard of one until I started blogging? Obviously I was missing out on an epic dessert! You guys have loved my No Bake Strawberry Cheesecake Icebox Cake and my first ever icebox cake – Skinny Strawberry Banana Ice Box Cake. They are some of my favorite summer desserts because they are no bake! I know when it's HOT outside and HUMID the last thing I look forward to doing is turning on my oven. I'm sure you are right there with me.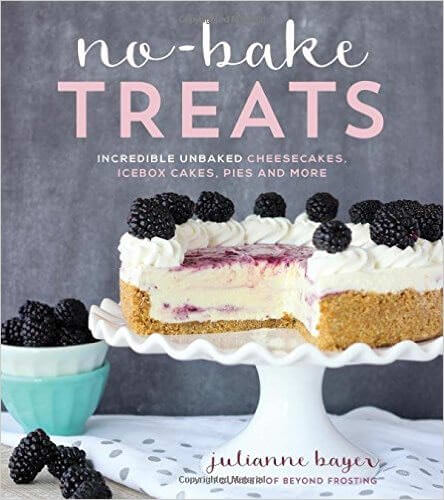 When my dear friend Julianne of Beyond Frosting came out with her new cookbook No-Bake Treats I knew I was going to be in love with it. First of all, Julianne is simply a dessert genius. You guys, I drool every time I see one of her recipes. They are gorgeous and the flavors are amazing!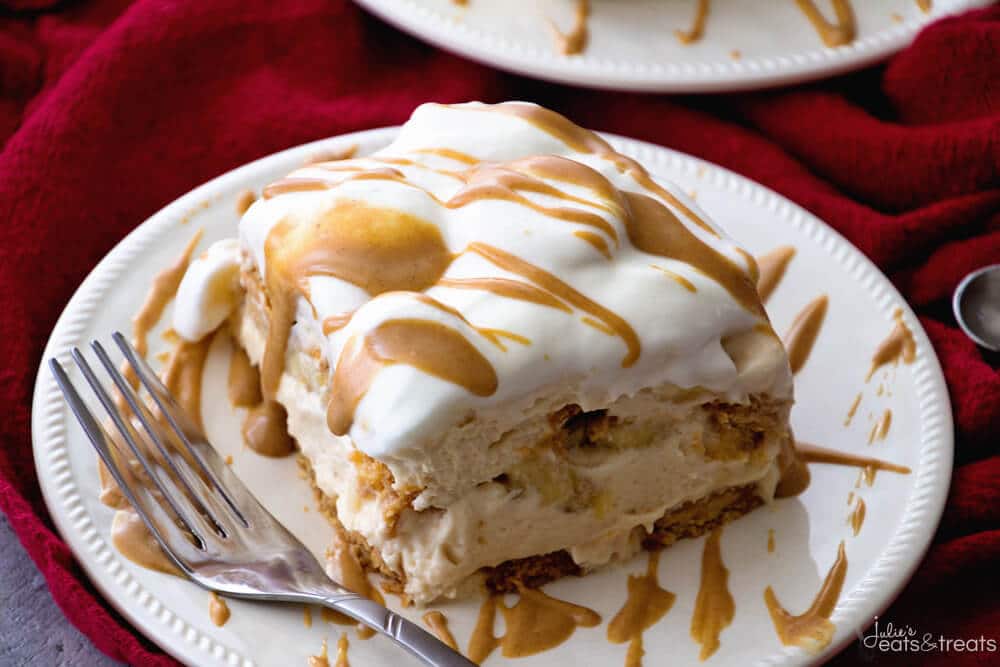 I'll admit it. When I saw this combo of peanut butter and banana I knew it was going to be heaven on earth. How could I not love this icebox cake? Usually when making an icebox cake I take the easy way and grab an tub of Cool Whip and throw it together. When I saw that Julianne made her own peanut butter mousse I knew this was going to top any icebox cake I had ever made!
You guys, it was totally worth the extra fifteen minutes it took to make this dessert. I pretty much wanted to face plant in the dessert. I'm pretty sure I could have downed the entire dessert in one sitting if I had put my mind to it, but logic won out and I saved a piece for my hubs! You could find me licking out the bowl full of peanut butter mousse though!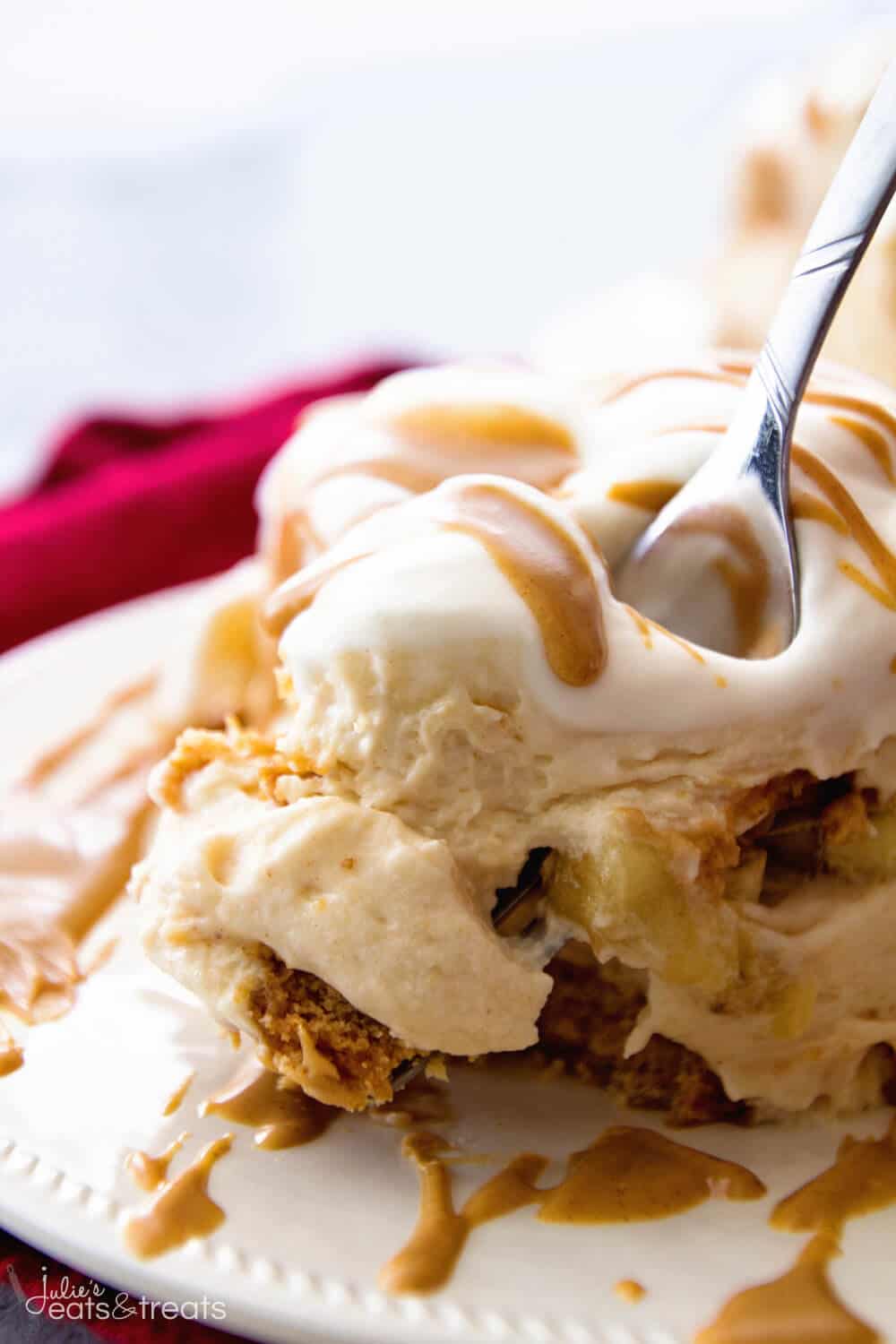 This Peanut Butter and Banana Icebox Cake has layers of peanut butter cookies, homemade peanut butter mousse and bananas that will have you drooling and fighting over the last piece! Trust me, I may have threw elbows to get it!
There's still plenty of hot weather left to enjoy all of the No Bake Desserts in Julianne's fabulous recipe book! There were so many recipes that had me drooling like her Banana Pudding Cheesecake, Brownie Batter Cheesecake, and Birthday Cake Lasagna just to name a few!
If you love bananas as much as me make sure you try this Banana Pudding! Or try my Nutter Butter Ice Cream or Cookie Dough Ice Cream for another frozen treat! Or try my classic Tiramisu which is a cold and creamy treat.
Like Julianne says, "Incredible Unbaked Cheesecakes, Icebox Cakes, Pies & Tarts, Ice Cream and More!" You can't pass that up!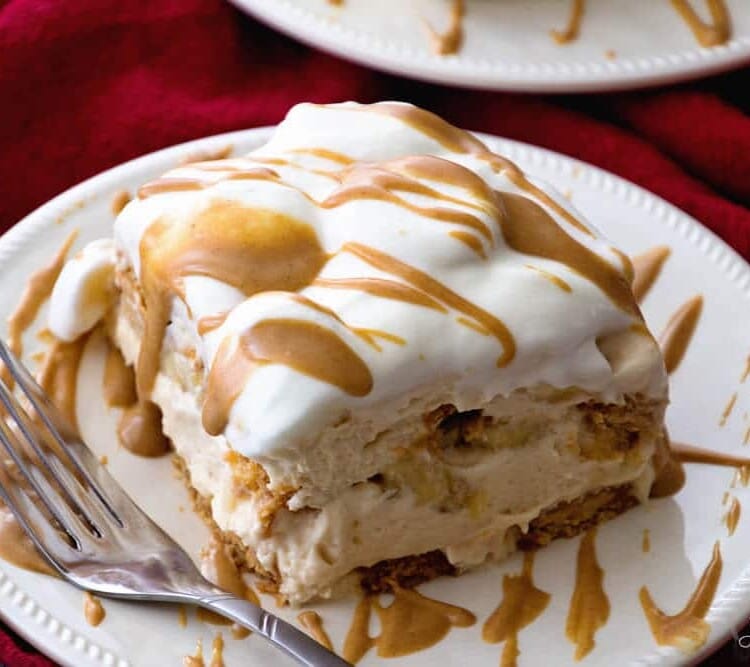 Peanut Butter and Banana Icebox Cake
Homemade Light & Fluffy Peanut Butter Mousse Layered with Peanut Butter Cookies and Bananas and then Drizzled with Peanut Butter! The Perfect No Bake Dessert!
Ingredients
1 3/4

c.

plus 2 Tbsp heavy whipping cream

divided

2

c.

powdered sugar

divided

8

oz

cream cheese

softened

1/2

c.

creamy peanut butter

20

oz

about 1 1/2 packages peanut butter cookies

1/2

c.

milk in small bowl

5

medium bananas
Topping
2/3

c.

heaving whipping cream

1/2

c.

powdered sugar

1

Tbsp

creamy peanut butter
Instructions
Prepare the first batch of whipped cream by placing the mixing bowl and whisk attachment in the freezer for 5 to 10 minutes to chill. Pour 1 ¾ cups (414 ml) of heavy whipping cream into the chilled bowl and use an electric mixer to beat the heavy cream on medium-high speed until the cream gets bubbly. Slowly add 1 cup (130 g) powdered sugar and continue beating on high speed until stiff peaks form. Set aside.

Beat the cream cheese on medium-high speed for 2 to 3 minutes until it's light and fluffy, and scrape down the sides of the bowl. Add the peanut butter and remaining 2 tablespoons (30 ml) of heavy whipping cream, and continue beating until the mixture is completely smooth, scraping down the bowl occasionally. Slowly add the last cup (130 g) of powdered sugar and beat into the mixture until all of the ingredients are well combined. Fold the prepared whipped cream into the peanut butter mousse and blend with a spatula until well mixed. Divide the mousse in half.

To assemble the dessert, line the bottom of a 9-inch (23-cm) square dish at least 2 ½ inches (6 cm) tall with parchment paper. Start by dipping both sides of the peanut butter cookies into the bowl of milk. This helps soften them. Line the bottom of the dish with 1 layer of cookies, cutting to fit if necessary. Spread half of the peanut butter mousse evenly over the bottom layer of cookies. Peel and thinly slice the bananas, placing a single layer over the peanut butter mousse. Repeat the cookie layer, dipping the cookies in milk first. Then add the remaining peanut butter mousse and another layer of sliced bananas.

For the topping combine the whipping cream and powdered sugar as described above to prepare a second batch of whipped cream. Spread the whipped cream over the bananas. Lastly, microwave 1 tablespoon (11 g) of peanut butter and drizzle it over the top of the whipped cream. Cover the dessert and refrigerate for 4 to 6 hours to allow the mousse to set.
Nutrition Information
Serving:
1
,
Calories:
1019
kcal
(51%)
,
Carbohydrates:
132
g
(44%)
,
Protein:
10
g
(20%)
,
Fat:
52
g
(80%)
,
Saturated Fat:
23
g
(144%)
,
Cholesterol:
116
mg
(39%)
,
Sodium:
401
mg
(17%)
,
Potassium:
488
mg
(14%)
,
Fiber:
3
g
(13%)
,
Sugar:
99
g
(110%)
,
Vitamin A:
1335
IU
(27%)
,
Vitamin C:
6.1
mg
(7%)
,
Calcium:
107
mg
(11%)
,
Iron:
2
mg
(11%)