Peanut Butter Ritz Cookies + VIDEO
Peanut Butter Ritz Cookies ~ Our FAVORITE treats for the holidays! Easy Christmas Cookies! Chocolate Dipped Ritz Crackers Stuffed with Peanut Butter, So Easy And Delicious!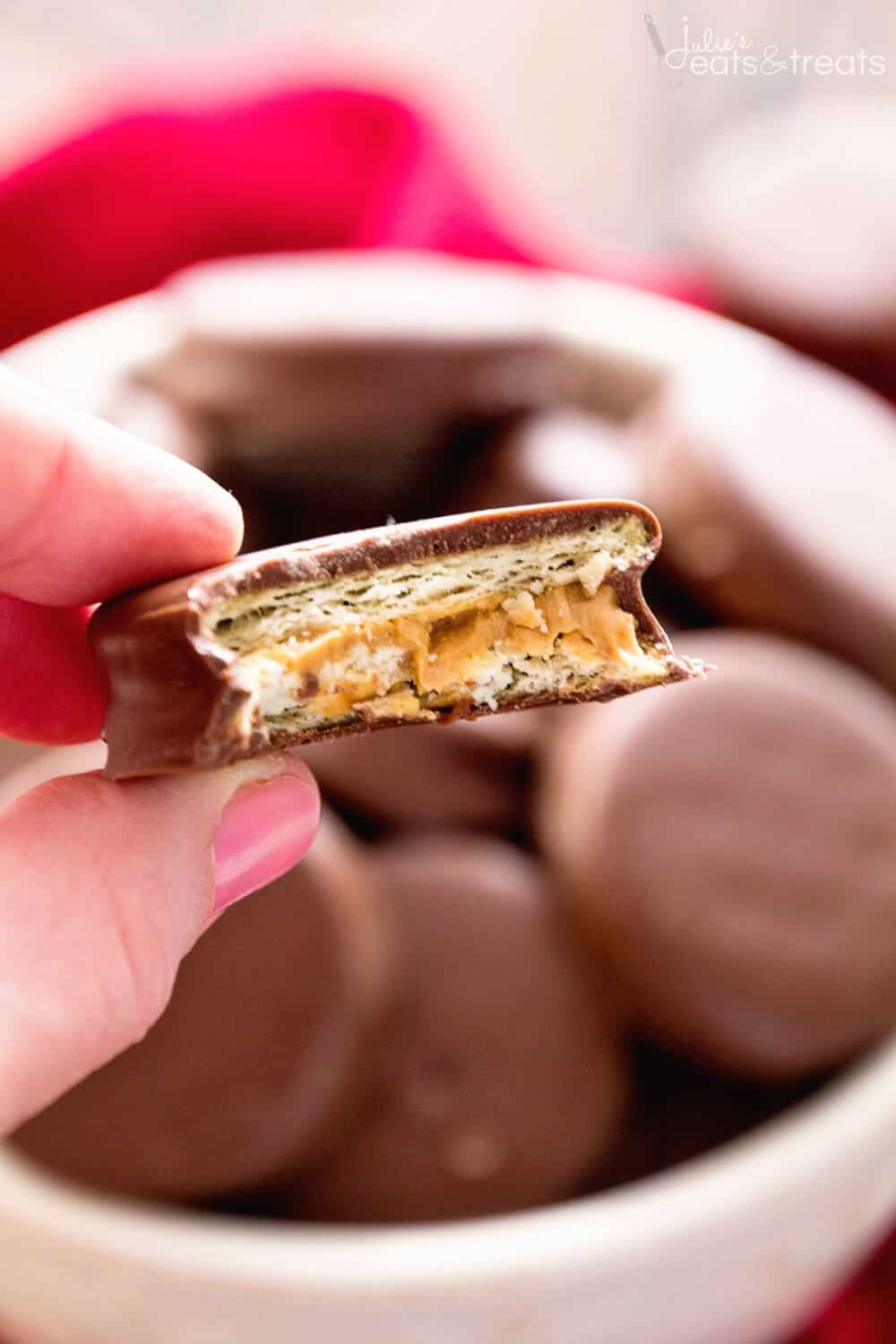 Ritz Cookies
These are a staple in our house at Christmas time. I always remember mom making a batch of these right before Christmas. Before that my grandma always made them. Sometimes you just have to embrace the good old recipes that are a tradition in life.
I'm all about trying new things as you can tell from my Red Velvet Cookies and White Chocolate Molasses Cookies that I tried this year, but sometimes I just gravitate towards the trustworthy recipes. Nothing is worse than trying thirteen different recipes and have none of them come out the way you envisioned!
When my mom and I planned a baking weekend up at the lake I made sure these were on our list. Oh our weekend was a good time. We quickly loaded things up (a little to quickly because I forgot the cooler! Oh well, hubby ran to the grocery store when we got there..) and went up Friday after work and of course true to MN standards, there was a snowstorm brewing. The roads were crap. Literally crap, but we hopped in my trusty truck and slowly headed up there. Nothing was getting in the way of my baking weekend. Nothing.
Ingredients Needed for Peanut Butter Ritz Cookies
Buttery Salted Crackers, such as Ritz

Creamy peanut butter

Chocolate almond bark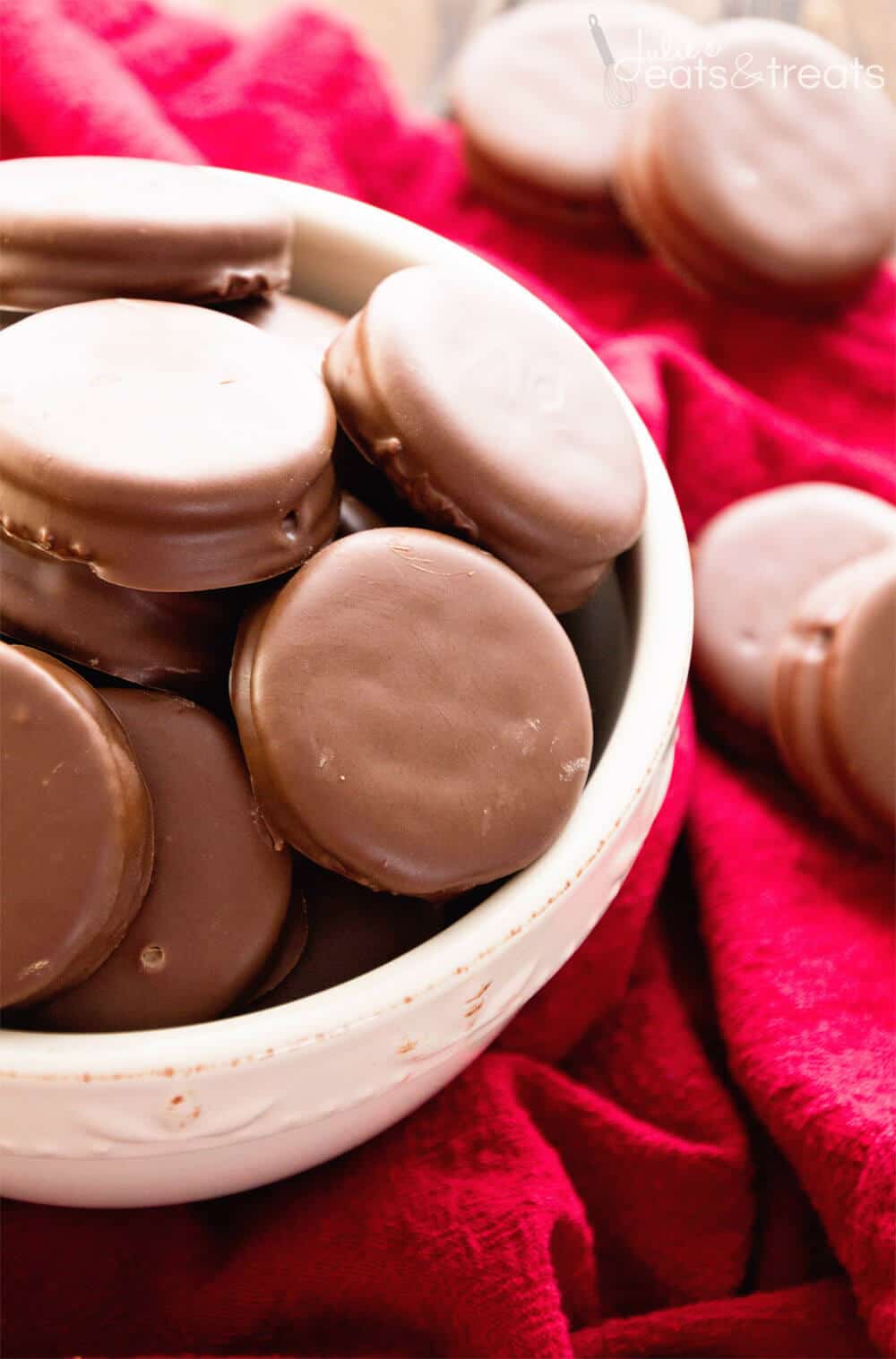 Ritz Cracker Cookies
When we arrived we were treated to Cheesy Wild Rice Soup. Soup for supper with it snowing outside. Life is good. After that we watched a movie and tucked ourselves in for the night. The next morning we got to baking bright and early. We were on a mission!
We had a successful day with Goof Balls, Sweet Cherry Cookies, Oreo Truffles and many more being made. That night we watched another sappy Christmas movie and hunkered down. The snowfall amounts were supposed to be 8-12 inches.
Tips for Making Peanut Butter Ritz Cookies
Make sure you use Chocolate Almond Bark and not melted Chocolate Chips! Chocolate Chips seize and are harder work with. Almond Bark melts perfectly and makes this super easy!
Using a double boiler to melt your almond bark keeps it warm so you can take your time making these. Microwaving the almond bark works too, you just have to work quicker as it cools and hardens.
Add a little shortening to the almond bark when you melt it to make it a little thinner. This will get you a nice, smooth cookie!
The next morning we were awake bright and early with Miss K. Looked out to see all the snow and decided it was time to make the trek home. I had envisioned a lazy Sunday at the cabin relaxing but the wind hadn't came up yet and we were in a Blizzard Warning so we decided to call it safe and head home. Good thing we did as it got nasty, but we go our cookies made and are set for Christmas now!
WATCH THE STEP BY STEP VIDEO FOR THESE PEANUT BUTTER RITZ COOKIES RECIPE BELOW:
If you enjoy watching these videos make sure you subscribe to my YouTube Channel to be notified each time a post a new video!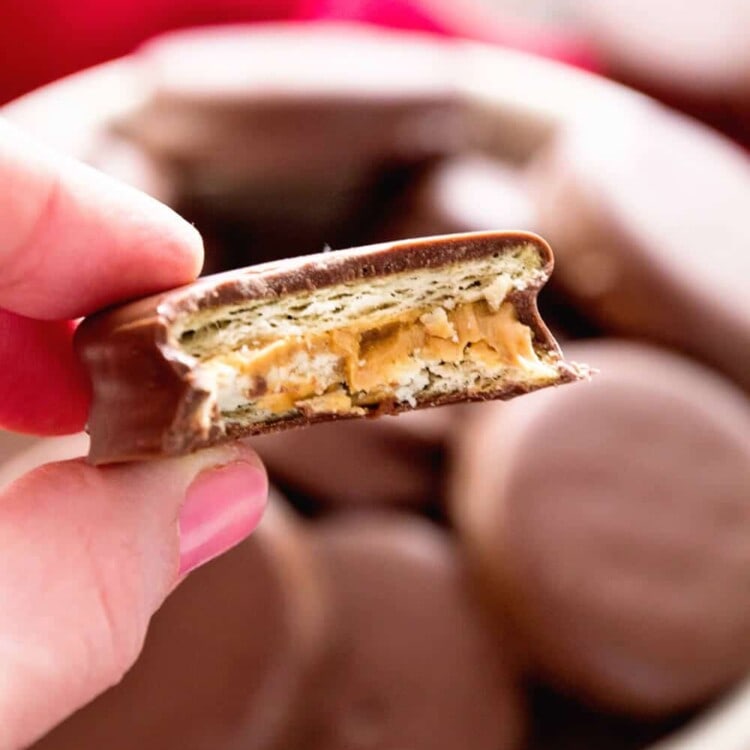 Peanut Butter Ritz Cookies
Our FAVORITE treats for the holidays! Easy Christmas Cookies! Chocolate Dipped Ritz Crackers Stuffed with Peanut Butter, So Easy And Delicious!
Ingredients
100

round buttery salted crackers

such as Ritz

1-1/2

c.

creamy peanut butter

24

oz.

chocolate/white almond bark
Instructions
Lay out wax paper to put finished cookies on. If you are in a hurry you can do this on cookie sheets so you can stick the cookies in the fridge/freezer to set up. Otherwise just lay the wax paper on your counter. It will only take about 20 minutes to set up on the counter.

Place about a 1/2 tablespoon of peanut butter on a cracker and spread out. Top with another cracker. Do this until all crackers are gone.

Melt almond bark in a double boiler until all lumps are out. If you don't have a doubler boiler you can do this in the microwave, making sure to stir frequently so it doesn't scorch. It just doesn't harden up if you use the double boiler.

Drop a sandwich cookie into the chocolate. Make sure it's covered, then remove with a fork. Drag fork along the edge of the double boiler to scrape of excess almond bark. Place cookie on wax paper. Repeat until all cookies have been dipped.

Place in container and store in air tight container. These also freeze great! Place wax paper between the layers of cookies.
Nutrition Information
Serving:
1
g
,
Calories:
121
kcal
(6%)
,
Carbohydrates:
13
g
(4%)
,
Protein:
1
g
(2%)
,
Fat:
6
g
(9%)
,
Saturated Fat:
4
g
(25%)
,
Sodium:
67
mg
(3%)
,
Potassium:
22
mg
(1%)
,
Sugar:
10
g
(11%)
,
Calcium:
10
mg
(1%)
,
Iron:
0.3
mg
(2%)
More Easy Holiday Treats!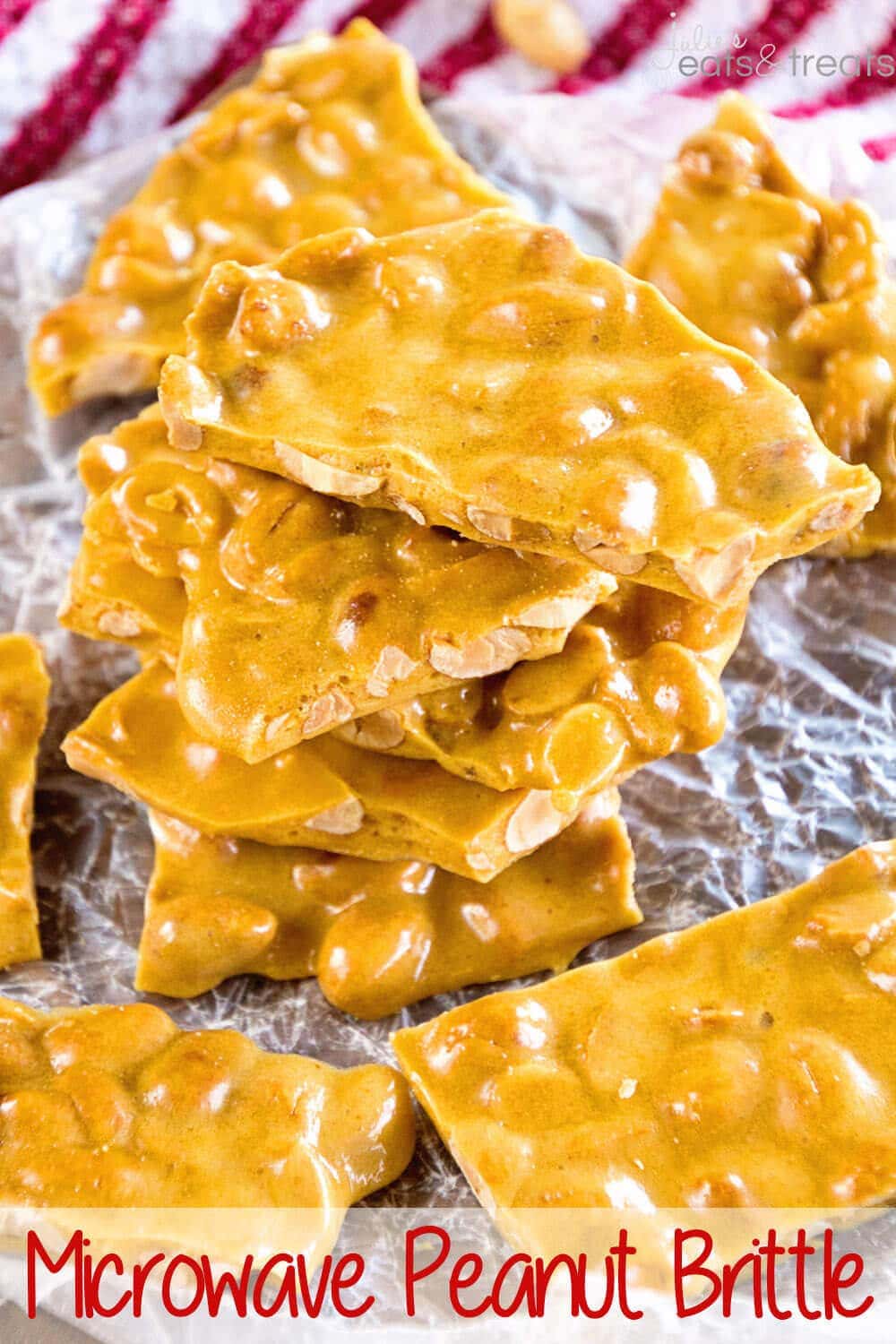 Microwave Peanut Brittle Recipe ~ Quick and Easy Christmas Treat that's Made in your Microwave! This Sweet is perfect for Goodie Trays!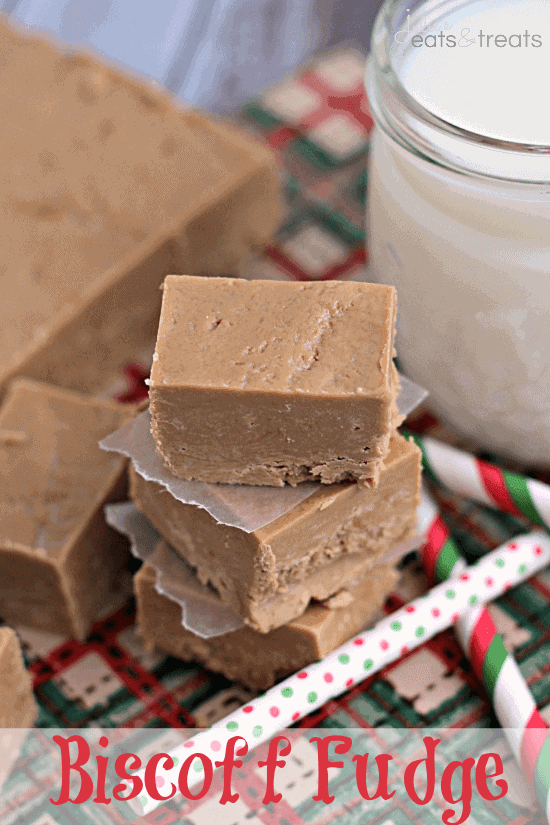 Biscoff Fudge ~ Only TWO Ingredients! It doesn't get much easier or quicker than this!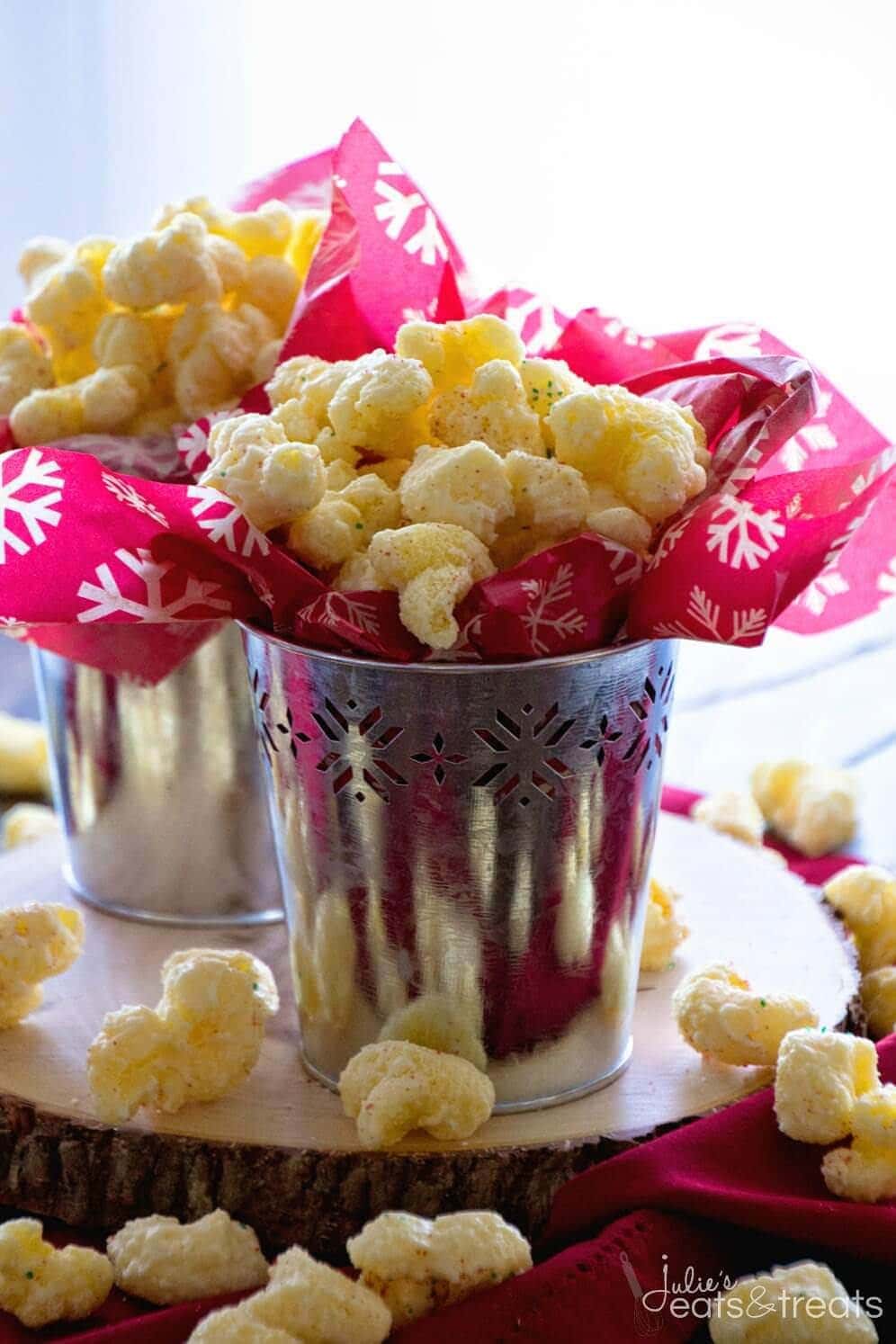 White Chocolate Puff Corn ~ Melt in your mouth puff corn coated in white chocolate! Perfect sweet and salty combo!