Celebrate the holidays this year with this festive and easy Peppermint Martini. It's a delicious and easy cocktail that is perfect for when you are entertaining guests. Don't forget the crushed candy canes to garnish the martini glass!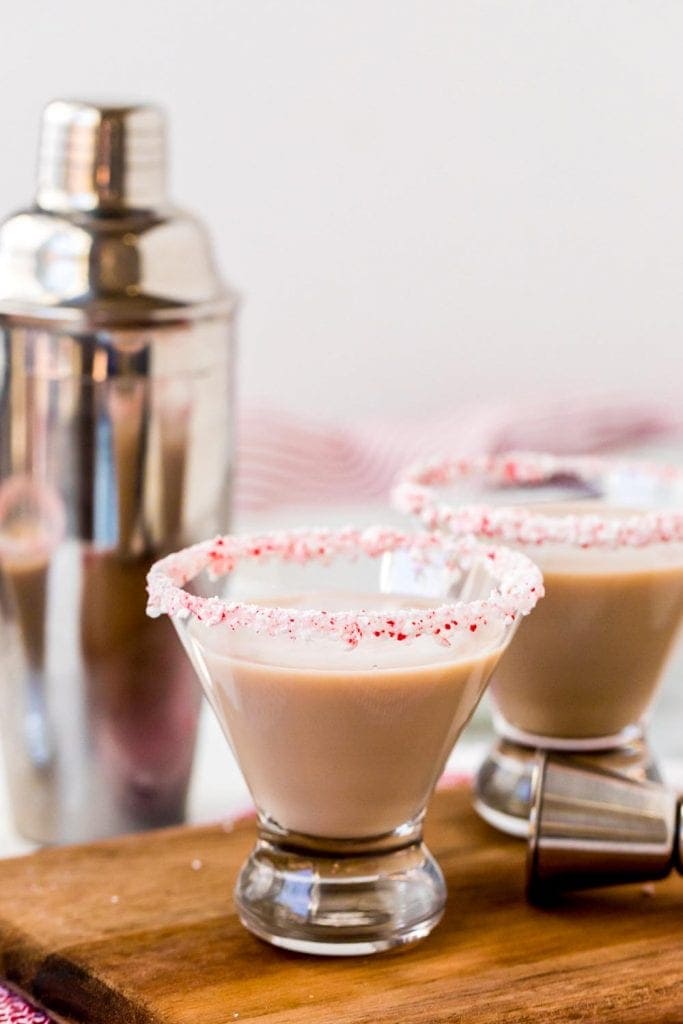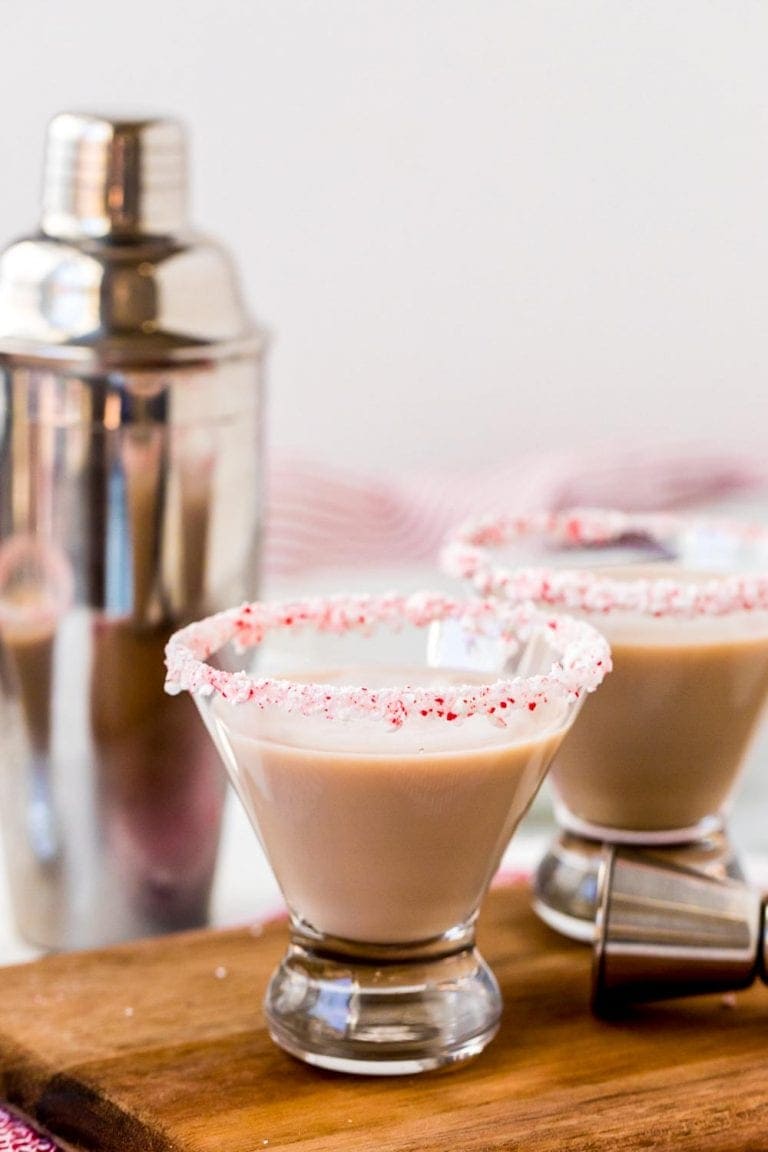 I am all about the peppermint this time of year! Peppermint coffee drinks, peppermint cookies… okay, I could go on and on! Basically, I haven't met a peppermint treat I haven't loved and today I'm sharing my new favorite: a Peppermint Martini! It's like an adults-only twist on an iced peppermint mocha and it's so easy to make.
It's cool, it's creamy, it has the perfect combination of peppermint and coffee flavors and it is absolutely perfect for the holidays. And don't you just love that crushed candy cane garnish on the rim?
I love drinks with coffee liqueur – did you see the White Russian drink I shared recently? Well, this Peppermint Martini is another delicious way to use coffee liqueur. Add a few more ingredients, including peppermint vodka, and you get a festive drink that is all about the holidays.
Make it for parties or for a holiday girls' night in, add a few Christmas cookies, and you're on your way to getting in the holiday spirit, for sure! Or, if you're feeling the holiday stress make this special drink for just you – it will definitely take the edge off all of the holiday "cheer" if you know what I mean!
If you've been looking for a fun new drink to try I hope you'll give this one a try. It's super easy to make and so fun to serve – I think you're going to love it!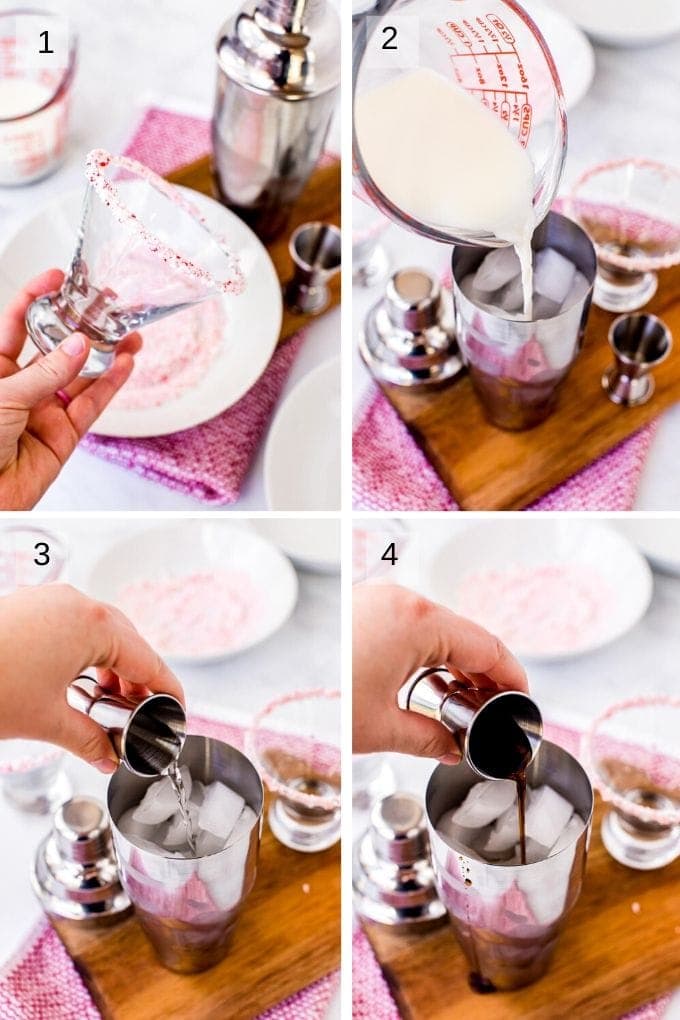 Start with the Garnish
Before you get to shaking your martini, prepare the candy cane garnish first! It's like salting the rim of a glass for a margarita except instead of salt you'll use candy. I think the garnish totally makes the drink so it's worth the extra effort to make it!
Grab a couple candy canes or some peppermint candies and place them in a resealable bag.
Crush the candy with a rolling pin until it's finely crushed.
Or, you can crust the candy in a food processor. Just pulse it a few times until it's finely crushed. Once you've crushed the candy transfer it to a shallow bowl.
Mix sugar and water together in a shallow bowl.
Dip the rims of your glasses in the sugar water and then dip them in the crushed candy.
That's it! If you're making these for a party you can prep and garnish the glasses ahead of time so the glasses are ready to go.
Peppermint Martini: Shaken, Not Stirred!
What is it about drink shakers that make the whole process so much more fun? When I get to shake a drink I feel like a cocktail pro! So, grab that martini shaker and let's make a drink:
Fill your shaker 2/3 full with ice.
Add 1 ounce of peppermint vodka, 2 ounces of coffee liqueur, and a 1/2 cup of milk and secure the lid.
Shake, shake, shake until the drink is nice and cold. Pour into your glass and serve!
This martini is best served iced cold so if you're making these for a party I would have all the ingredients laid out so everyone can make their own drink. Call it your Peppermint Martini Bar! If you garnish the glasses ahead of time all your guests need to do is mix their drink, have fun shaking it up and serve themselves.
With the holidays in full swing I think it's the perfect time to give this drink a try! If you love peppermint I think you're going to love it!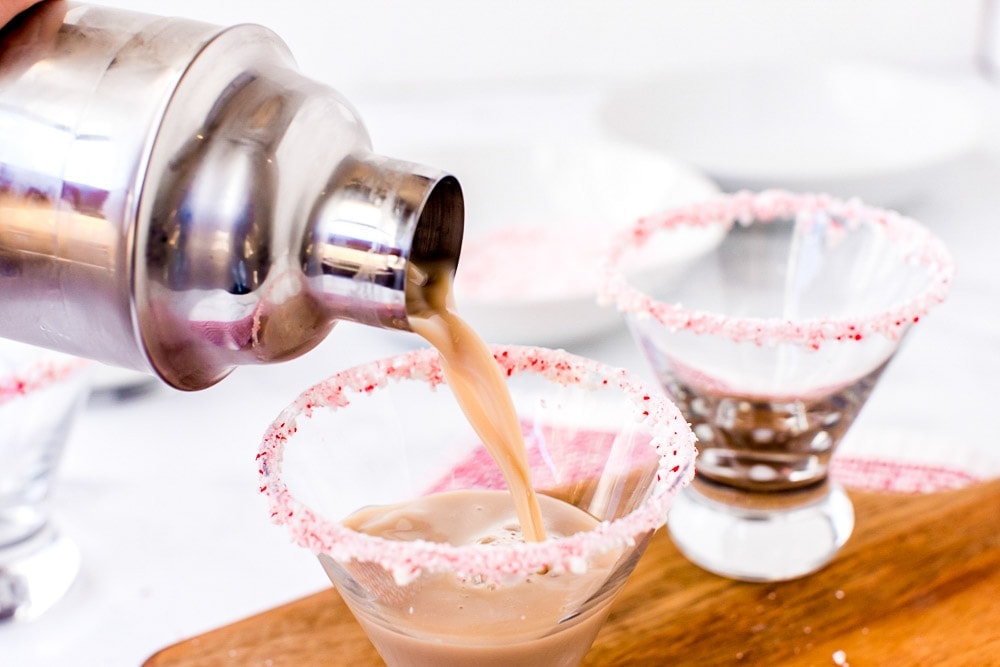 Want More Holiday Drink Recipes?
I am all about the holiday drinks – for both adults and kids! Here are some of our favorites that your family will love, too!
I think the best part of winter is hot chocolate! Nutella hot chocolate is always a winner or make a batch of slow cooker hot chocolate when you're hosting a crowd!
For the adults, it's so fun to make some grasshopper drinks – they're minty, creamy, and the color is perfect for the holidays!
For something more refreshing but still wintry you have to try my winter sangria recipe! For the kids, serve up some sparkling Shirley Temples so they have something special, too.
Celebrate birthdays with grown-up Birthday Cake Shots!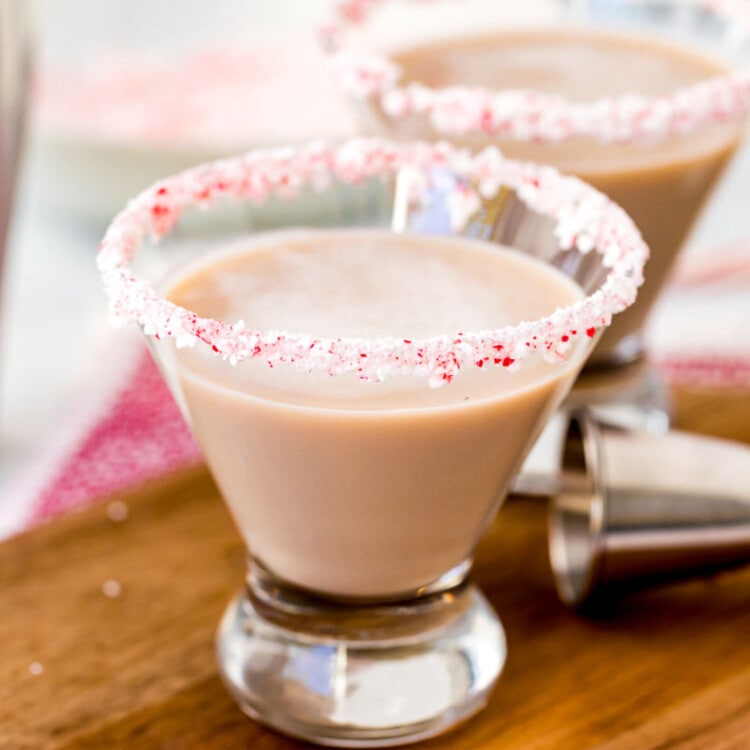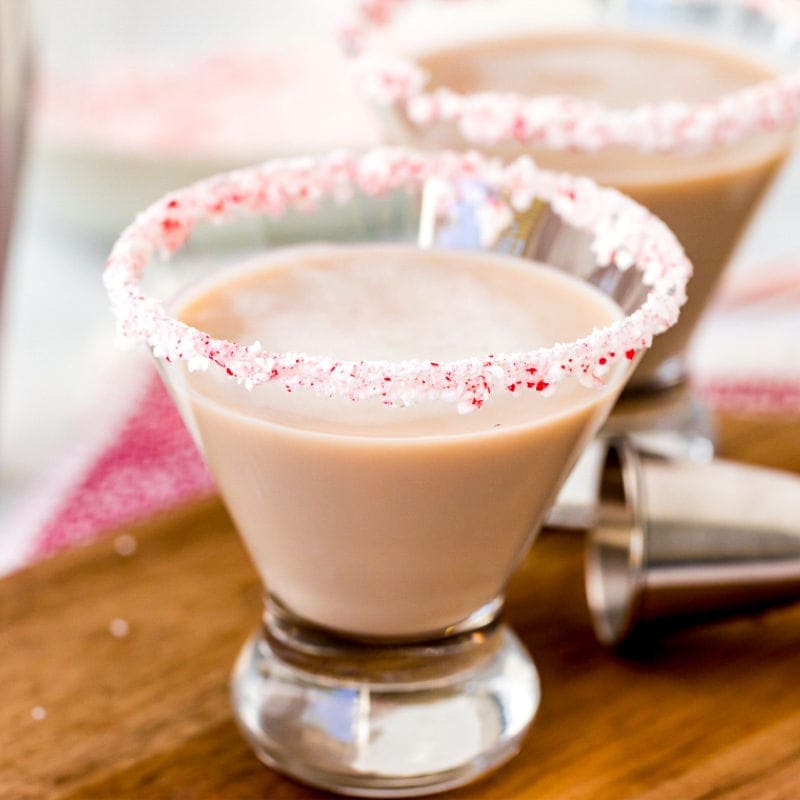 Peppermint Martini
A festive and easy cocktail to serve during the holidays!
Ingredients
1

oz

Peppermint Vodka

2

oz

Coffee Liqueur

½

c.

milk

Ice

2

crushed candy canes

1

Tbsp

sugar

1

Tbsp

water
Instructions
Place candy canes or peppermint candies in large resealable plastic bag. Close bag. Pound with rolling pin or heavy skillet until coarsely crushed. Or, process in food processor using on/off pulsing action.

Mix sugar and water in a small shallow bowl until well blended. Dip rim of glass in sugar water mixture, then into crushed candies to lightly coat.

Fill cocktail shaker two-thirds full with ice. Add peppermint vodka, coffee liqueur and milk; shake until well mixed and chilled. Strain into martini glasses. Serve immediately.
Nutrition Information
Calories:
398
kcal
(20%)
,
Carbohydrates:
72
g
(24%)
,
Protein:
4
g
(8%)
,
Fat:
1
g
(2%)
,
Saturated Fat:
1
g
(6%)
,
Cholesterol:
6
mg
(2%)
,
Sodium:
57
mg
(2%)
,
Potassium:
177
mg
(5%)
,
Sugar:
66
g
(73%)
,
Vitamin A:
232
IU
(5%)
,
Calcium:
148
mg
(15%)