I came across this recipe today after church while I was trying to figure out what to make for meals this week. I mentioned the ingredients to hubby, knowing he would love this combo. In fact he decided the recipe sounded so good he wanted it tonight. So after our nieces birthday party it was off to the grocery store to grab a few ingredients we didn't have for the recipe. There is nothing fancy, schmancy about this meal and I'm not sure I should even call it a recipe or write about it because it is so dang easy. I always need a few recipes like this for a quick dinner when you are tight for time or just feeling lazy (not that I ever feel lazy!!!). Plus it's very kid friendly too! It calls for a panini press but I didn't have one so I did it the old fashioned, make it like a grilled cheese way. Now I want a panini press though, along with many many other kitchen gadgets. I could use an addition to the house just for kitchen supplies! Enjoy!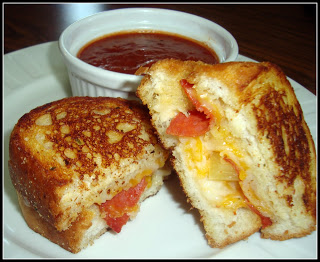 Pizza Paninis
Printer Friendly Recipe
Ingredients
8 slices artisan bread
1/4 c. butter, softened
1 c. Pizza Sauce
8 oz Mozzarella cheese, sliced
24 Pepperoni Slices
Heat the panini press or George Foreman  according to manufacturer's directions.
Spread butter on one side of each piece of bread.
Take four pieces of bread and on the opposite side of bread slices spread a layer of pizza sauce. Place 6 slices of pepperoni and a 1/4 of the cheese slices on each piece of bread. Top with a slice of bread with butter side up.
Place the sandwich inside the press and cook until the bread is golden brown and cheese is melted through.