Puff Pastry Bacon Pinwheels
Puff Pastry Appetizers – Easy and fast, Bacon and Cheddar Puff Pastry Pinwheels are fast and easy to make! So tasty they are perfect for parties and family gatherings!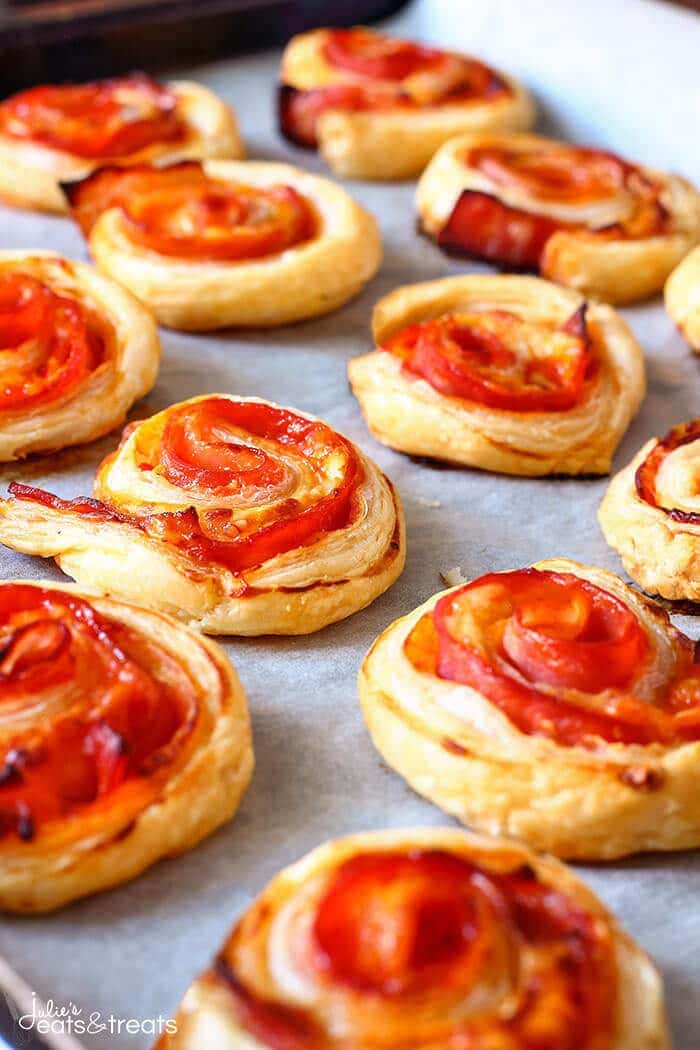 Hands up who loves bacon! How many of you are there? I am guessing a lot! Well, I hope so because I made for you these bacon puff pastry pinwheels! If you are looking for puff pastry appetizer recipes then this is it!
Guys, this seriously is a great recipe! Do you like to entertain at home? These puff pastry snacks are perfect for it! They are delicious and require only a few ingredients.
Shopping List for Puff Pastry Appetizers
Puff Pastry Sheet
Ketchup
Thinly Sliced Bacon
Thai Sweet Chili Sauce
Cheddar Cheese
These puff pastry pinwheels bacon bites are also great as an after-school snack. Mind you, you can make them any time and they will go down pretty fast so you might need to double the portion! But this is entirely up to you.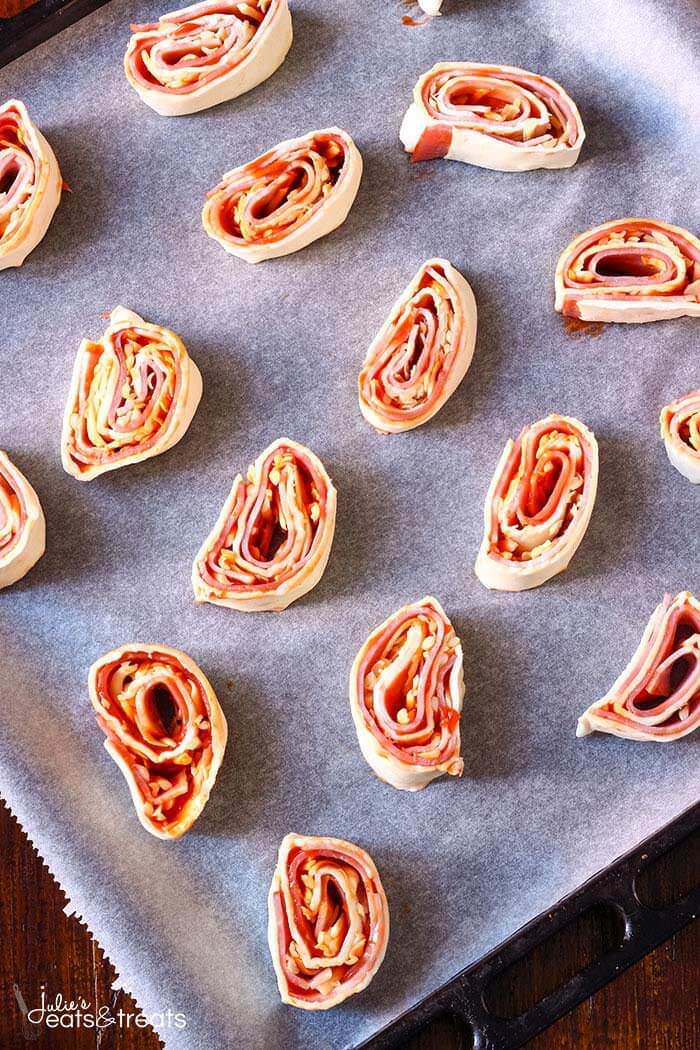 Puff Pastry Appetizers
I used one ready rolled puff pastry sheet and got 16 pieces out of it which is a pretty good number and definitely should feed a few people. We had this instead of our dinner and to be honest we were starving so you can only imagine that these were gone within minutes. Because, first there is bacon in them so they MUST taste yummy! Second, if you throw in a few more simple yet delicious ingredients you just make it taste even yummier.
So yes, it took us literally about 5 minutes to finish them and there were hardly any crumbs left. And I tell you something, I love appetizers but puff pastry appetizers are quite new to me.
Not to my taste buds though because you know I love these Cheddar and Ham Quiche Cups or these Lemon Cream Turnovers are so tasty for a super easy breakfast! or how about  Cinnamon Twists? Those are so sweet and perfect for brunch or adding a sweet treat to your breakfast.
But an appetizer? Yes!!!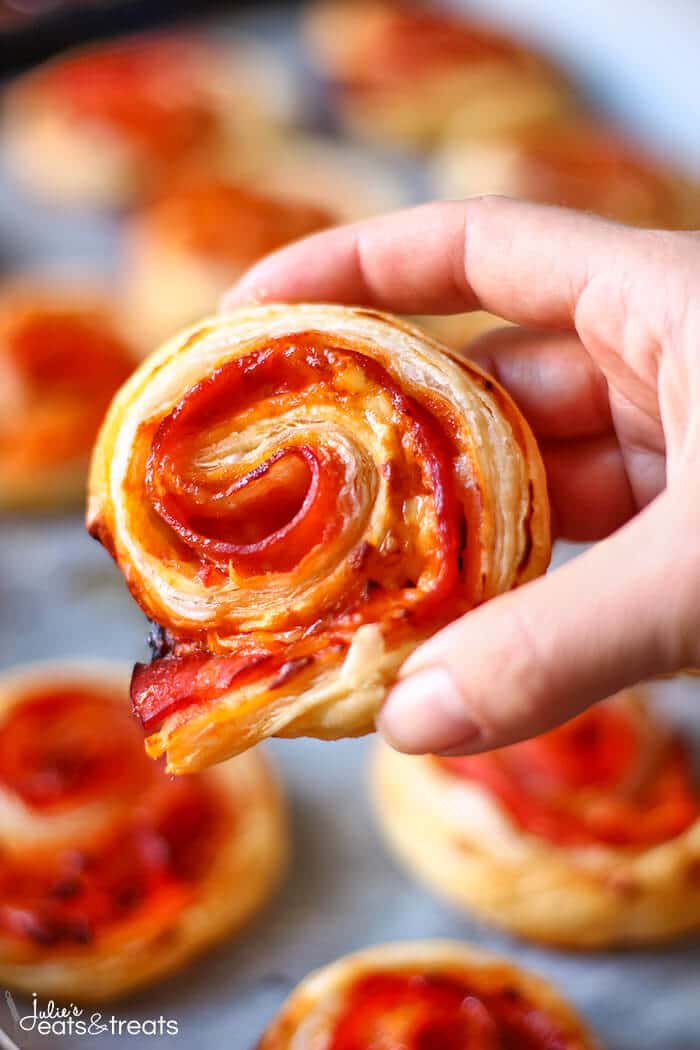 Puff Pastry Pinwheels
Now are you wondering how these puff pastry bacon pinwheels are made? The prep takes less than 5 minutes. I literally timed myself and was done in four minutes. Guys! 4 minutes is a pretty good time for prep, isn't it? Puff pastry sheet + ketchup + bacon + cheddar + sweet chili sauce rolled like a Swiss roll & sliced.
Then all you have to do is throw them in the oven and wait. Wait until they look perfect. I suggest you check what your puff pastry packaging says about the baking time. This may vary on what way you bake the pastry, how it's filled, how thick the individual pieces are, what oven you have, etc. Yes, there are so many things to consider. But I suggest you check the packaging and follow it but try to check about 5 minutes before the recommended time to see how they are doing in the oven. That's what I do. Just to be on the safe side. Mine usually take 20 minutes. Let me walk you thru the steps:
How to make Puff Pastry Pinwheels
preheat the oven
unfold puff pastry sheet and spread with ketchup
arrange bacon slices so they cover the whole pastry sheet
sprinkle cheese over and drizzle with sweet chili sauce.
roll the pastry sheet (like a Swiss roll). Slice them into 1/2 inch slices
transfer the slices to a baking tray lined with parchment paper
bake for 20 minutes until golden brown and the pastry has puffed
And that's about it. A 5-minute preparation + 20 minutes passive time that you can spend with your kids! Isn't it great?
Watch below to see how easy it is to make this puff pastry appetizer!
If you enjoy watching these videos make sure you subscribe to my YouTube Channel to be notified each time a post a new video!
Is puff pastry and phyllo dough the same thing?
No they are two different types of dough. Making puff pastry is a ton of work! I purchase it at the store, you'll find it in the frozen food section.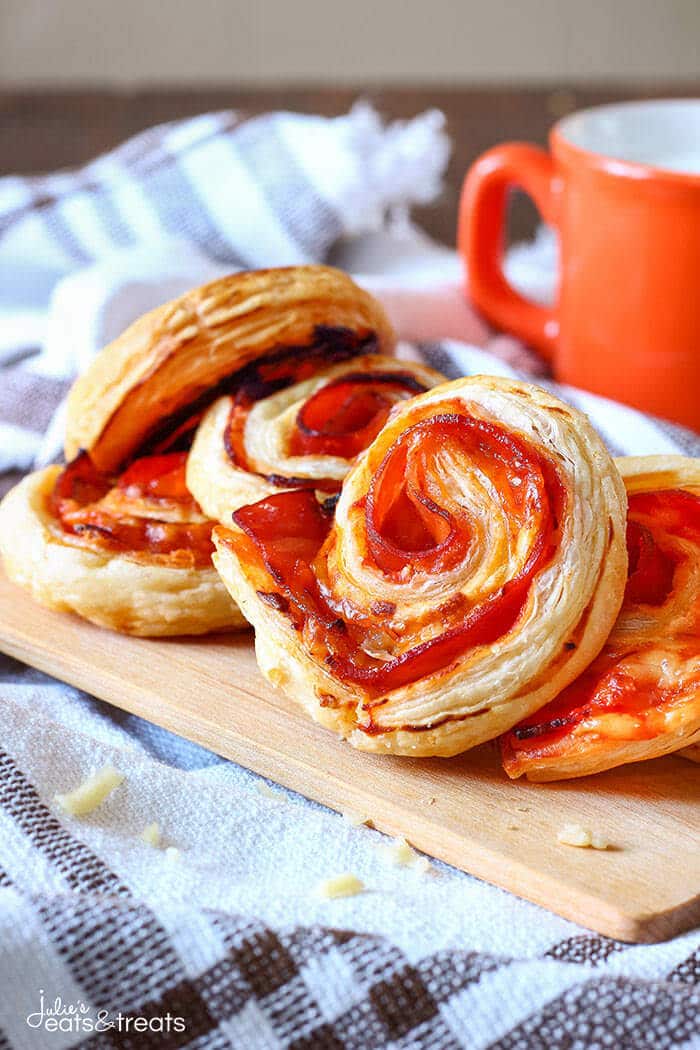 More puff pastry appetizers? 
 Happy cooking and entertaining!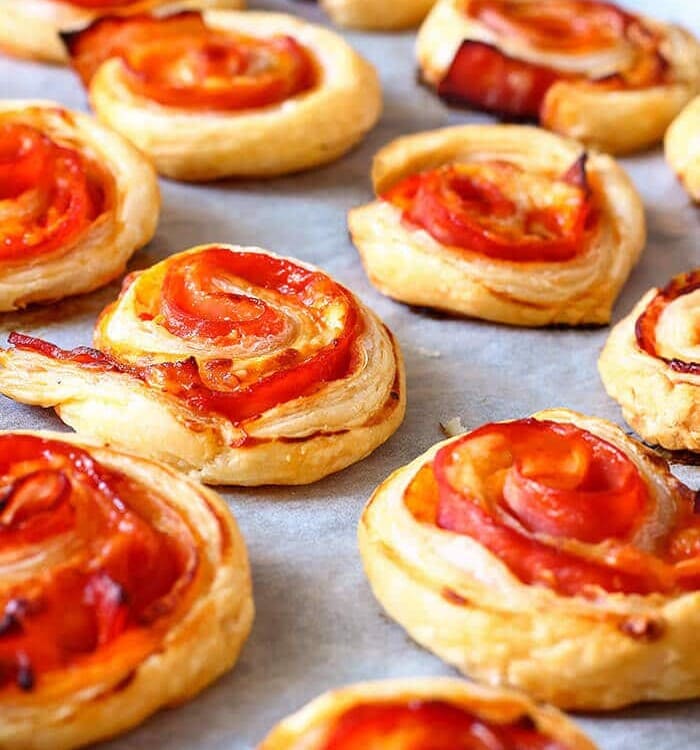 Puff Pastry Appetizers Bacon Pinwheels with Cheddar
Puff Pastry Pinwheels - Easy and Fast Puff Pastry Appetizer with Bacon and Cheese! Perfect for Parties and Family Gatherings!
Ingredients
1

Ready Rolled Rectangle Puff Pastry Sheet

10 oz/275 g

4

Tablespoons

Ketchup

7

oz

200 g Thin Bacon Slices

A drizzle of Thai Sweet Chili Sauce

1

Cup

Grated Cheddar Cheese
Instructions
First preheat the oven to 400F/200C.

Meanwhile unfold puff pastry sheet & spread ketchup over it. Arrange bacon slices so they cover the whole pastry sheet.

Sprinkle cheese over and drizzle with sweet chili sauce.

Take the longer edge of the pastry and roll it (like a Swiss roll). Slice them into 1 ½ cm (0.5 inch).

Transfer them onto a baking tray lined with baking paper and bake for 20 minutes or until nice golden brown and the pastry has puffed (it will look crispy, brown and layered).
Nutrition Information
Calories:
182
kcal
(9%)
,
Carbohydrates:
9
g
(3%)
,
Protein:
4
g
(8%)
,
Fat:
14
g
(22%)
,
Saturated Fat:
4
g
(25%)
,
Cholesterol:
15
mg
(5%)
,
Sodium:
204
mg
(9%)
,
Potassium:
54
mg
(2%)
,
Vitamin A:
95
IU
(2%)
,
Vitamin C:
0.2
mg
,
Calcium:
53
mg
(5%)
,
Iron:
0.6
mg
(3%)