Pumpkin Cream Cheese Crescent Braid
Pumpkin Cream Cheese Crescent ~ Flaky Crescent Rolls Braided and Stuffed with Cream Cheese and Pumpkin! Drizzled with Cinnamon Icing!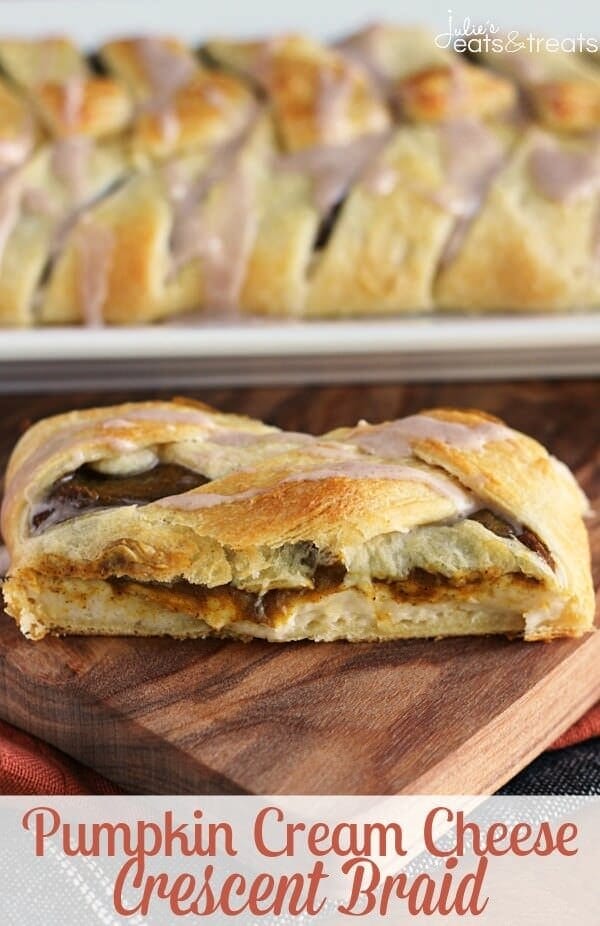 The end if nearing in this pregnancy or that's what I keep telling myself. There is only 32 days left hopefully. Knowing me it will be more like 40 days left. It's incredibly exciting and incredibly scary at the same time. We have a routing right now and it works. Adding another kid is going to upset that apple cart, but we will find our new normal and everything will be fine right?
This weekend I have the goal of getting out the baby clothes and giving them a good wash and then getting all those bottles out and the paraphernalia that has been tucked away from Miss K that is soon going to be needed again. I told the hubs he really need to raise the mattress back up in the crib. The reply I got was a roll of the eyes and oh we have plenty of time. Sure we technically will have another month but then the anal over planner/worrier in me says but WHAT IF. What if we only have a week or two?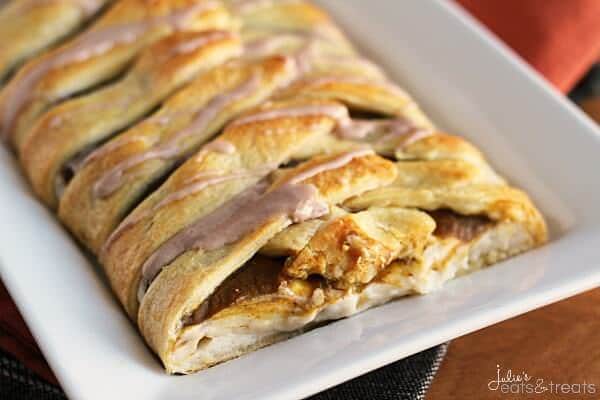 That also brings up another thing we have to figure out. The name. Why is it so hard for me to pick out a name for my unborn child that I've never met and don't even know the gender of? Oh wait, maybe that's why it's so hard. The pressure of naming a human being who's personality I don't know kind of makes me want to throw up a little bit. You see with Miss K I had her name picked up before I even told people I was pregnant. It just came to me and that was it. Boom. Done. The boy name wasn't so boom done. In fact I was still trying to change it to what I really wanted as I was having contractions. The hubs did not take pity on me in that moment and agree to changing it.
This time around I have the boy's name. Boom. Done. The girl's name I'm a little hesitant on. We have one but I'm wishy washy and I can't quite say yes forever and it's done. Does that mean I'm having a boy this time? I kind of hope so due to the fact it would take this name pressure off of me.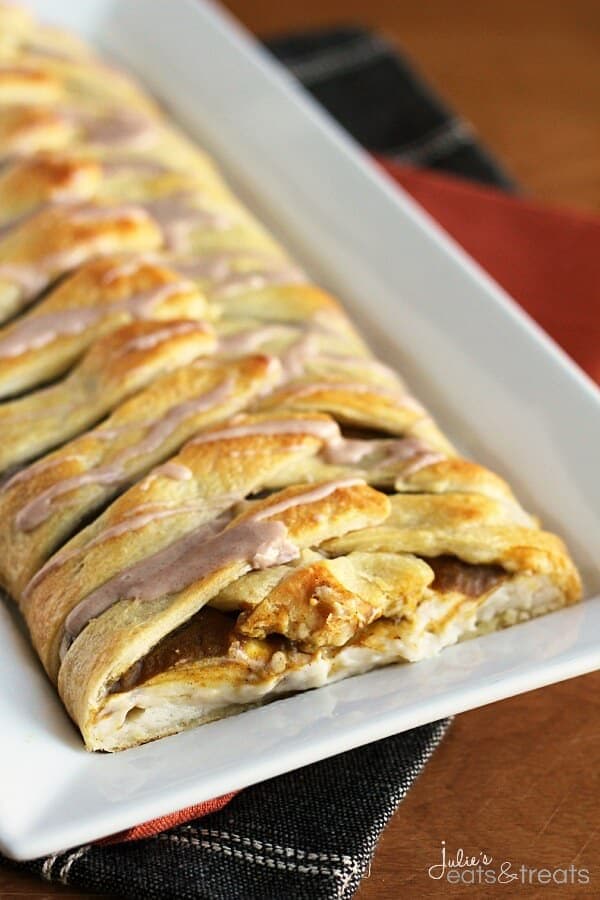 Oh wait did you come here for a recipe and not to hear me babble about trying to get ready for a baby and pick out my unborn child's name? Well then I have the perfect treat for you today! If you are loving all things pumpkin then this treat is for you. If you are not loving pumpkin then either get on the pumpkin band wagon or go look at another one of my recipes duh!
This Crescent Braid is stuffed full of pumpkin and cream cheese and it really is super amazing, looks fancy and is easy to make. It will be our little secret ok? I'm all about impressing and not letting people know when things are actually simple!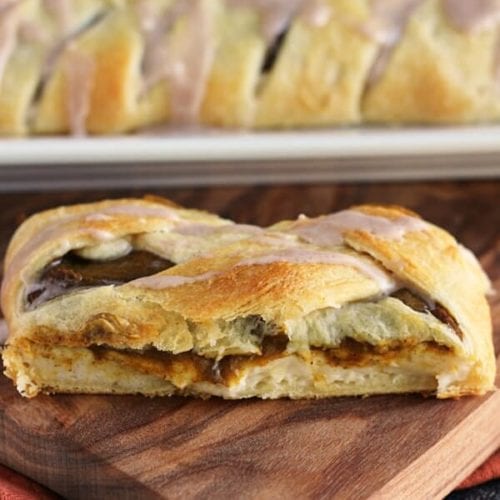 Pumpkin Cream Cheese Crescent Braid
Flaky bread with a delicious pumpkin cream cheese filling make this Pumpkin Cream Cheese Crescent Bread amazing!
Print
Pin
Rate
Ingredients
Crescent Braid
1

tube crescent rolls

1

8 oz package cream cheese, softened

1/2

c.

granulated sugar

1

tsp

vanilla extract

3

Tbsp

all-purpose flour

1

c.

pumpkin

1/2

tsp

pumpkin pie spice
Cinnamon Icing
1/2

tsp

cinnamon

1/2

c.

powdered sugar

1-2

tsp

milk
Instructions
Preheat oven to 375 degrees.

In a mixing bowl cream mix together cream cheese, sugar, flour and vanilla until combined. Set aside.

In a different mixing bowl mix together pumpkin and pumpkin pie spice.

Unroll crescent roll dough leaving it in one big rectangle and press together seams. Lay the crescent roll dough on an ungreased half sheet baking pan. Cut 1/2 inch strips on each side of crescent roll dough rectangle leaving a 3-4 inch center piece that is not cut. Carefully spread the cream cheese mixture down the center of dough. Top with pumpkin mixture.

Fold cut pieces of crescent dough forming a braid. Some of the filling will be visible. Tuck the end over and into the braid.

Bake for 15-20 minutes or until crescent dough is golden brown. Cool 5 minutes. Remove to serving platter.

In a small mixing bowl combine cinnamon, powdered sugar and milk. Drizzle over crescent braid.
Nutrition
Calories:
148
kcal
|
Carbohydrates:
35
g
|
Sodium:
29
mg
|
Potassium:
100
mg
|
Sugar:
30
g
|
Vitamin A:
2520
IU
|
Vitamin C:
2.6
mg
|
Calcium:
8
mg
|
Iron:
0.4
mg
LEAVE A COMMENT
Got Pumpkin on Your Mind?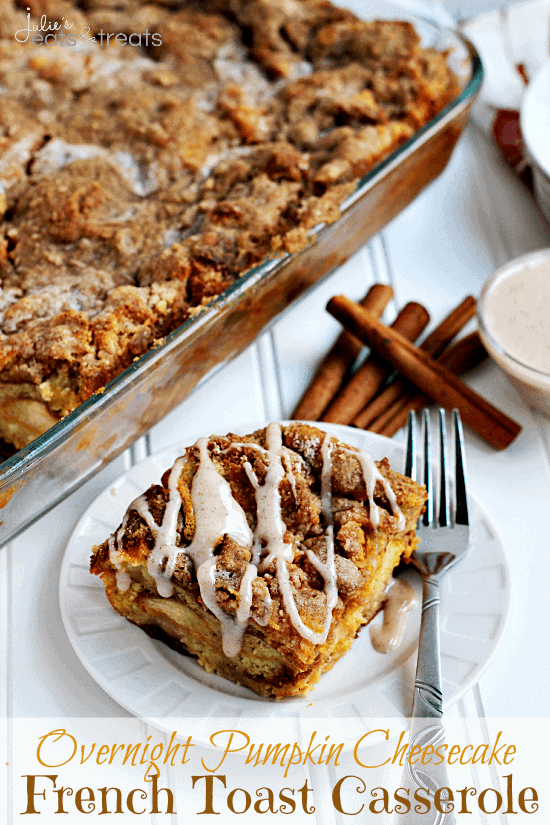 Overnight Pumpkin Cheesecake French Toast Casserole ~ Pumpkin Cheesecake stuffed into a French Toast Casserole!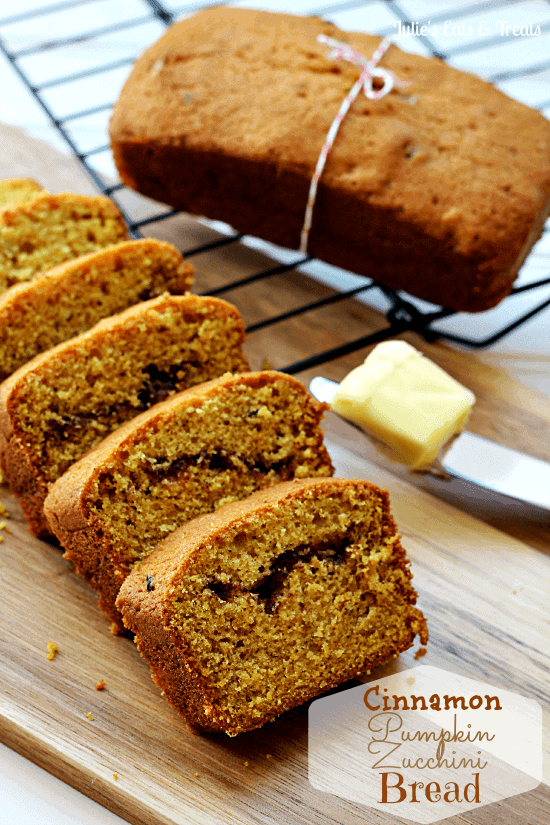 Cinnamon Pumpkin Zucchini Bread ~ Pumpkin Zucchini Bread with a Cinnamon Swirl!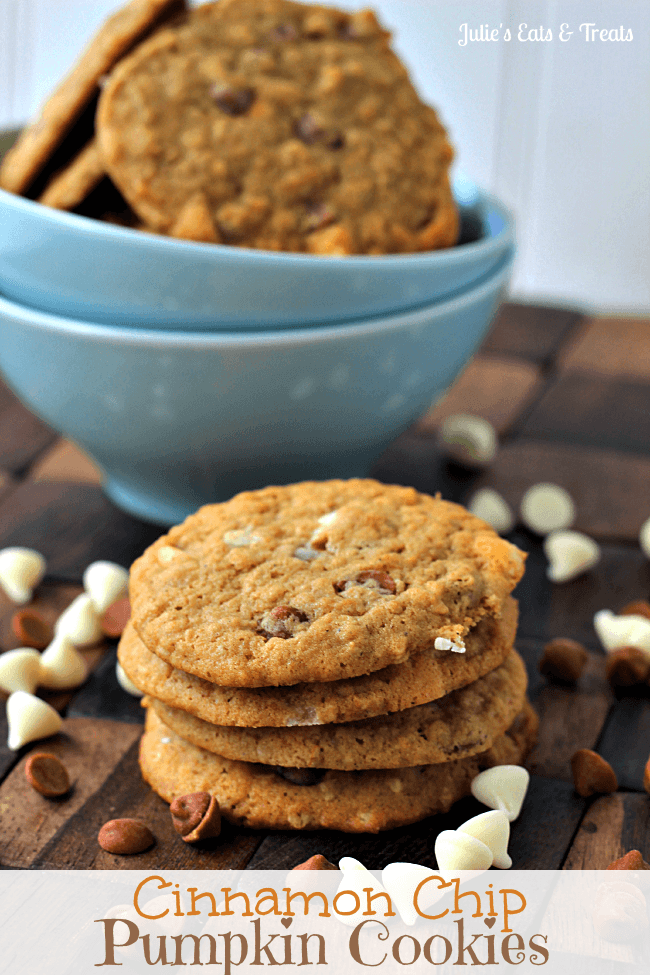 Cinnamon Chip Pumpkin Cookies ~ Soft, Chewy Pumpkin Cookies Stuffed Full of Cinnamon and White Chocolate Chips!