Rainbow Cloud Cake ~ Festive cake that starts with a box mix and end ups as a Rainbow Cake with Sweet & Fluffy Whipped Cream Clouds!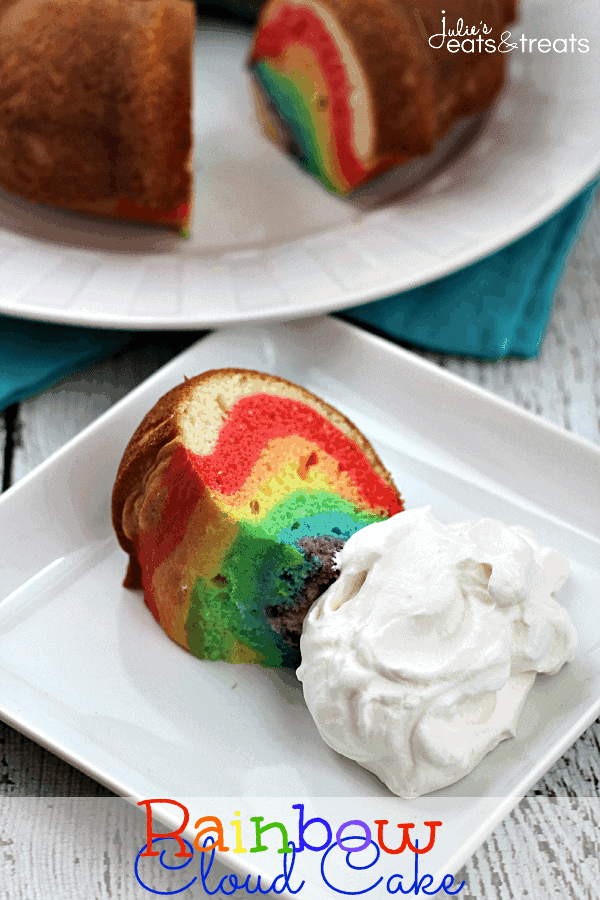 Let's talk frosting. Yay or nay?
I just can't get over the fact that some of you are most definitely say nay. I am not one of those people. The frosting to cake ratio in my dreams is the cake is just the vessel for the frosting. Yes I'm the lady who wants the corner piece and I will fight the little kids for it.
I'm not lying. Ok, well I'll behave myself in public but in all actuality in my mind I'm saying, "GIMME THE CORNER PIECE!!" So if you have me over and serve cake just remember that and I won't have to hurt anyone.
Mmmmk?
Glad we got that straight.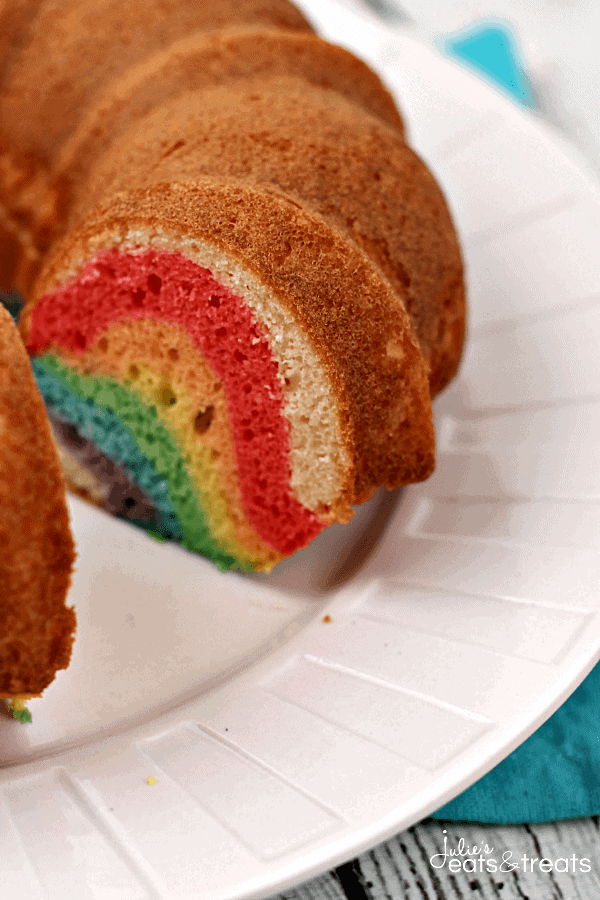 Now if you haven't noticed this amazing Rainbow Cloud Cake does not have frosting.
*GASP*
I know right? I was soooo worried about this. In fact I bought a can of frosting for it so after I took the pictures with the cute little whipped cream cloud I could pile on the frosting. Yes, yes I totally did this. Like I said. I love me some frosting.
As I was going to serve this cake to my hubs and his brother I said, "Would you like me to frost it?" In my mind I'm going you better SAY YES! The hubs is not a mind reader and said no I think I'd like it with the whipped cream, so I served it that way.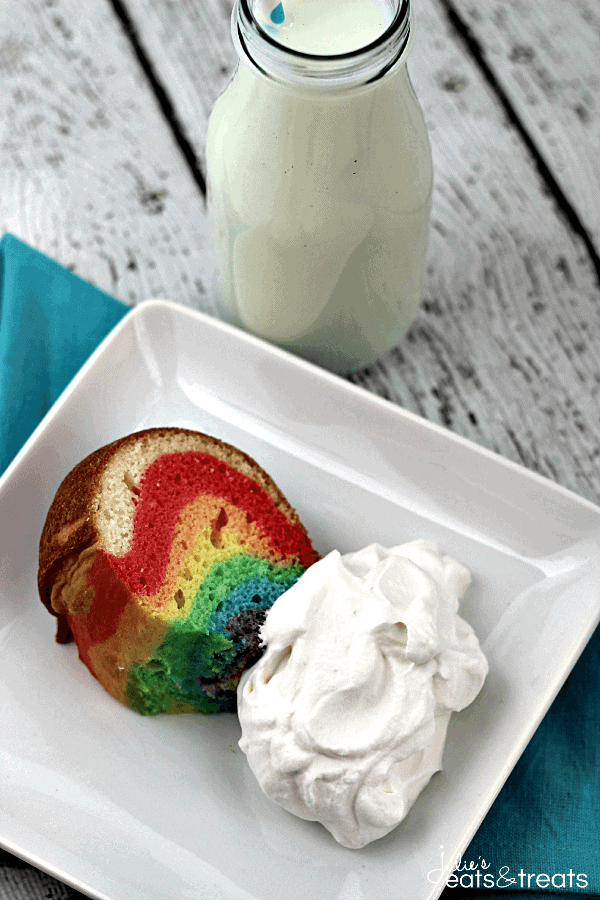 And it was AMAZING. Seriously. I did not need frosting. The whipped cream has just a little powdered sugar and vanilla in it and it's perfectly sweet, light and fluffy.
I'm telling you. Don't worry about the frosting with this cake. You do not need it. It has made me question my frosting affair all together.
So now while you go gather your ingredients to make this fabulous Rainbow Cloud Cake I'm going to go ponder my obsession with frosting and come to terms with the fact I cheated on it with whipped cream.
For another fun treat be sure to try my No Churn Rainbow Ice Cream!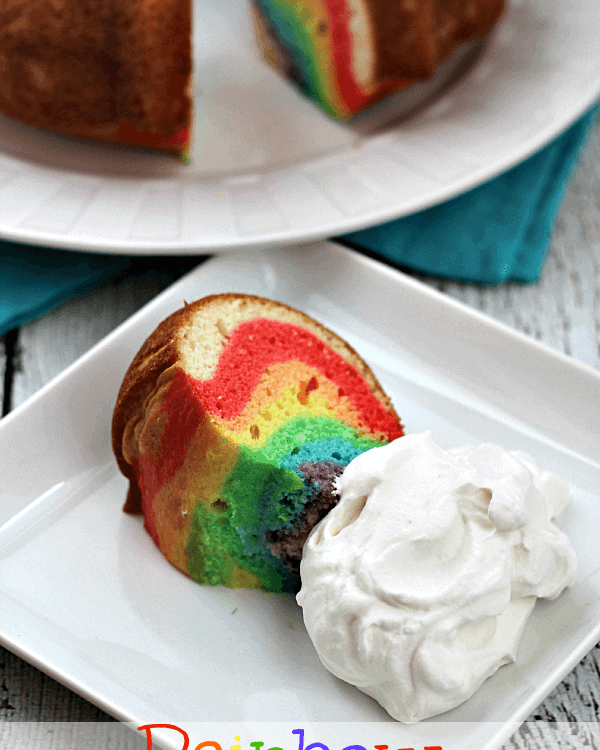 Rainbow Cloud Cake
Festive cake that starts with a box mix and end ups as a Rainbow Cake with Sweet & Fluffy Whipped Cream Clouds!
Ingredients
1

package white cake mix + ingredients to make cake

Purple

blue, green, yellow, orange and red paste food coloring

1

c

heavy whipping cream

3

Tbsp

powdered sugar

1/2

tsp

vanilla extract
Instructions
Preheat oven to 325°. Grease and flour a bundt pan.

Prepare cake mix according to package directions.

Spread 1 1/3 c. batter evenly into bundt pan. Place another 2 Tbsp of batter in a small bowl and reserve for later.

Take six more bowls and divide as follows. Put 2 Tbsp into a bowl and tint with purple food coloring, 1/4 c. into another bowl and tint with blue food coloring, 1/3 c. of batter tinted green,

1/2 c. batter tinted yellow, 2/3 c batter tinted orange, and the remaining batter red.

Spread the red batter in a wide ring onto white batter to within 1/2 in. of pan edges. Spread a ring of orange in the middle of the red ring, leaving some red visible on each side. Repeat by spreading remaining colors in the middle of the previous layer, in rainbow color order. (Each ring will be narrower than the previous layer.) Top with reserved white batter spreading over purple ring only.

Bake 40-45 minutes or until a toothpick inserted in center comes out clean. Cool completely in pan and then flip onto serving plate.

In a medium sized bowl beat the whipping cream until it starts to thicken. Add powdered sugar and vanilla. Beat mixture until it forms stiff peaks.

Serve cake with whipped cream clouds.
Nutrition Information
Serving:
1
,
Calories:
177
kcal
(9%)
,
Carbohydrates:
28
g
(9%)
,
Protein:
1
g
(2%)
,
Fat:
6
g
(9%)
,
Saturated Fat:
4
g
(25%)
,
Cholesterol:
20
mg
(7%)
,
Sodium:
229
mg
(10%)
,
Potassium:
31
mg
(1%)
,
Sugar:
15
g
(17%)
,
Vitamin A:
220
IU
(4%)
,
Vitamin C:
0.1
mg
,
Calcium:
80
mg
(8%)
,
Iron:
0.6
mg
(3%)
Recipe from: Taste of Home