Wondering what to do with your ground beef in the freezer? Here are our favorite dinners recipes with ground beef! Everything from appetizers, casseroles, meatballs, one-pot dinners, soups, and more!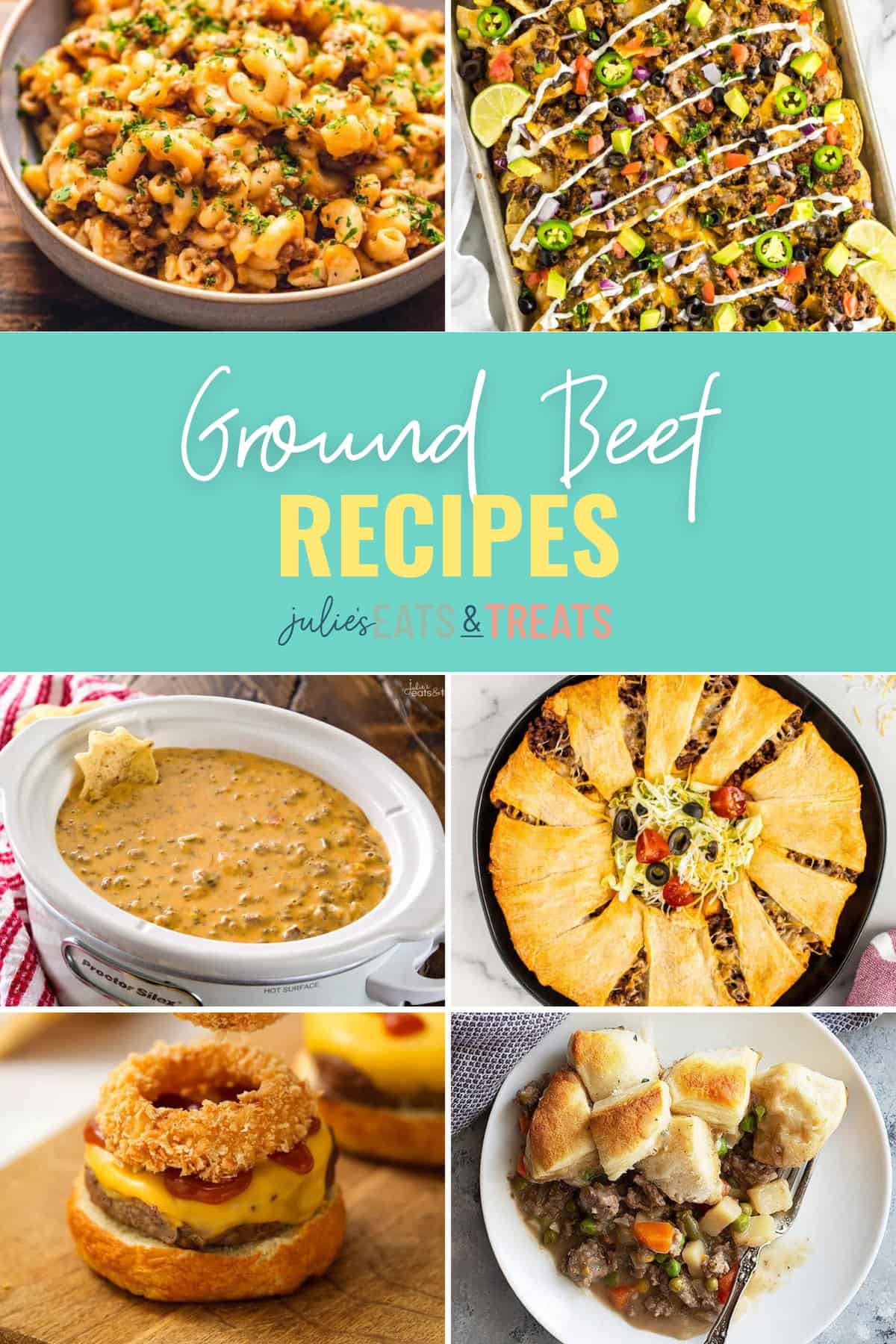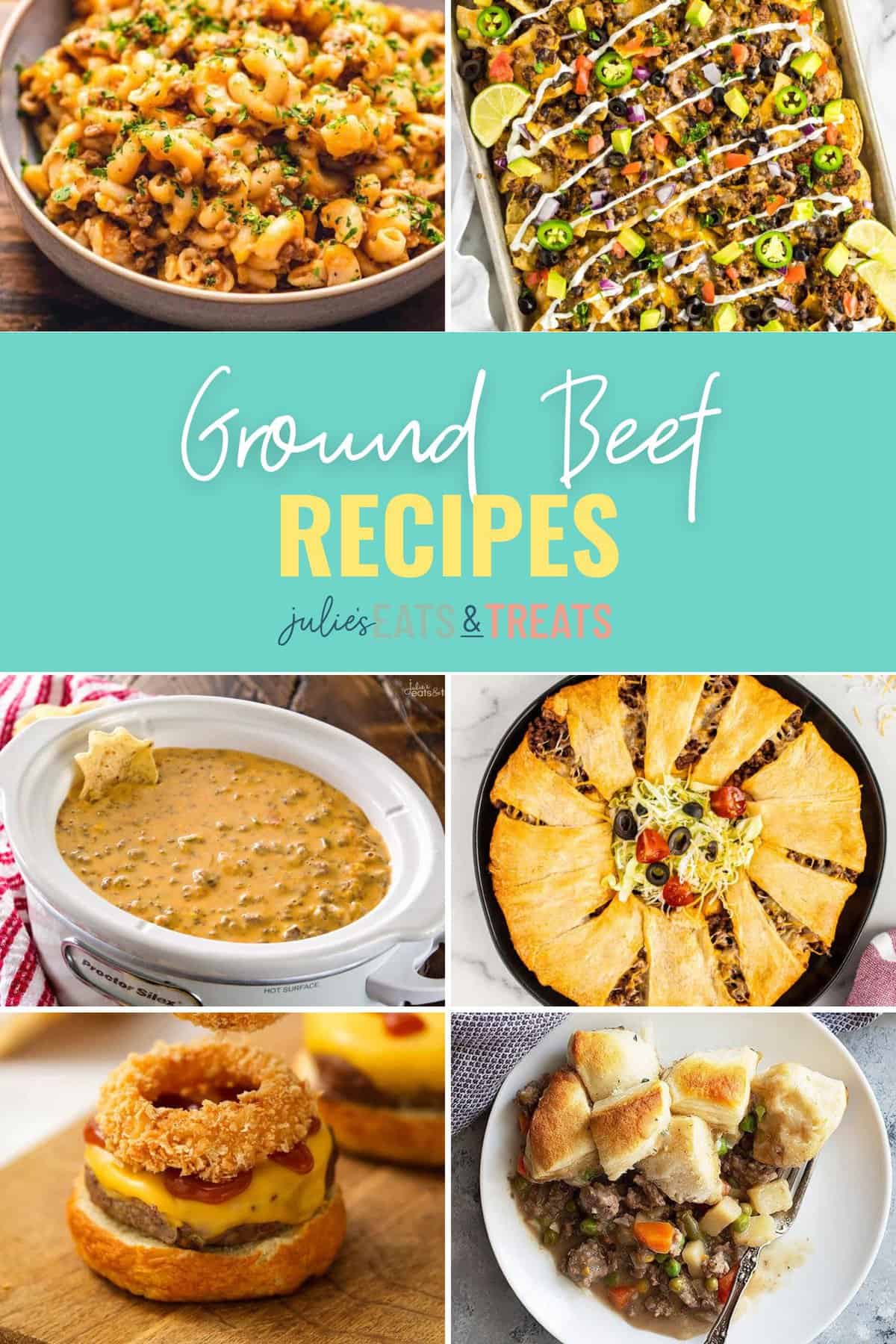 Ground beef is one of the easiest types of meat to cook, and it's so versatile! Yet, it's so easy to get in a rut cooking dinner with ground beef. So if you're in need of some inspiration on what to make with that ground beef in your freezer, you're in luck.
We've rounded up our favorite ground beef recipes, and you'll be shocked how many there are! Ground beef doesn't have to be used to make the same 5 dishes, there's endless possibilites.
There are so many things to make with ground beef. You can cook appetizers and main dishes, stove top meals or oven meals, and crock pot meals or instant pot meals. Check out this list and let us know which recipes are your favorites!
Easy Ground Beef Recipes!
Click any of the headings below to jump straight to that section!
Appetizers
If you need a quick and easy appetizer, these loaded nachos fit the bill. You can make them for dinner too! So filling and absolutely delicious.
There's so many things to make with ground beef, but Rotel dip is one of the most classic dishes! This is one of my favorite ground beef appetizers and is always a hit with the crowd.
If you're looking for some crockpot ground beef recipes, this cheesy hamburger tip should be at the top of your list. It's great for game day, parties, the holidays, or even just because.
Soups
I love one pot meals because clean-up is so easy. This delicious soup is made with ground beef, vegetables, canned tomatoes, and elbow macaroni. It's such a comforting and nutritious ground beef dinner recipe.
This delicious cheeseburger just hits the spot on a cold evening. It's super filling, creamy, and flavorful. It'll soon be one of your favorite ground beef recipes!
If you love taco night, then you'll love taco soup! This easy ground beef recipe only takes about 30 minutes to make and is packed with delicious flavor. It's a great meal prep option and perfect to feed a large family.
If you don't have a good chili recipe yet, now you do! Crockpot chili is such an easy ground beef recipe and it is insanely tasty. Just throw the ingredients in the crock pot and let it cook.
Need a hearty meal to make with ground beef? You'll love this recipe. It's packed full of flavor and will be a new family favorite in no time.
Stuffed pepper soup is so yummy! I love throwing this ground beef recipe together on a busy weeknight.
If you need a chili recipe that you can throw together in a pinch, this is perfect! You can make this delicious chili really quickly and it'll taste like it's been simmering all day.
Yep, lasagna soup is a thing…and it's amazing! If you don't have the time or patience for all those layers of noodles, beef, and cheese, you can make a soup that will be just as good!
Looking to add some freezer friendly ground beef recipes to your rotation? This hamburger soup is perfect! You can make a large batch and freeze it for later. It will also store well in the refrigerator.
Main Dishes
Casseroles, pasta, tacos, burgers, and more! There's unlimited options to use up the ground beef in your fridge or freezer.
Craving lasagna but don't have the time for traditional oven-baked lasagna? Make this quick and easy skillet lasagna in about 30 minutes and then eat up!
There's no need to go out to your local burger joint when you can make crazy good burgers right in the comfort of your own home. These tasty rodeo burgers will be a new favorite!
I think this might be one of the best casseroles ever. It's one of my most favorite things to make with ground beef. So cheesy and loaded with protein! You can eat it for dinner or make it to serve at a potluck.
Change things up on taco night and make beef enchiladas instead! This ground beef dinner recipe is super easy. You can make restaurant quality enchiladas right at home.
Taco stuffed shells are an easy, six ingredient, ground beef dinner recipe. You can throw this together on a busy evening and have a delicious home cooked meal on the table for dinner.
This pot pie is really a win-win: you get all the savory flavors and golden brown flaky crust but served up in a skillet with hardly any clean-up. You have to try it!
If you don't have a grill, these stove top burgers are a tasty way that you can still make burgers at home. They're one of the easiest ground beef recipes I have!
On a low carb diet? Then you've got to try taco-stuffed zucchini boats! It's all the yumminess of tacos, without all the carbs.
Taco Tuesday will never be the same once you've tried this taco ring. It's crazy easy to make and is truly such a tasty dish to have for dinner.
Meatballs in the air fryer? It might sound crazy but they're wildly delicious! Make these tasty ground beef meatballs, toss them with spaghetti sauce and then serve over pasta. Quick, easy, and so yummy!
If you need a good lasagna recipe, then you'll love this! Homemade lasagna is one of my favorite ways to cook with ground beef. And this recipe has the perfect ratio of cheese, meat, and noodles.
Chili mac is great to throw together as an easy ground beef dinner recipe. You can make this hearty meal in just 30 minutes and leftovers are really easy to store.
Simple and easy meatballs that are full of flavor and so tender! You can toss them with pasta sauce and serve on bread as a meatball sub. Or, serve it over spaghetti for the best pasta night.
Casseroles really are the easiest way to make a quick dinner. Taco casserole is packed full of protein and will be the newest dish for taco Tuesday.
Shepherd's pie is a classic ground beef recipe that is really easy to make. If you're stumped on what to make for dinner and need something comforting, reach for this shepherd's pie recipe.
I love this easy ground beef recipe! It's a one pot dish that doesn't require much clean up and is so simple to make.
If you like beef stroganoff, then you'll love taco stroganoff. You can take that ground beef and make a stellar dish like this one. Such a tasty dinner meal!
There are just never enough way's to utilize taco meat. This taco pie is one of my favorite ground beef recipes! With flakey crescent roll crust and yummy seasoned taco meat, your family is going to love this dish.
Meatloaf tends to get a bad rap, but I really don't know why. I guess most people just haven't had good meatloaf! But this Italian meatloaf would change their mind, I guarantee it.
Oh, baked spaghetti, how I love you! This cheesy spaghetti casserole is absolutely drool worthy. I honestly choose to make this more often than I make regular spaghetti because it's just that good.
Pasta doesn't have to be Italian! This Mexican pasta bake is crazy easy and packed full of flavor.
People tend to be shy away from cooking meat in the air fryer, but trust me, it's so tasty! These air fryer burgers are juicy and flavorful. You'll love throwing them together for a quick dinner.
Need more one dish meal ideas? Then check out this hamburger and zucchini skillet. This healthy ground beef dinner recipe is loaded with cheese and peppers and packed full of flavor.
If you need portable party food, these walking tacos are perfect. Your party guests will think these are so fun and tasty!
Spaghetti pie is a fabulous recipe to throw together when you need to get dinner on the table quickly. It's such a yummy ground beef recipe.
Italian burgers will be the most fun way you've ever eaten a burger! It's like lasagna and burgers in one fun meal.
Is it pasta night? Is it taco night? Who can tell…maybe it's both! Mexican lasagna is perfectly cheesy and loaded with delicious and mouth watering flavors.
Another one-pot meal to add to your list of tasty ground beef recipes. This homemade hamburger helper is even more tasty than the boxed version you can buy at the store.
Goulash is probably one of the most simple ground beef recipes there is. If you're a novice in the kitchen and need some hearty meals, this is perfect for you!
This is the perfect "fancy" dish to serve when you host guests! It looks really difficult, but it's really not hard to make and is super tasty.
How many layers can one casserole have? Well according to this recipe, at least 7! I love making casseroles with ground beef and this 7 layer casserole is one of the best.
Want sloppy joes but forgot the buns? Enter sloppy joe casserole. You this amazing casserole in record time, and it'll satisfy that craving for sloppy joes.
How cute are these? I love meals that are already divided into portions for me. These mini meatloaves are one of the cutest things to make with ground beef.
Meatballs always go well with spaghetti sauce, but have you had them with gravy? Drool worthy, no doubt about it!
Skip the drive thru and make this copycat crunchwrap in the comfort of your own home. And don't forget the nacho fries!
This is a family-favorite recipe, it's actually straight from my mom's recipe box! I love this comforting and tasty dish, and I hope you will too.
I love making sweet and sour meatballs as a game day appetizer, but they're perfect for dinner too!
Spaghetti and meatballs doesn't have to be difficult to make. This dish is really quick and easy and is just as good as that mom and pop Italian restaurant!
These beef and potato enchiladas are one of my favorite ground beef recipes! Soft shell tacos stuffed with seasoned ground beef, potatoes, and cheese.
Yes, you can use ground beef to make an egg roll bowl! I love egg rolls, but hate making them. So this recipe is a favorite because it's essentially a deconstructed egg roll. It's so yummy!
This ingredient ground beef dinner recipe is a great meal for a busy evening. The whole family is sure to love it!
If you're a beginner cook, this recipe is perfect for you! There's only a few ingredients in this recipe and it's crazy easy to make.
Comfort food in the form of cheesy meatloaf, I think yes! This recipe will come together quickly and you'll have a classic dish on the dinner table in no time.
This classic dish will be a hit every single time you serve it. Pair it with a tossed salad and garlic bread for the perfect dinner.
How does one make mac and cheese better? By adding bacon and ground beef, of course! Serve this as a side dish or the main meal.
You can serve these tasty taco muffin cups as an appetizer or an easy weeknight dinner.
Barbecue doesn't have to wait till the weekend cookouts! Make this tasty ground beef dish for dinner tonight.
Crockpot Meals
Swedish meatballs are such an easy crockpot meal to make during the week. I love this dish!
I love homemade lasagna but making it the traditional way can take a long time. So I tend to make this lasagna in the crock pot instead and let it cook during the day!
This is a true minnesotan hot dish recipe! An easy hamburger wild rice casserole that's made in your crock pot for an easy dinner.
This tasty sauce will simmer in the crockpot all day, making the flavors mingle together perfectly. Serve over spaghetti noodles, or any other favorite noodle, for an easy and tasty dinner.
There's so many option when you make a big batch of crock pot taco meat. Use it in any recipe that calls for taco meat, or throw it in hard shells or tortillas for taco night.
This is such a tasty twist on tater tot casserole! And it's pretty much set and forget in the crock pot.
The whole family will rave over this yummy ground beef dinner recipe. It's the best elements of pizza, made into a casserole!
Want to make pasta night even easier? You can make some amazing meatballs in the crockpot and then serve them up over your favorite pasta.
Instant Pot Meals
Stroganoff in the Instant Pot is the best! It's easy, yummy, and the clean-up is a snap!
Hamburger helper is already really easy, but make the clean-up easier by cooking it in the Instant Pot. This is such an easy dish to add to your list of ground beef recipes.
Love Spaghetti? It just got easier with this easy Instant Pot spaghetti recipe. It's completely hands-off, cooks quickly, and the clean-up isn't a hassle.
Homemade spaghetti and meatballs made easy in your Instant Pot! I love that the mess is contained to one pot. No standing over the sink to wash dishes after making a home-cooked meal.
This Instant Pot Chili Mac is perfect for a quick dinner on a busy weeknight. It's sure to quickly become a family favorite.
Yes, you can make meatloaf in the Instant Pot and it's delicious! The flavor of this meatloaf is mouthwateringly good. You're going to love this recipe.
Forgot to plan dinner? Instant Pot goulash to the rescue! This dish takes 10 minutes to prep and 10 minutes to cook. You can have dinner on the table in no time.