Red Velvet Thumbprint Cookies
Red Velvet Fudge Thumbprint Cookies ~ Soft, Chewy Red Velvet Cookies Filled with White Chocolate Fudge and Drizzled with Chocolate!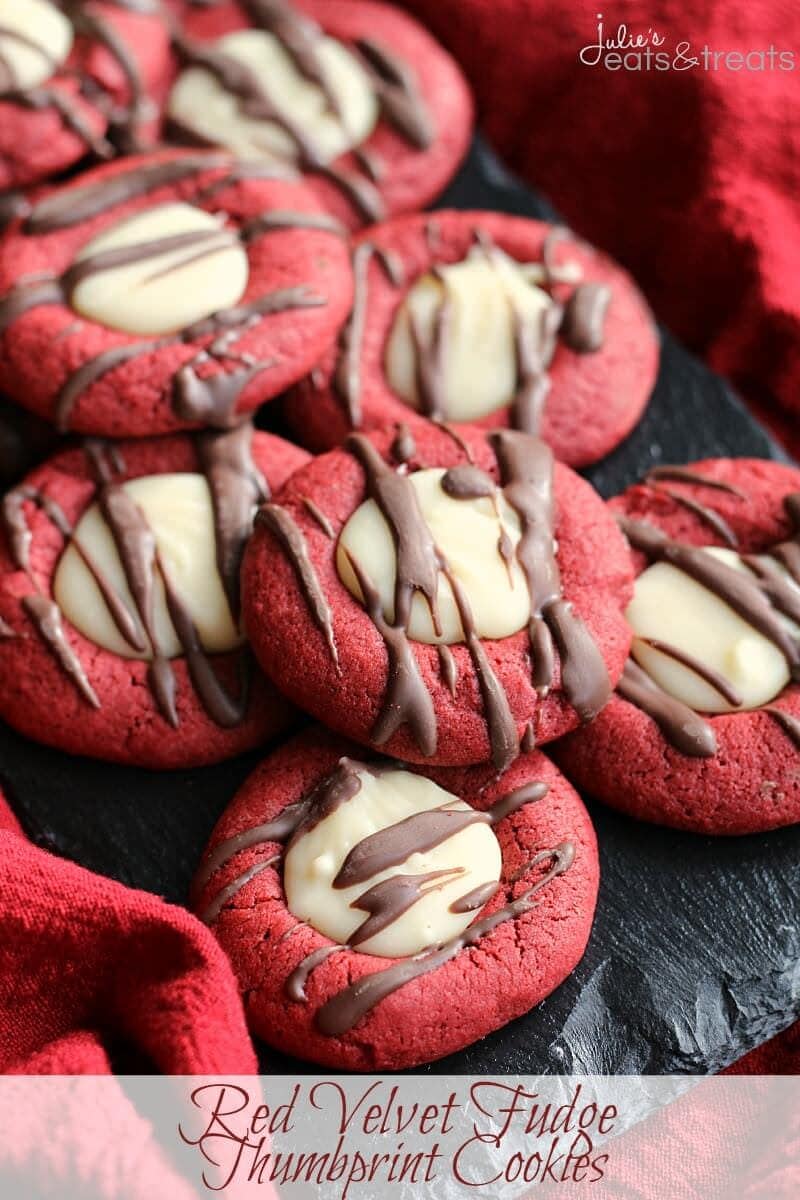 Happy Sunday! Today we are celebrating the baptism of Miss Rylin Jo and we are so thankful we have been blessed with her and Praise God! She's the sweetest little baby ever. Yes, I know every mom claims that, but honestly she's the best baby. Sleeps well, smiles, tries to talk, is so content that she makes babies seem easy, well as easy as they get!
I ordered a cake for her baptism dinner and cookies to serve at church. I'm pretty sure I referred to Rylin as a "her" in the conversation when I placed my order, but somewhere between ordering and the pick up Miss Rylin turned into a he apparently and we ended up with blue crosses on the cookies and blue frosting on the cake. Sigh. Life will go on but I'm slightly annoyed. It's kind of par for the course this week. It's been one of those weeks were I just don't know if I can handle one more thing and I'm trying to put all my faith in God. He will lead me through this.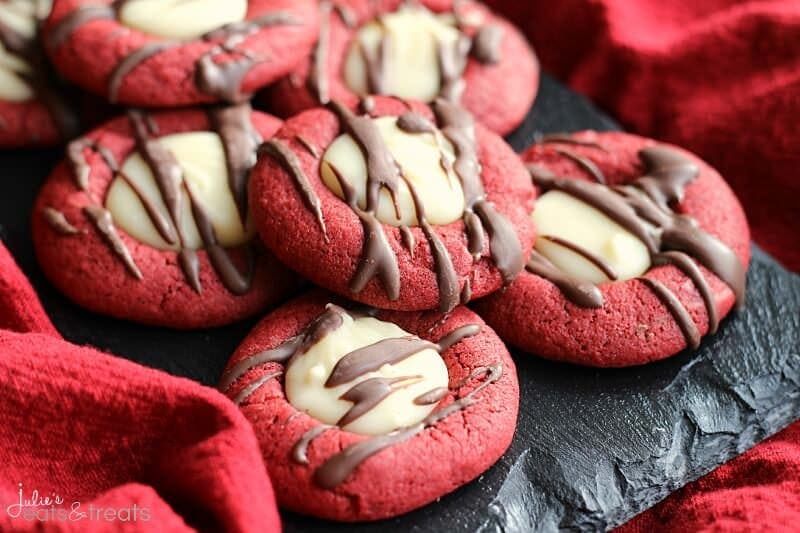 It all started with Miss K getting diagnosed with RSV on Monday. She pulled through and was on the mend. Friday afternoon I was at my parents and Miss K woke up from her nap and was a little cranky. I didn't think much of it because had been sick and then she started pulling on her ear. The funny thing was my Mom and I had just had a conversation about her not having many ear infections while she was sleeping. Insert foot in mouth. The hubs ended up taking her straight to the ER and she had double ear infection. I never had ear infection as a child but after watching her I have no doubt it's miserable. We were up a lot through the night and she decided she hates her medicine and threw it all up on Saturday morning. Fun times people fun times.
We also found out Friday morning that my husband's uncle passed away suddenly that morning. It came as a shock and I'm still in utter disbelief. It's another reminder to me that we need to hug our loved ones every day and tell each other we love each other. You never know what tomorrow will bring. We don't count our blessing nearly enough in life. As much as God has thrown at me this week I know we will come out on the other side of this and if I put my faith in Him everything will be fine!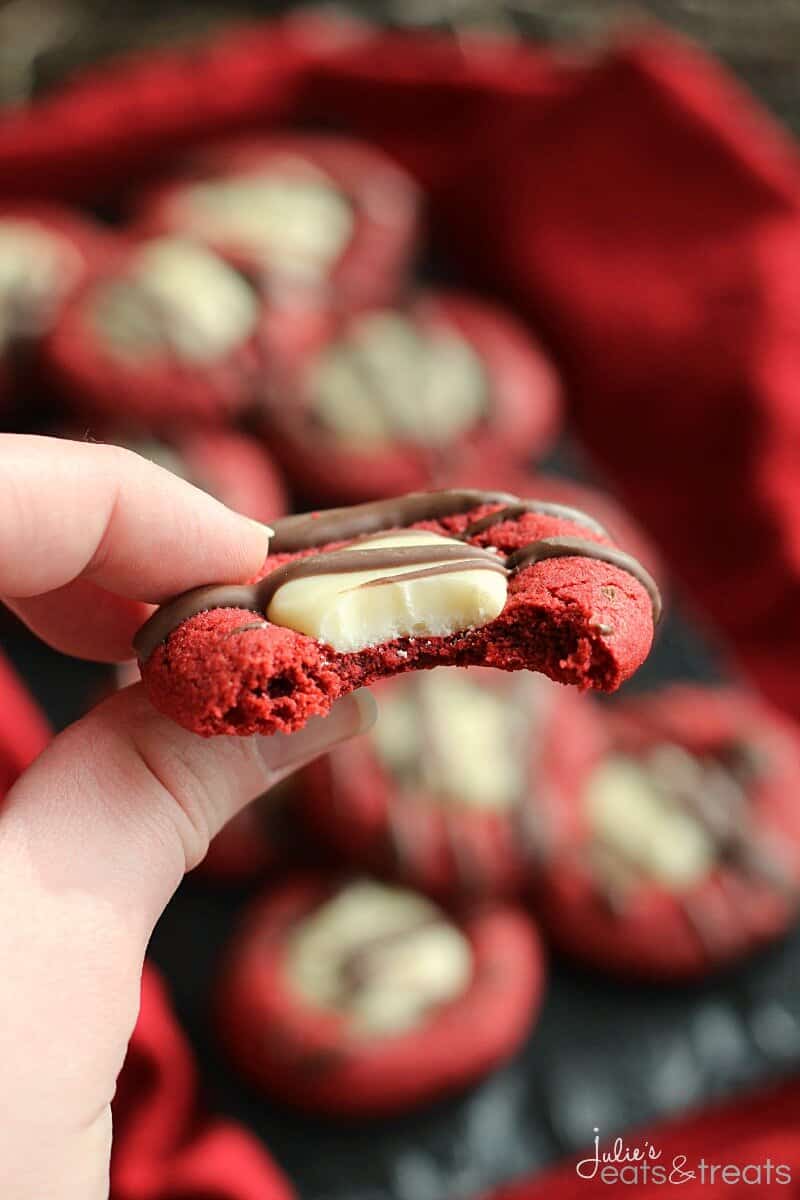 Especially if I make some of these amazing, to die for Red Velvet Thumbprint Cookies. Oh la la. These will have your Valentine smiling from ear to ear! Soft, chewy Red Velvet Cookies stuffed with a white fudge and drizzled with chocolate. Not much else is better than these! If you are looking for the perfect sweet treat for your Valentine make sure you treat them to these!
If you like this recipe you have to try my Red Velvet Cookies with Cream Cheese Frosting, too!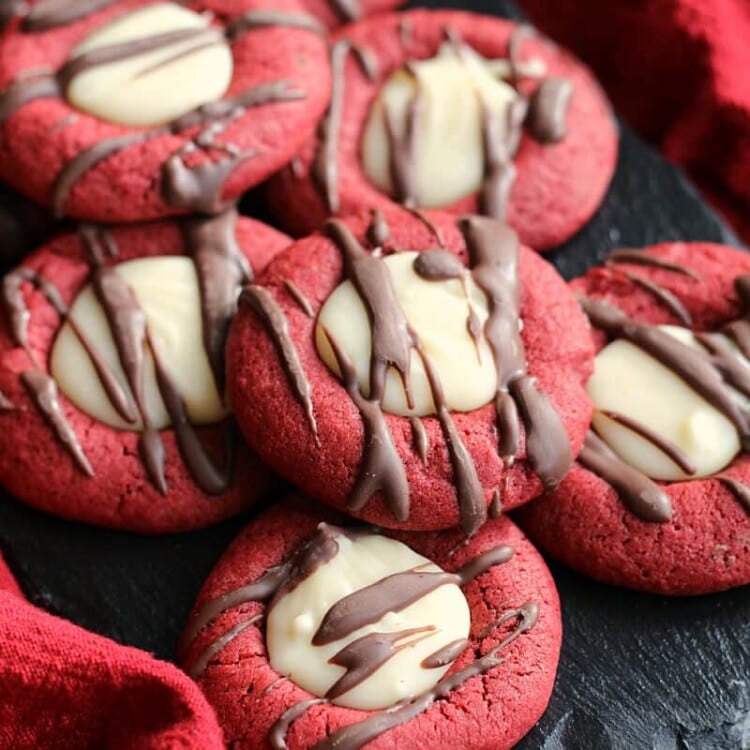 Red Velvet Thumbprint Cookies
Red Velvet Fudge Thumbprint Cookies ~ Soft, Chewy Red Velvet Cookies Filled with White Chocolate Fudge and Drizzled with Chocolate!
Ingredients
1

c.

butter

room temperature

2

c.

white sugar

2

eggs

2

tsp

vanilla

3 3/4

c.

flour

1/4

c.

cocoa

1/2

tsp

salt

1/2

tsp

baking soda

1/2

tsp

baking powder

1

fl oz red food coloring

2

oz

Chocolate Candiquik
Fudge
1 1/2

c.

white chocolate chips

1/2

of 14 oz can sweetened condensed milk
Instructions
In a large mixing bowl cream butter and sugar together until light and fluffy. Mix in eggs, one at a time. Add vanilla and mix until combined. Add cocoa, salt, baking soda, baking powder and flour. Mix until combined. Add food coloring and mix until combined.

Roll dough into 1 in. balls. Place on greased baking sheet or baking sheet lined with parchment paper. Press thumb into center of cookie to make a well.

Bake at 350 degrees for 12 minutes. If the "thumbprint" disappear while cooking press center of cookie down again with the back of a wooden spoon or spatula. Cool on baking sheet 2 minutes. Remove to wire rack to finish cooling.

For the fudge melt together white chocolate chips and sweetened condensed milk in small saucepan over medium heat, stirring continuously. Spoon into center of cookies.

Melt chocolate Candiquik according to package directions. Drizzle over cookies. Let the chocolate set and serve immediately or store in an air tight container.
Nutrition Information
Serving:
1
g
,
Calories:
257
kcal
(13%)
,
Carbohydrates:
39
g
(13%)
,
Protein:
3
g
(6%)
,
Fat:
9
g
(14%)
,
Saturated Fat:
5
g
(31%)
,
Cholesterol:
25
mg
(8%)
,
Sodium:
110
mg
(5%)
,
Potassium:
91
mg
(3%)
,
Fiber:
1
g
(4%)
,
Sugar:
20
g
(22%)
,
Vitamin A:
180
IU
(4%)
,
Vitamin C:
0.1
mg
,
Calcium:
31
mg
(3%)
,
Iron:
1.5
mg
(8%)