Roasted Carrots with Dill
Roasted Carrots with Dill ~ Easy Dill Carrots Recipe is the Perfect Side Dish for the Holidays or Weeknight Dinner! Roasted to Perfection and Sprinkled with Fresh Dill! Super Simple and they will disappear in no time!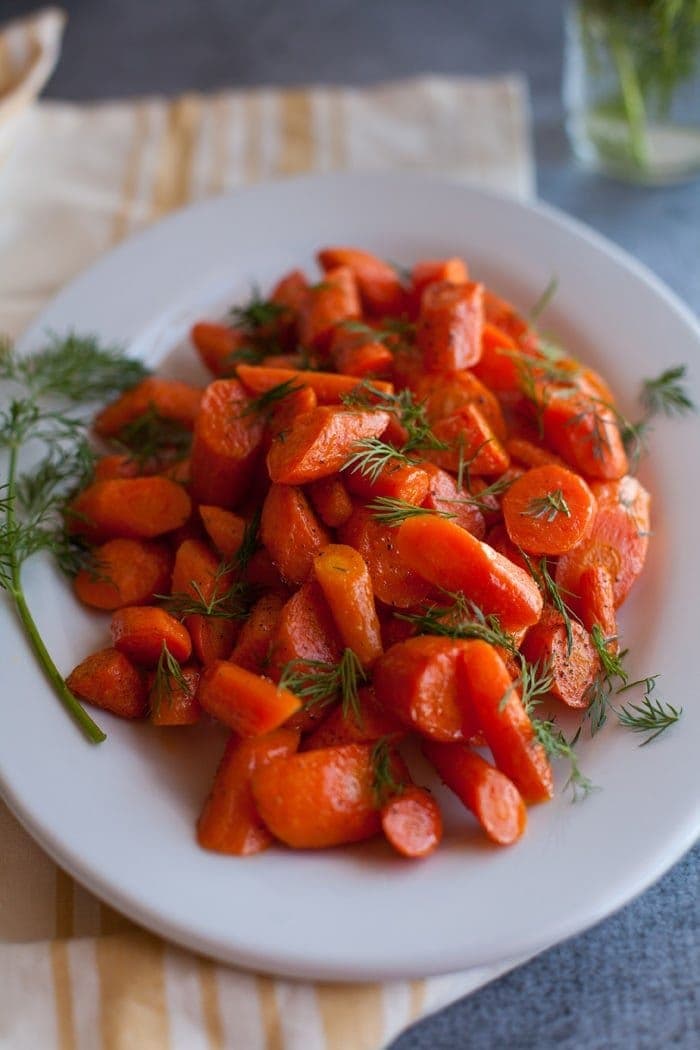 It's rare that my children like what I cook. If dinner doesn't consist of chicken and potatoes, they're really not interested. That's why I was SHOCKED when all three of my picky children LOVED these Roasted Carrots with Dill! I love that they are so easy! They are perfect for a holiday side dish recipe, yet easy enough that you can make this dill carrots recipe for during the weeknight too!
My oldest child is allergic to practically everything (wheat, eggs, milk, and all the nuts) and has spent the majority of her life eating extremely bland foods with NO spices whatsoever. It's only been in the past year that she has broadened her palate and will actually eat foods with some extra flavor!
My other two children are not big fans of vegetables. And when they do eat vegetables, they have very specific requirements for them. One will only eat raw broccoli. The other will only eat steamed broccoli. If asparagus is being served, it MUST have lemon juice on top. And raw baby carrots are only acceptable some of the time for some of the people.
But THESE heavenly carrots with dill are acceptable to ALL the people, ALL the time! And they're super easy to make. They may look fancy, but they take very little effort and only five simple ingredients:
Ingredients for Roasted Carrots with Dill
Carrots
Olive oil
Kosher salt
Freshly ground black pepper
Fresh or dried dill
How to make Roasted Carrots with Dill:
Start out with twelve carrots. I know that seems like a lot, but we have five people in our family, and there never seems to be enough.
Peel them and cut off the tops and bottoms. Then cut them diagonally. At the top where things are thicker, cut thinner slices. As you move closer to the bottom, you can cut thicker slices. This is so that everything will cook evenly in the oven. (There's a picture below that will show you what I mean about cutting things different sizes). Once you've cut up your carrots, toss them in a bowl with 2-3 tablespoons of olive oil and then pour them out on a foil or parchment-lined baking sheet.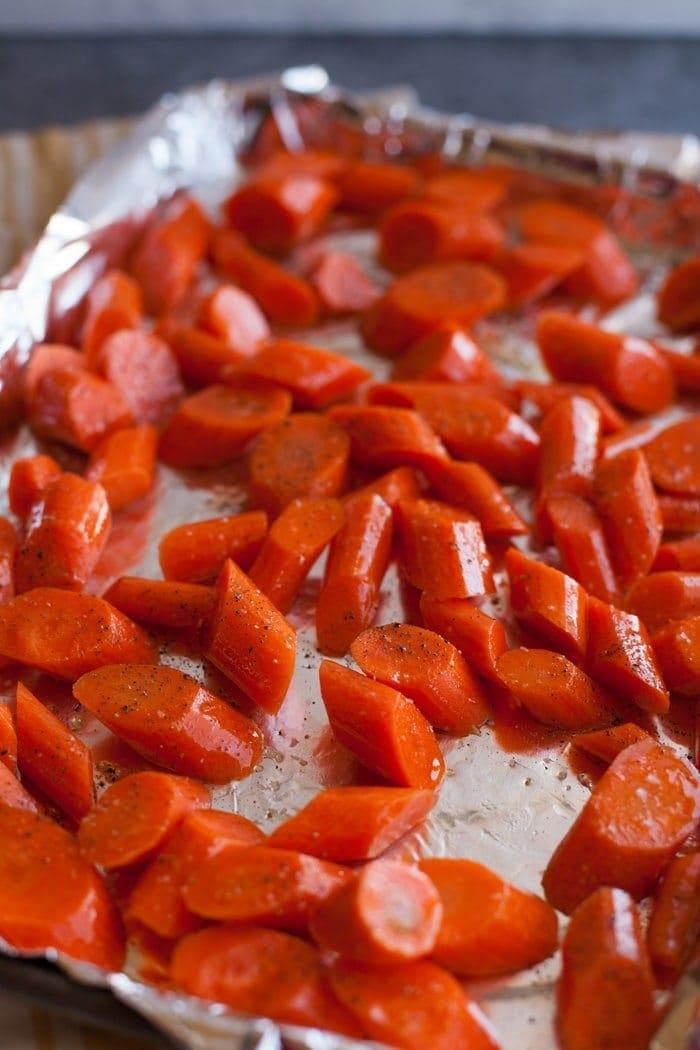 Sprinkle some kosher salt and freshly ground pepper over the top and then pop them in a 400-degree F. oven for 20 minutes. Then just stand back and wait for the magic to happen! No need to stir!
When the carrots are done, they will be perfectly tender but not soft or mushy. The bottoms will have a lovely golden tan.
At this point, it's time to add the dill. You can either use dried dill (which is what we usually do) or fresh dill. Fresh dill really amps up the flavor! But if you have kids like mine who are allergic to flavor, you might want to stick with the dried dill 🙂 But if you're serving these roasted carrots at Easter (or any other time ) to guests and you really want to impress them, go for the fresh dill for sure! You can find it in the produce section in little plastic containers. Or if you're lucky, you can buy a little dill plant.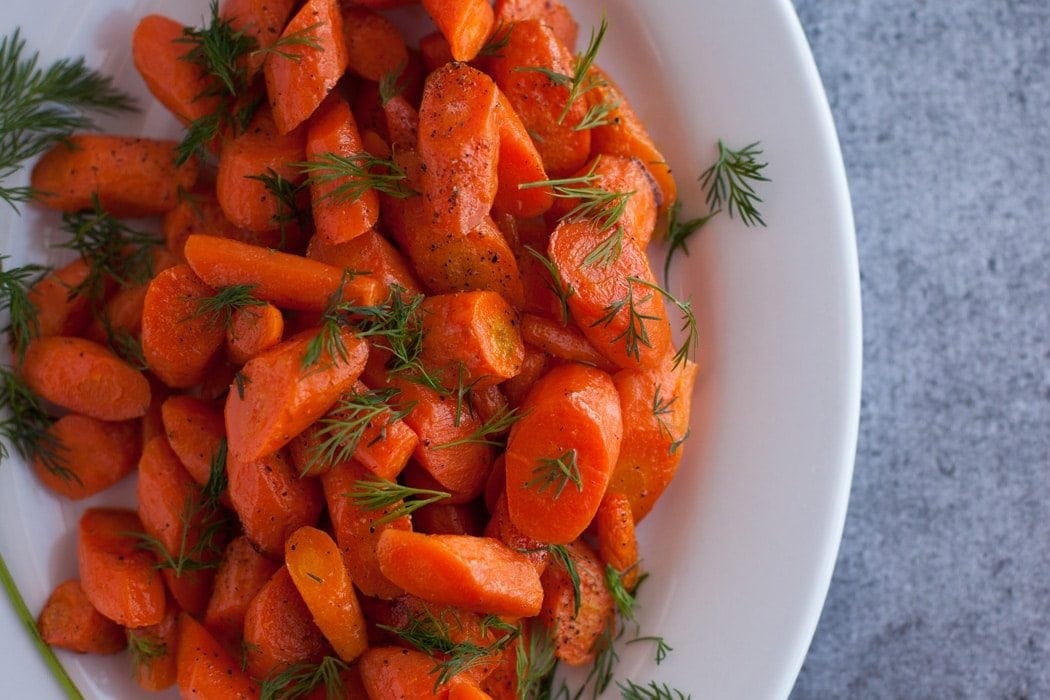 These roasted carrots with dill look so gorgeous and add such wonderful color to your table, and they are totally healthy! Make some tonight for dinner and watch them vanish. Your family will be begging for more!
More great roasted vegetables!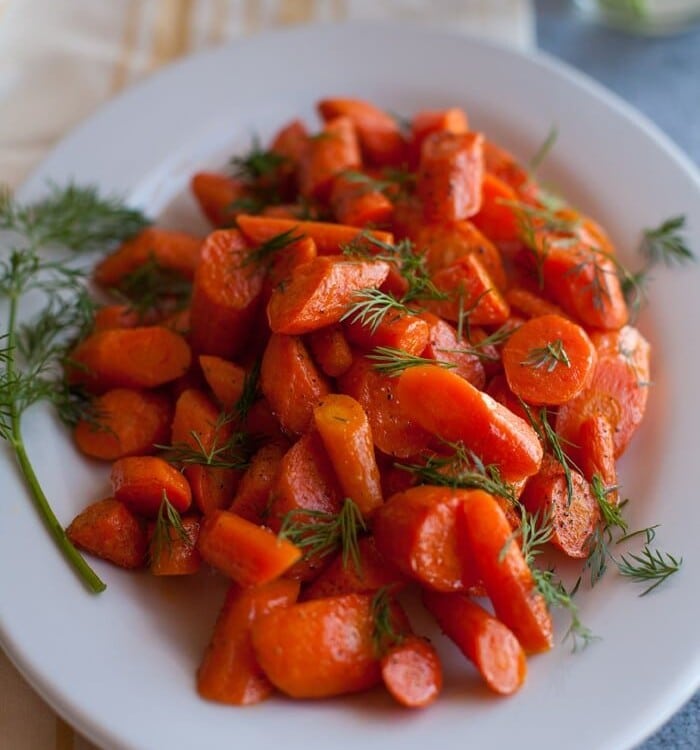 Roasted Carrots with Dill
Roasted Carrots with Dill ~ Easy Dill Carrots Recipe is the Perfect Side Dish for the Holidays or Weeknight Dinner!

Ingredients
12

carrots

2-3

tablespoons

olive oil

kosher salt

to taste

freshly ground black pepper

to taste

2

tablespoons

fresh minced dill

or 1 tablespoon dried dill
Instructions
Preheat your oven to 400 degrees F. Line a baking sheet with foil or parchment paper.

Wash and peel the carrots. Then cut off the tops and the ends.

Cut the carrots diagonally into thick slices (about a half-inch thick toward the top of the carrot and about an inch thick toward the bottom, narrower end of the carrot).

Toss the cut carrots in the olive oil until they are completely covered. Pour out onto foil or parchment-lined baking sheet.

Sprinkle with kosher salt and freshly ground black pepper to taste.

Place in oven and bake for 20 minutes.

Remove from the oven and plate the carrots.

Sprinkle with the dill and serve immediately.
Nutrition Information
Calories:
103
kcal
(5%)
,
Carbohydrates:
13
g
(4%)
,
Protein:
1
g
(2%)
,
Fat:
6
g
(9%)
,
Saturated Fat:
1
g
(6%)
,
Sodium:
300
mg
(13%)
,
Fiber:
4
g
(17%)
,
Sugar:
6
g
(7%)
For more great sides, try these!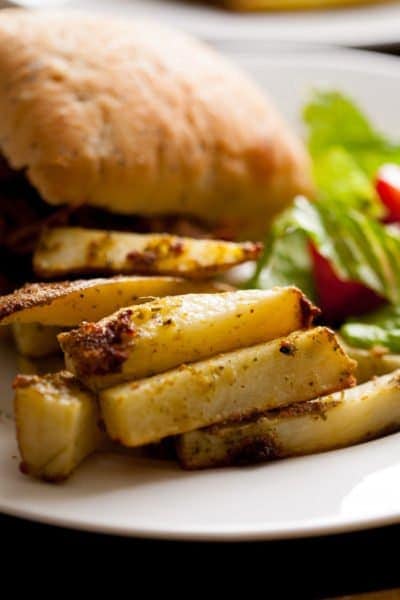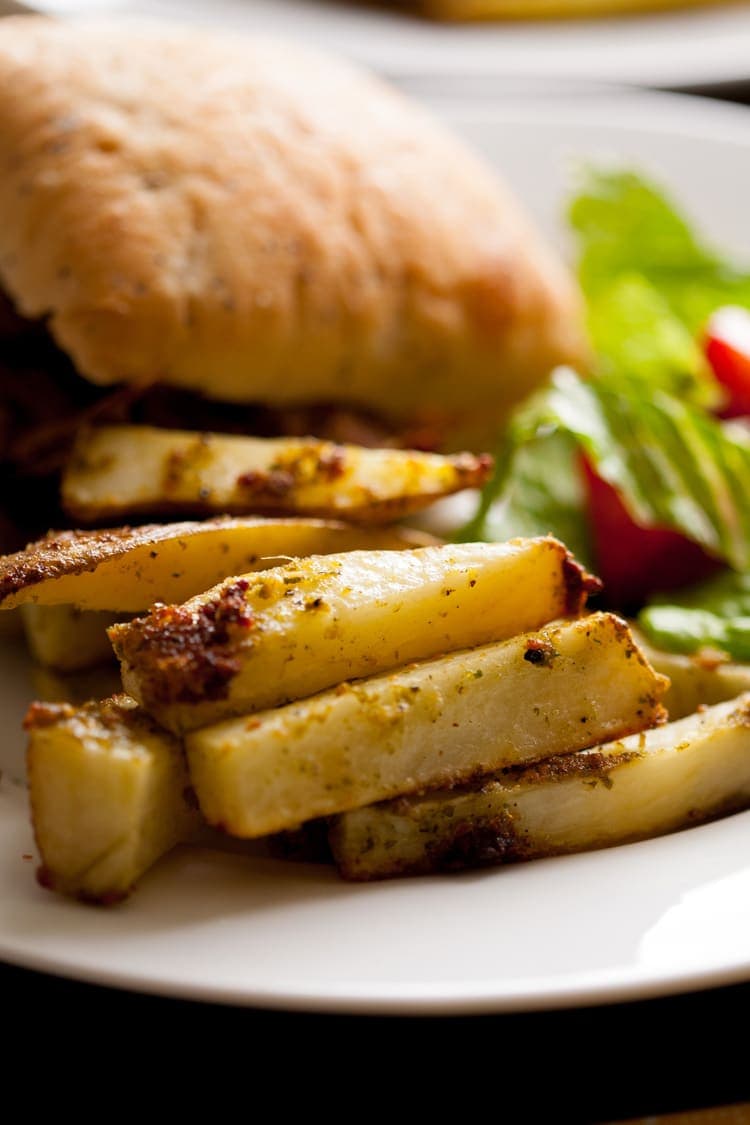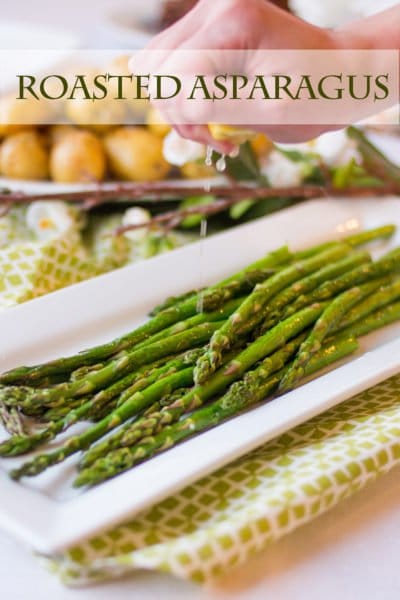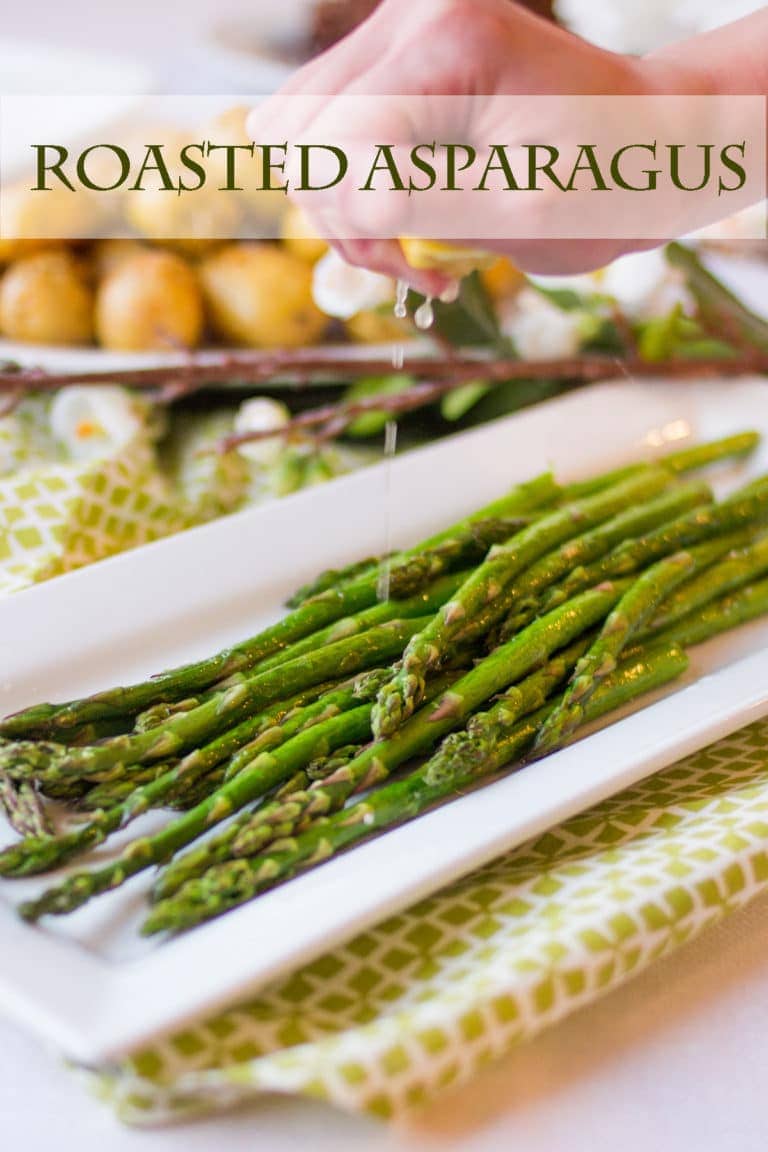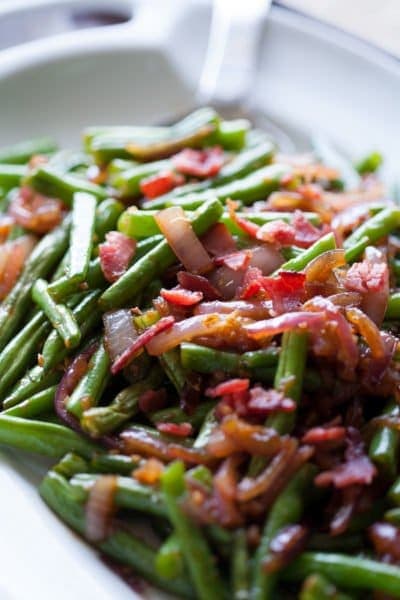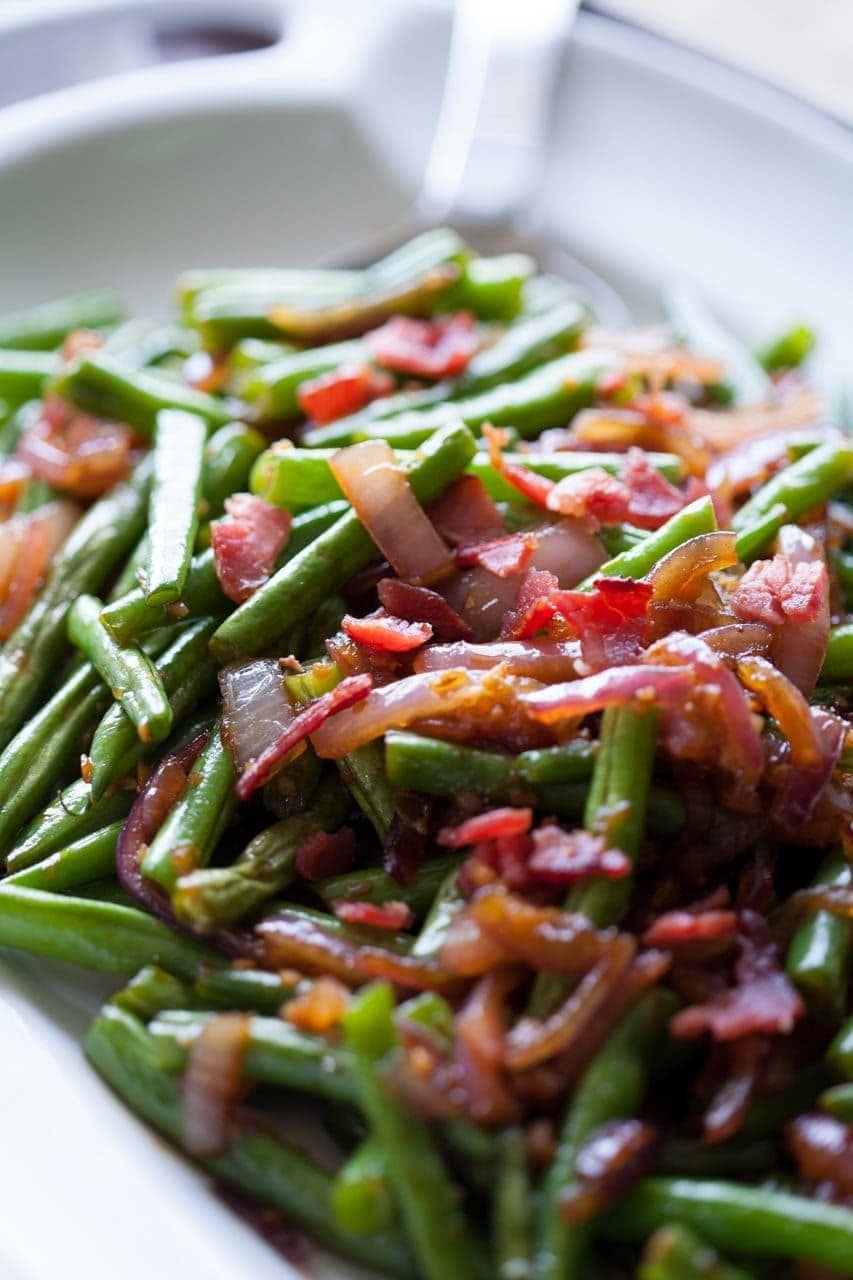 Classic, comforting Cheesy Carrot Casserole is an easy side dish perfect for dinner or holidays.