Roasted Garlic Shrimp Pasta
"What is the crazy lady doing out on her steps taking pictures of food again"
"I know it's only 7:30 in the morning"
I can imagine this conversation being had by my neighbors as I rush out to greet the morning LIGHT and snap a few pictures of my creations. This is being done while the hubby is rolling his eyes and making smart comments like, "I'm going to take a picture of you doing this and put it on Facebook."
I'm thinking to myself (other than shut your trap!), "Yup, right, go ahead, you haven't even commented on Facebook let alone added a picture!"
Oh have I mentioned I HATE daylight savings time? It's dark by 5:30 and I'm rushing to get home by 5 so let's just say taking pictures in natural light is a struggle during the winter. I'm trying to figure out how to get around this situation. So this morning when I had an extra five minutes before dashing out the door to bring Miss K to daycare I quick made that photo shoot happen.
The life of a food blogger.
You are all picturing this and laughing at me aren't you? It's ok. I would be too!
This super, simple, easy, peasy pasta dish is perfect for those week nights when you are rushing around and trying to stay sane. It's pretty much a dump and eat kind of dish. My kind of dish.
My hubby exclaimed, "I love this even better than that other one you make."
Uh ok, the other one I make? It's scary I knew right away he was referring to, Shrimp Penne with Garlic Sauce.
This is another one of my favorites but it really depends if you are looking for white or a red sauce with your dish. So just make them both and call it good!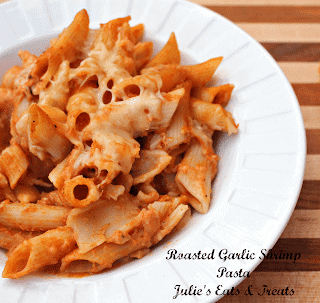 Roasted Garlic Shrimp Pasta
Printer Friendly Recipe

Ingredients
1 lb frozen, cooked shrimp, tail-off, thawed
1 box (16 oz) penne pasta, cooked
1 jar (15 oz) Roasted Garlic Alfredo sauce
1 jar (24 oz) Marinara sauce
2 cloves garlic, minced
2 c. Mozzarella cheese, shredded
1 c. Parmesan cheese, shredded
1. Mix Alfredo and Marinara sauce, Mozzarella cheese, minced garlic, shrimp and noodles together in a 9 x13 in glass baking dish.
2. Baked at 350 degrees for 25 minutes.
3. Sprinkle with Parmesan cheese and continue cooking for 5-10 minutes or until cheese is melted.