Sign up to win this amazing giveaway for a $300 Amazon Gift card in celebration of Say Not Sweet Anne's Blog Anniversary!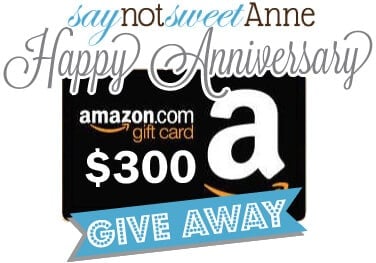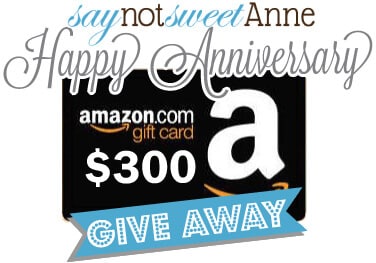 I have another "Sweet" giveaway in celebration of Kayla's Blog Anniversary over that Say Not Sweet Anne! I know I could use a $300 gift card to Amazon like crazy! Do you know all of the amazing things I could buy on there? Wowzers they have EVERYTHING! I know you could go crazy and since I can't win I think you should probably enter to win and then when you win you could send me a treat! Just kidding! But I know you'd enjoy it!
After you are done entering the giveaway head over to Kayla's blog Say Not Sweet Anne and give her some love and congratulate her on this blogging milestone!
What would be the first thing you'd buy on Amazon with your gift card?

MY OTHER RECIPES