Learn how to make simple syrup for your favorite beverages and cocktails! This simple syrup recipe is an essential to have in your repertoire. It only requires two ingredients and only takes a few minutes to make. It's great to keep on hand for whenever you want to make a drink!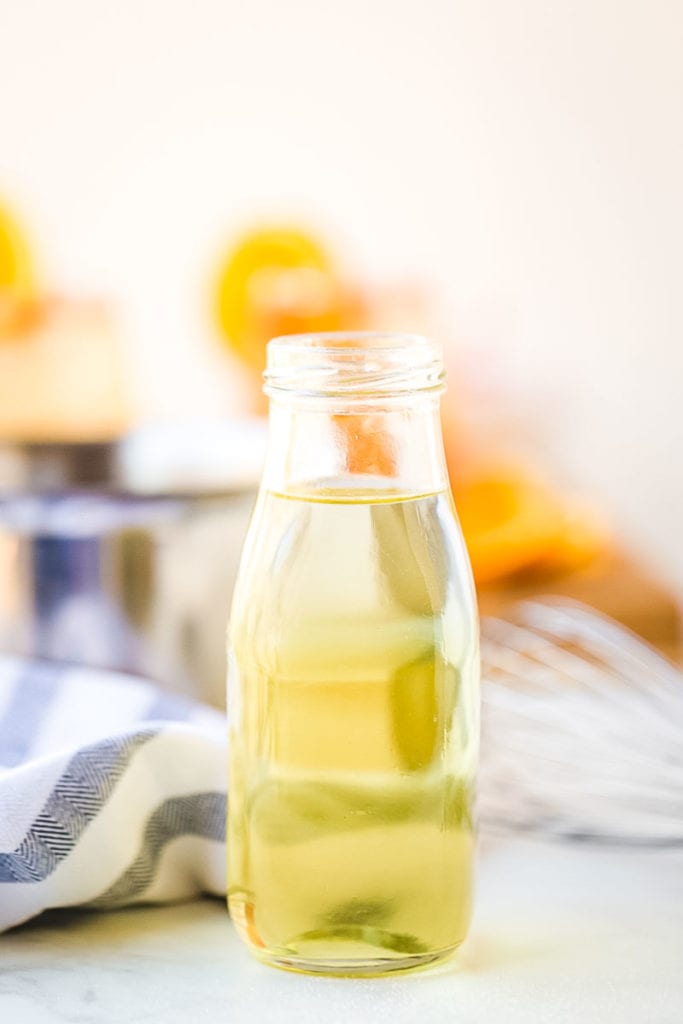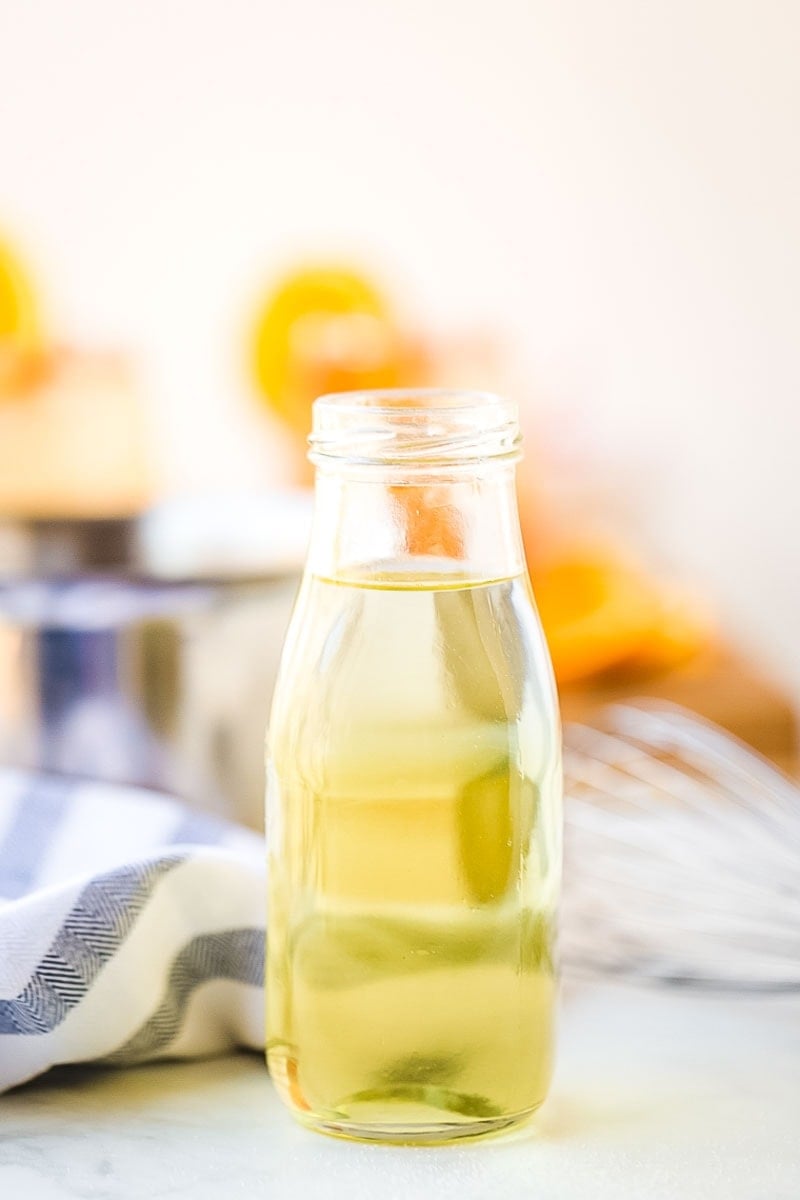 Quick and Easy Simple Syrup
This simple syrup is for all the summer drinks like my homemade iced coffees, cocktails like a Tom Collins and Arnold Palmer Tea and my favorite kid-friendly mocktail, Shirley Temples! When it comes to making drinks, this simple syrup recipe will be your best friend. Sweet and Sour Mix is another great mixer to have on hand, too!
Have you ever noticed that when you add sugar to an iced tea or coffee you end up with undissolved sugar at the bottom of your glass? Maybe it's not the end of the world, but if you could sweeten your drink without the graininess from the sugar that would make it better, right? That's a job for a simple syrup!
If you've ever had a sweetened drink at a bar or restaurant it was probably sweetened with simple syrup. It's a way to sweeten drinks without the sugary graininess. It's a trick that bartenders use all the time!
Once you see how easy it is to make a simple syrup, you'll find all kinds of excuses to whip up cold and refreshing beverages and cocktails all summer long!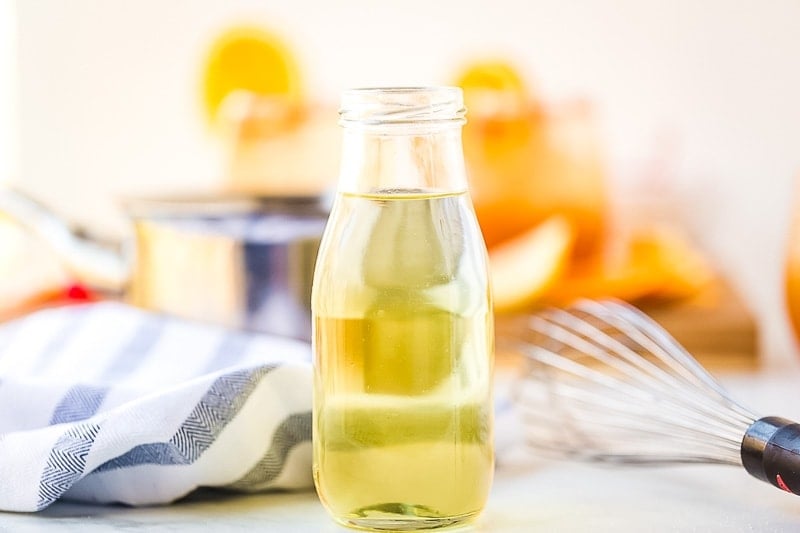 What Ingredients are in Simple Syrup
I feel like I need to say that you can totally buy simple syrup at the store or liquor store, but it's so easy to make at home with just two ingredients I wouldn't waste the time or money to buy a bottle.
Plus, who knows what else is in a store-bought simple syrup – at least with homemade you know exactly what's in it:
That's it! It's hardly a recipe with only two ingredients and the amount of each you need just depends on how many drinks you want to make.
All you need is equal parts of sugar and water. For the recipe I'm sharing you need one cup of each which will yield approximately 1 ½ cups of simple syrup.
How to Make Simple Syrup
Let's review, shall we? Simple syrup is so easy to make!
1 cup white sugar
1 cup water
Combine the sugar and water in a medium-sized saucepan.
Bring it to a boil and stir until the sugar has dissolved.
Remove the syrup from the pan and let it cool.
Store it in an airtight container in the fridge for up to a month.
It doesn't get any easier than this simple syrup and there are endless ways to use it, so be sure to make a big batch – you'll be surprised how quick it disappears!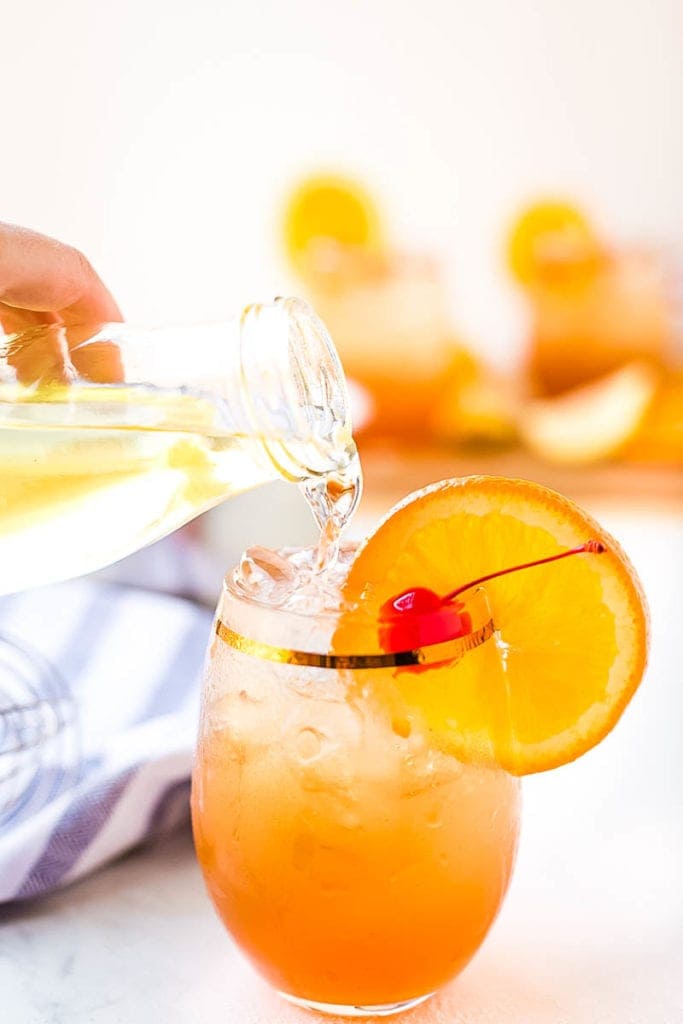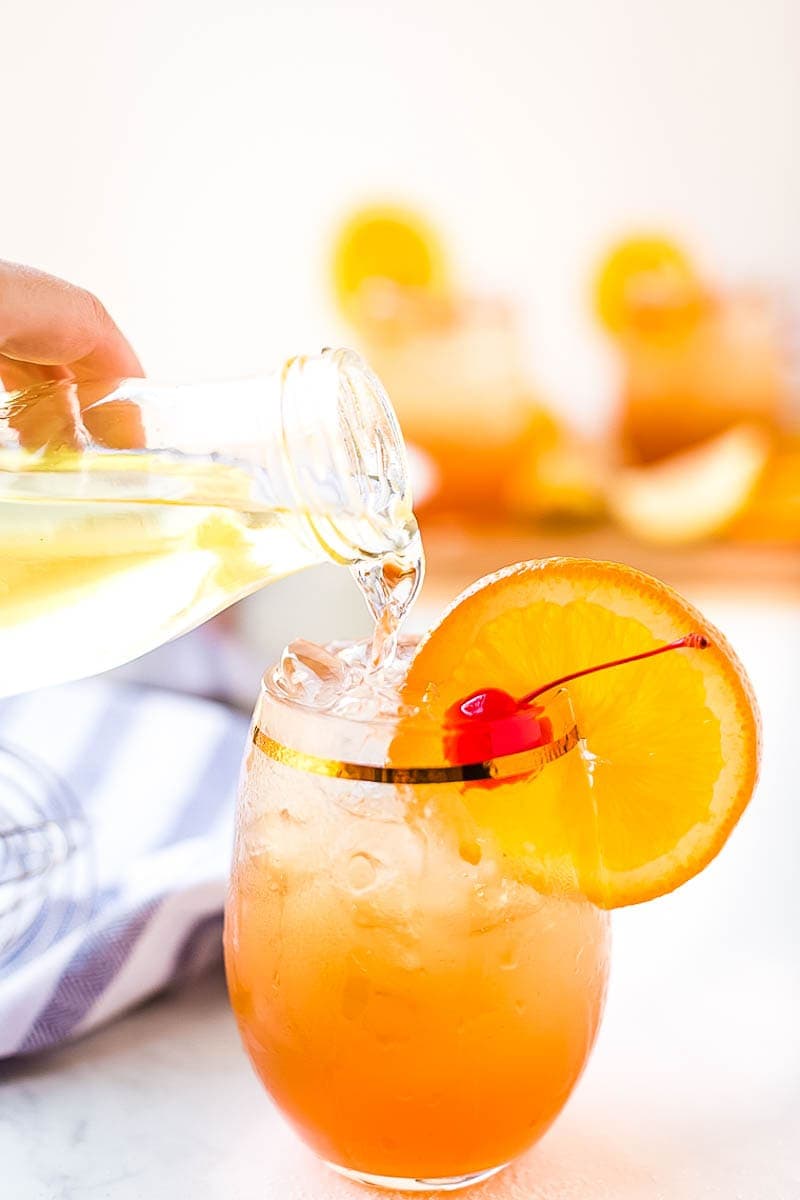 Simple Syrup FAQs!
Here are some quick tips and tricks to making simple syrup.
If you have any additional questions please comment below and we will do our best to answer them!
What is Simple Syrup?
Simple syrup is just sugar and water that are boiled together until the sugar is dissolved. Like I mentioned, you use equal parts of each so it's really easy to scale the recipe depending on how much you need.
Although it's called simple "syrup" it may not be super syrupy. I like to boil the water and sugar just long enough to dissolve the sugar. When it's done the color is light and the syrup is pretty thin.
The longer you boil the water and sugar the more syrupy it will be, but it will also take on a deeper golden-yellow color. That's because the sugar will start to caramelize if you boil it long enough.
I like to keep mine lighter in color so it doesn't discolor the drinks I add it to. That said, once you know how to make it you can experiment! You can caramelize the sugar more for a deeper flavor or add you can add flavoring to your syrup, too.
Can I add flavor to Simple Syrup?
I've seen simple syrups flavored with mint, citrus zest, and vanilla!
To make vanilla simple syrup just add a little vanilla extract at the end of the recipe.
If you want a mint flavored syrup add 1 c. mint leaves after the the sugar has dissolved. Let it steep for about 30 minutes then strain to remove mint leaves.
You'll just add citrus zest like lemon, lime or orange to the syrup if you'd like a citrus twist on this recipe!
How Long Can I Keep Simple Syrup?
I like to make a decent sized batch to keep on hand for iced coffee, iced tea, and cocktails. Plain simple syrup keeps in the refrigerator for up to a month! If you add other flavors (more about that in a minute) it will only keep for a week or two.
How do I store Simple Syrup?
I store my simple syrup in an airtight container and then it's super easy to add to all my drinks. Keep in mind it does not freeze well so I don't recommend keeping it the freezer.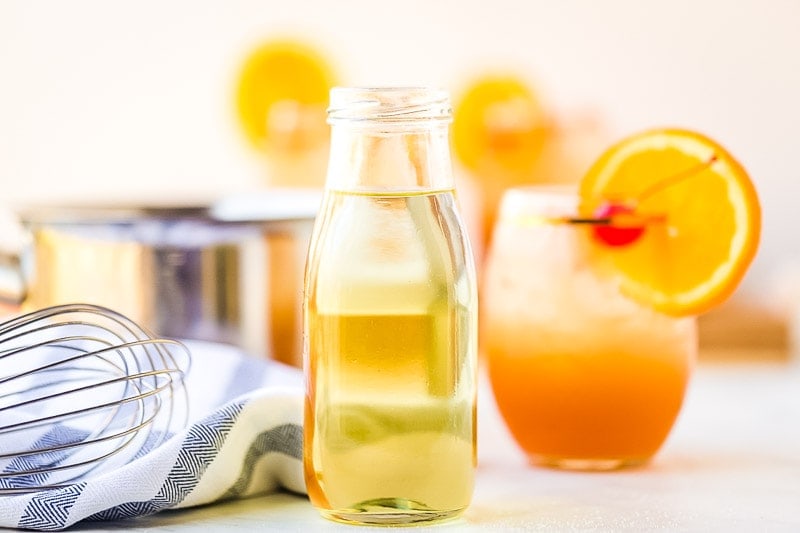 More Drink Recipes!
Are you craving cold and refreshing summer drinks yet? Here are a few I love to make!
Try it and love it? Rate it, please!!! ? Seriously though a five-star rating below will make my day! If you snap a photo, please be sure tag me on Instagram at @julieseatsandtreats or #julieseatsandtreats so I can see all the drinks you're making!!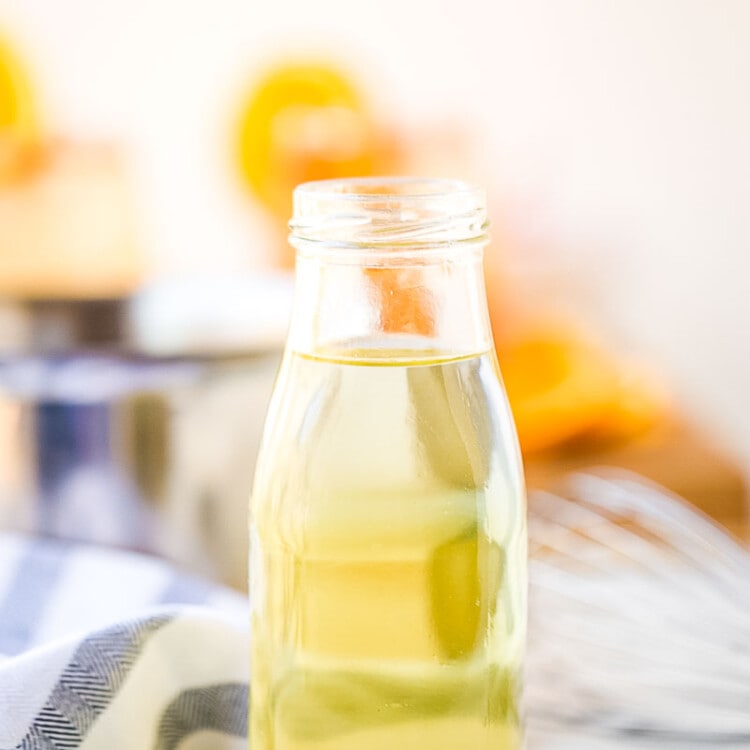 How to Make Simple Syrup
Simple Syrup is a quick and easy recipe only using two ingredients. Perfect to have on hand for your favorite cocktails and beverages!
Ingredients
1

c.

white sugar

1

c.

water
Instructions
In a medium saucepan combine sugar and water. Bring to a boil, stirring, until sugar has dissolved. Allow to cool.
Nutrition Information
Calories:
915
kcal
(46%)
,
Carbohydrates:
236
g
(79%)
,
Sodium:
14
mg
(1%)
,
Sugar:
236
g
(262%)