Skillet Asparagus ~ a perfect way to cook this tasty green vegetable!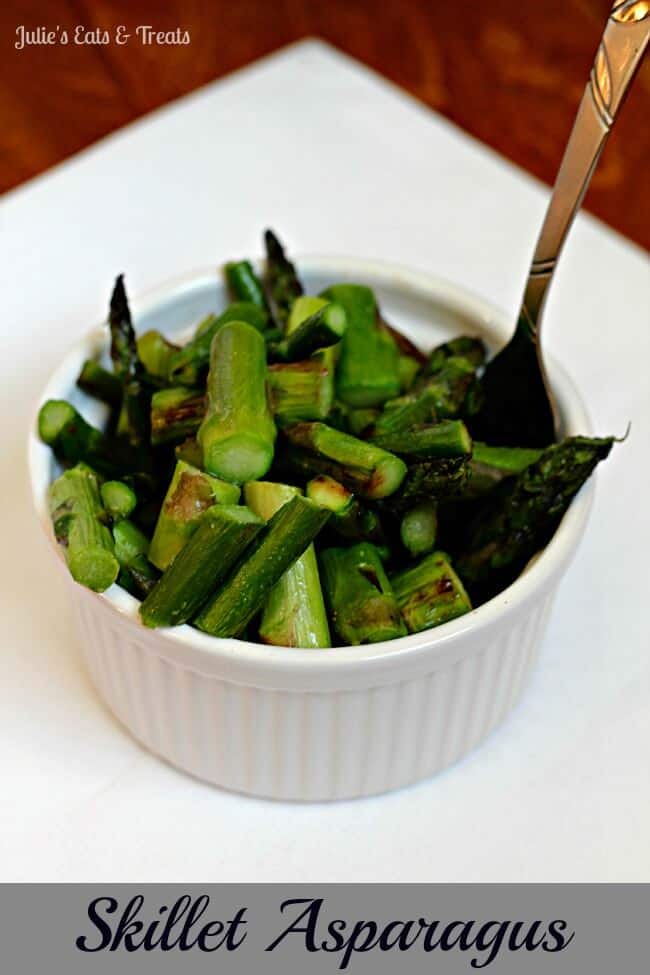 I'm going to let you in on my current obsession. Asparagus. Oh my goodness. I inhale it. Pretty thought huh? Little TMI there maybe…
Anyways I adore it, I want it, I don't want spring to end. Well maybe I do. I really could go for some weather that was sunny and about 70 degrees especially since we might finally get to the lake this coming weekend! Anyways I digress.
This Asparagus is so easy to make I really contemplated even posting it, but I did it anyways.
I'm going to let you in on a secret. My mom used to HATE it when my Dad would ask her to make Asparagus. He would come home with a pile of it from the road ditch. Oh yes that seems a little redneck doesn't it? It grows wild in the ditches where I live, well more exactly out where my parents live so they just pick it out of the ditches. So yummy. Only certain ditches have it so you have to be in the "know". Then the neighbors fight over it. Quite literally. You don't mess with someones Asparagus in their ditch unless you have prior approval.
Asparagus hunting is some serious business.
Currently my Mom has bartered with her neighbor that he can pick it every other day if he then sprays her apple trees. I sound like I live in the Wild Wild West now don't I? Anyways I'll stop with the hickville stories and let you check out the "recipe"!
Oh and my Mom now loves Asparagus prepared like this. She actually didn't really know what to do with it so that's why she dreaded when Dad would arrive home with his prized possession. So if you are like my mom and are nervous about making Asparagus wait no more!
Quick and easy Hollandaise Sauce that's made in a blender is a classic sauce is the perfect topping for Eggs Benedict, asparagus, poached eggs and bacon or so much more! 
Make sure you don't miss any of the fun stuff Julie's Eats & Treats is up too!
FACEBOOK | PINTEREST | TWITTER | INSTAGRAM | RSS | GOOGLE+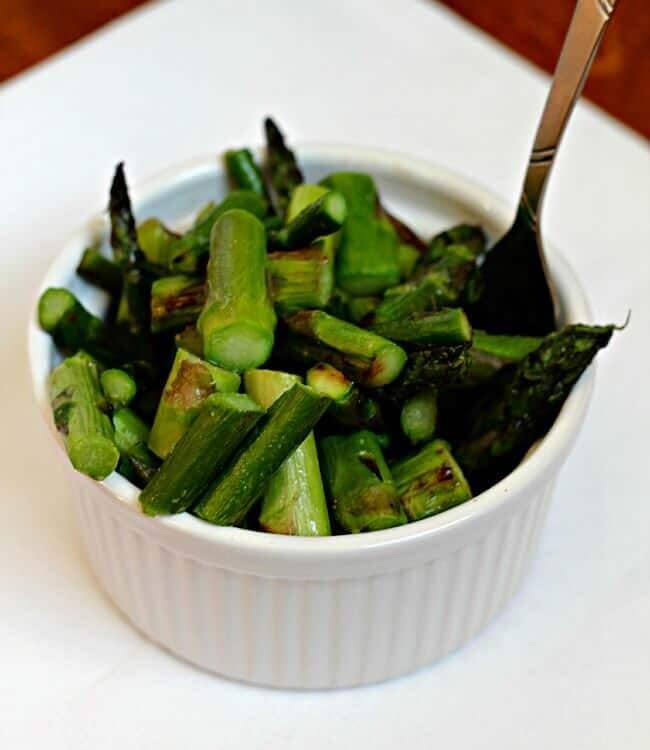 Skillet Asparagus
Skillet Asparagus ~ a perfect way to cook this tasty green vegetable!
Ingredients
1

bunch asparagus

1

Tbsp

butter

1/2

tsp

garlic salt
Instructions
Cut ends off of asparagus. Chop asparagus spears into 1 inch pieces. Put in skillet.

Add butter and garlic salt to skillet. Bake over medium-low heat for about 8-10 minutes stirring frequently.
Nutrition Information
Serving:
1
,
Calories:
26
kcal
(1%)
,
Fat:
2
g
(3%)
,
Saturated Fat:
1
g
(6%)
,
Cholesterol:
7
mg
(2%)
,
Sodium:
316
mg
(14%)
,
Vitamin A:
120
IU
(2%)
,
Vitamin C:
0.2
mg
,
Iron:
0.1
mg
(1%)