Skinny Gluten Free Pumpkin Cheesecake Bars
Skinny Gluten Free Pumpkin Cheesecake Bars – These easy pumpkin cheesecake bars have a spicy-sweet gluten free crust and are so creamy! You'd never know they're only 150 calories!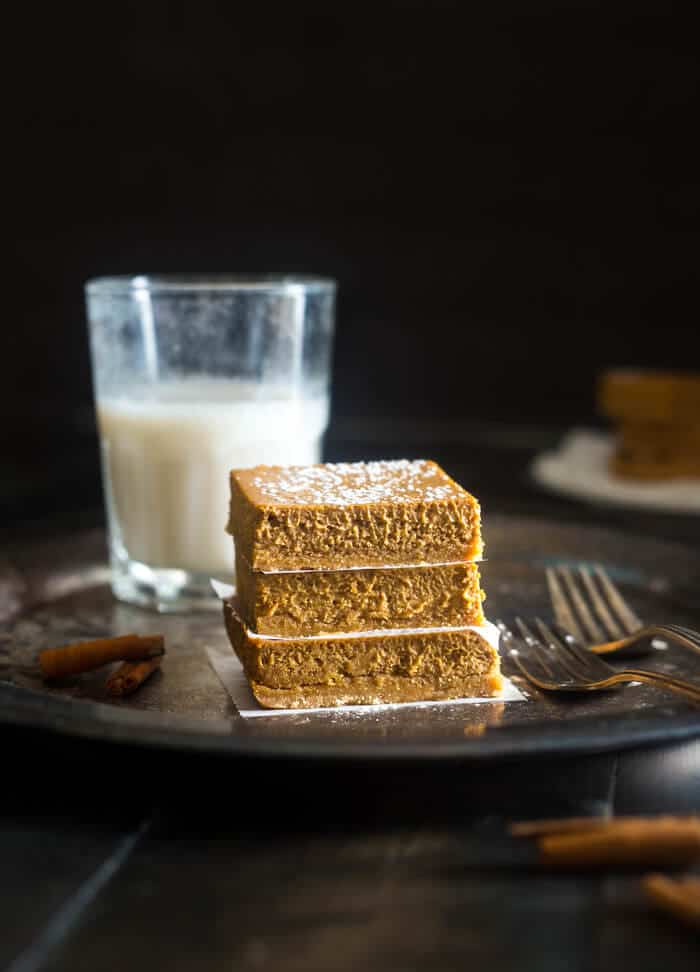 Spicy-sweet creamy goodness. I can almost taste the cinnamon and ginger still LINGERING on the tip of my tongue as I write this.
Which could be because I might have just snuck a bite of the leftover cheesecake bars that I promised the Hubs he could bring to his co-workers, because I have issues with sharing.
You know, just hypothetically speaking.
BUT. Cheesecake. It's my favorite food. Like, ever. And if you're sitting there questioning my definition of "food" because you think cheesecake should really be called a "dessert" and left to only a few occasions out of the year, well, TUFF. I like it. I eat it. It makes my taste buds tingle RIGHT DOWN TO MY TIPPY TOES.
Especially when it's in the form of bars that are only 150 CALORIES. WHATTHEWHAT. PUMPKIN COVERED brain X-PLOSION taking place RIGHT NOW.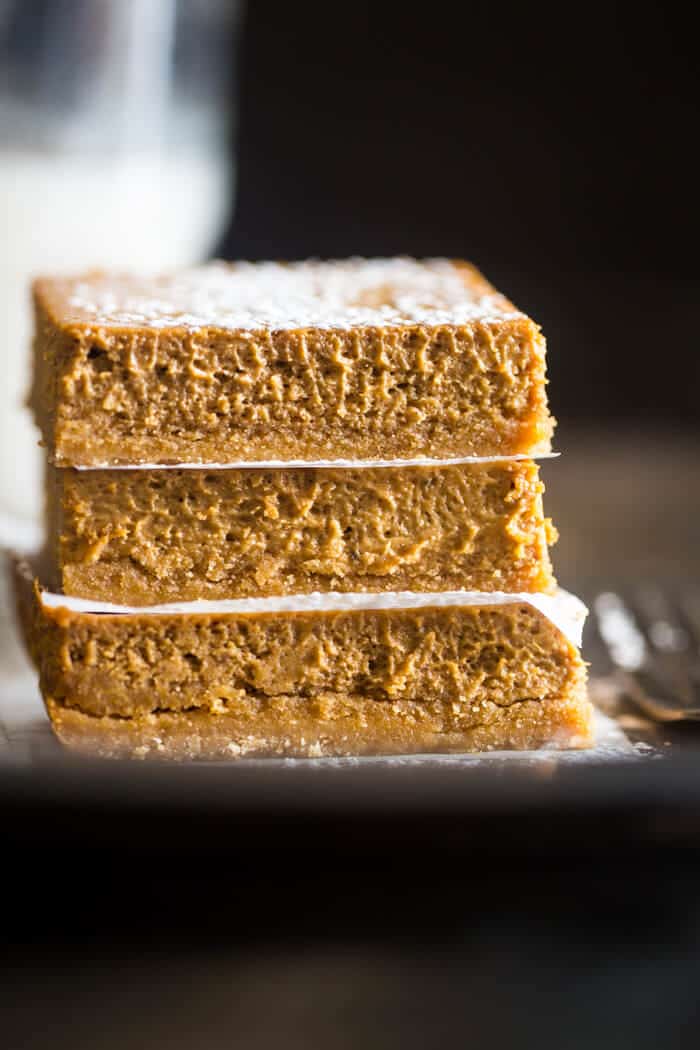 Take that you "cheesecake in moderation" people. You can have your CHEESECAKE and eat it too.
P.S I never understand that saying. Who would get a piece of cake and not eat it? These are things that keep me up at night.
Moving onto the loaded with fall-flavor crust. That's GLUTEN FREE. BUTBUTBUT still CRUNCHY and not soggy and weird like some gluten free goodies tend to be. Your teeth SINK into a layer of velvety-smooth-SUPER-rich-and-creamy tastiness and then, WHOA NOW SURPRISE, the CRUNCH of maple and ginger and SO MUCH FALL FLAVOR HAPPENING RIGHT NOW.
As you may have guessed, I pretty much am so obsessed with these bars that I can barely handle it. Which might (read: will) happen to you too. BUT, HAVE NO FEAR, I have the sweetest remedy for above mentioned situation:
Keep doing the hand–>cheesecake bar–> face dance until you've eaten enough for your brain to figure out that everything is going to be okay and that you will continue to function in life, even though you just created something SO majorly delicious BUT somehow light and healthy and YES PLEASE.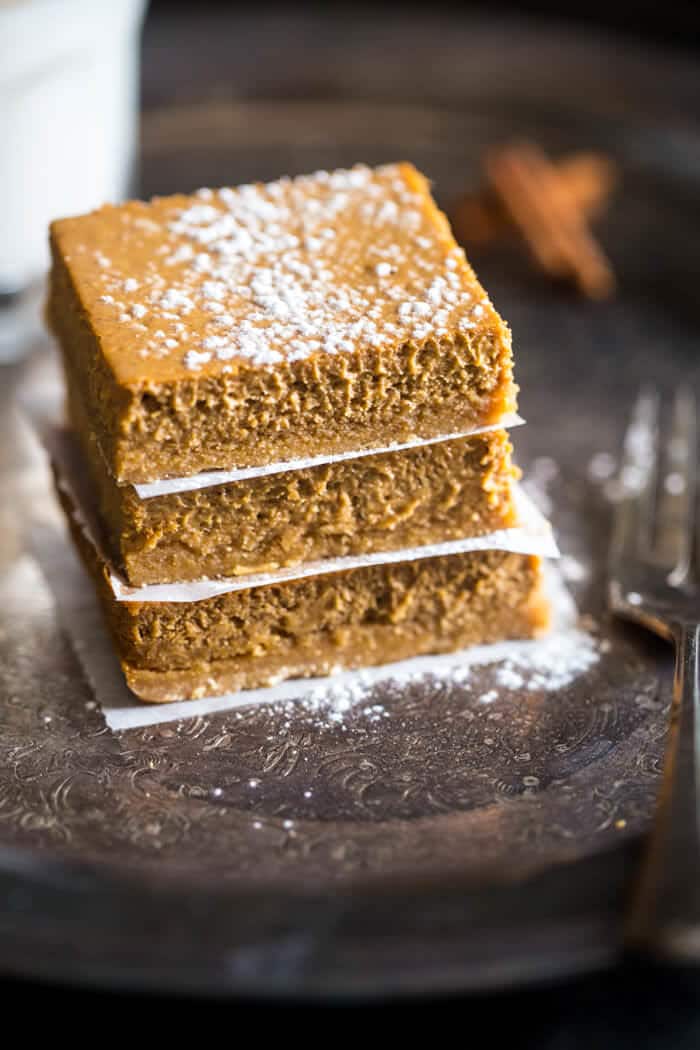 Even if it takes a few BATCHES. Press on friends. CHAMPION GOALS.
Now that we've gotten that out of the way, we need to sit down and have a little pow-wow about making cheesecake. IE: the IMPORTANCE of PUTTING DOWN THE HAND MIXER. IE, the sequel: I'm looking at you people who feel the need to mix and mix and mix and then maybe mix some more because WHAT IF each individual grain of cinnamon and swirl of pumpkin isn't perfectly combined to create the ultimate of taste experiences?!?
STAP IT. Everything is fine. And you're just blending ALL the air into the luscious, soft cream cheese. Which is going to make it crack when you bake it. And rise. AND JUST NOT DO GOOD THINGS.
Put it down. Walk away. Know that you are making a wise life choice.
Bossy-cheesecake-elitist-person moment over.
I leave you with all of your hopes and dreams stacked on top of crispy-crunchy crust and finished with spicy-sweet swirls of pumpkin NUM.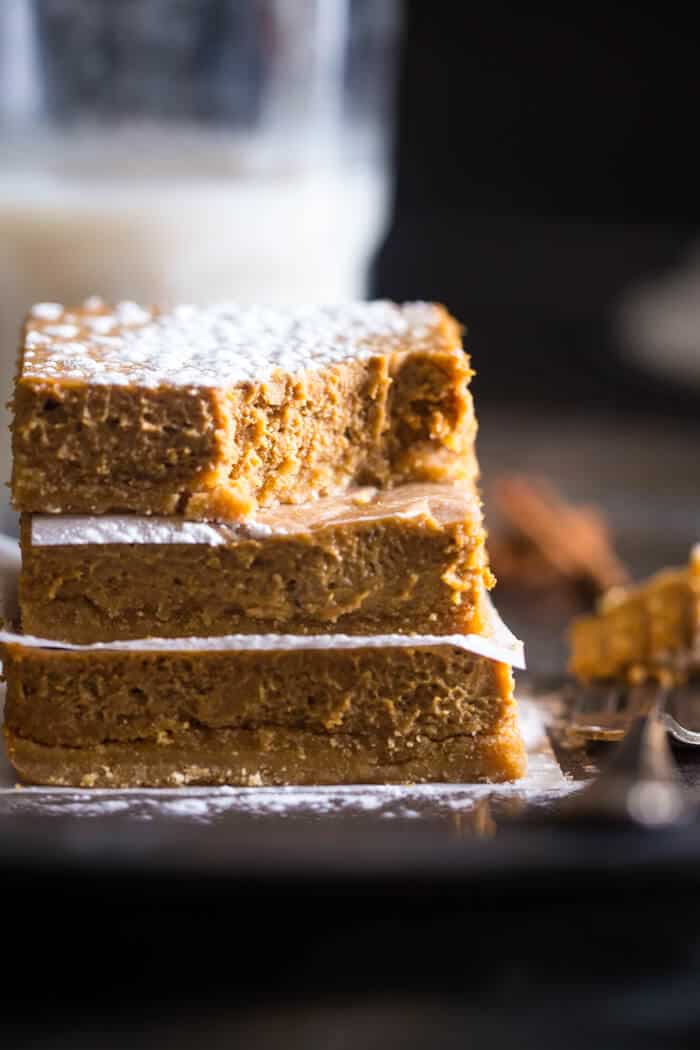 DOITDOITDOIT.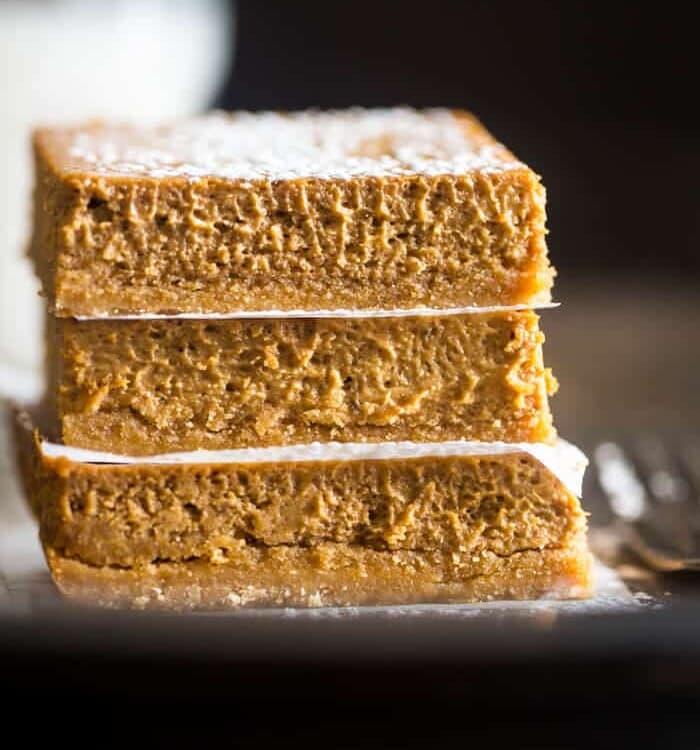 Skinny Gluten Free Pumpkin Cheesecake Bars
These easy pumpkin cheesecake bars have a spicy-sweet gluten free crust and are so creamy! You'd never know they're only 150 calories!
Ingredients
For the crust:
2

Tbsp

Pure maple syrup

1

Tbsp

Molasses

1/3

Cup

Coconut oil

at room temperature (it should be the consistency of softened butter)

¾

Cup

Coconut flour

sifted (66g)

¼

tsp

Ginger powder

Pinch

of salt
For the cheesecake
8

oz

Reduced-fat cream cheese

softened (not fat-free!)

½

Cup

+ 2 Tbsp Coconut sugar

brown sugar works too

½

Cup

Canned pumpkin

not pumpkin pie filling!

1

Large egg

at room temperature

½

Tbsp

Pumpkin pie spice
Instructions
Heat your oven to 350 degrees and line an 8x8 inch baking pan with aluminum foil, leaving an overhang over the sides of the pan. Lightly grease the tinfoil with cooking spray.

In a large bowl, beat the maple syrup, molasses and coconut oil together using an electric hand beater until creamy and well combined. Stir in the coconut flour, ginger powder and salt until it forms a dough.

Press the dough evenly into the bottom of the pan and bake until lightly golden brown, about 7-8 minutes. Your crust will probably have risen and cracked a little bit when it comes out of the oven, use the pack of a large spoon to pack it down so it's flat and crack-free. Let cool for 30 minutes before starting the cheesecake layer. Reduce the oven temperature to 325 degrees.

Once the crust has cooled, beat the softened cream cheese and coconut sugar in a large bowl until fluffy and combined. Add in the canned pumpkin and beat just until combined. Finally, add in the egg and pumpkin pie spice and beat just until mixed, scraping down the sides as needed. Make sure you beat just until everything is smooth and creamy, as overbeating cheesecake causes it to crack while baking.

Place the cheesecake into the oven and bake until the sides just begin to rise and the center feels set, but is still a little jiggly, about 30 minutes. Turn off the oven heat, crack the oven door a little bit and leave the cheesecake in the oven for 30 minutes before removing it and letting it cool to room temperature on a cooling rack. Once room temperature, cover the cheesecake and refrigerate for AT LEAST 4 hours to overnight.

Once chilled, slice into squares and DEVOUR!
Nutrition Information
Serving:
1
,
Calories:
125
kcal
(6%)
,
Carbohydrates:
12
g
(4%)
,
Protein:
2
g
(4%)
,
Fat:
7
g
(11%)
,
Saturated Fat:
6
g
(38%)
,
Cholesterol:
17
mg
(6%)
,
Sodium:
93
mg
(4%)
,
Potassium:
78
mg
(2%)
,
Fiber:
2
g
(8%)
,
Sugar:
7
g
(8%)
,
Vitamin A:
1285
IU
(26%)
,
Vitamin C:
0.3
mg
,
Calcium:
31
mg
(3%)
,
Iron:
0.4
mg
(2%)
You Might Need This for this Recipe!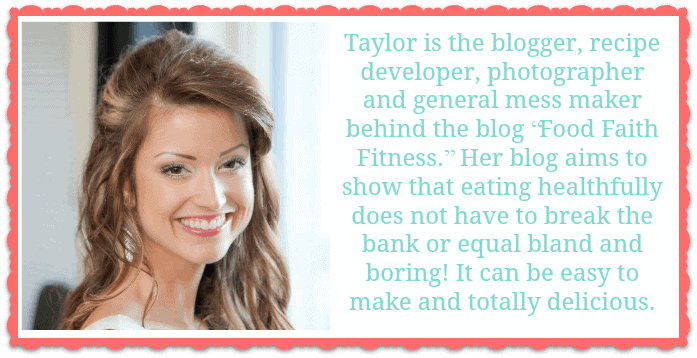 Connect with Taylor Here! 
Facebook ~ Twitter ~ Pinterest ~ Google + ~ Instagram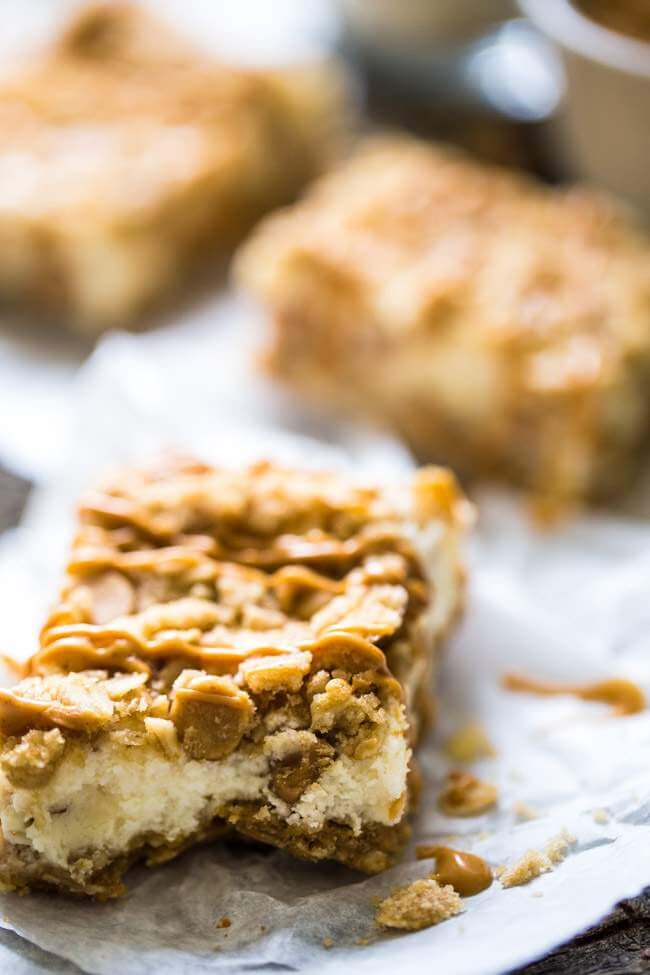 Healthier Peanut Butter Oat Crumble Cheesecake Bars – These bars are SO easy to make and always a hit at gatherings! So creamy that you would never know they're lightened up with Greek yogurt and whole wheat flour!
Lighter Pumpkin Cheesecake Stuffed Sugar Cookies – These sugar cookies are so soft and chewy! They're stuffed with a spiced pumpkin cheesecake filling, and are a pumpkin lovers dream!