Skinny Pizza Mac N' Cheese
Skinny Pizza Mac N' Cheese – Two comforts food in one with this easy, weeknight meal that is made with Greek Yogurt to keep it light and healthy!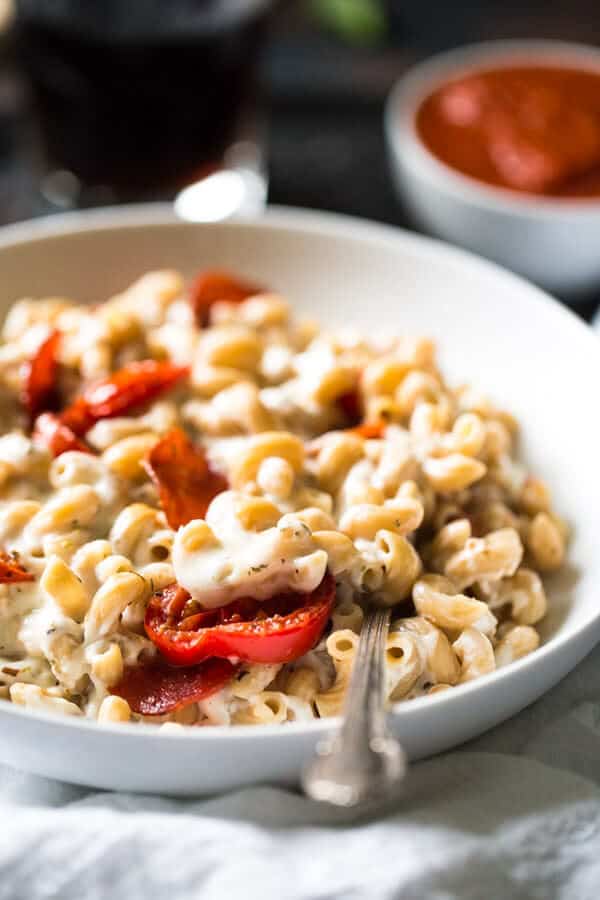 OH MY. GOSH. YOU GUYS.
I don't think I have been this excited about a recipe in ALL THE EVERS of my life!
That could be a lie because I get really excited to share ALL the recipes with you, but this one in par-ti-cular.
You know why? Well. Did you read the title?
Pizza and Macaroni and Cheese had a baby.
A baby that is skinny, good for you and a SNAP to make. Like under 30 minutes to creamy, ooey-gooey cheesey, healthy fo' yo' body kinda snap-age.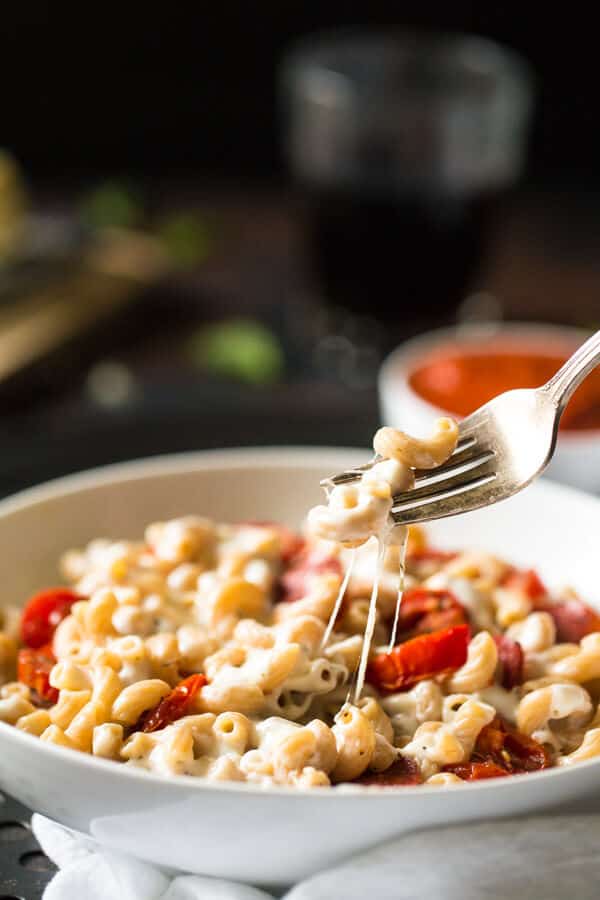 I like it you like, you like it, can we eat it yet?
I have a little bit more talking at you about said pizza-mac and cheese hybrid, HOW-EV-ER, because of the yum-fest that is about to happen to your face, I am going to keep it brief ok?
Don't tell me that I don't look out for you.
WE begin our health-i-fied comfort food journey with the "sauce component" of our mac n' cheese. I know you're looking at me with crazy eyes because you don't see no "real sauce" mixed around the bowl of good-fo'-yo carbs.
BUT, trust me, when you do some slicey-dicey of the tomatoes and toss them with some olive oil and herbs, it tastes EXACTLY like pizza sauce.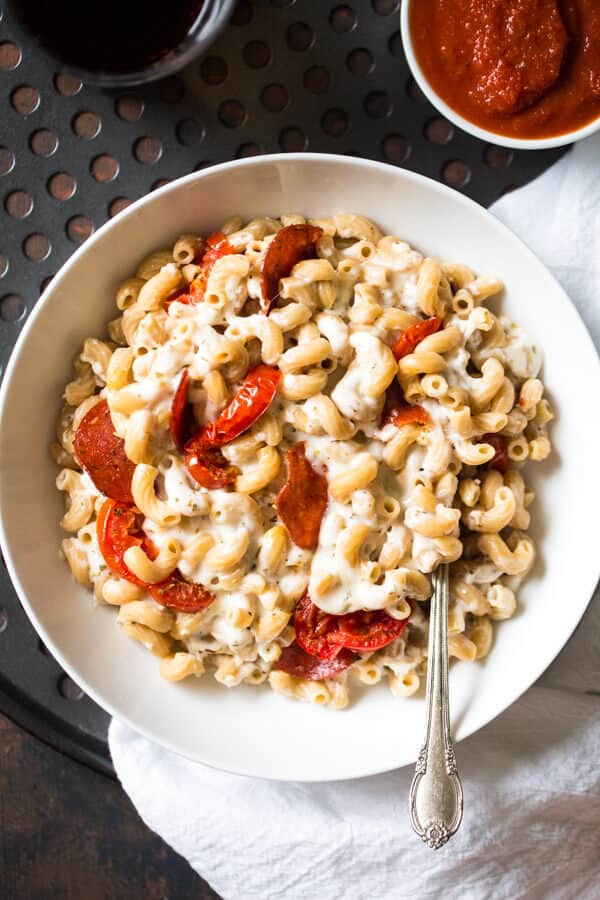 Minus the whole "I can't pronounce the ingredients on the can" shenanigans.
Do NOT skip this step. Restrain yourself from throwing raw tomatoes on top and calling it the same. I know you're thinking about doing it because you want to eliminate as many steps as possible. ß DON'T DO IT.
Same goes with the turkey pepperoni. Tossing it with the oil and poppin' it in the oven crisps it up real nice. Or else it's kinda of, well, wiggly.
And no one wants to eat ANY kind of wiggly food amIright?
I warned you.
Once that is done, well, you're basically at the last stop on the yum train. Just boil up some (whole wheat for the HEALTH) macaroni noodles and slowly stir them with Mozzarella and Parmesan cheese.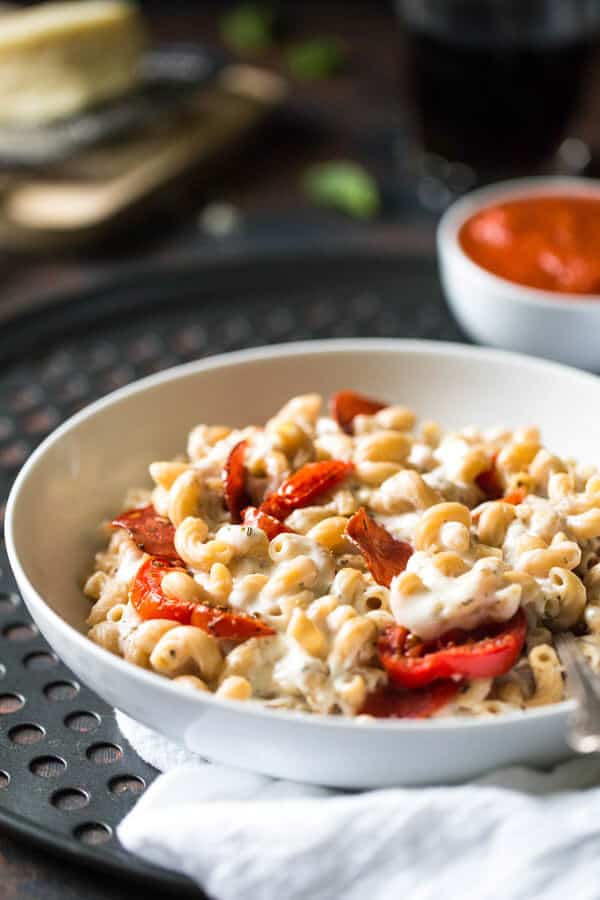 Resist the urge to jump into said pot and get a little too cozy with the cheese. We don't condone that kind of behavior with our dinner.
Then, the SHOWSTOPPA: Greek yogurt!
This is what adds that SUPA creamy texture  AND a protein PUNCH….all while keeping it clean and leannnnnn.
At this point in the game, I debated telling my Hubs that the recipe was a huge disaster and no way on planet Earth would I serve this to him. So, being the best wife that I was, I would eat it ALL to myself in order to save him from nasty icky badness.
Here's a tip: if you debate doing this (which is very likely) I HIGHLY suggest that you do not walk away from your pot for .00004 seconds.
Because this gives aforementioned Husband JUST enough time to SWOOP in from how-the-heck-did-he-move-so-fast land, and taste it.
And then…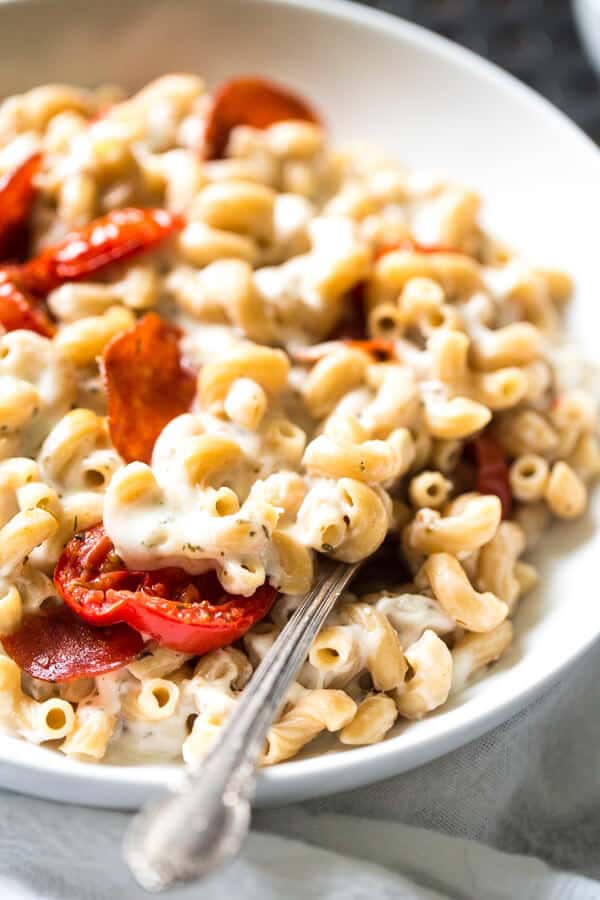 You'll have to share.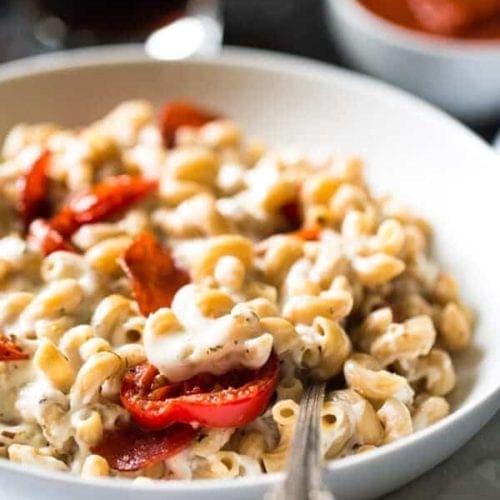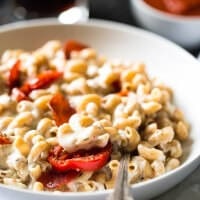 Skinny Pizza Mac N' Cheese
Skinny Pizza Mac N' Cheese - Two comforts food in one with this easy, weeknight meal that is made with Greek Yogurt to keep it light and healthy!
Print
Pin
Rate
Ingredients
4

Roma tomatoes

sliced

½

Cup

Turkey Pepperoni

2

tsp

Olive oil

2

tsp

Italian seasoning

divided

1 ½

tsp

Garlic salt

divided

Pepper

8

Oz

Whole Wheat elbow macaroni noodles

6

Oz

Mozzarella cheese

grated (about 2 cups)

2

Oz

Parmesan cheese

grated (about 2/3 cups, packed)

½

Cup

2% Plain Greek Yogurt
Instructions
Preheat your oven to 400 degrees.

In a medium bowl, toss together the sliced tomato, turkey pepperoni, olive oil, 1 tsp Italian seasoning and ½ tsp Garlic Salt. Spread in one layer on a baking sheet and sprinkle with a pinch of pepper.

Bake until the tomatoes begin to soften, about 13-15 minutes. Note that the pepperoni will only take 6-7 mins to crisp up, so check them often and remove from the pan when done, continuing to cook the tomatoes until soft. Set aside

Bring a large pot of salted water to a boil, and cook the pasta according the package directions. Drain the cooked pasta and reserve ½ cup of the cooking water.

Transfer the cooked pasta back into the pot and stir in ¼ cup of the Pasta water. Then add in the cheese, a little bit at a time. Stir between each addition until the cheese is fully melted, and then continue to add the cheese.

Once the cheese is melted, stir in the Greek yogurt until creamy and well mixed. Stir in the remaining 1 tsp of Garlic salt and Italian seasoning and season with a pinch of pepper. If it's too thick, add the remaining pasta water.

Stir in the cooked tomatoes and pepperoni and DEVOUR.
Nutrition
Calories:
498
kcal
|
Carbohydrates:
47
g
|
Protein:
31
g
|
Fat:
20
g
|
Saturated Fat:
9
g
|
Cholesterol:
80
mg
|
Sodium:
1958
mg
|
Potassium:
371
mg
|
Fiber:
2
g
|
Sugar:
3
g
|
Vitamin A:
945
IU
|
Vitamin C:
8.5
mg
|
Calcium:
438
mg
|
Iron:
2.3
mg
LEAVE A COMMENT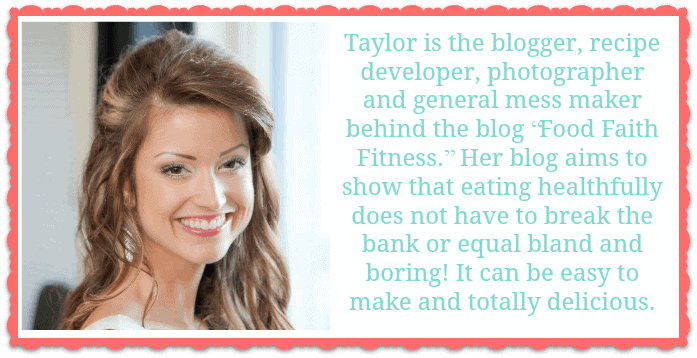 Connect with Taylor Here!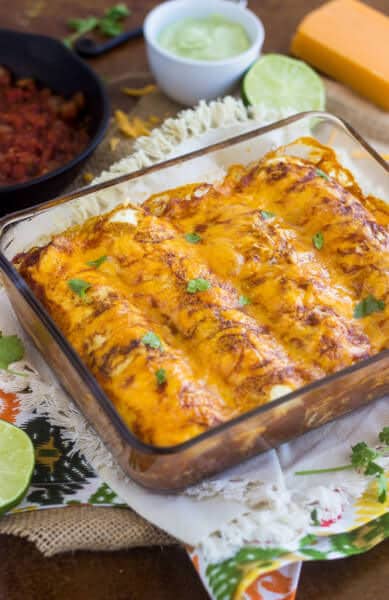 Skinny Chicken Enchiladas – A secret ingredient keeps these gluten free, protein packed and low carb without sacrificing ANY of the taste!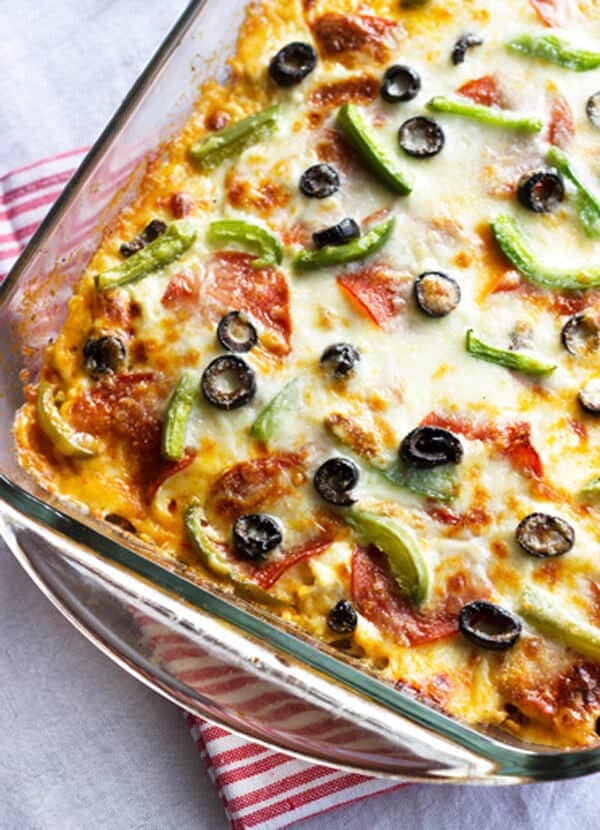 Turkey Zucchini Pizza Lasagna – Another recipe for two comfort foods in one – made skinny and low carb! This lasagna is always a crowd pleaser, and will even make the pickiest of eaters happy!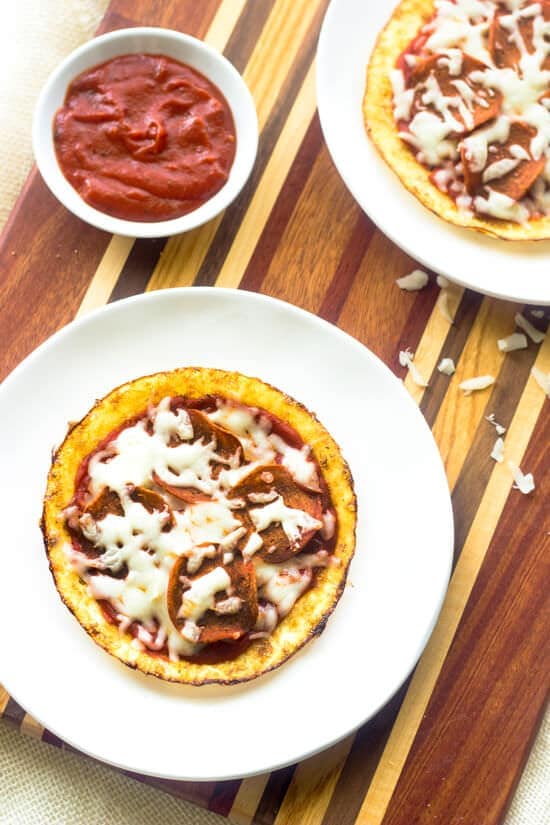 Low Carb Crustless Pizza – This low carb, crustless pizza is made out of egg whites and turkey pepperoni. It's quick, easy and only has 6 ingredients! You won't miss all the carbs, fat and calories!