Skinny Spiked Strawberry Lemonade ~ Delicious Strawberry Lemonade Recipe Sweetened with Truvia and Spiked with Strawberry Lemonade Vodka!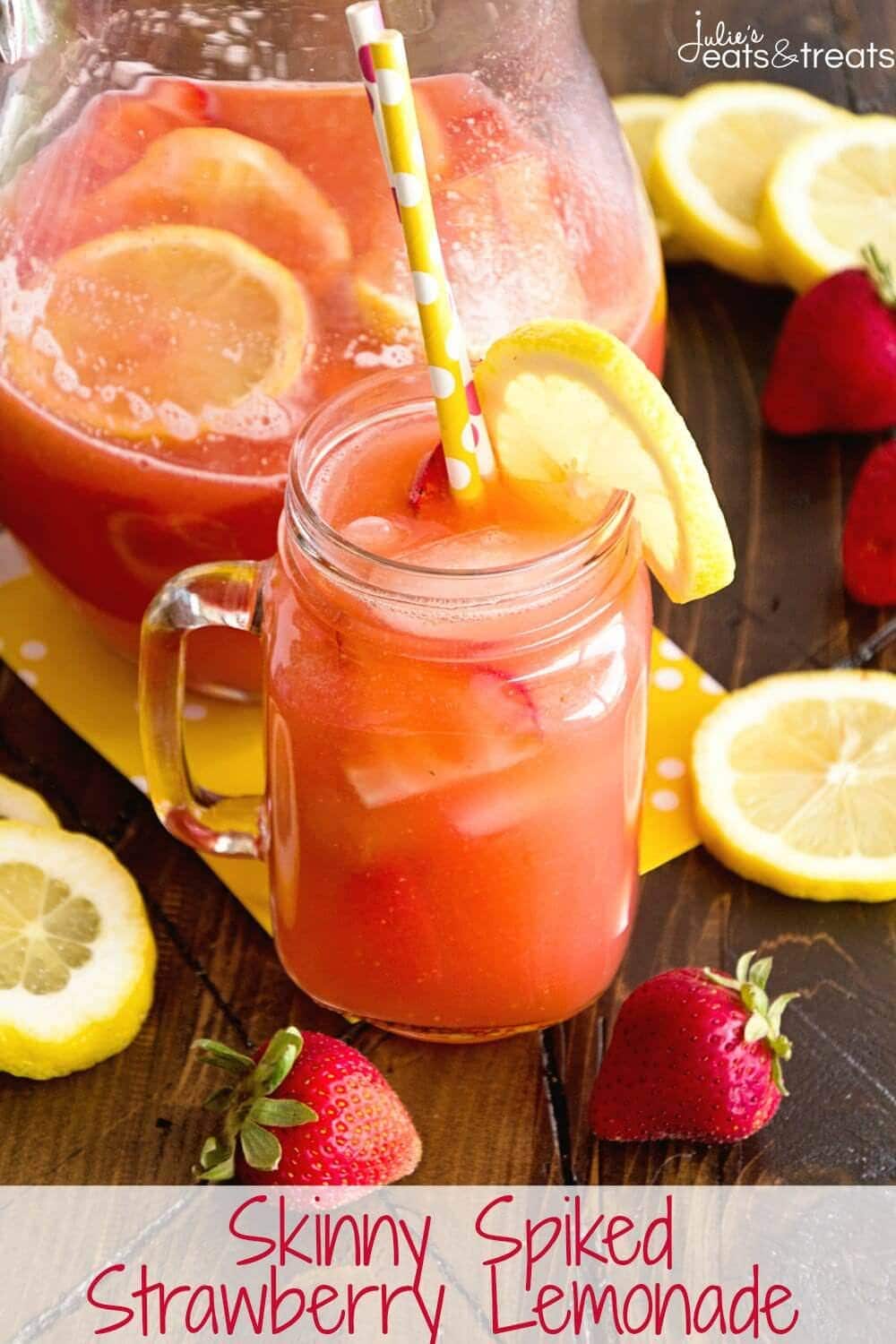 Butt in the sand, toes in the water, lemonade in your hand….
Wait, how's the song go? Something to that effect right? Sounds good to me. I'm dreaming of summer days with my butt in the sand, my toes in the water and this delicious Skinny Spiked Strawberry Lemonade in my hand that's for sure. What are you dreaming of this summer?
I tested this recipe one fine Saturday "morning". It was closer to noon but it's 5:00 somewhere right? My mom happened to be over so she got to taste test it with me also. Her eyes lit up and said I would never guess there was alcohol in here. That my friends could be signs of trouble so here's you warning!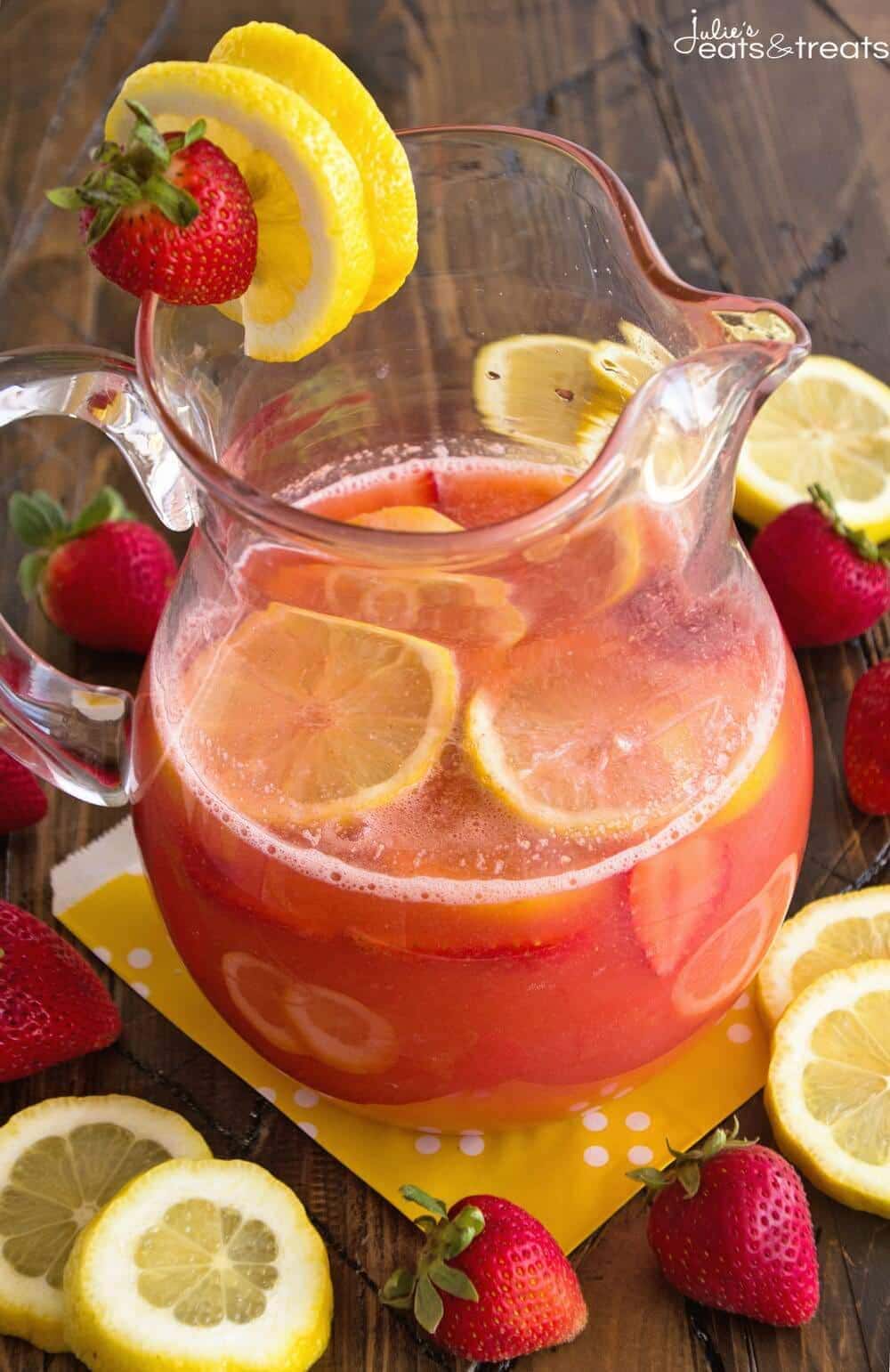 I then sent the rest of the batch out to my father-in-laws where the family was working on some landscaping. It was a pretty hot day and they came in for a snack in the afternoon this was sitting on the table. Apparently my brother-in-law didn't know it was "spiked" and took a big glass and slammed it. Then he said, wait, my stomach is tingling. Then everyone was like yes it's spiked. After their break they went back out to landscape and he hit his thumb with a rock and I'm pretty sure that he will blame it on this tasty lemonade forever. I, on the other hand, am pretty sure it would have happened either way but don't you tell him that!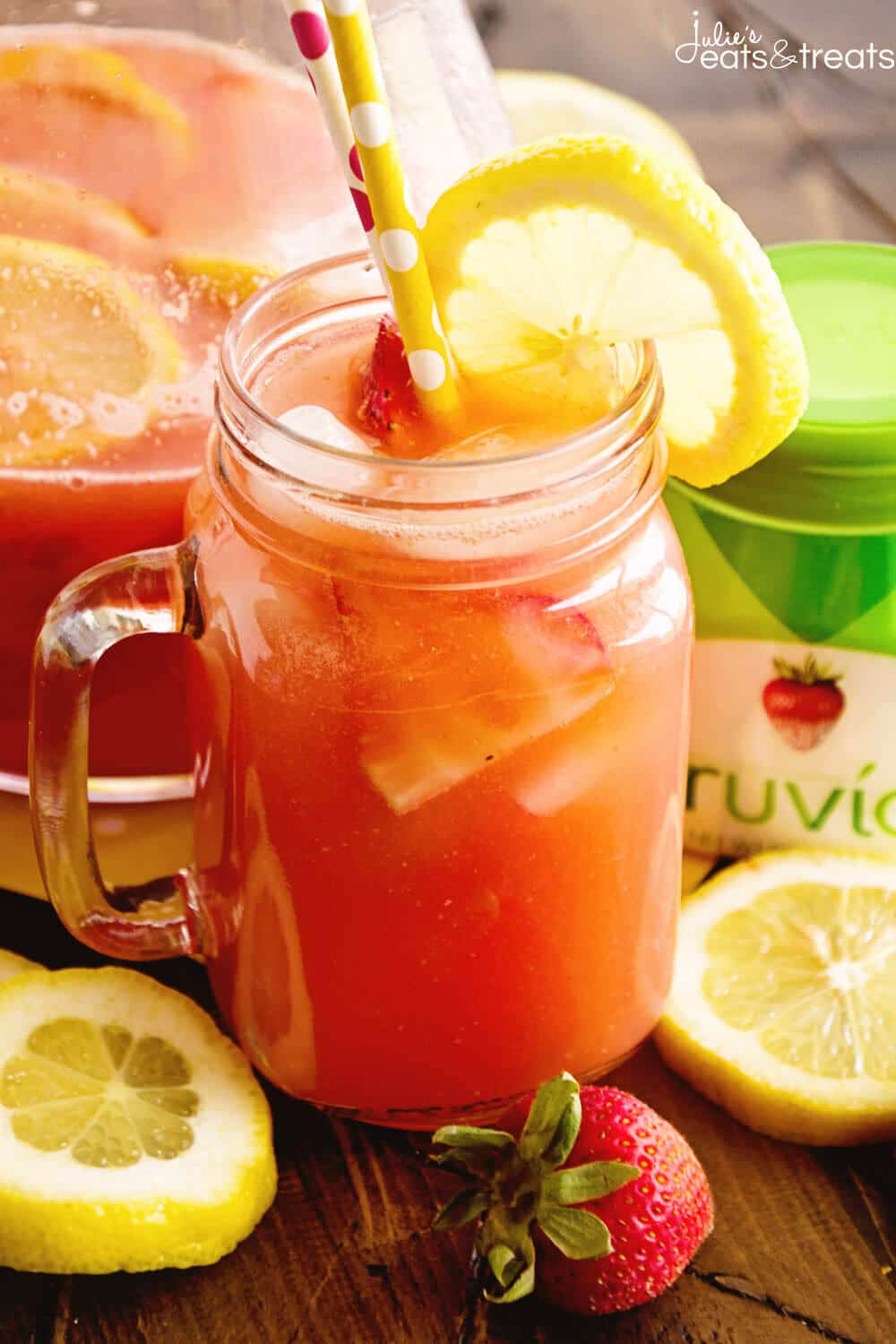 The best thing about this recipe is that it is totally easy to make. The thought of making my own lemonade had me a bit worried. It just sounded like a lot of work to squeeze lemons and chop up strawberries, but the result of the work makes it worth every single minute of effort and really it wasn't that much effort. Especially when you have this amazing blender to do all the work for you! Also, did you know if you microwave a lemon for 30 seconds they are much easier to squeeze and you get more lemon juice? It's saved my life many times!
I lightened this lemonade up using  zero-calorie Truvia® Natural Sweetener. My favorite secret ingredient because it helps me reduce the calories and sugar in this delicious treat while not sacrificing the flavor. Truvia® sweetener is natural, great-tasting sweetness that was born from the leaves of the stevia plant. This drink is fruity and refreshing which is perfect for a hot summer day!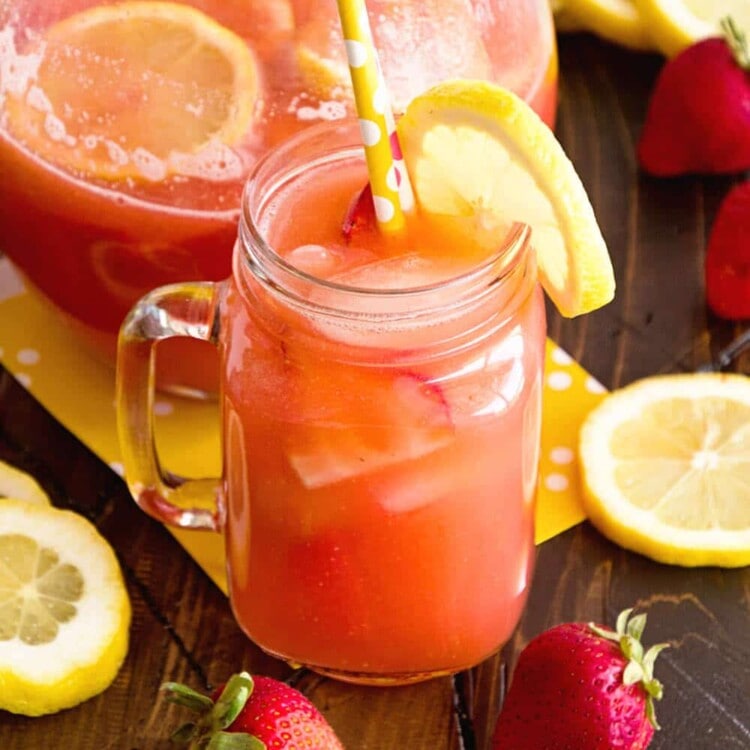 Spiked Strawberry Lemonade
Skinny Spiked Strawberry Lemonade ~ Delicious Strawberry Lemonade Recipe Sweetened with Truvia and Spiked with Strawberry Lemonade Vodka!
Ingredients
2

c.

chopped fresh strawberries

3 1/2

Tbsp

Truvia

1/2

c.

freshly squeezed lemon juice

4

c.

cold water

divided

1

c.

strawberry lemonade vodka
Instructions
Blend strawberries, Truvia, and 1 c. water on medium high 1 minute or until strawberries are completely pureed. If you prefer no pulp strain mixture through fine mesh sieve.

Combine puree and remaining ingredients. Stir well, chill. Serve over ice.
Nutrition Information
Calories:
120
kcal
(6%)
,
Carbohydrates:
7
g
(2%)
,
Sodium:
9
mg
,
Potassium:
140
mg
(4%)
,
Fiber:
1
g
(4%)
,
Sugar:
4
g
(4%)
,
Vitamin A:
10
IU
,
Vitamin C:
54
mg
(65%)
,
Calcium:
17
mg
(2%)
,
Iron:
0.3
mg
(2%)
Things You Might Need for This Recipe!
Craving More Beverages?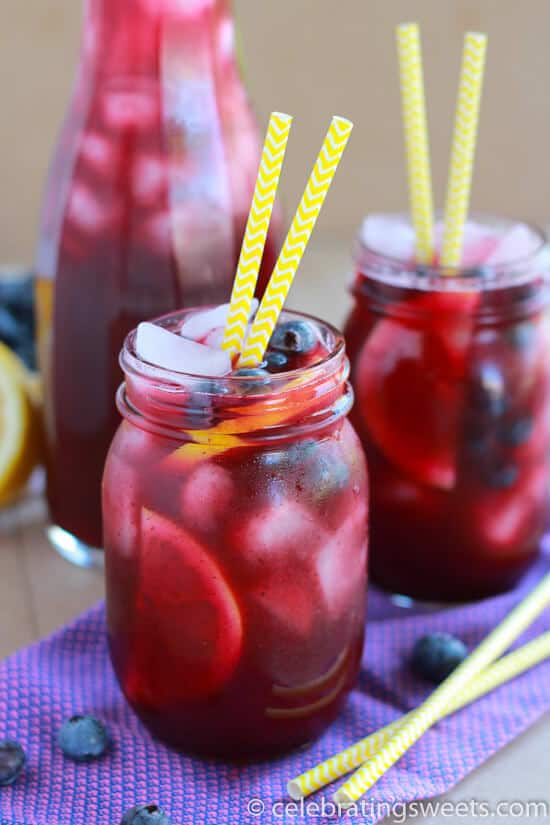 Blueberry Lemonade – A light and refreshing homemade blueberry lemonade!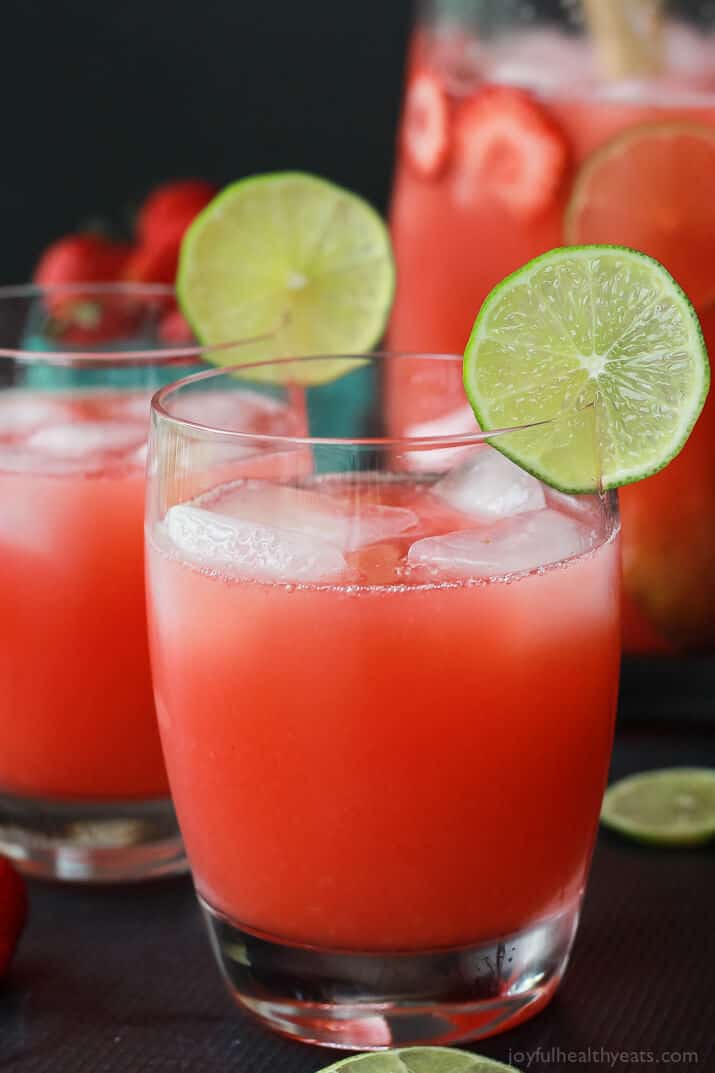 Fresh Strawberry Limeade made with 5 ingredients and done in 5 minutes!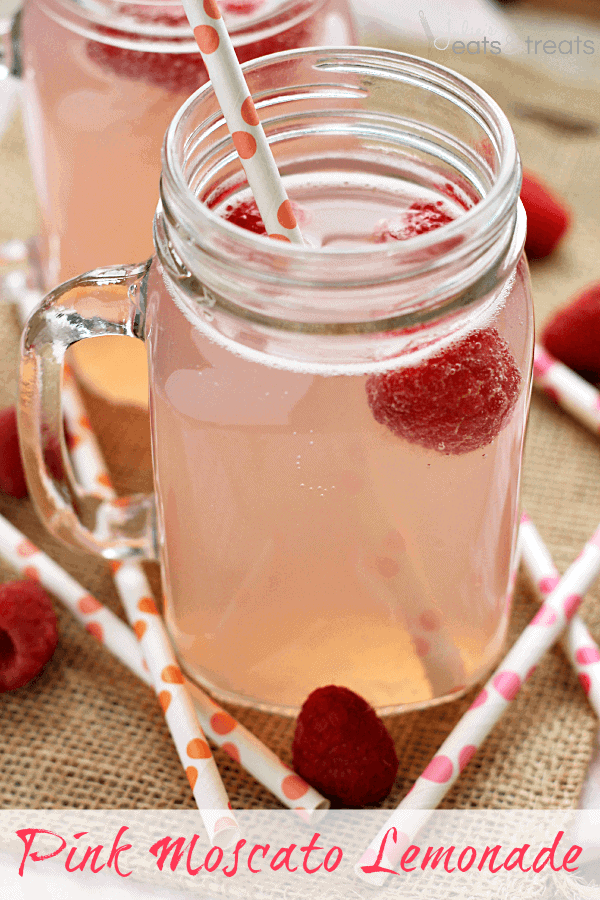 Pink Moscato Lemonade ~ Pink Lemonade spiked with Moscato, Loaded with Raspberries and Bubbly!