S'mores Bars ~ Now You Can Have a S'more Whenever You Want! These Delicious S'mores Bars Are Full of Graham Crackers, Marshmallows and Chocolate! Ooey, Gooey and Delicious!
*Pictures updated 7/10/16
What a day yesterday was! Among many other activities I successfully used a whole pound of butter. Don't worry my arteries won't be too clogged as I gave a lot of food away. My niece stayed with us on Friday. I was more than happy to have her for the night because we haven't had much "girl" time lately. Friday night we spent at the Relay for Life event in our county. We raised about $65,000 at our event, which we are very proud of!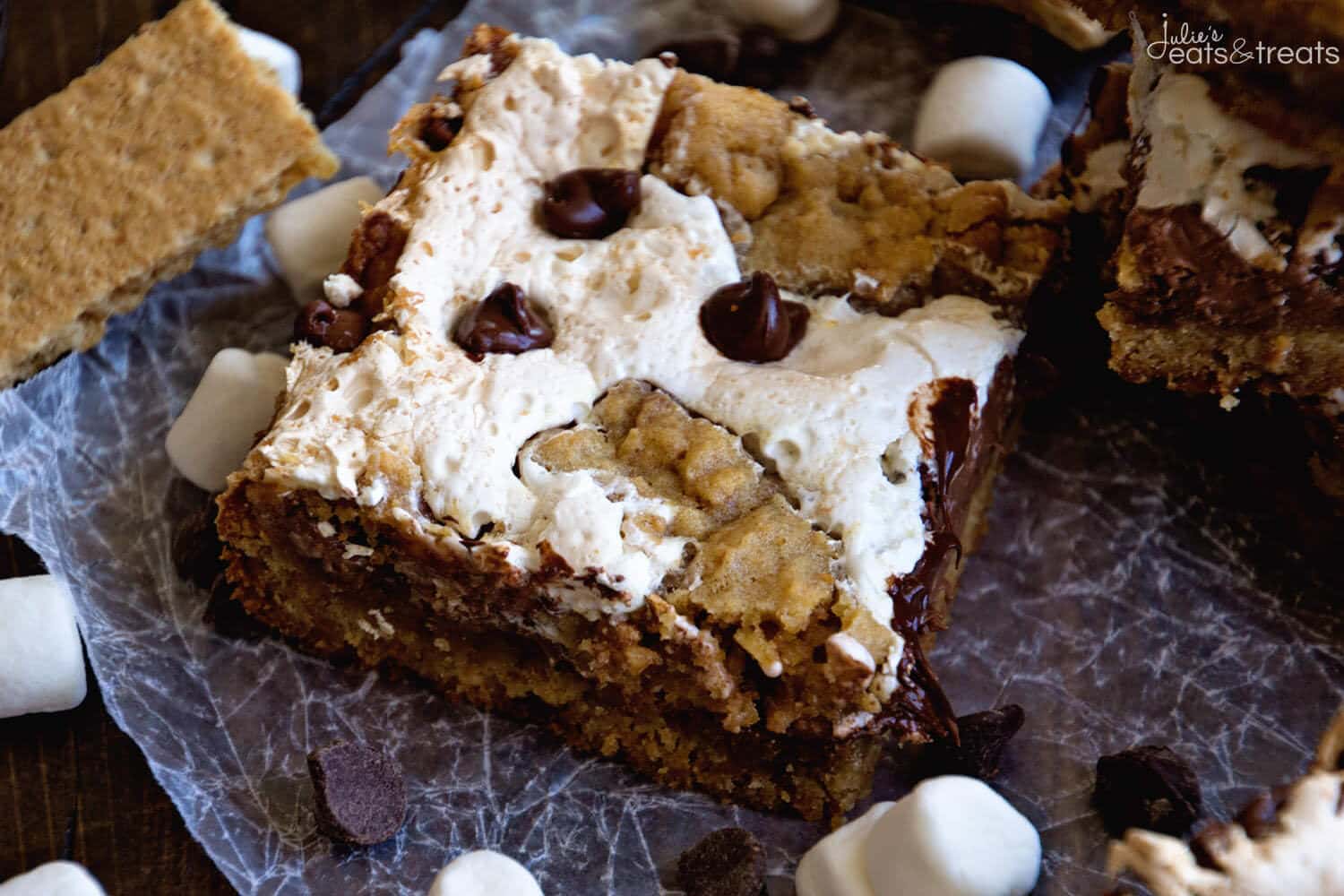 We woke up on Saturday morning and were off to a baby shower for the hubby's cousin. After that we went and picked up my mom's kitty for the weekend. It's mom abandoned it and my mom has been feeding it. I volunteered to take care of it for the weekend while they went out of town (I had a weak moment as I am not a cat lover!). Then we were back at home and the baking and cooking madness started. We started off by making
Salted Nut Roll Bars
and
Spasanga
to take out to my friend aka the crazy lady in the grocery store who just had a baby last week. Her hubby's fave candy bar is Salted Nut Roll Bars, although I debated making these
bars
because they are so delicious, and I had already teased her about Spasanga so I figure it was fitting to treat them to this!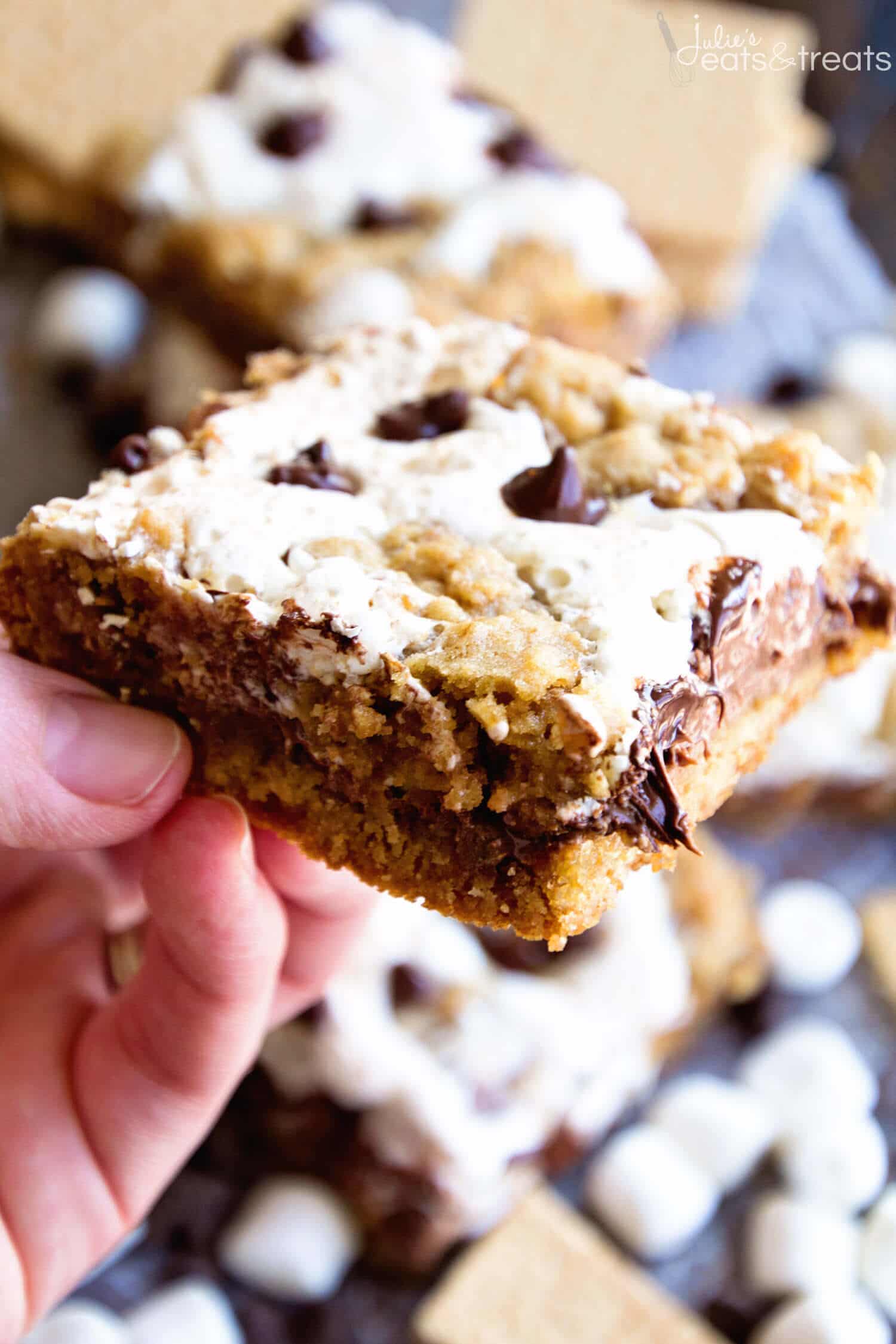 We finished up the kitchen duties with S'mores bars. My niece picked out this recipe I had been waiting to try and it was a hit. We made up a plate of both bars to bring to her parents and her mom texted me that I was her fave sister-in-law as she had been craving the Salted Nut Roll bars since I previously posted them. I politely reminded her that I was her only sister-in-law so I better be her fave! I have been seeing various S'mores bars floating around the blog world and finally tried them. They are delicious and if you are craving a S'more in the middle of the winter (I'm a bit ahead of myself here but still…) this would be a perfect treat! My hubby even said they were pretty dang good and he doesn't even like S'mores. I did half peanut butter chips on one side and the other side of the pan chocolate chips. Both got great reviews! Enjoy!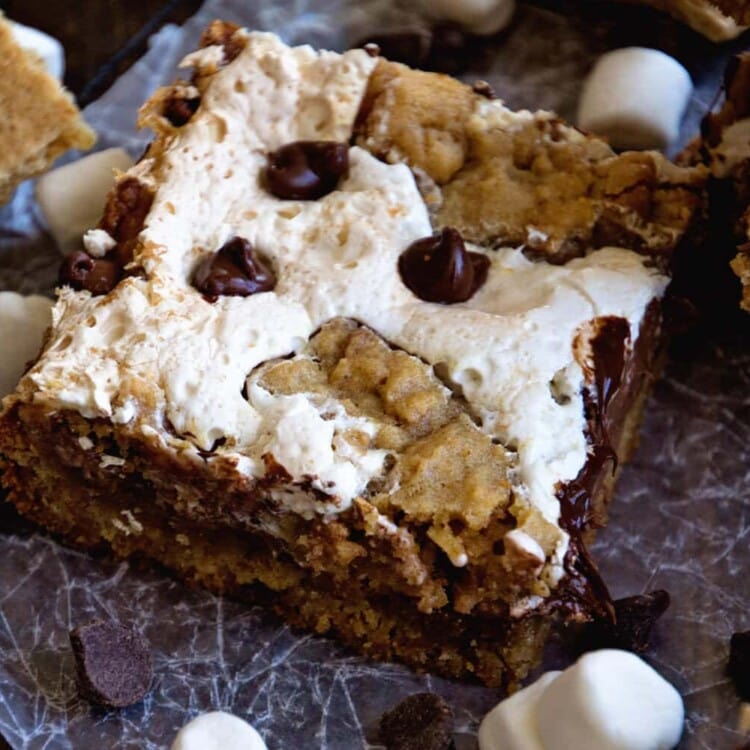 S'mores Bars Recipe
Now You Can Have a S'more Whenever You Want! These Delicious S'mores Bars Are Full of Graham Crackers, Marshmallows and Chocolate! Ooey, Gooey and Delicious!
Ingredients
2

c.

flour

2.

c

graham cracker crumbs

1

tsp

baking powder

1

c.

butter

room temperature

1 ½

c.

packed brown sugar

2

eggs

2

c.

marshmallow fluff

1 ½

c.

semi sweet chocolate chips
Instructions
Preheat oven to 350 degrees. Spray 9×13 in pan with non stick spray.

In a bowl whisk together, flour, graham cracker crumbs and baking powder. In a separate bowl beat butter and sugar until light and fluffy, about 2 minutes. Beat in eggs. On slow, beat in flour mixture, adding up a little at a time.

Divide dough in half and spread into the pan. Top with marshmallow mixture. Sprinkle 1 cup chocolate chips on top. Scatter remaining dough on top and sprinkle remaining 1/2 cup of chocolate chips on top.

Bake for 30-35 minutes. Take out and cool. They cut easier if they are refrigerated for a little while!
Nutrition Information
Serving:
1
,
Calories:
590
kcal
(30%)
,
Carbohydrates:
97
g
(32%)
,
Protein:
6
g
(12%)
,
Fat:
20
g
(31%)
,
Saturated Fat:
12
g
(75%)
,
Cholesterol:
56
mg
(19%)
,
Sodium:
209
mg
(9%)
,
Potassium:
122
mg
(3%)
,
Fiber:
1
g
(4%)
,
Sugar:
60
g
(67%)
,
Vitamin A:
465
IU
(9%)
,
Vitamin C:
0.2
mg
,
Calcium:
86
mg
(9%)
,
Iron:
2.4
mg
(13%)