Speedy Cinnamon Rolls with Caramel Frosting
It's time for another Secret Recipe Club reveal today! If you aren't familiar with the club I'll fill you in. We get assigned someone else's blog and we have to go to that blog and pick a recipe and try it. Then we write up a blog post on their recipe and reveal them on the same day. It's pretty fun and it's always exciting to try a new recipe and see who has your blog!
This month I was assigned A Tale of One Foodie's Culinary Adventures. I of course went and checked out the recipes right away and had to look at every single recipe on the blog to make sure I picked the right one. When I saw the recipe for Speedy Cinnamon Rolls I knew I just had to try it. You see I love cinnamon rolls but I'm not a big fan of all the work that goes along with making them. In fact, I've never made them because it scares me. When I saw this recipe and how it didn't even call for yeast I knew I had to try it. We weren't disappointing at all. They were super simple and very yummy.
I adapted the recipe a bit and threw some apples in because it's fall and I was in the mood for some "fall" cinnamon rolls. They were awesome with apples in them. The rolls also didn't have any frosting on them and well I'm a frosting kind of girl and had to put some on my cinnamon rolls so I made a cream cheese frosting and added some caramel into it. Yummy! So if you are looking for a quick and easy cinnamon roll recipe here it is. Feel free to adapt it how you like!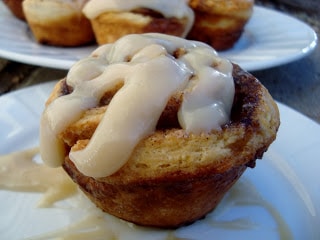 Speedy Cinnamon Rolls
Printer Friendly Recipe
Ingredients
3 1/4 c all purpose flour
3 Tbsp granulated sugar
2 1/2 tsp baking powder
1/2 tsp salt
1 c. buttermilk (I used a cup of vanilla yogurt)
1/2 c. whipping cream (I used milk)
1/3 c. butter, melted and cooled slightly
1/4 c. butter, softened
1/4 c. packed brown sugar
1/4 c. sugar
2 tsp cinnamon
1 apple, peeled and chopped
Caramel Frosting
4 oz. cream cheese
1 tbsp. unsalted butter
3 tbsp. caramel sauce
1 tbsp. milk
½ tsp. vanilla extract
1 cup powdered sugar
1. Preheat oven to 400 degrees.
2. In a mixing bowl combine the flour, sugar, baking powder and salt. In another bowl whisk the buttermilk, cream and melted butter. Add the liquid to the dry ingredients and stir until combined. Don't worry if it doesn't look like it's going to come together. Use your hands to kneed the dough until it comes together. If it seems a little sticky add some flour.
3. Roll out the dough on a floured surface using  rolling pin. You want the dough to be about 18 x 10 inches. Spread the dough with softened butter. Combine the brown sugar, sugar and cinnamon. Spread over dough evenly. If you want to add the apples add them now.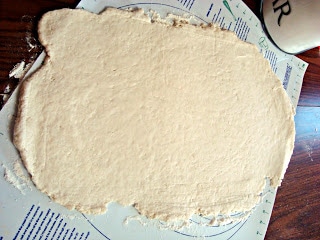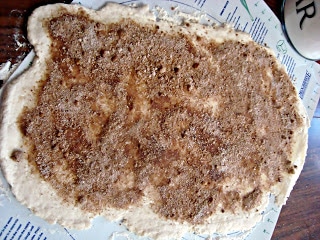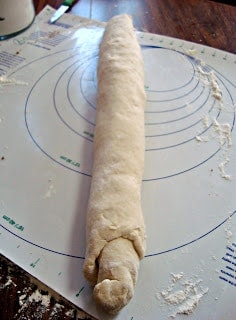 4. Starting with the long end roll the dough as tightly as you can. It's a little tricky if you have the apples in the there. Pinch the seam to seal and place the roll, seam-side down, on the counter. Cut the dough into 12 pieces using a sharp knife.
5. Pick up the slices and place in a greased muffin pan.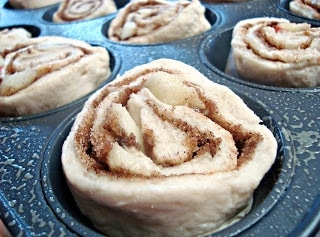 6. Bake for 25 minutes or until golden brown.
7. While the rolls are baking make your frosting. Combine the cream cheese and butter in a microwave safe bowl. Microwave in 15-20 second intervals until you can whisk the mixture together. Whisk in caramel sauce, milk and vanilla until smooth. Whisk in the powdered sugar until smooth. Drizzle over rolls.