Stitch Fix Review August 2015 ~ Personalized Stylists Pick Out a Selection of Five Clothing Items or Accessories and Ship it to Your Doorstep!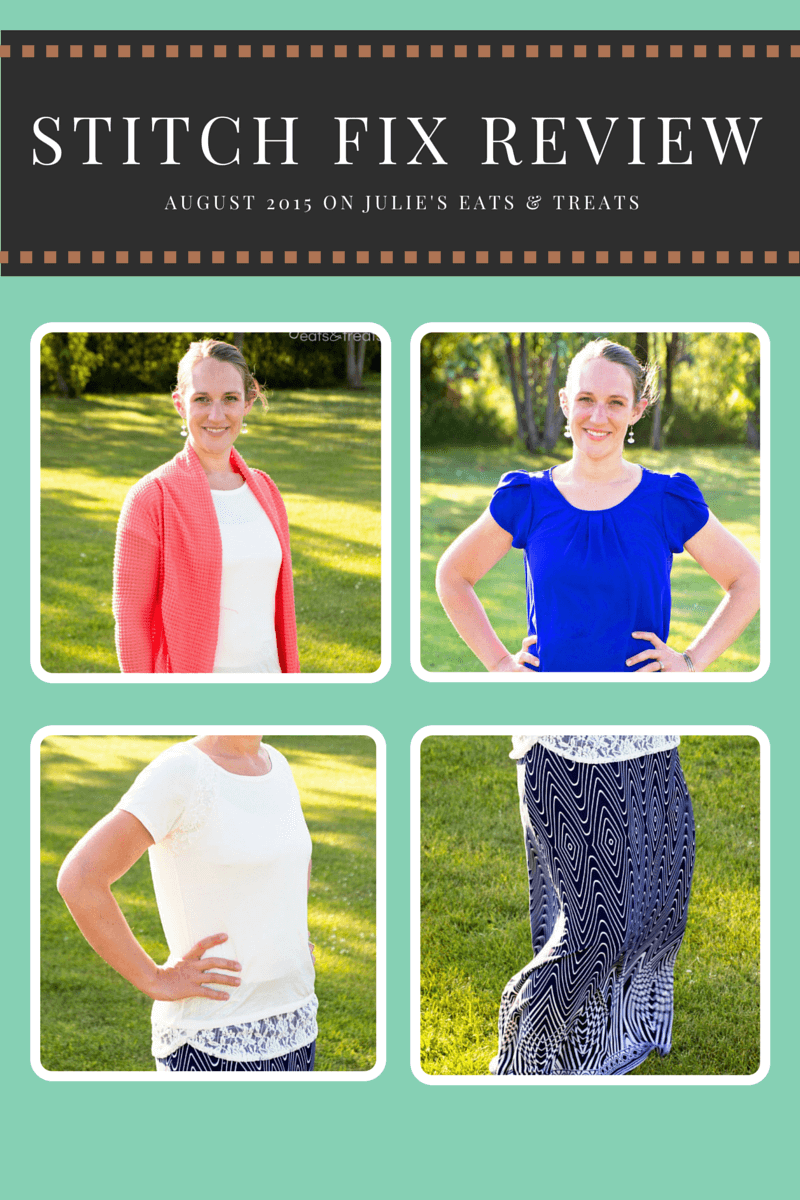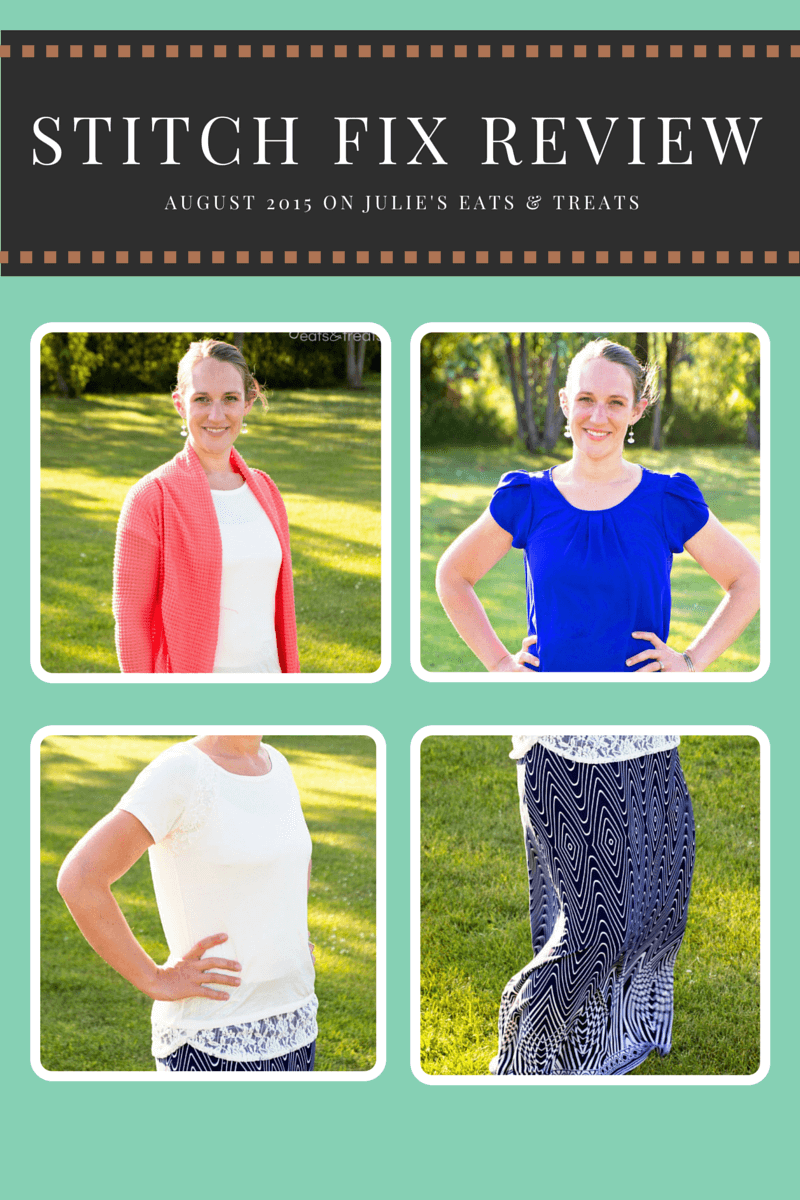 WHAT IS STITCH FIX?
First of all let's discuss exactly what Stitch Fix is. When you sign up you are asked to fill out a style profile, where you specify your sizes, price range, shapes, styles and if you prefer colors or patterns. You can also provide a link to a Pinterest board like my Stitch Fix Board where I pin fashion that draws my eye. This helps your personal stylist that is assigned to you get an idea for what your fashion taste is. This is actually my second fix. I tried it a year ago and I wasn't very impressed but decided to give it another try. This time I built a Pinterest board, updated my style profile and gave them more direction. This time I made sure to tell them that I had went down a size (YAY) and if this ran small then they probably wouldn't work and I would need the size up.  Taking this extra time paid off and they really got what I was looking for. My advice to you is to get the most out of Stitch Fix you really need to put in a little time and give them some direction. It pays off!
When you sign up for Stitch Fix you will pick a date that you want your fix shipped. In your fix you will receive 5 items which includes clothing and accessory items that are hand-picked based on your style profile by your personal stylist. You can either schedule one delivery or sign up for automatic monthly or semi-monthly fixes. You are charged a $20 styling fee for each box, which also includes delivery and return. The styling fee will be applied as credit towards anything you keep from your box.
After your items arrive you will have 3 days to try on all of your items and decided what to keep and what to send back. Then you log on to your account and tell them what you are keeping and what you are returning. Then check out to pay for the items. You will also be asked to leave feedback on the each item telling them if the fit, style and price was right. There is also a comment section where you can provide feedback for your stylist. Then return the items in a prepaid mailing bag that comes in the fix shipment. If your purchase all five items you will receive a 25% discount. That's it!
Check Out My Latest Stitch Fix Reviews!

MY OTHER RECIPES
August 2015 Stitch Fix Box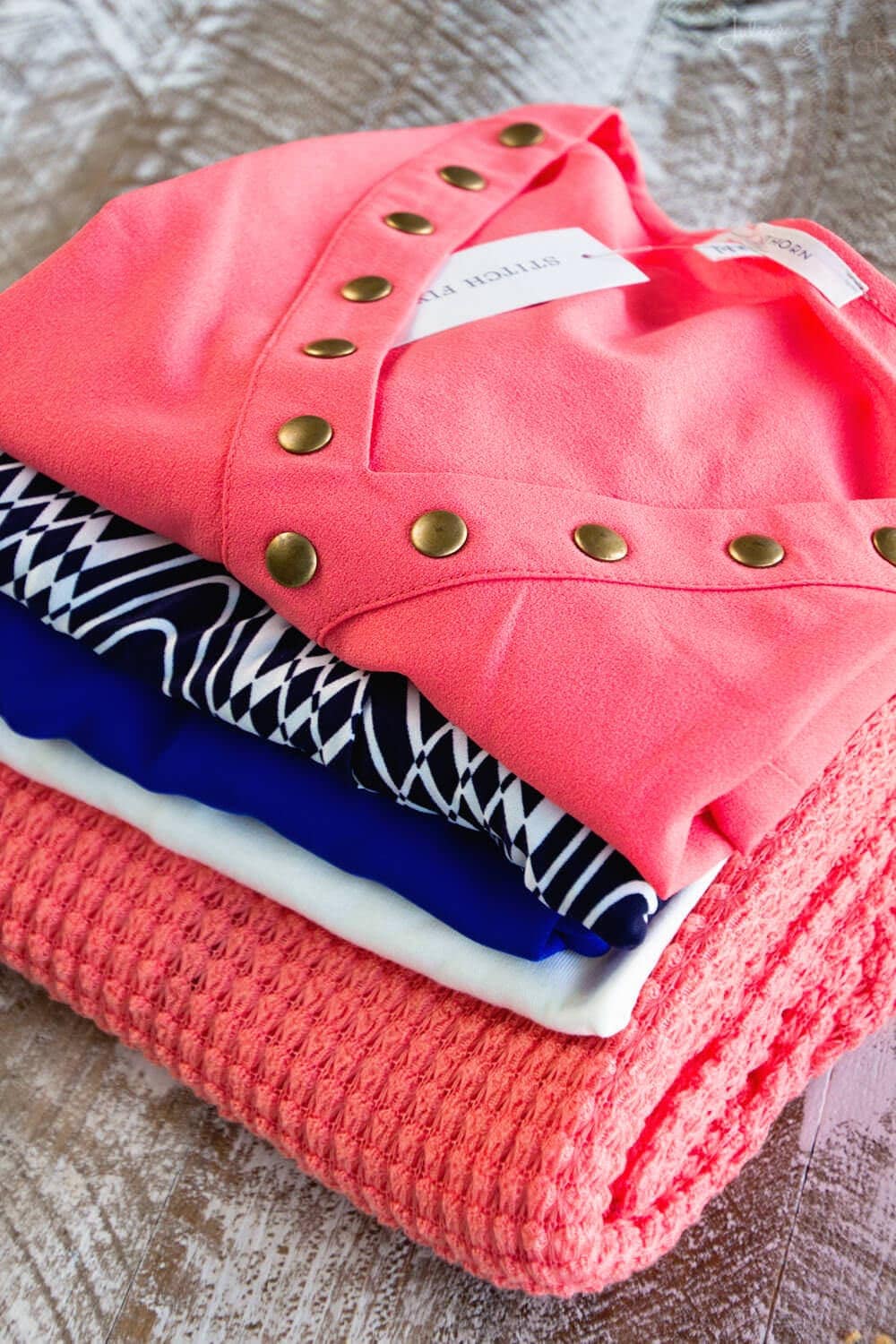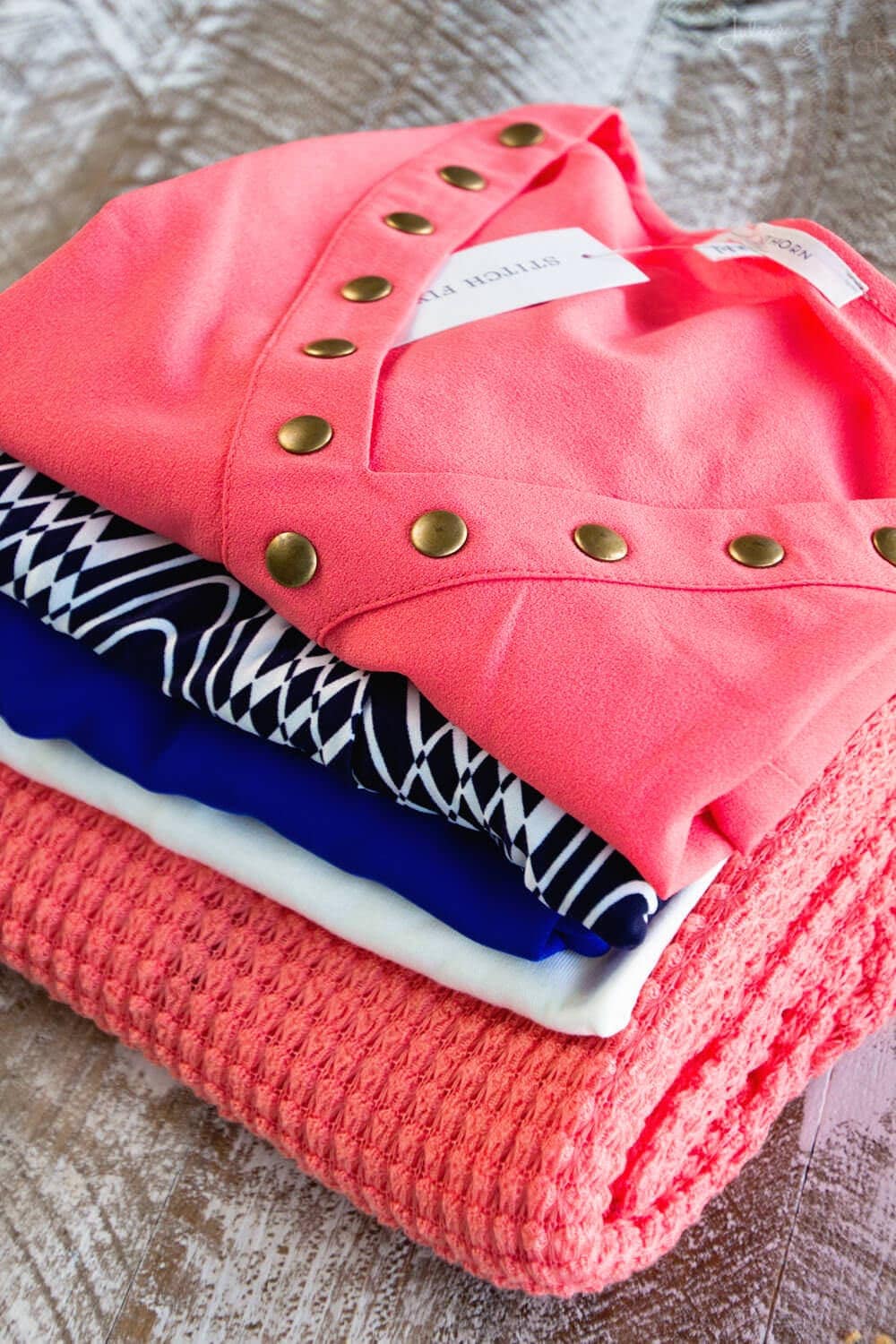 I'm like a little girl on Christmas when I see the "Fix" box sitting on my doorstep when I get home from work. I can't wait to dig in and see what I'm going to be surprised with! After July's fix I was a little nervous because things did not go well and I had to return everything. I was super disappointed and if it happened again I didn't know if I would order again. I may have held my breath when I opened the box and went to try on the items!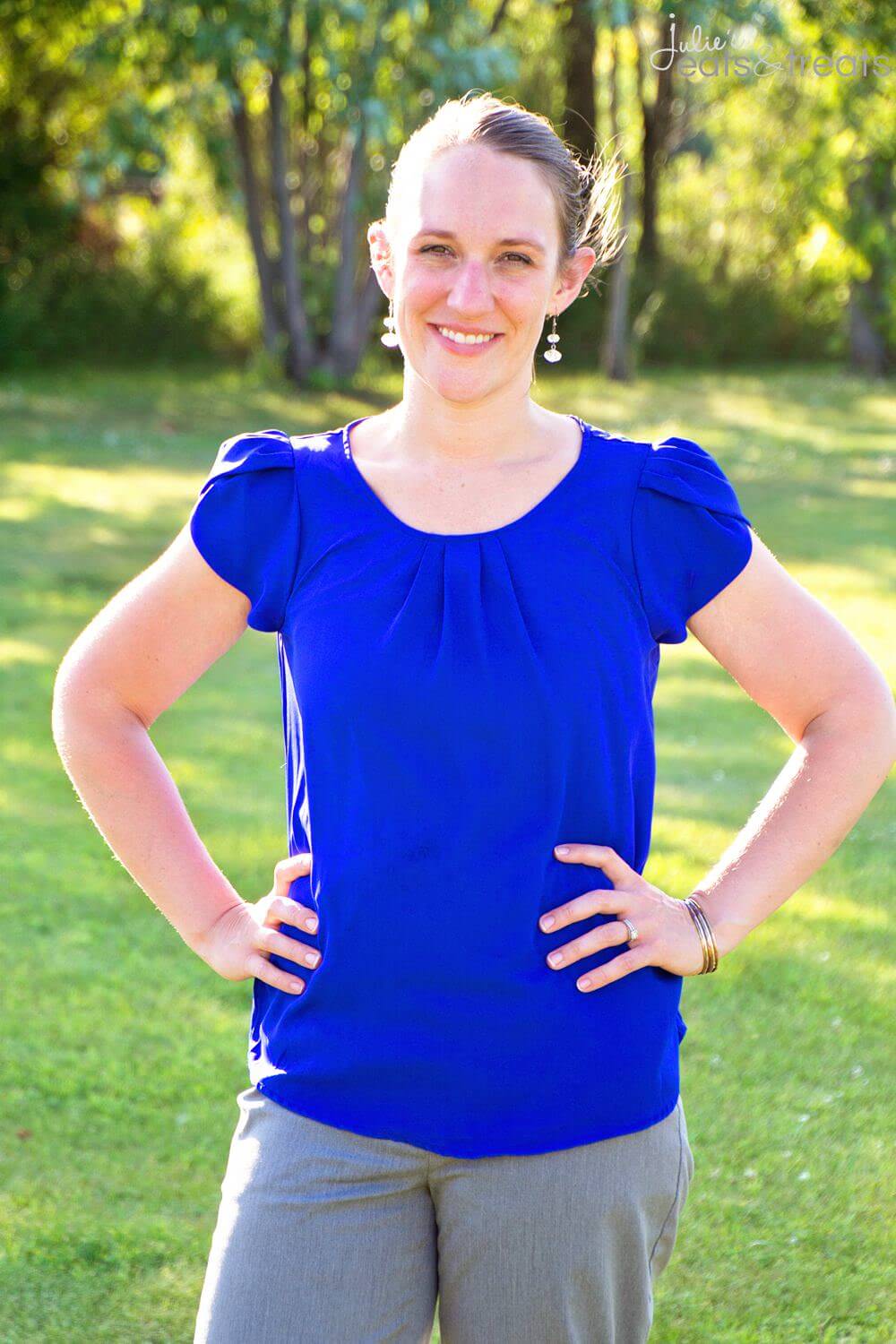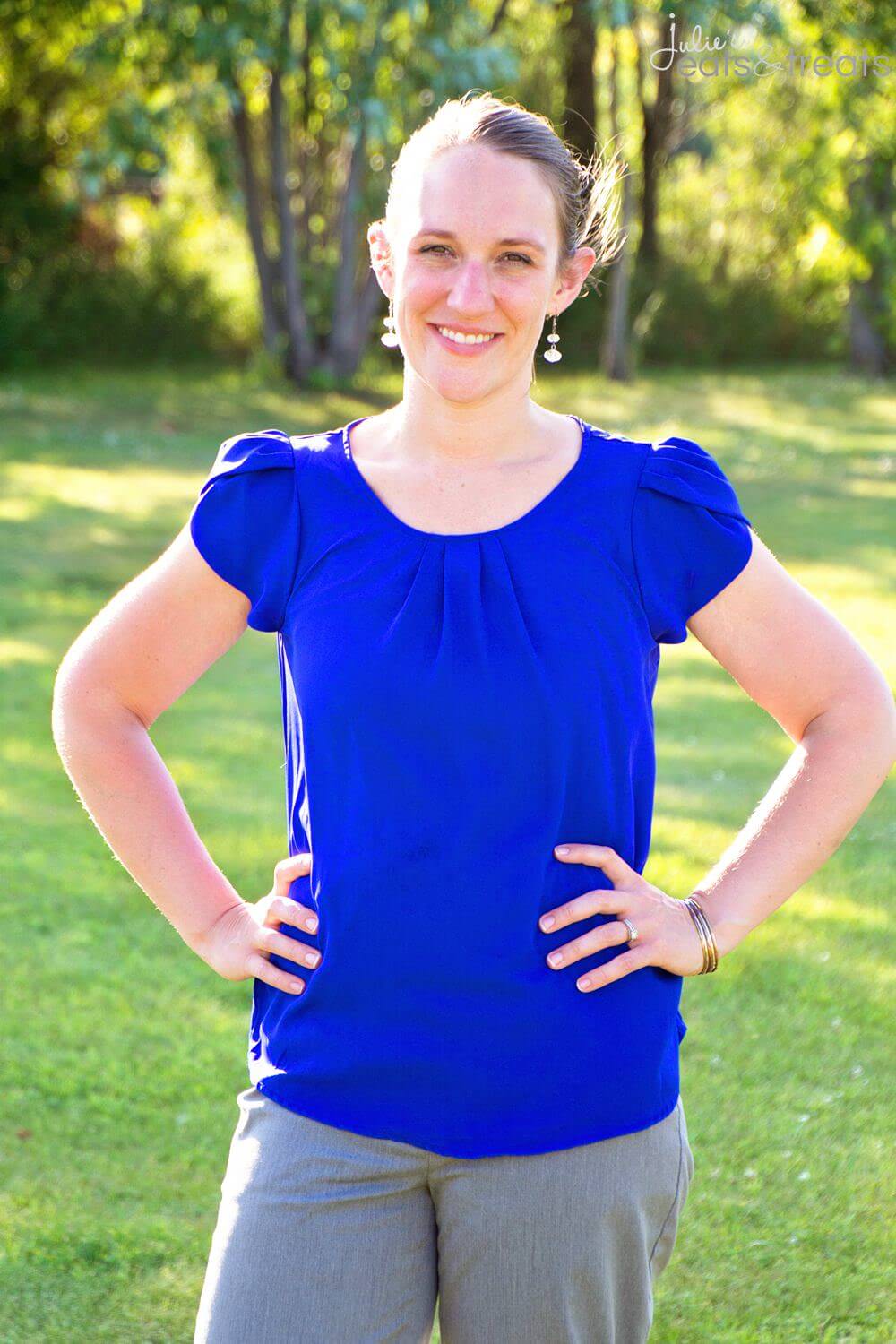 Bastille Tulip Sleeve Blouse ~ $38.00
This top is so cute! I knew I had to keep it. It hides my middle section for those days you are feeling just a little bit uncomfortable with that section and don't want something clingy to that area. We all have those right? I was a little apprehensive about the Tulip Sleeves. They kind of reminded me an '80s shirt with shoulder pads, but I took a chance and kept it hoping I wouldn't regret it. I've already wore it several times and I don't regret it at all. Except that one time when a guy at work asked me if my shirt had shoulder pads. I may have second guessed it then but I'm totally over it now!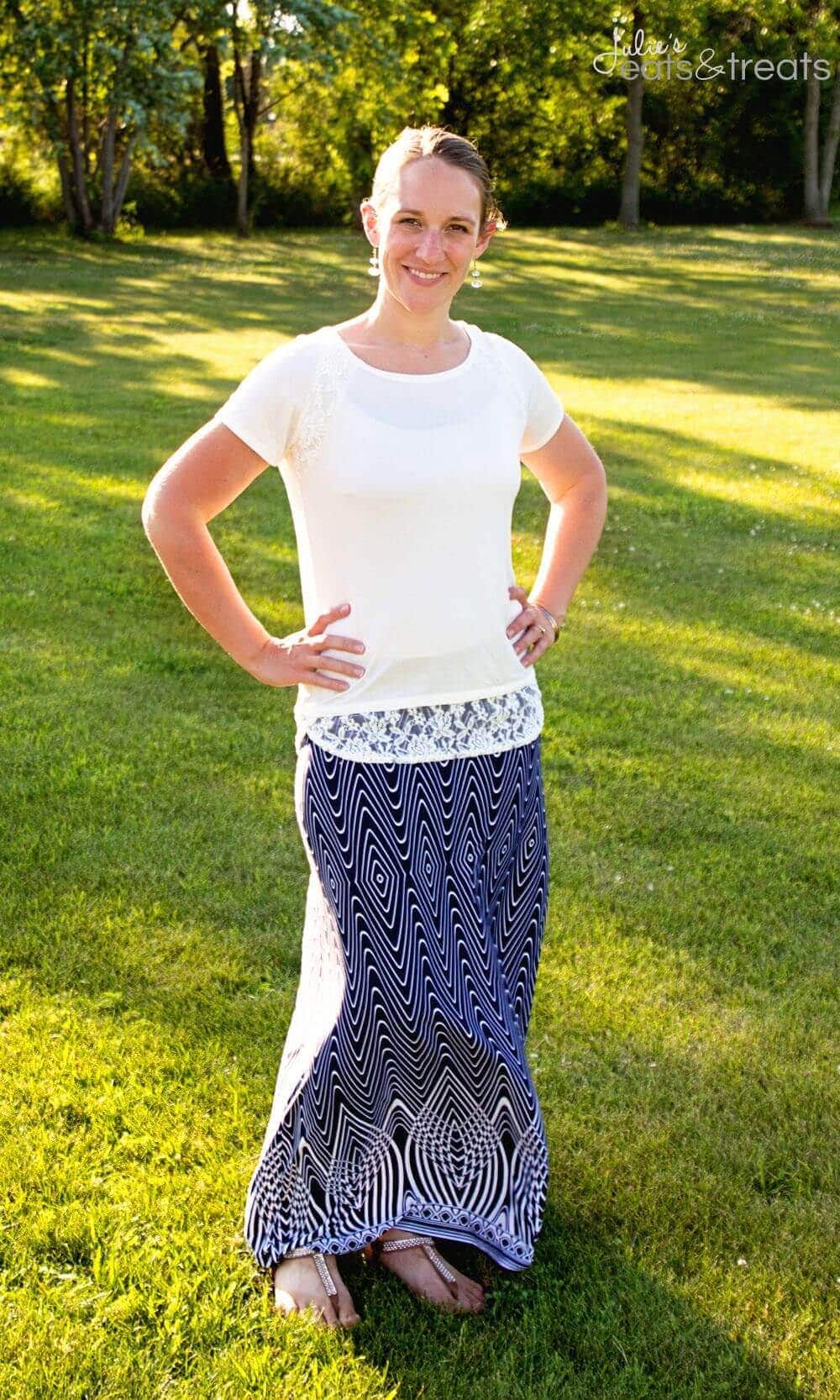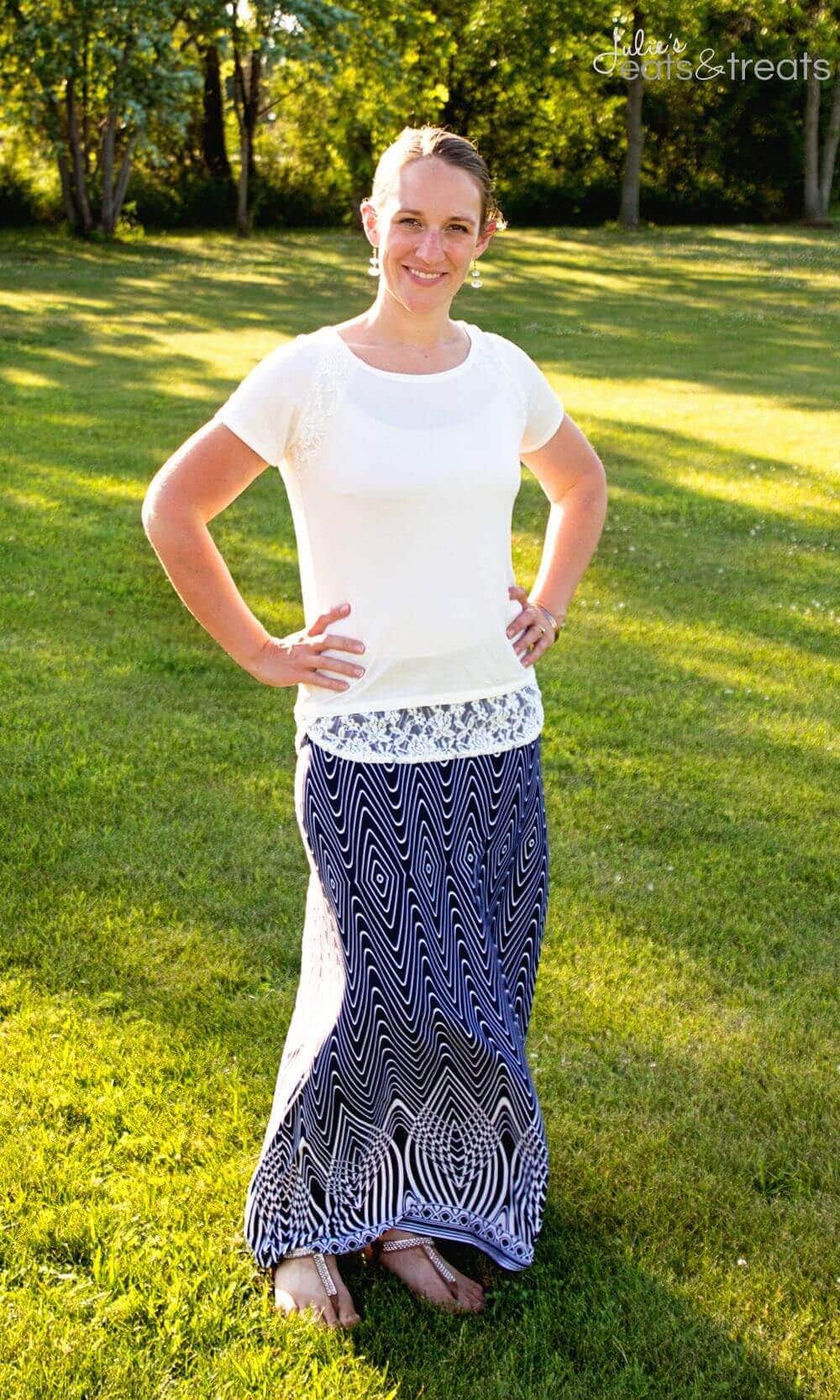 Love and adore this cute and adorable outfit!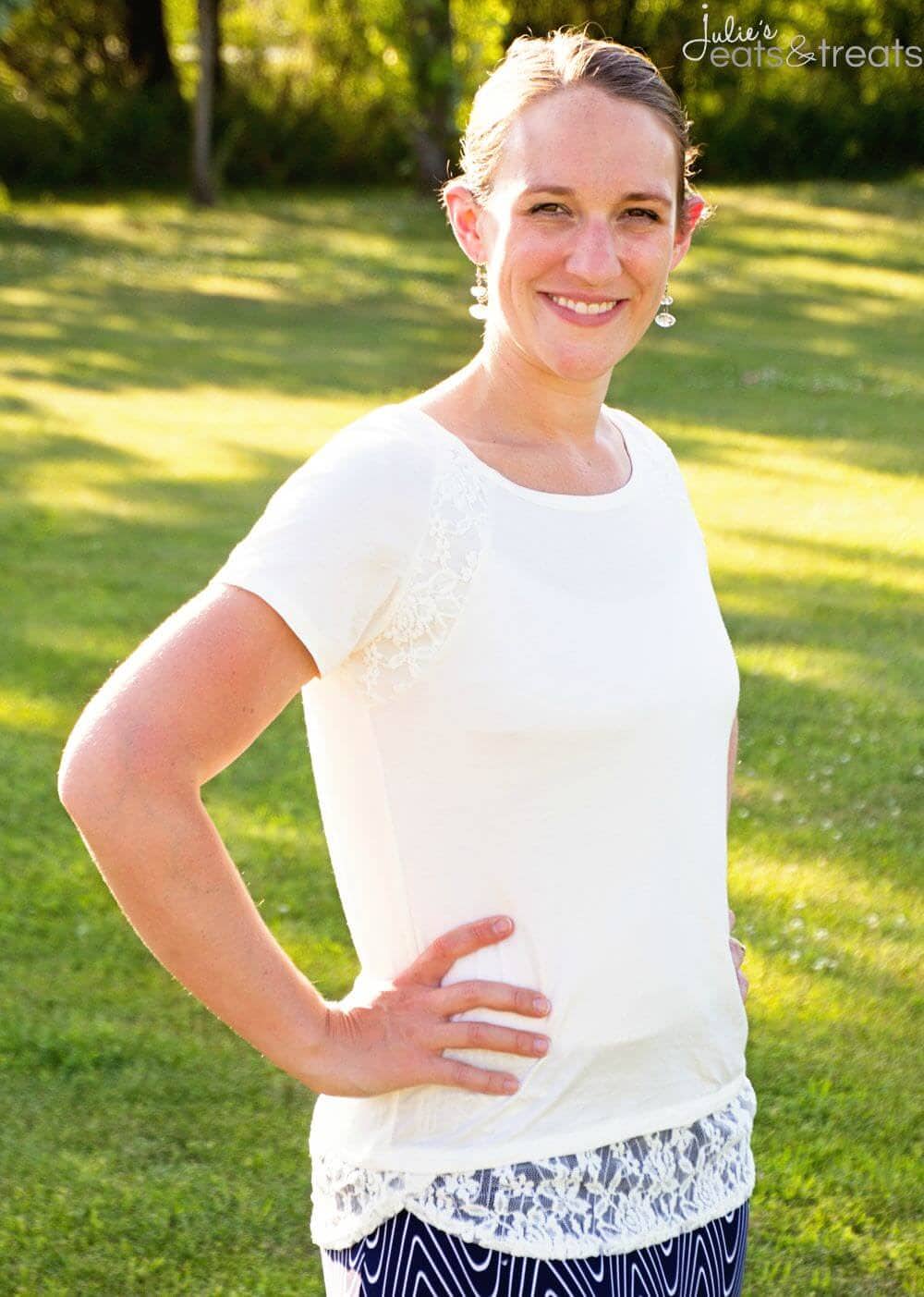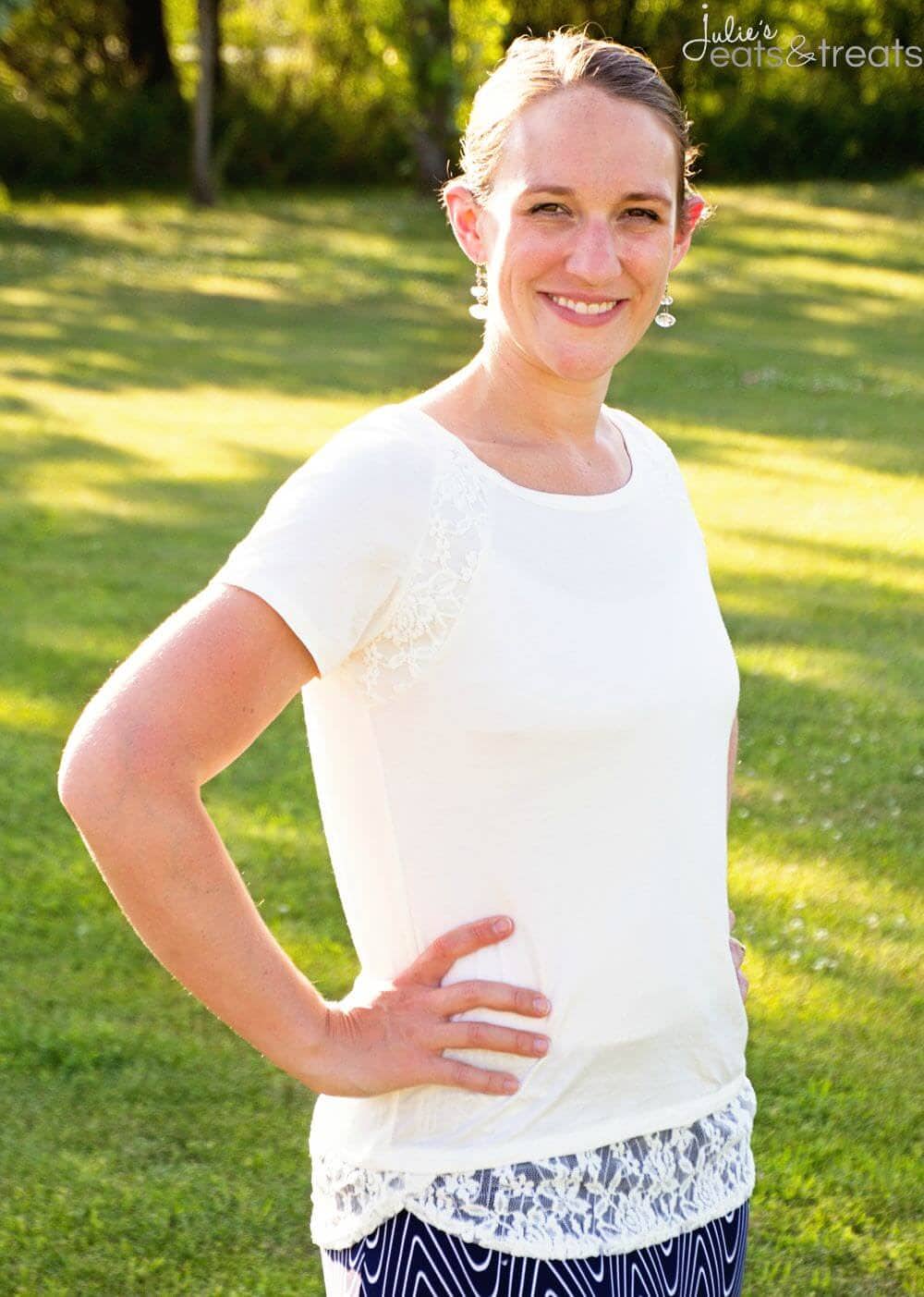 Kaiya Lace Detail Tee ~ $44.00
This top is so fun! I love that it has that little bit of detail that totally takes it over the top. Everyone needs a good white shirt because they are so versatile. I needed on anyways as I don't really have one. The lace detail on the bottom and right by the sleeves makes it totally cute and feminine! Keeper in every way!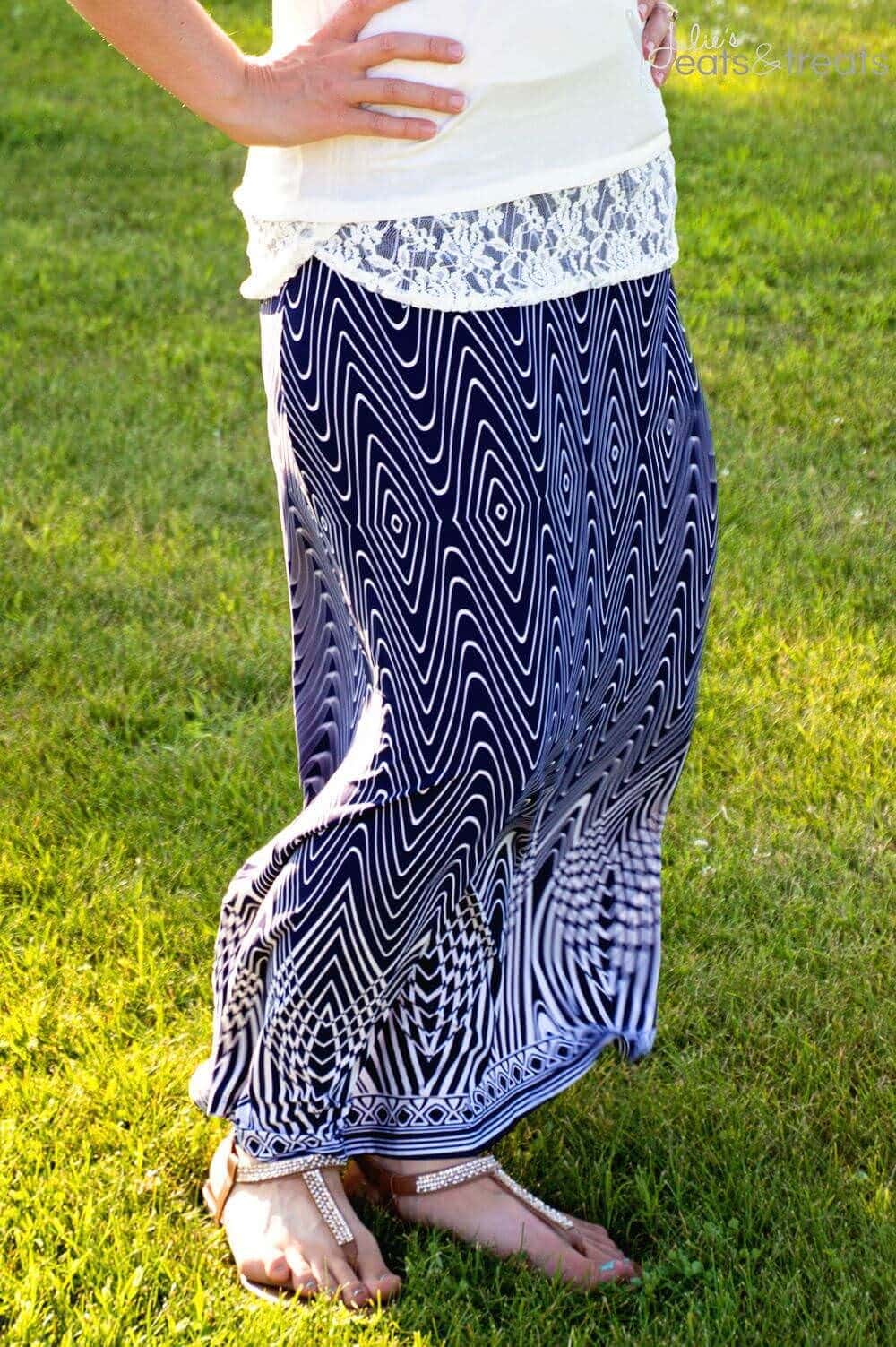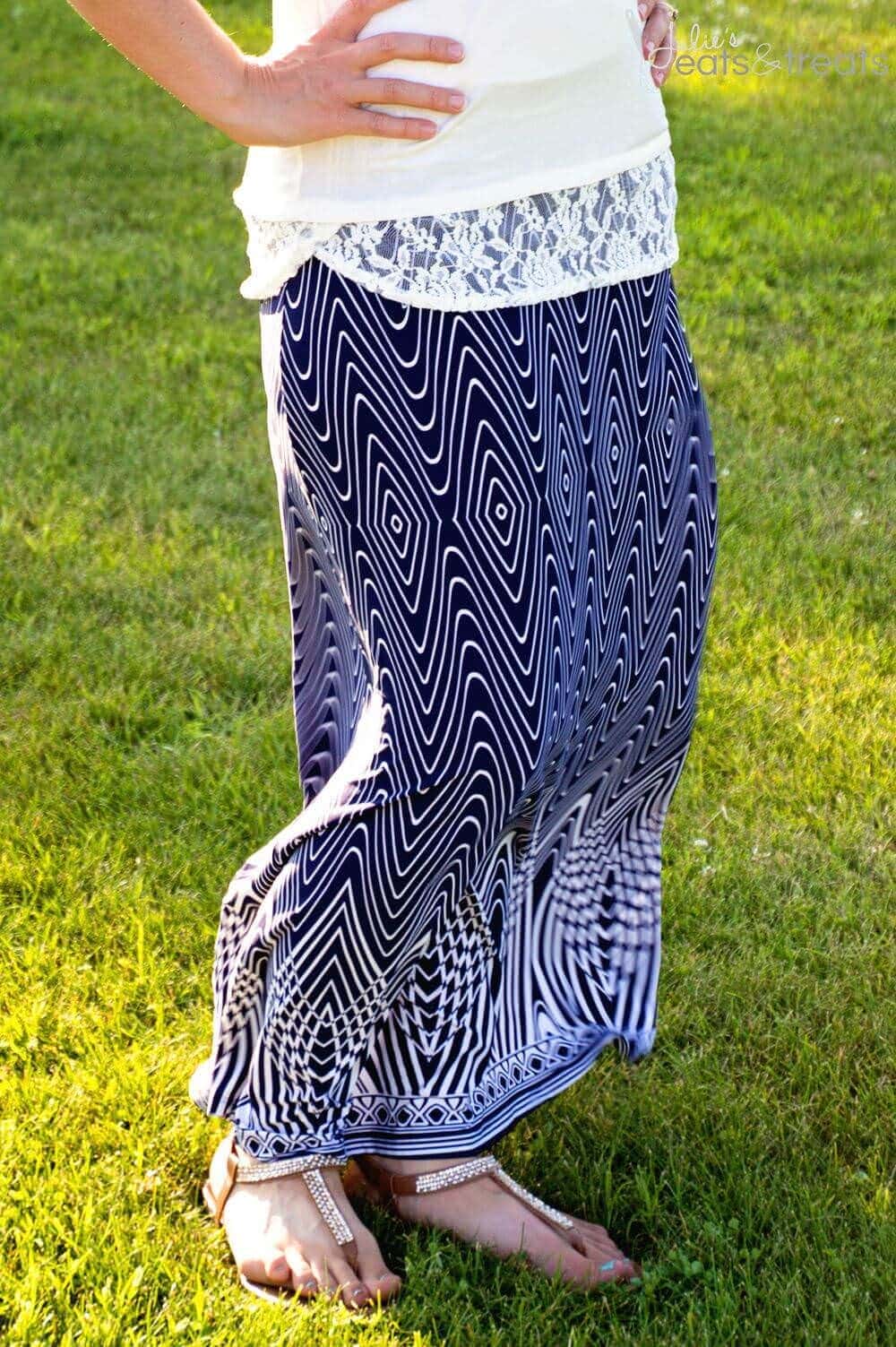 Natasha Abstract Print Maxi Skirt ~ $58.00
This skirt is awesome! Awesome, awesome, awesome! It's super lightweight and it kind of makes me feel like I'm in yoga pants and I might even love this skirt more than yoga pants! It's lightweight and breathable plus totally comfy. It doesn't hurt that I love the print too. Obviously I kept this piece too!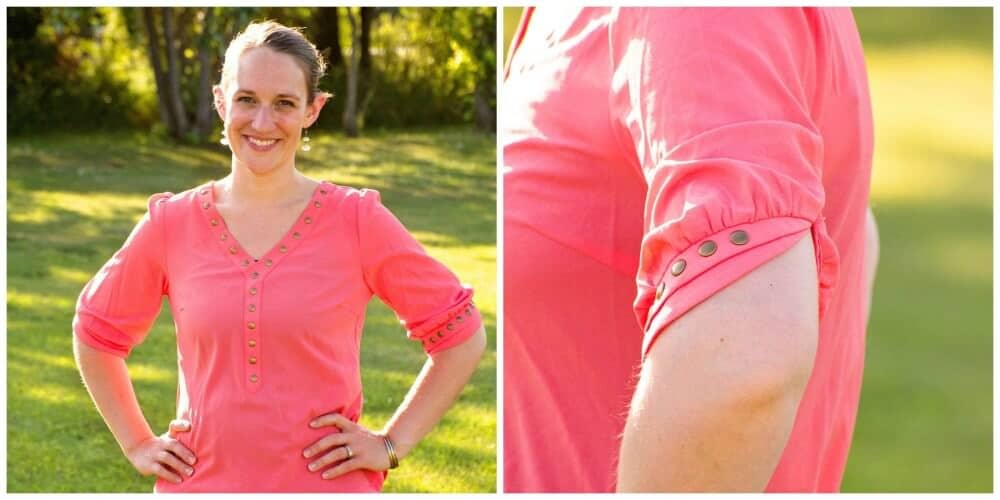 Lisbon Stud Detail Blouse ~ $58.00
I love the color of this top! I already have several tops in my closet in this color. I knew that part was awesome. I was a bit hesitant about the sleeves and the buttons. This was totally out of my "comfort zone" for sure. I hemmed and hawed over this top and couldn't really decide if I wanted it or not, but every time I tried it on I liked it a little more. I finally decided to keep it and go out of my "zone". I haven't actually wore it yet but I will and I'm sure I won't regret my decision!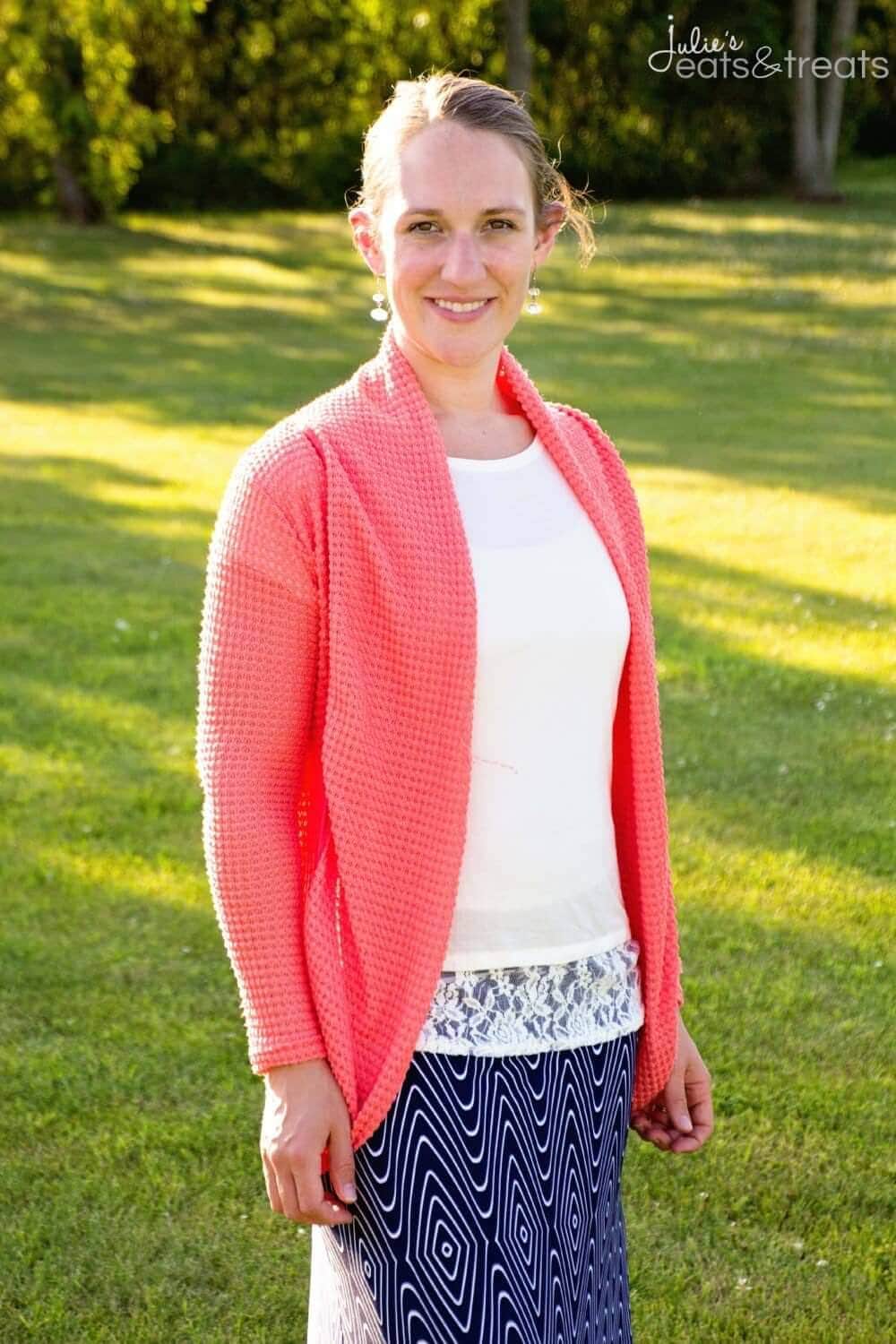 Abriella Waffle Knit Cardigan ~ $48.00
I loved and adored this sweater! The color was spot on and the fabric was to die for. It was light weight and breathable which is perfect for throwing on at the office. Do you remember how I told you I went down a size? Unfortunately in this piece it kind of kicked my butt. The upper arms were tight and I could hardly get it on. I was so bummed!
JULIE'S THOUGHTS:
After my July Stitch Fix shipment, I'll be honest, I was a little hesitant about it. They had shipped me two sleeveless shirts which I requested them not too and it was a total flop. I actually emailed customer service with concerns. They gave me a $20 credit to cover the cost of getting my next fix. I was super impressed and I gave it another shot. I am so happy I did that! This month they really hit it out of the park. I ended up keeping all pieces even though the last sweater's arms were tight. I'm hoping to lose a little more weight post-baby and it will fit in the fall. Fingers crossed for me! I've already wore almost all the pieces and they are the new staples in my wardrobe!

If you want to try Stitch Fix, go here to sign up!
Disclaimer: This is not a sponsored post. I signed up for Stitch Fix and purchased the box myself. I'm sharing my opinions because I think they will help others. This post does contain referral links for new sign-ups that gives me a small credit towards my next box.