Stitch Fix Review July 2016 ~ Personalized Stylists Pick Out a Selection of Five Clothing Items or Accessories and Ship it to Your Doorstep!
Be sure to subscribe to my newsletter HERE so you never miss a new post!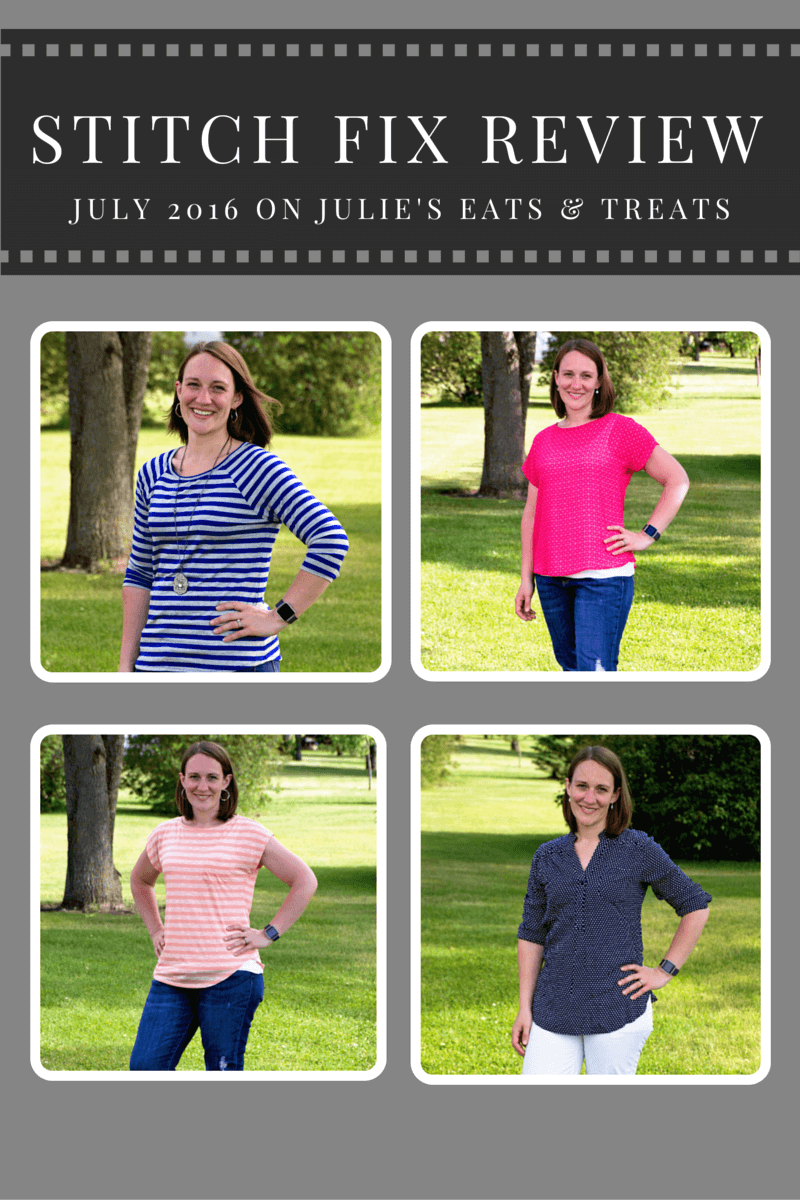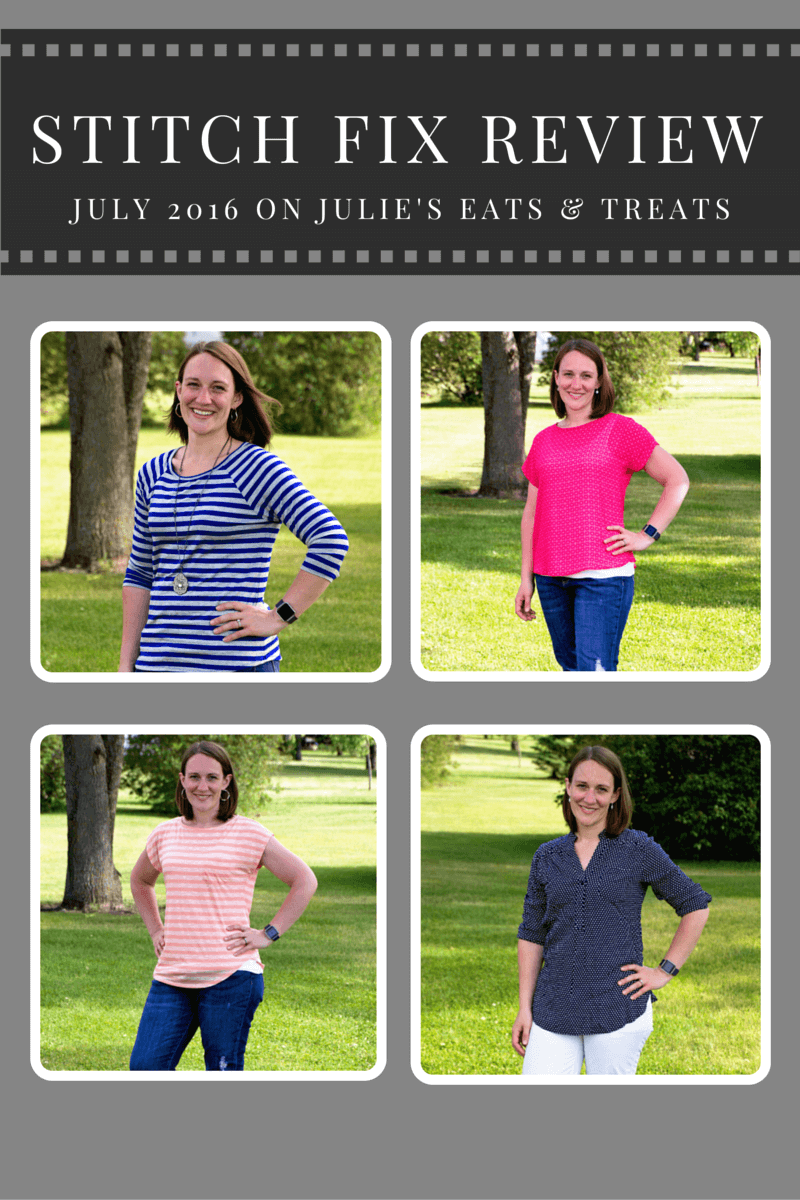 Hey everyone! It's me again with my Stitch Fix Review July 2016! I hope you enjoy this one. Let me know your thoughts and of course feel free to ask any additional questions that I haven't answered about Stitch Fix!
I got the same stylist from my June fix and I was pumped because she hit a home run last month! In fact as I sit here and right this review I have one of my shirts on from last month! I'm also wearing the capris that I got last month with most of the shirts I model in this months fix.
WHAT IS STITCH FIX?
Fill out a style profile, where you specify your sizes, price range, shapes, styles and if you prefer colors or patterns
Pay a $20 "Styling Fee" upfront when you schedule a fix
If you keep anything in your "Fix" the "Styling Fee" is deducted from your total
Either set a schedule for your fixes or schedule a fix when the moment strikes
Receive 25% discount if you keep all 5 items in your fix
You have three days to decide what to keep once you receive your fix
To return any unwanted items in your fix you simply place them in the pre-paid mailing envelope they provide and mail them back
Receive a $25 credit each time you refer someone to Stitch Fix
TIPS FOR A GREAT FIX!

MY OTHER RECIPES
Create a Pinterest Board like my Stitch Fix Board where I pin fashion that draws my eye and let your stylist know about it! Leave notes on the pictures for your stylist!
Update your style profile!
Let your stylist know of any upcoming events you need attire for!
Communicate with your Stylist! Let them know exactly what your dislike/like about your fixes!
Check Out My Latest Stitch Fix Reviews!
PAPERMOON Hearst Cross Back Blouse $44.00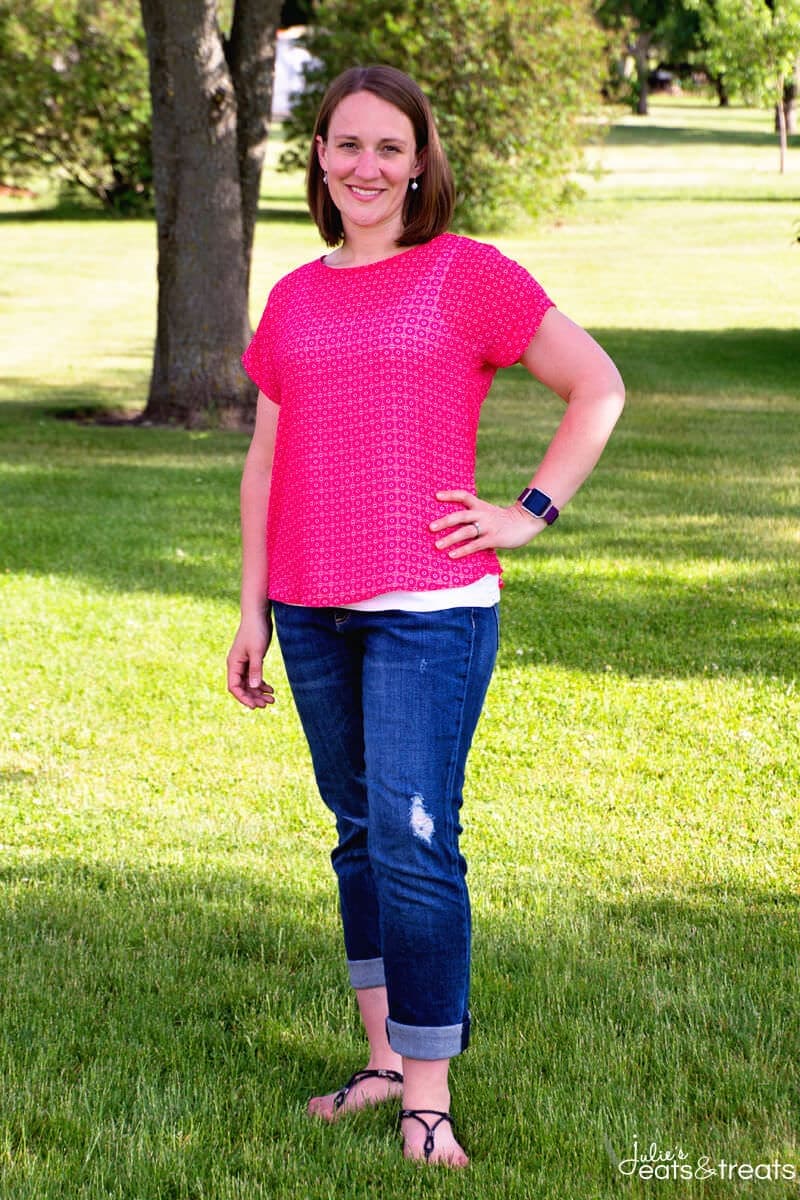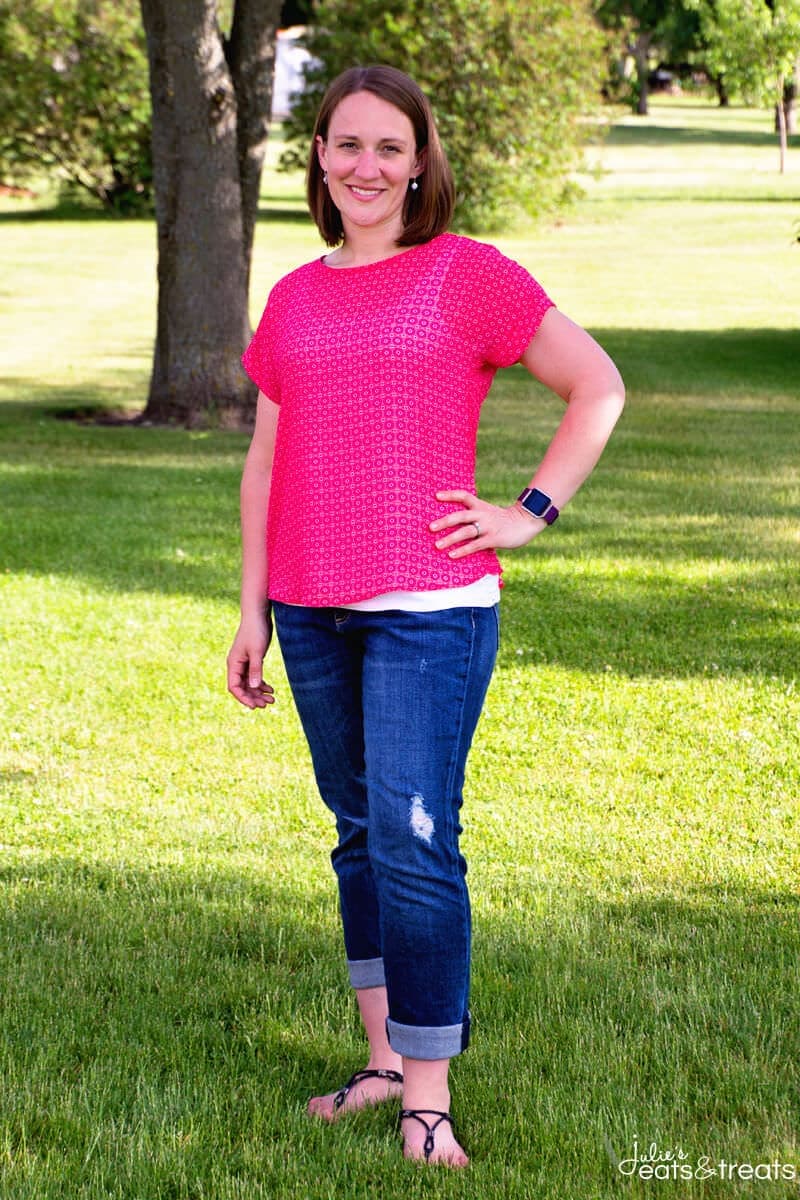 When I was wearing this I thought for sure it was a keeper. It was light and airy and perfect for summer. The back of it crosses and is so much fun. If you've read my other reviews you know I'm a sucker for a fun back on my shirts! After I looked at the photos I wasn't sure that I was going to keep it, but after letting you weigh in on Facebook you guys convinced me to keep it!
LAILA JAYDE – Tierra Cap Sleeve Top $44.00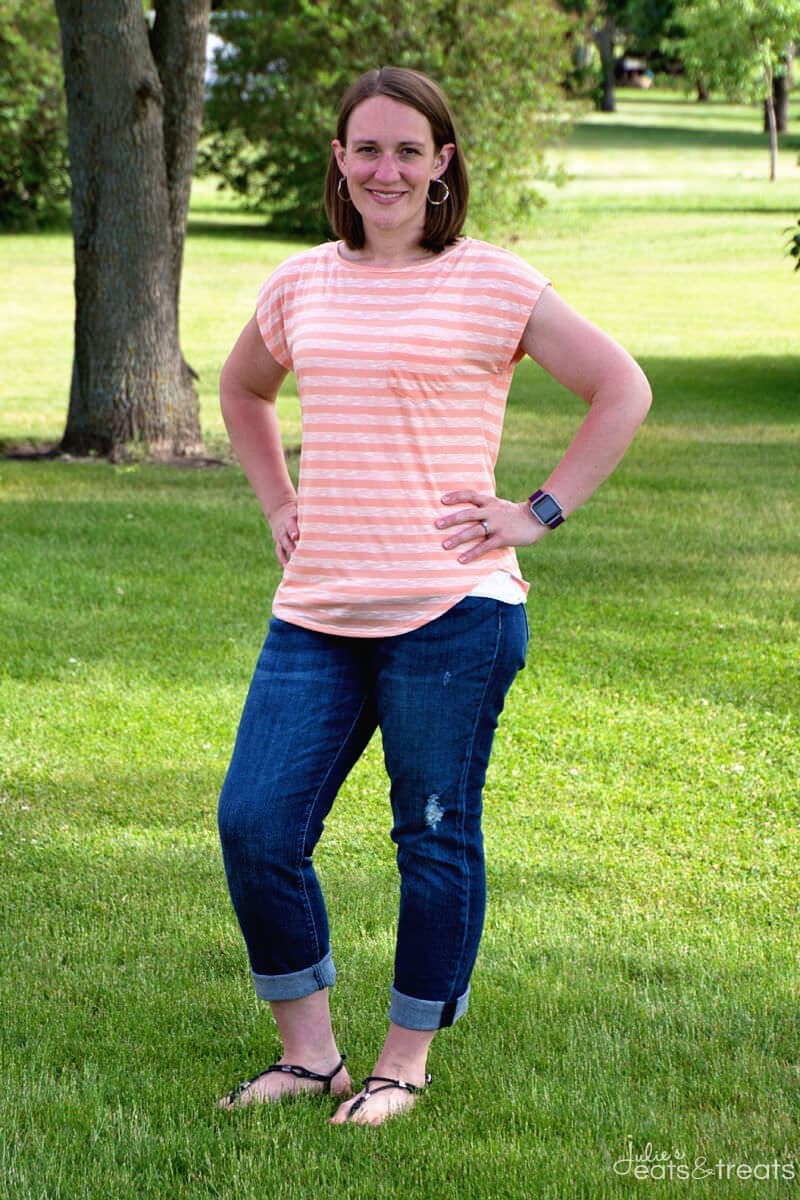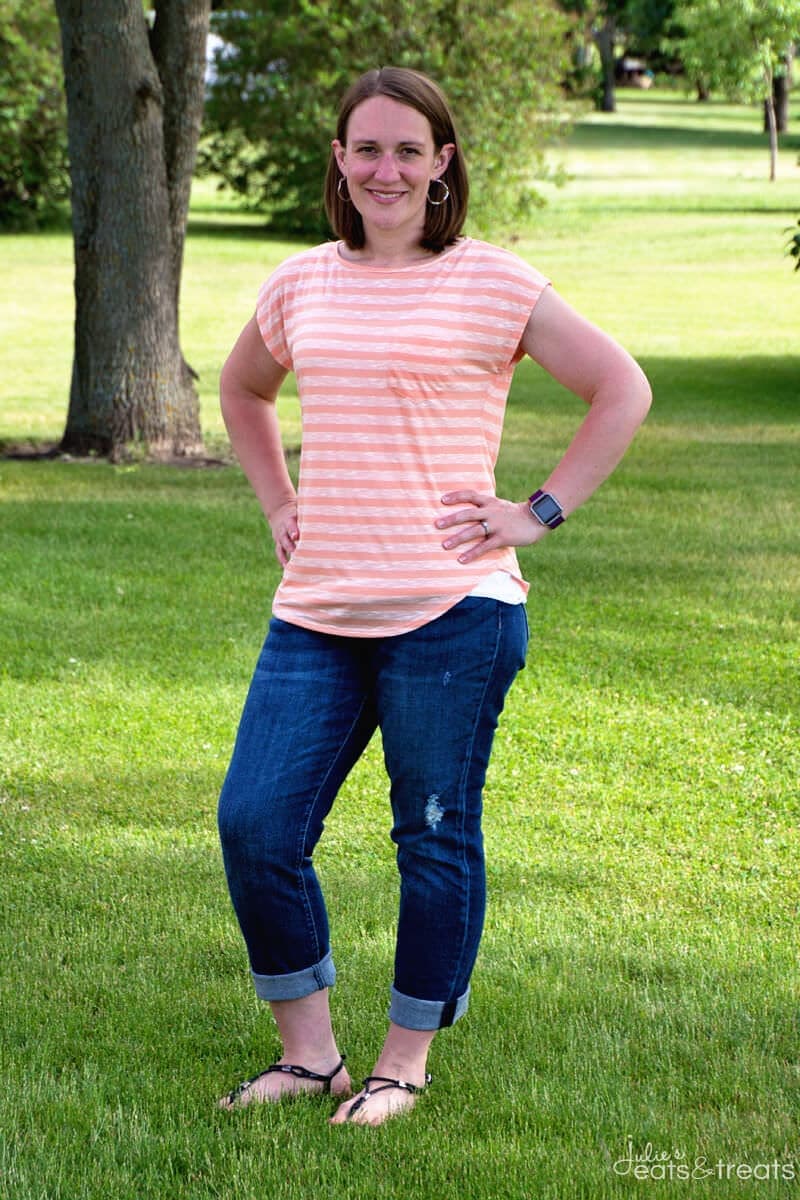 This shirt is perfect for summer! I see myself in this outfit frequently this summer. I'm not a big fan of sleeveless tops so I love that this shirt has a bit of a sleeve and yet is light and airy for hot summer days! I wish it wouldn't go up quite as high on the side, but I'll deal with it. Part of being taller and having a long torso!
MARKET & SPRUCE – Colibri Polka Dot Print Top $48.00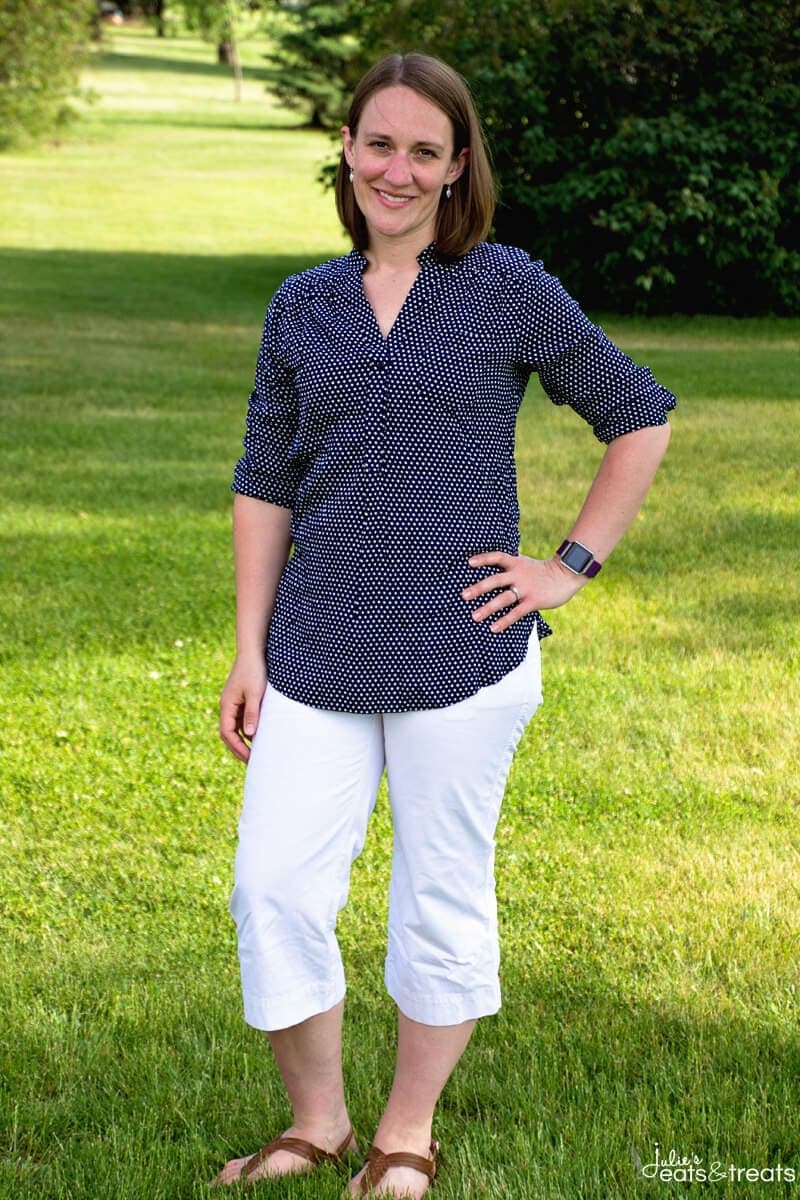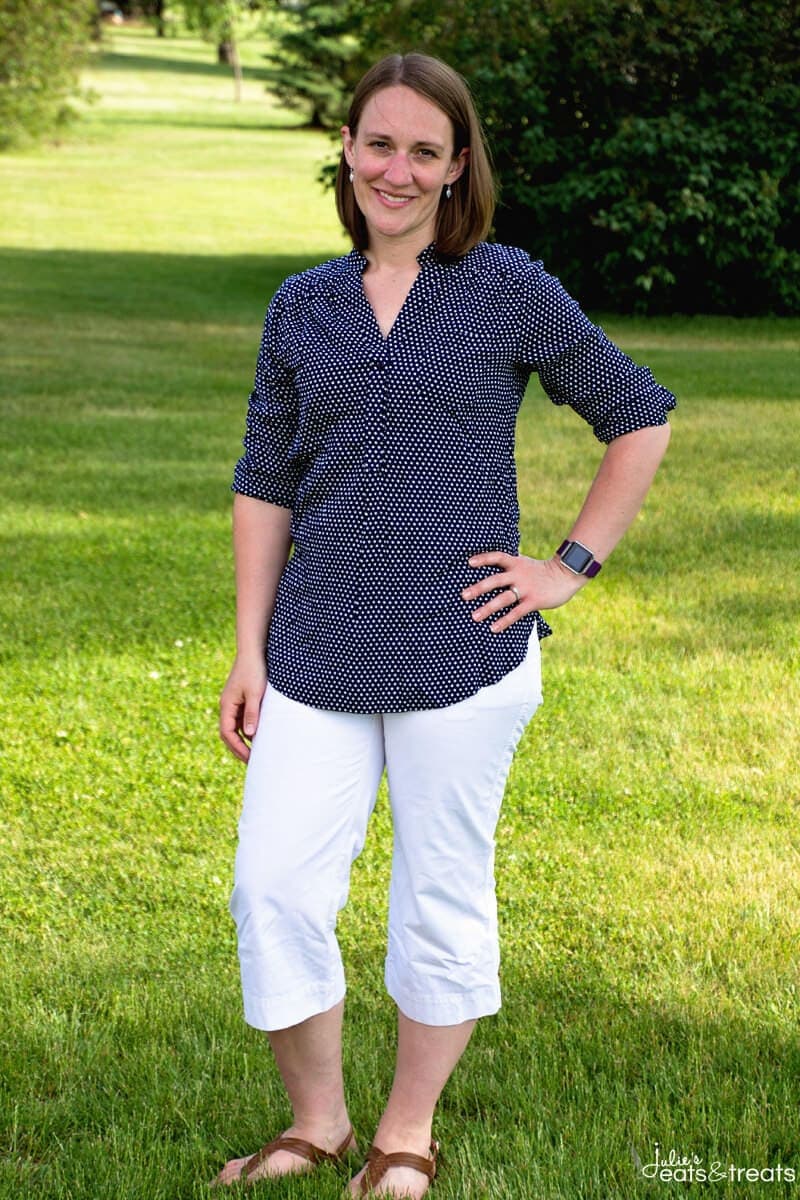 I kept going back and forth on this top. There really wasn't anything wrong with it at all. It came down to the fact that I would wear it to work and I didn't really have any pants to wear with. Those white pants are a tad bit tight so I never wear them. How's that for honesty? Back it went! It if would have been in a different color that I could have paired with black or grey pants easier I would have kept it!
LOVEAPPELLA -Tavares Knit Top $48.00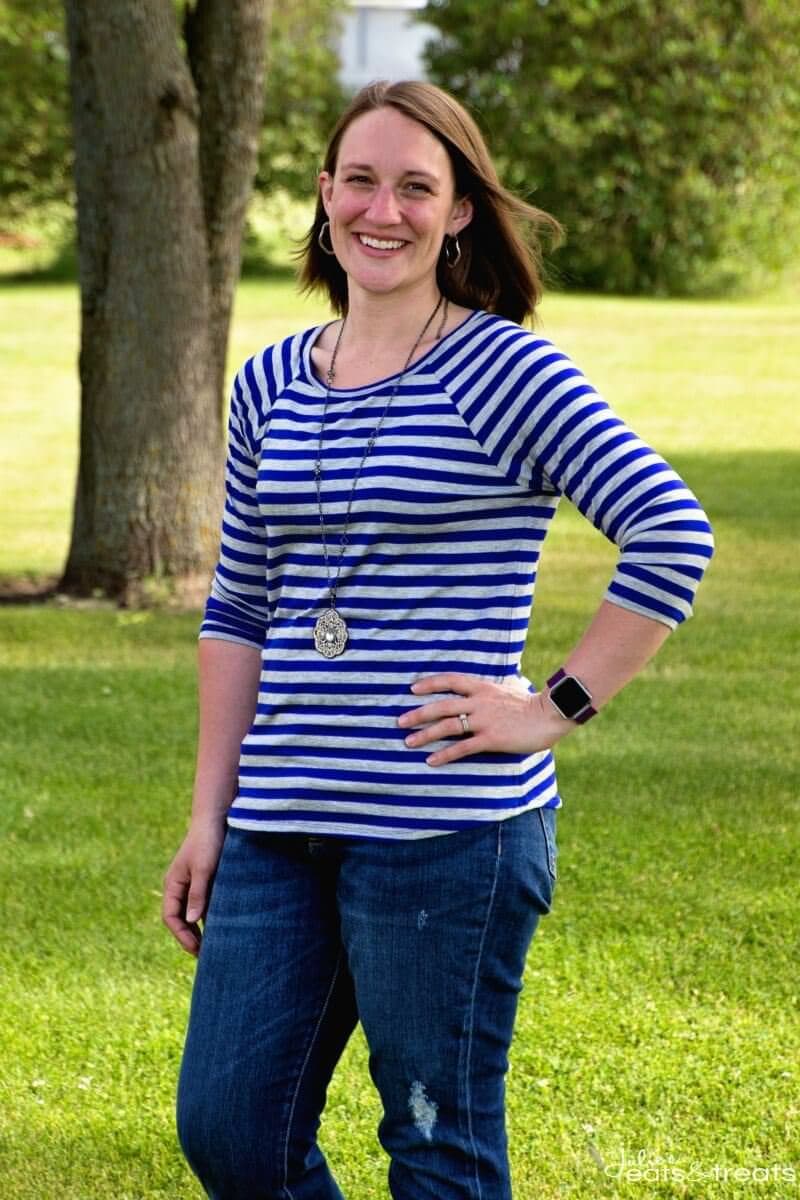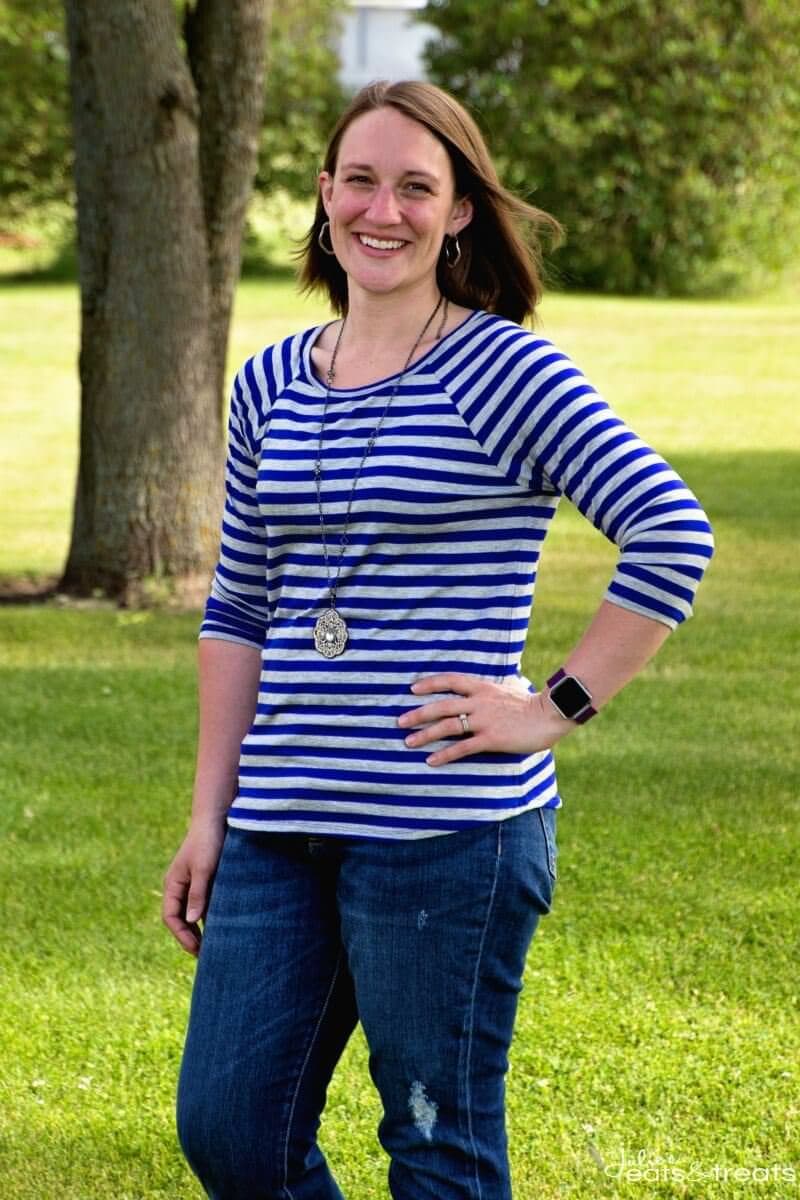 This was the WINNER of the entire fix. The fabric is to die for. Super soft and comfy. It was fitted without being to clingy and I could live in it. I don't know how many times I wear it in the summer due to the temperatures but I couldn't pass it up! It will be perfect for cool evenings!
PIXLEY – Indianan Graphic Print Mixed Material Tee $44.00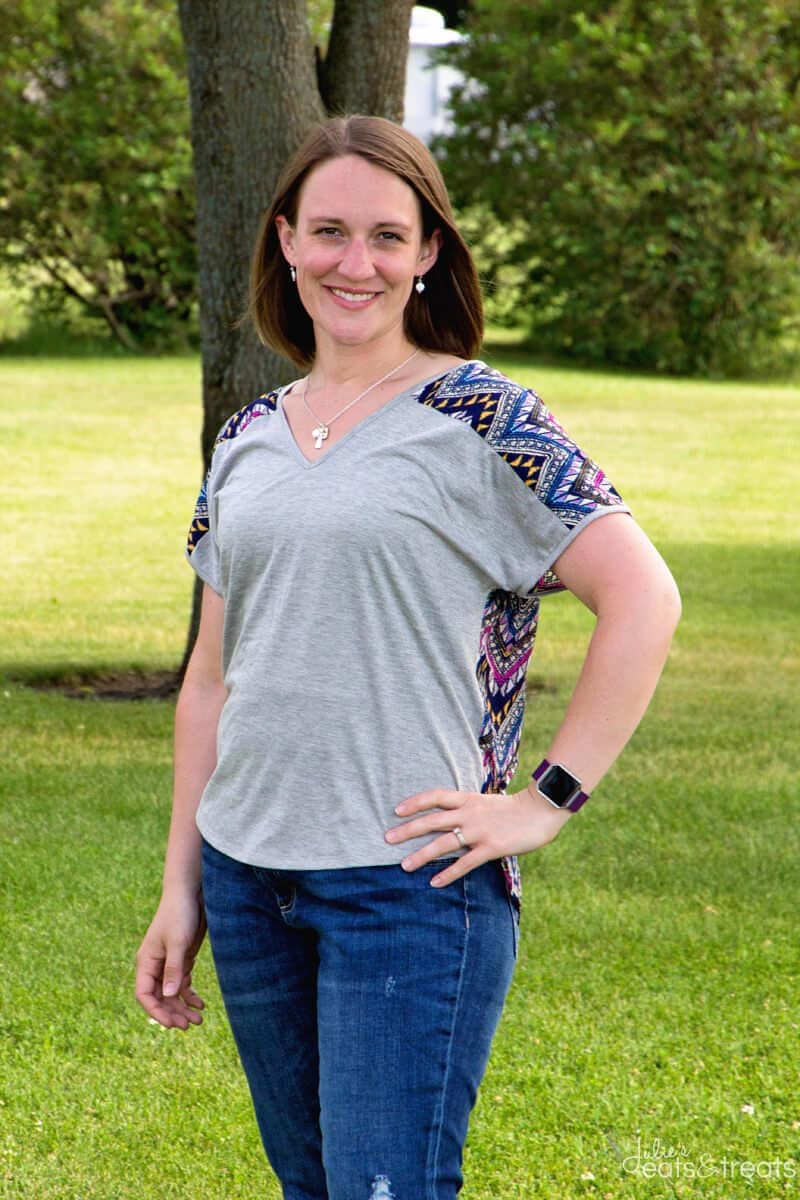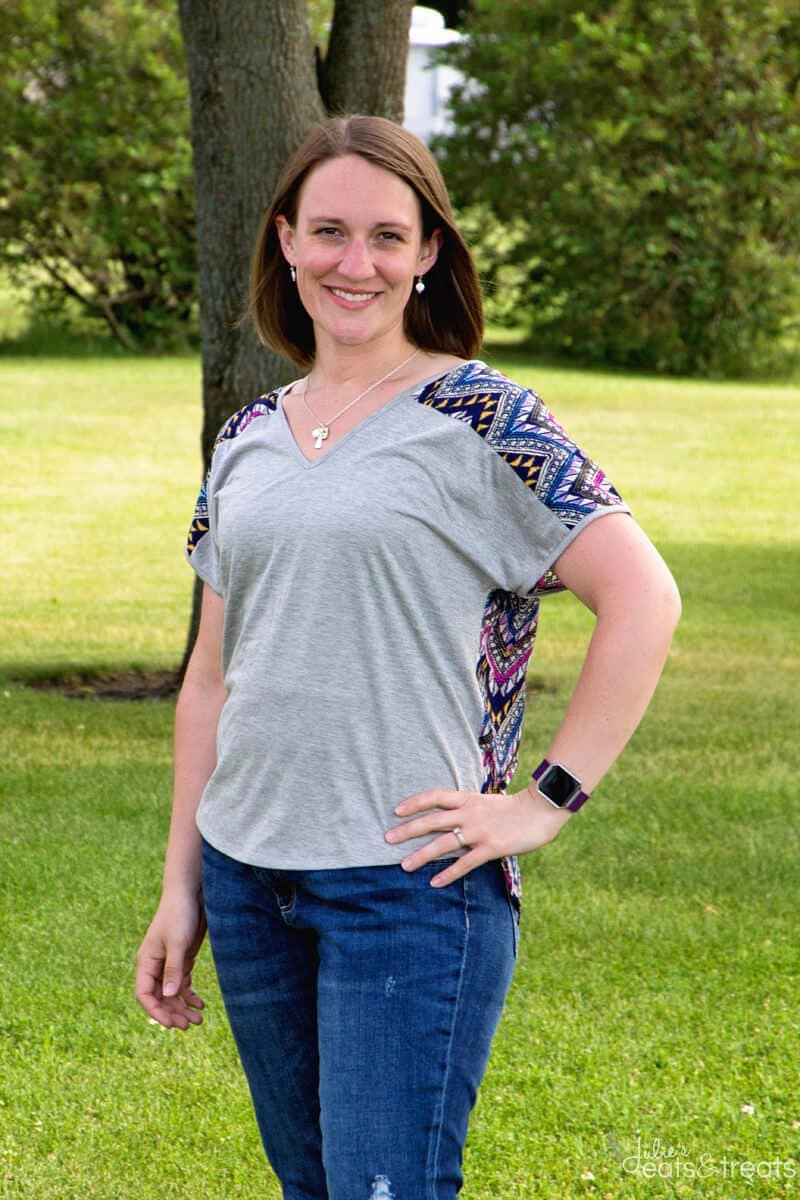 I was really excited for this shirt when I pulled it out of the box because it was a little bit out of my "box" and not something I would have picked out in real life. I had asked for a few casual tops to wear this summer and this was it! Until I put it on. It was tight across the hips and huge in the bust area. It was a bust. I was disappointed!
JULIE'S THOUGHTS:
I may not have kept 5/5 this month like last month but I still consider 3/5 a huge success! Honestly, I could have kept 4/5. There was only one shirt that just didn't fit at all. Another amazing fix by my stylist and I'm already looking forward to next month! Let me know if you have any questions!
If you want to try Stitch Fix, go here to sign up!