Strawberry & Cream Butter Cookie
The other day I was combing my Pinterest Boards looking for a new dessert to make. I found these little cookies again and knew that I had a Strawberry Cake mix at home calling my name.
This cookie is super moist, fluffy, and yummy and a special treat instead of more chocolate again! I mean seriously does anyone complain about more chocolate? I think not, but in case you do here's a different twist on a cookie!
I thought these cookies were even better a few days old. I mean a cookie that gets better with age? What is not to love about that? I'd like to think they are just like me…getting better with age! Plus this recipe comes from the fabulous Megan over at Country Cleaver. If you haven't checked out her blog I highly recommend it. It's awesome plus she's a sweetie!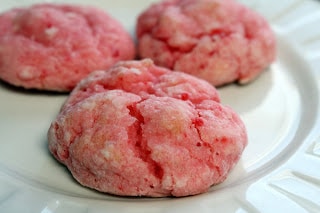 Strawberry & Cream Butter Cookie
Printer Friendly Recipe
Ingredients
1 package Strawberry Cake Mix
1 package cream cheese (8 oz), softened
1 egg
1 tsp vanilla extract
1/2 c. butter, softened
1/2 c. powdered sugar
1. Preheat your oven to 350 degrees F.
2. In a bowl beat the cream cheese and butter until smooth. Beat in the egg then the vanilla extract. Then add the cake mix and mix.
3. Cover bowl and refrigerated 2 hours.
4. Take one inch balls of batter and roll them in the powdered sugar. Place on an ungreased cookie sheet. Bake 12-14 minutes. The bottoms will be lightly golden brown when done.
Recipe from: Country Cleaver
Shared on the following sites – Please give them a visit!