Strawberry Salad with Grilled Nectarines and Balsamic Vinaigrette
Strawberry salad mixed with chicken, grilled nectarines, goat cheese and topped with balsamic vinaigrette for sweet and tangy, healthy summer meal!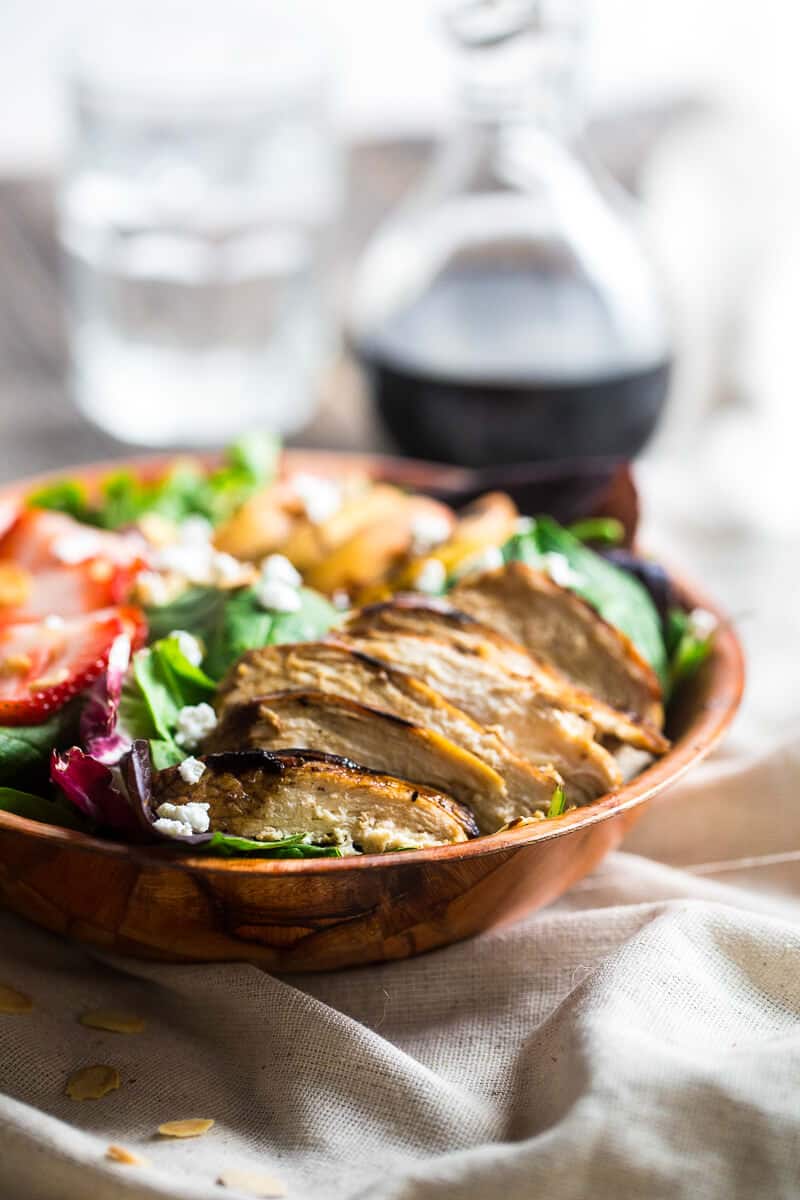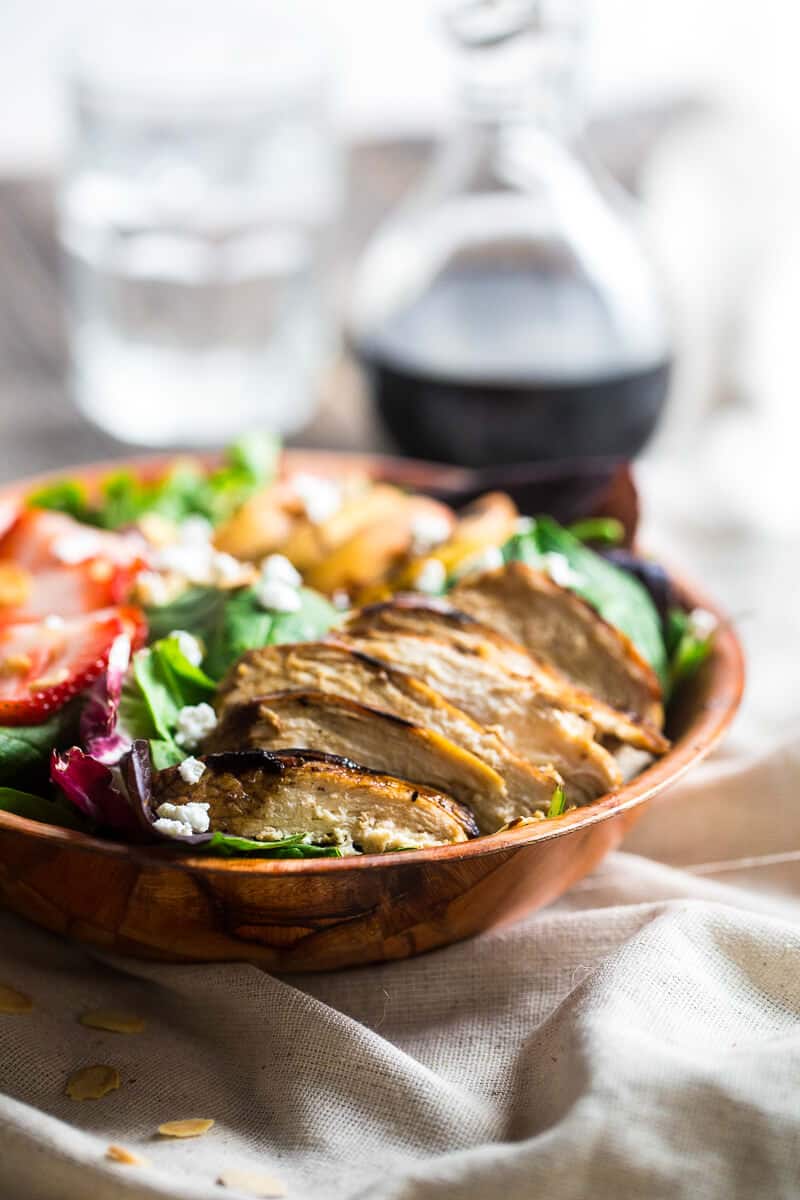 Picture me, standing over the food processor, cackling manically as I pour in ALL the different kinds of vinegar, smashed avocado and whoknowswhatelse, and eerily tapping my fingers together like some awkward super villain from despicable me (FAVORITE MOVIE) as I watch the creamy, green mixture whirl around.
Except don't really picture that. Because, some things friends, you just CAN'T UNSEE.
And that is one of them.
Anyway.
This is how this salad started. I knew I wanted to add perfectly caramelized and smokey-sweet grilled fruits, juicy chicken, and tons of crisp and fresh leaves of spinach.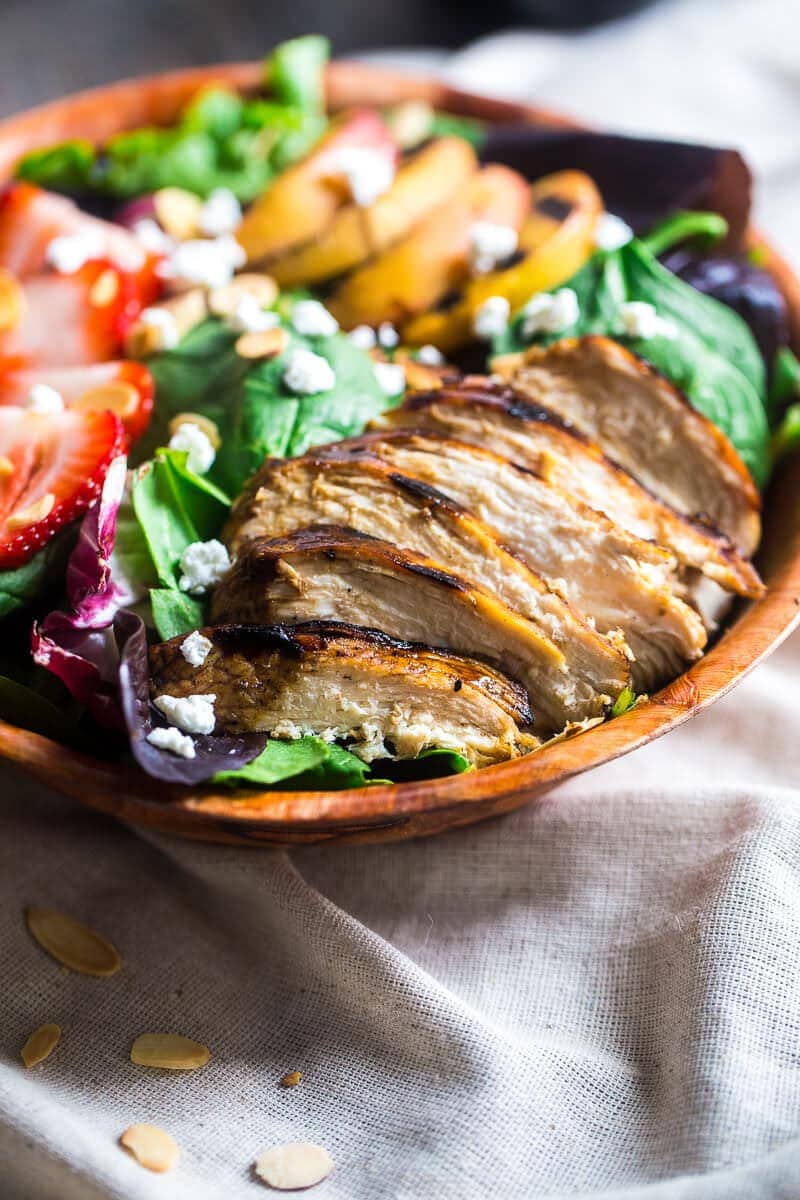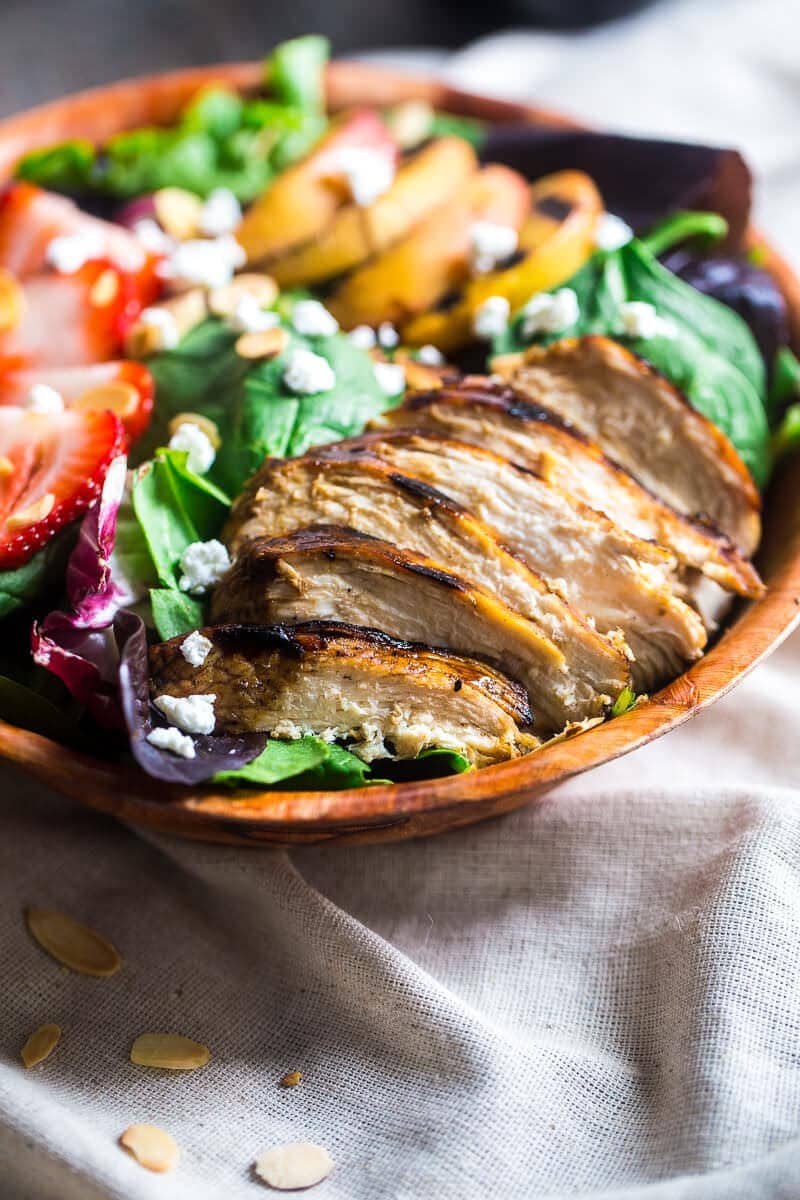 OH OH OH and goat cheese. Because creamy, cheesy goodness should just be added to all the things that go into my face. Like. ALWAYS.
But then my inner-person-who-tells-me-that-I-just-can't-post-too-easy-recipes-because-people-of-internet-land-will-JUDGE-me told me that I needed to make it notsosimple. It needed some kind of ultra-crazy, modern and trendy dressing. Although, I'm not really sure that salad dressing go "on trend."
Whatever. You understand.
So I put my creative pants, (read: pajamas, because that is all a person who works from home needs to wear EVER) got out my little blendy device and went to WERK.
I added different ingredients, herbs, and even random avocado because it's healthy and tasty and good and stuff, but it just didn't taste RIGHT. Like, it wasn't BAD. It just didn't go with the ultra-light and fresh YUMS that my bowl of salad goodness had GOIN' ON.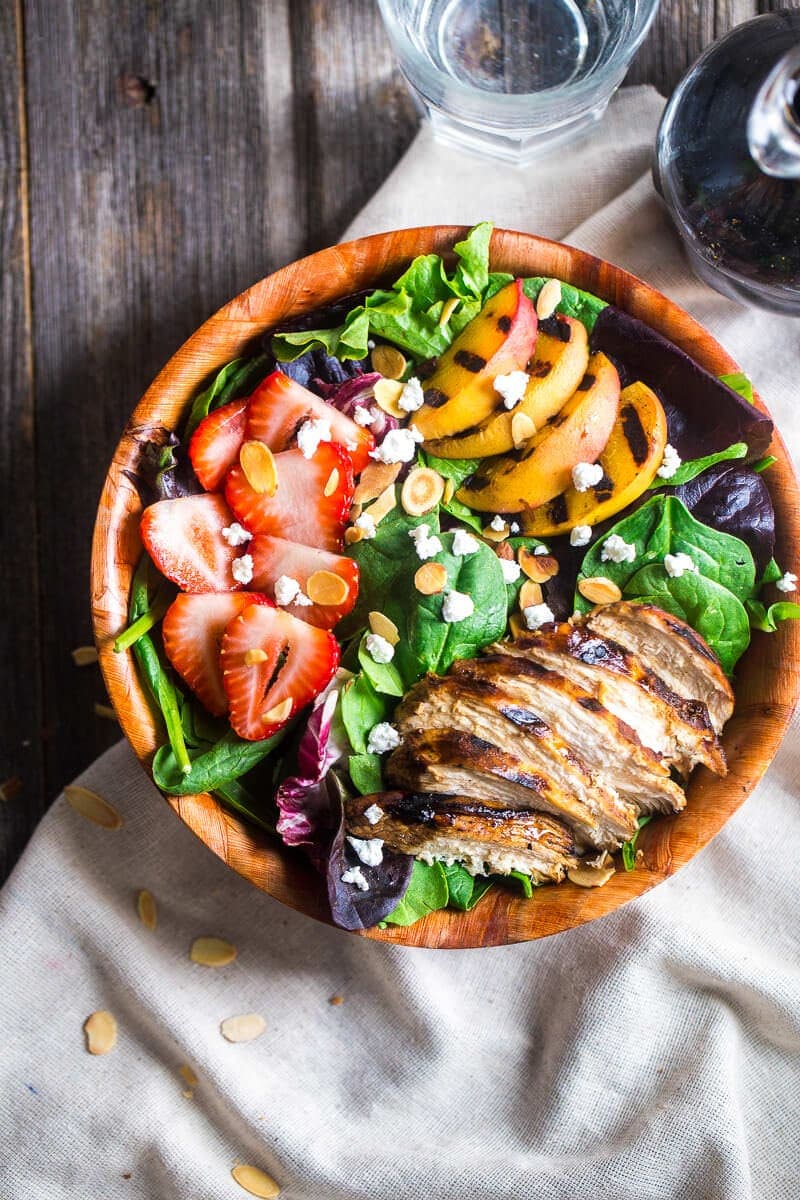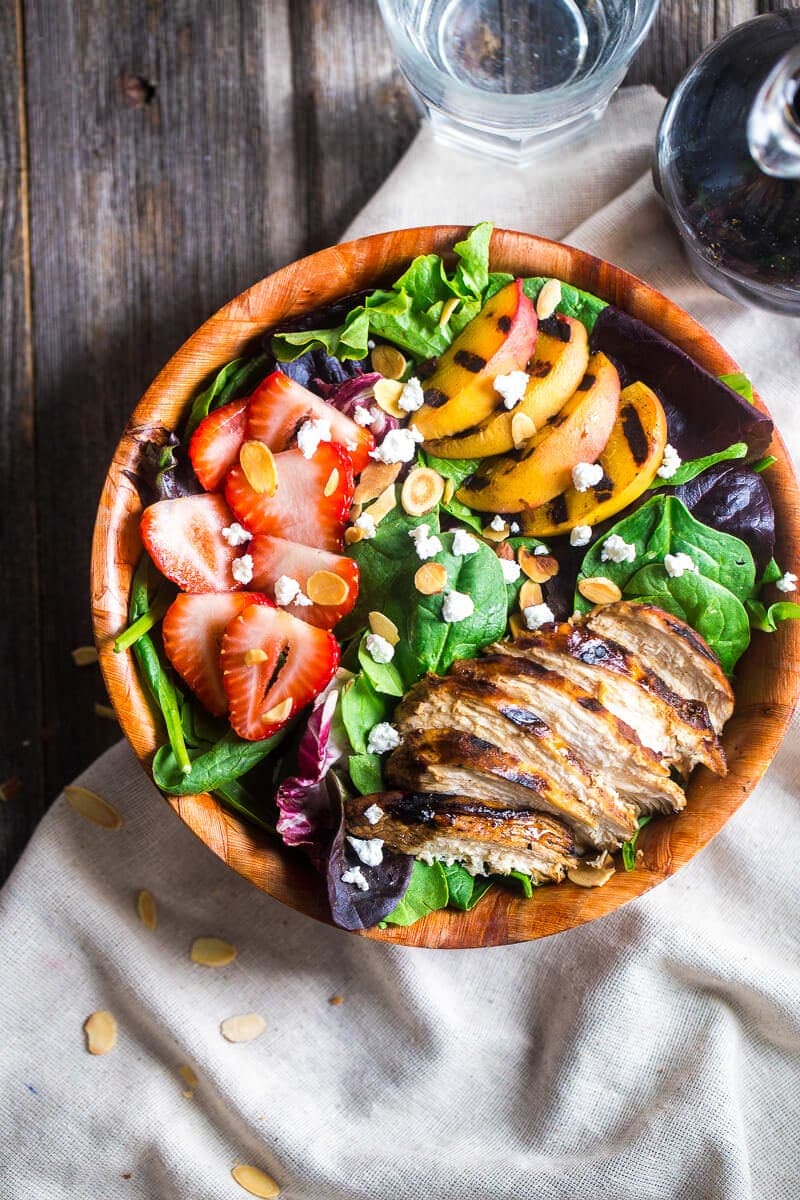 Then I saw it: the simplistic Balsamic vinegar peeking out from the space beyond. Which really means the very back of my SUPER deep cabinets where I tend to "lose" ingredients, so I buy them again, only to find that I had about eleventy million bottles of the stuff JUUUST out of eyeball view.
You've done it too. Don't lie.
Inner-no-easy-recipes Taylor yelled. She screamed. She did not want the most basic of balsamic vinaigrettes EVER because HO HUM BORING SALAD ALERT.
But, you know what, my taste buds? They did NOT agree.
The thick, slightly sweet and tounge-tingling-ly (word?) tangy balsamic vinegar hugged the leaves of spinach in a superfood-feel-that-healthy-skin-glow-right-through-DA-SCREEN kinda way. Aaaaand coated it's creamy, smooth self all over our smokey-sweet grilled nectarines and fruity-fresh strawberries in the way that only something so perfectly simple could.
And, you know what? After taking one nibble, Inner Taylor wasn't even mad about it.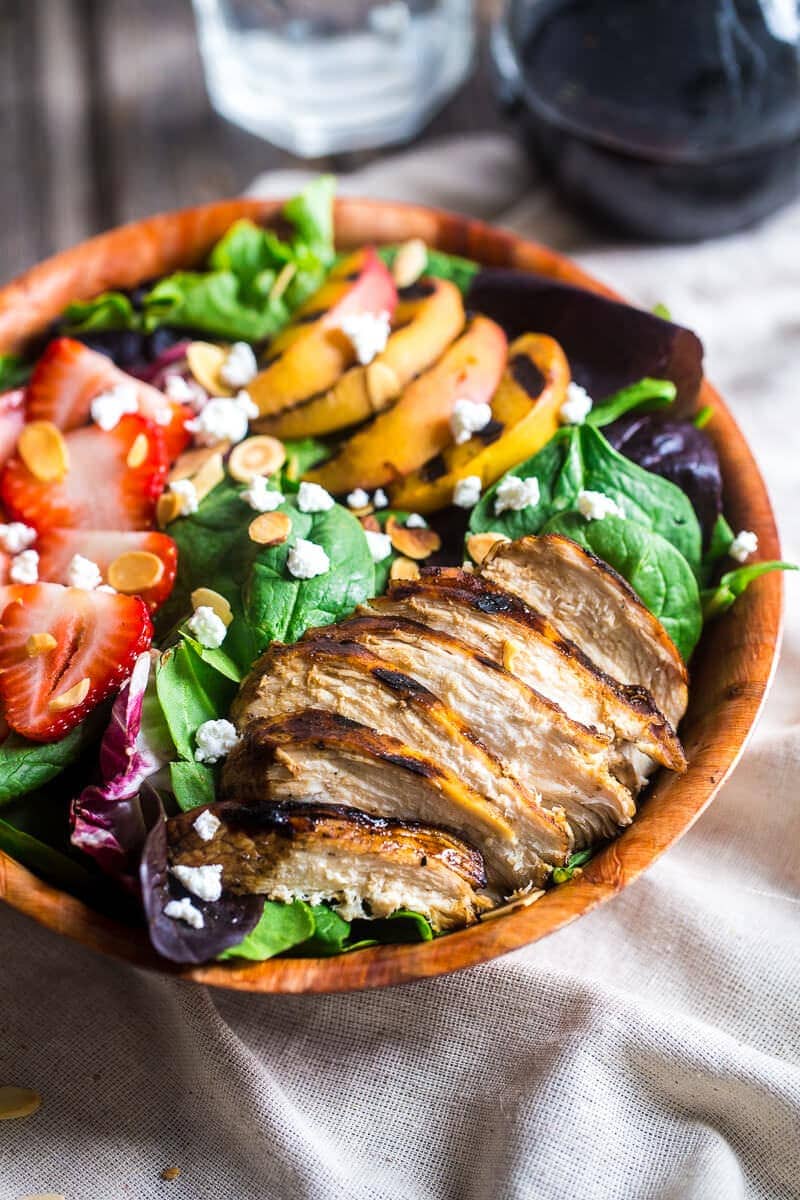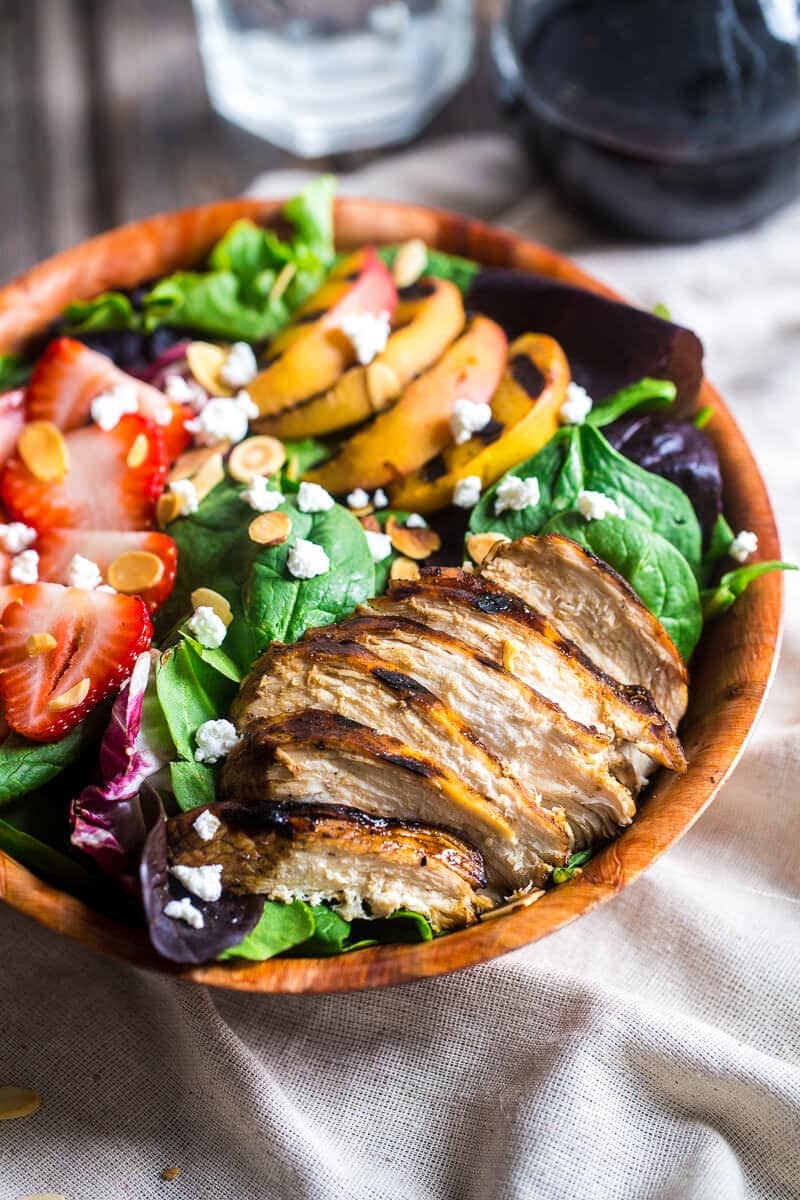 Like, not one. Tiny. Bit.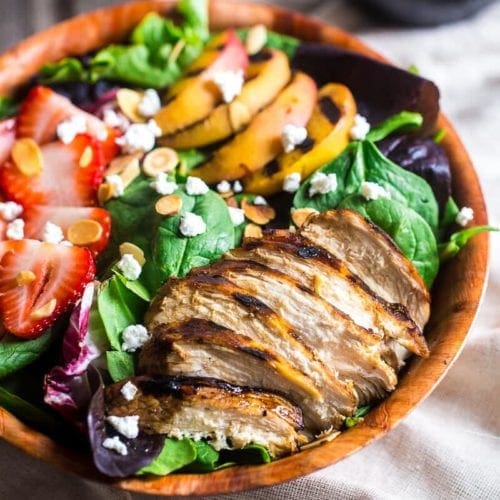 Strawberry Salad with Grilled Nectarines and Balsamic Vinaigrette
Strawberry salad mixed with chicken, grilled nectarines, goat cheese and topped with balsamic vinaigrette for sweet and tangy, healthy summer meal!
Print
Pin
Rate
Ingredients
For the Chicken:
1/4

Cup

Balsamic Vinegar

1

Tbsp

Honey

Salt/pepper

1

pound

Chicken Breast
For the salad:
2

Cups

Fresh Nectarines

sliced

12

Cups

Spinach

2

Cups

Fresh strawberries

sliced

4

Oz

Goat cheese

crumbled

1/2

Cup

Toasted Almond slices

1/2

Cup

Red onion

thinly sliced
For the vinaigrette:
2 1/2

Tbsp

Balsamic vinegar

1/2

tsp

Honey

1/4

Cup

Olive oil
Instructions
Whisk together the balsamic vinegar, honey, and a pinch of salt and pepper in a large container. Place the chicken in and turn to coat evenly. Refrigerate for at least 2 hours.

Once marinated, spray your grill with cooking spray and heat to medium/high heat. Cook the chicken until no longer pink inside, about 6-7 minutes, turning once. Note that the honey will make the chicken look burned, but it's just the natural caramelization. Remove from the grill and cover to let rest.

Spray the grill again and place the sliced nectarines onto it. Cook until grill marks form and the nectarines soften, flipping once. This only takes about 2-3 minutes per side.

Divide the spinach, freshly sliced strawberries, goat cheese, toasted almonds, and red onions between 4 large bowls. Slice the rested chicken and place on top of the salads.

In a medium bowl, whisk together the balsamic vinegar and honey. While whisking constantly, stream in the olive oil and whisk until smooth and creamy. Season with a pinch of salt and pepper.

Divide the vinaigrette between the bowls, toss the salads and DEVOUR.
Nutrition
Calories:
527
kcal
|
Carbohydrates:
30
g
|
Protein:
36
g
|
Fat:
30
g
|
Saturated Fat:
7
g
|
Cholesterol:
85
mg
|
Sodium:
317
mg
|
Potassium:
1322
mg
|
Fiber:
6
g
|
Sugar:
20
g
|
Vitamin A:
9005
IU
|
Vitamin C:
74.3
mg
|
Calcium:
194
mg
|
Iron:
4.6
mg
LEAVE A COMMENT
Things You Might Need for this Recipe!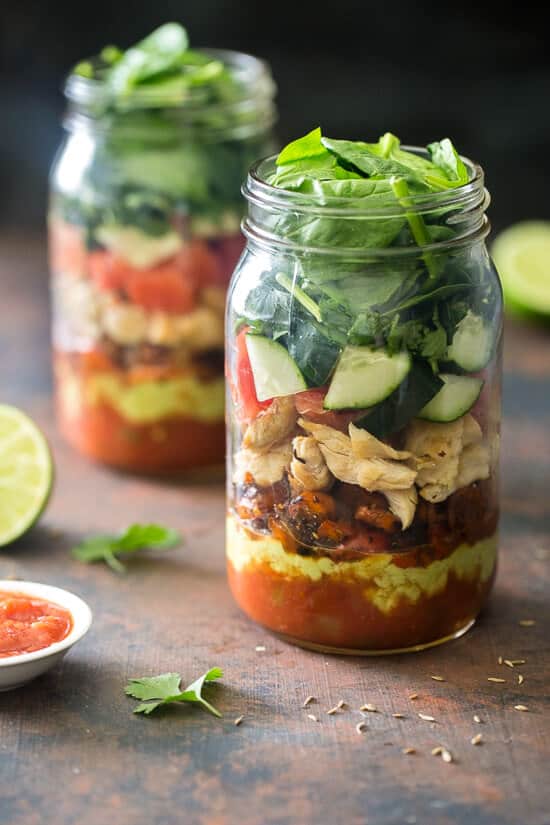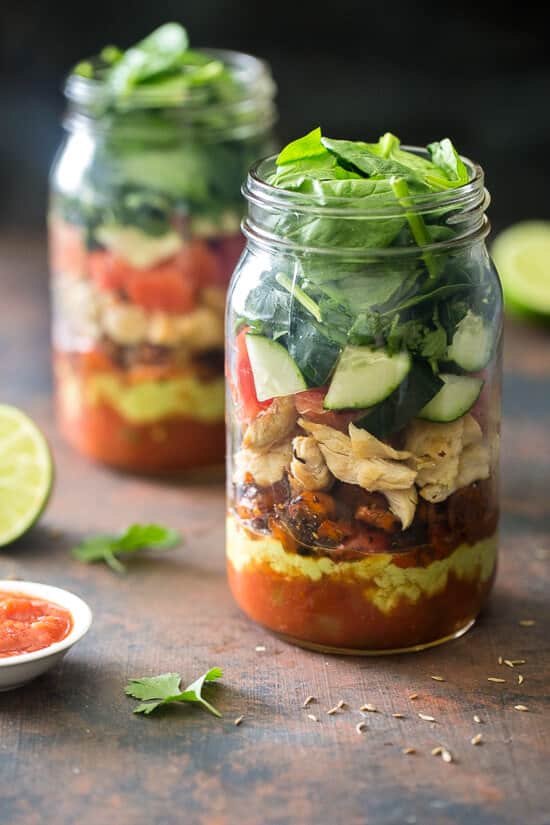 Paleo Mason Jar Taco Salads – This healthy taco salad recipe is low carb, gluten free and Paleo friendly! It's served in a mason jar for a portable, easy lunch, that wont get soggy!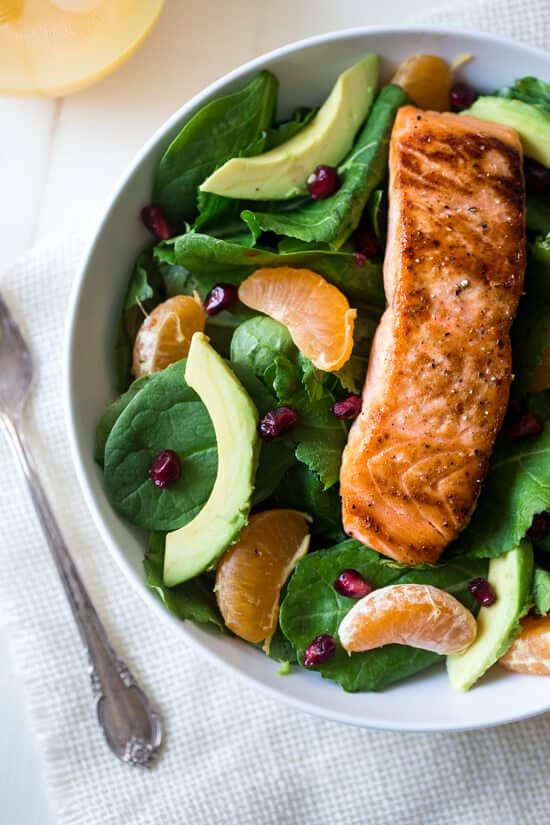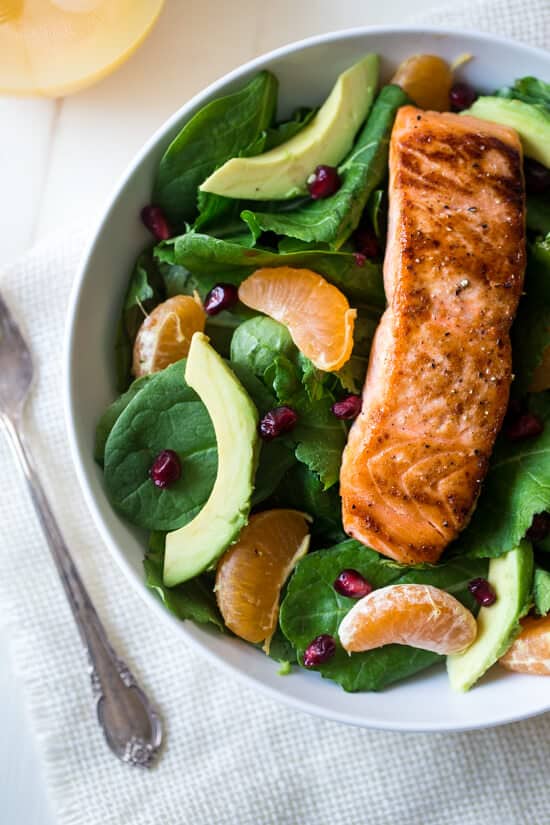 Superfood Salmon Kale Salad with Coconut Orange Vinaigrette – This Kale Salad Recipe has a tropical dressing and is packed with 7 superfoods to make it a quick, easy healthy dinner. It's Perfect for weeknights!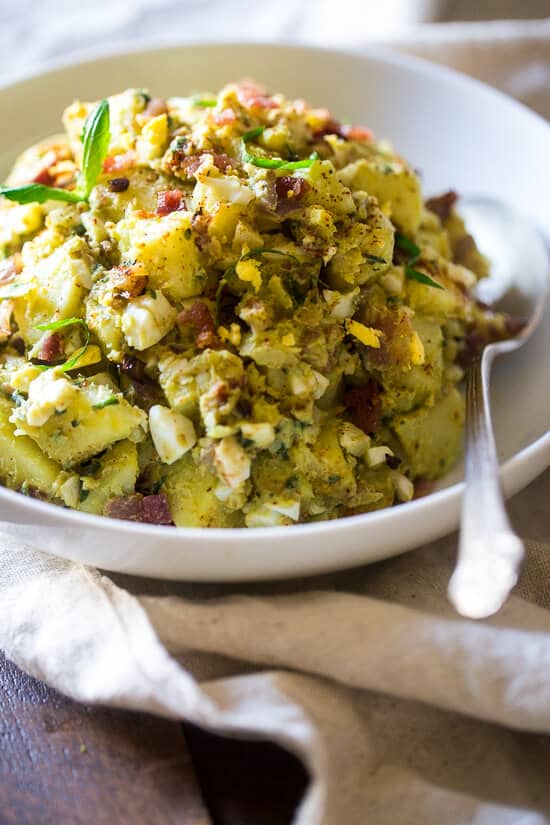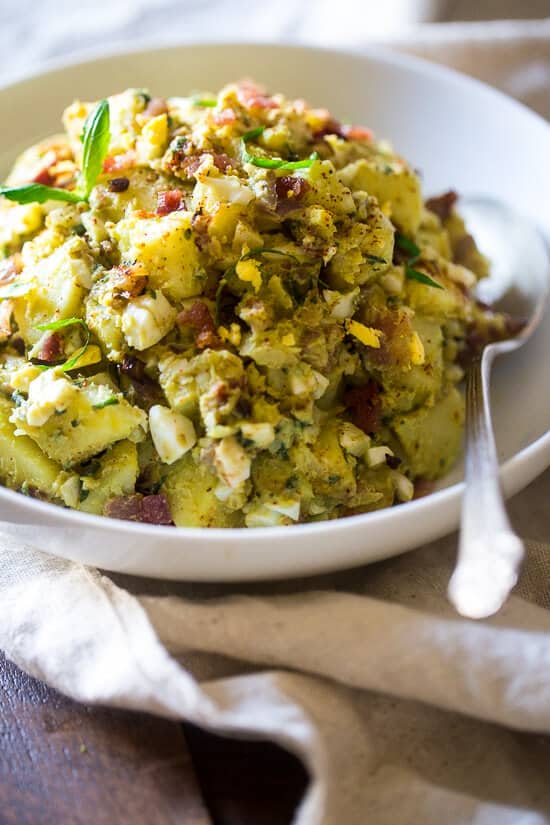 Paleo Sweet Potato Salad with Avocado Pesto – This paleo sweet potato salad is mixed with creamy avocado pesto, bacon and eggs for a healthy side dish that is so easy and always a crowd pleaser!