Strawberry Sugar Cookie Cups
Strawberry Sugar Cookie Cups ~ Soft Pillsbury Sugar Cookie Dough filled with Strawberry Marshmallow Creme!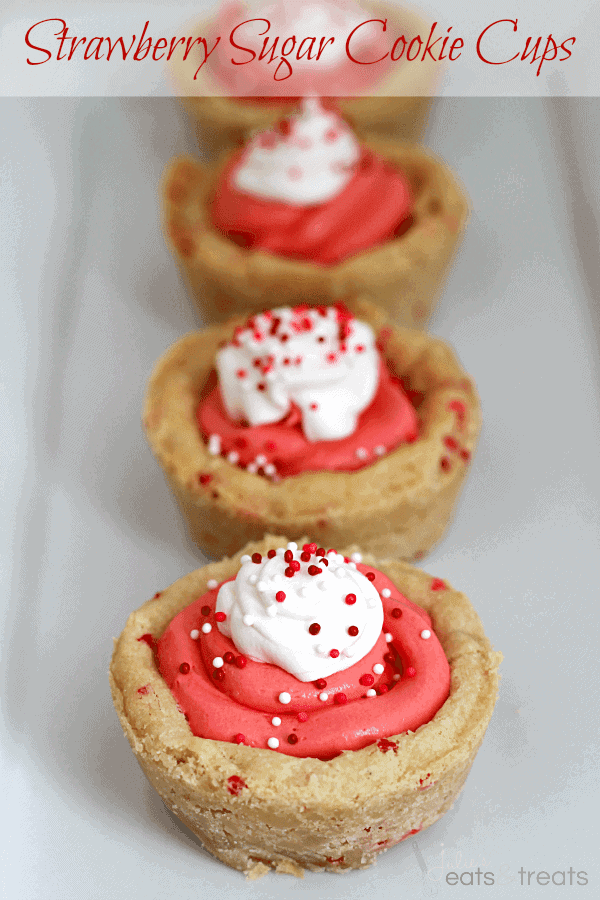 So here's the big question of the day….
Are you ready?
Valentine's Day – Love or Hate?
I used to hate it when I was growing up. Middle school and high school was so traumatic! Everyone was getting balloons and flowers from their boyfriends and I never had one. I hated that day. My friends that didn't have boyfriends, well at least their parents sent them something. Mine never did, well I think one year I strongly hinted that they should and my mom finally did. The pains of growing up!
With that in mind I ordered candy and balloons for my niece and nephew last year! Of course, I said they were from Miss K. Thoughtful isn't she?
I have a new found love for Valentine's Day now that I'm married and all! The hubs delivers. As in delivers roses every year. The same thing every year. I can expect 6 hot pink roses and 6 red roses and I love them dearly.
Since I hated Valentine's Day growing up I've made it my mission to make sure every young girl does not have a similar experience if I can help it. This year that included throwing a Valentine's Day party for Miss K, and my two amazing niece Kendel and Hallie. They are all several years apart and pretty much worship each other, well Hallie just has little girls worshiping her. I don't think she minds!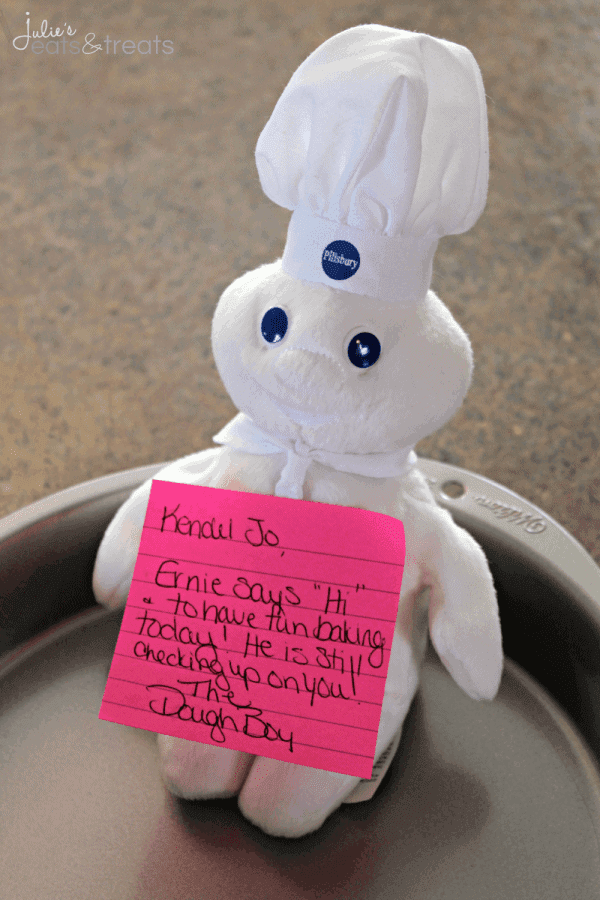 The afternoon start with this cute little guy. Here's the story behind this one. My niece, Kendel, has an Elf on the Shelf named Ernie. While I was visiting Pillsbury in December I happened to get this cute little Dough Boy. Kendel thought it was super cool I was hanging out with the Dough Boy for the day and baking cookies! Her mother and I came up with the plan that "Ernie" would bring the Dough Boy back to visit her one morning with a fresh plate of cookies. Kendel thought this was so cool! The Dough Boy has now made an appearance at our family Christmas where he was waiting in my Christmas tree for Kendel and now he made his presence known at our Valentine's Day Baking event. You should have saw Kendel's face! It was priceless and there was about 50 million questions about how he got to my house, which continue to this day!
We had a packed day of baking and plenty of giggles to go around. What are you to expect with four girls in the kitchen? On our list of treats to make were these amazing Strawberry Sugar Cookie Cups, which were voted the favorite by the Dad's! Soft Sugar Cookie Cups filled high with a Strawberry Marshmallow Creme and topped with Cool Whip and Sprinkles. What's not to love?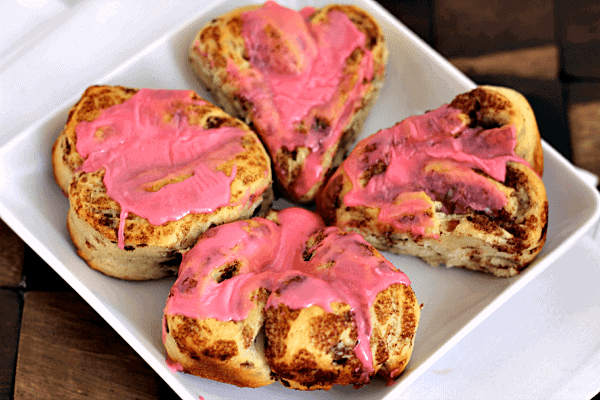 We also made these super cute Cinnamon Sweetheart Rolls which we had to dye the icing pink of course! Never to much pink in our lives. They were super easy to make and would make the perfect treat for a Valentine's Day Breakfast for the kiddos! The girls dug right in and helped me make the hearts and frost the cinnamon rolls! These were by far Miss K's favorite!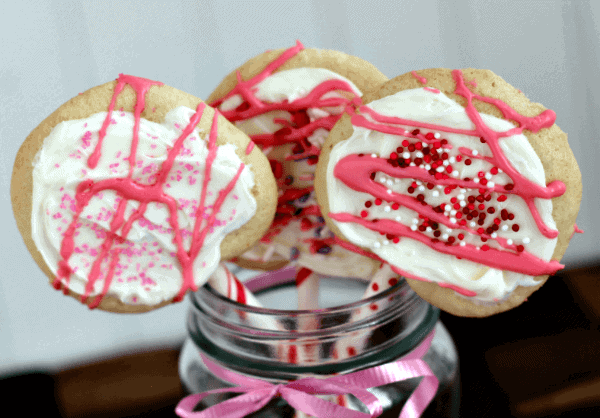 Another treat we made were these festive Valentine's Cookie Pops! They were so easy and impressively cute. I used a paper straw for the handle to add some color to them. We also microwaved a little frosting for 30 seconds and dyed it pink and drizzled it over the tops of the cookies to dress them up. Plus more sprinkles of course! At point I looked over and Kendel was eating sprinkles out of the jar with a spoon!
As you can see we had an amazing time at our Valentine's Day Party full of Pillsbury treats! There were plenty of giggles, messes and memories to go around. Everyone went home with a full heart and tummy!
*I was compensated by Pillsbury to create this post. All opinions expressed are completely my own.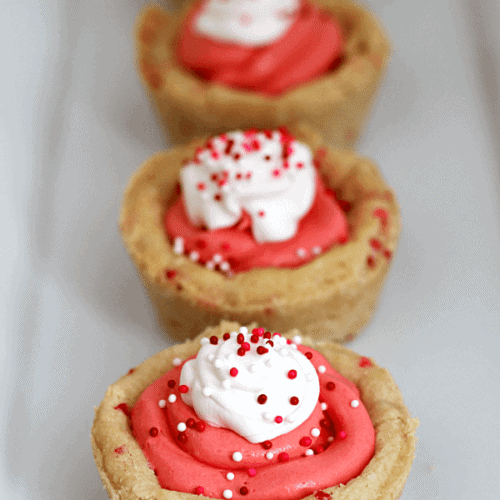 Strawberry Sugar Cookie Cups
Strawberry Sugar Cookie Cups ~ Soft Pillsbury Sugar Cookie Dough filled with Strawberry Marshmallow Creme!
Print
Pin
Rate
Ingredients
1

8 oz tube Pillsbury Sugar Cookie Dough

1/8

c.

red confetti sprinkles

1

8 oz package cream cheese, room temperature

1

.23 oz strawberry Kool-Aid

1

7 oz container Marshmallow Creme

8

oz

Cool Whip
Instructions
Preheat oven to 350 degrees

Mix sugar cookie and confetti together in a mixing bowl. Scoop cookie dough into a muffin tin sprayed with non-stick cooking spray, dividing evenly between 12 cups. Bake for 12 minutes or until edges are start to turn golden brown. COOL COMPLETELY!

Run a knife along outside of cookie cups to loosen. Remove from pan, very carefully.

In a mixing bowl combine cream cheese and Kool-Aid. Add marshmallow cream and mixing until combined. Fold in 1 c. Cool Whip.

Place strawberry filling in ziplock bag and cut a little piece off the corner. Pipe filling into each cookie cup. Repeat with remaining Cool Whip. Decorate with sprinkles.

Serve immediately or chill.
Nutrition
Serving:
1
g
|
Calories:
236
kcal
|
Carbohydrates:
33
g
|
Protein:
2
g
|
Fat:
11
g
|
Saturated Fat:
5
g
|
Cholesterol:
25
mg
|
Sodium:
129
mg
|
Potassium:
74
mg
|
Sugar:
22
g
|
Vitamin A:
295
IU
|
Calcium:
40
mg
|
Iron:
0.4
mg
LEAVE A COMMENT
 Looking for more Valentine's Day Treats?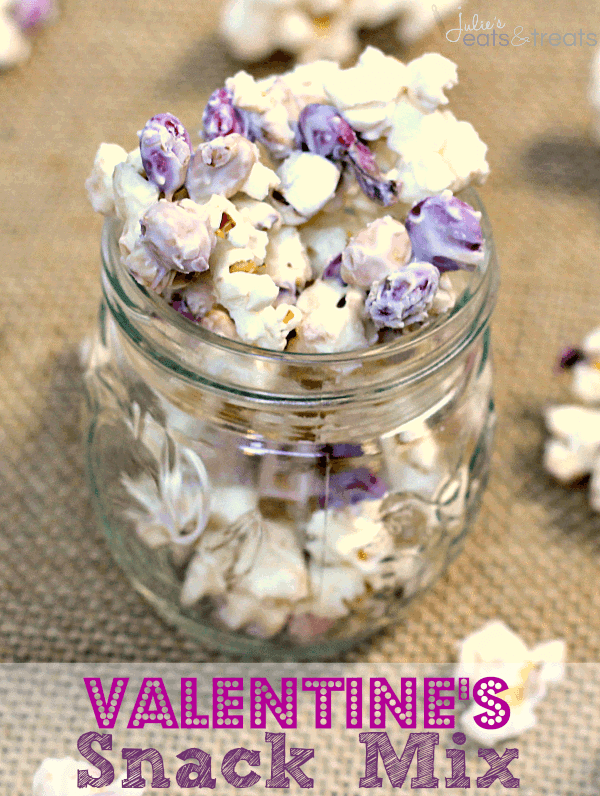 Valentine's Day Snack Mix ~ Popcorn, Peanuts and M&M's coated in White Almond Bark! An Easy Sweet Treat for Your Sweetie!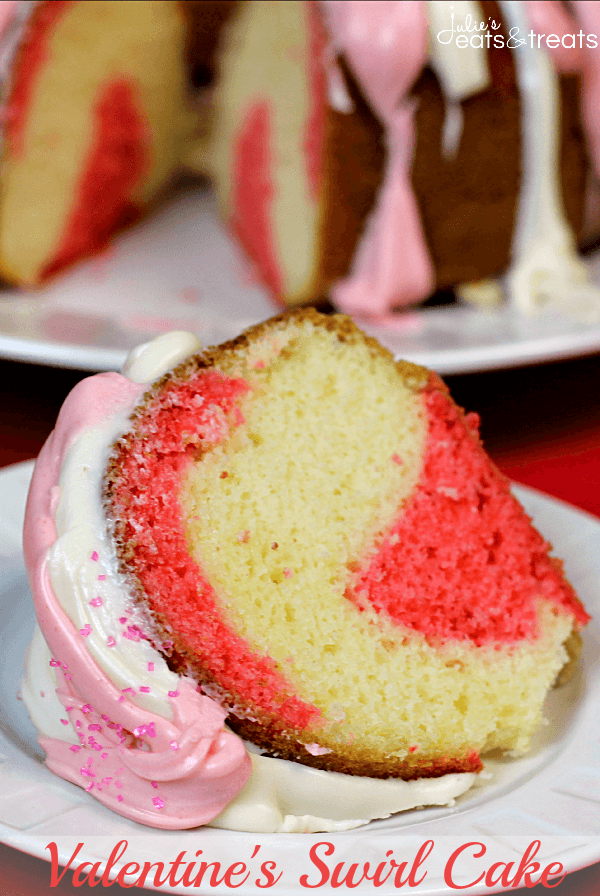 Valentine's Swirl Cake ~ Super easy box cake and frosting dressed up for a festive Valentine's Day treat!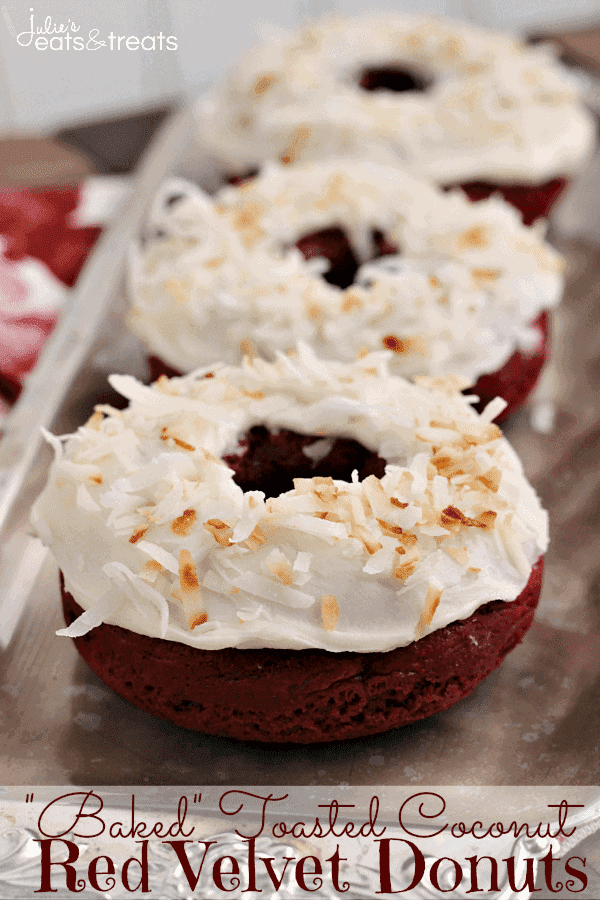 "Baked" Toasted Coconut Red Velvet Donuts ~ Easy donuts made with a Red Velvet Cake Mix and topped with Cream Cheese Frosting and Toasted Coconut!