Sun-dried Tomato and Artichoke Pita Pizza
Sun-dried Tomato and Artichoke Pita Pizza ~ The Perfect Light Lunch Packed with Flavor! Only Ten Minutes and these are ready to eat!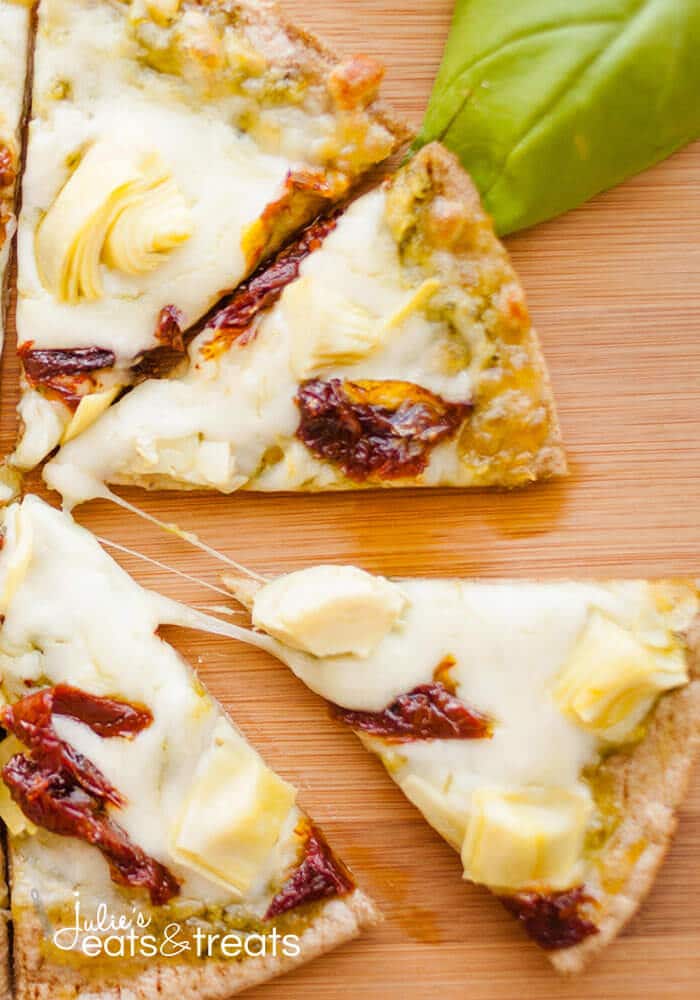 Do you ever make fancy food? Food that calls for things like roasted red peppers or gruyère cheese? Although I like to experiment with new recipes, I don't often make meals with uncommon ingredients for three reasons:
I have to go to the store and buy them.
Once I get to the store and see how expensive they are, I have to overcome my strong inclination to throw in the towel, forget the whole thing, and just make taco salad instead.
If I do actually purchase the "exotic" foods, I have to figure out something to do with the leftovers so I don't feel REALLY bad for spending so much money.
I found myself in this situation recently when I had the majority of a $5 tiny jar of sun-dried tomatoes left over, along with a slightly larger jar of artichoke hearts. Since my family (of picky, unadventurous eaters) would not touch either of these items with a ten-foot pole, I was quite desperate to find a use for them. I had to make something only I would enjoy. But it couldn't be a large batch of pasta, because then I'd be eating for a week. It couldn't be a large pizza for the same reason.
Then I thought of my all-time favorite lunch–pita pizza. You just get a pita, spread sauce on it (spaghetti sauce, Alfredo, pesto or even just cream cheese) and top it with whatever your heart desires. In my case, it was the perfect solution for my leftover sun-dried tomatoes and artichoke hearts. Click on the following links for fantastic homemade perfect pasta sauce and pesto.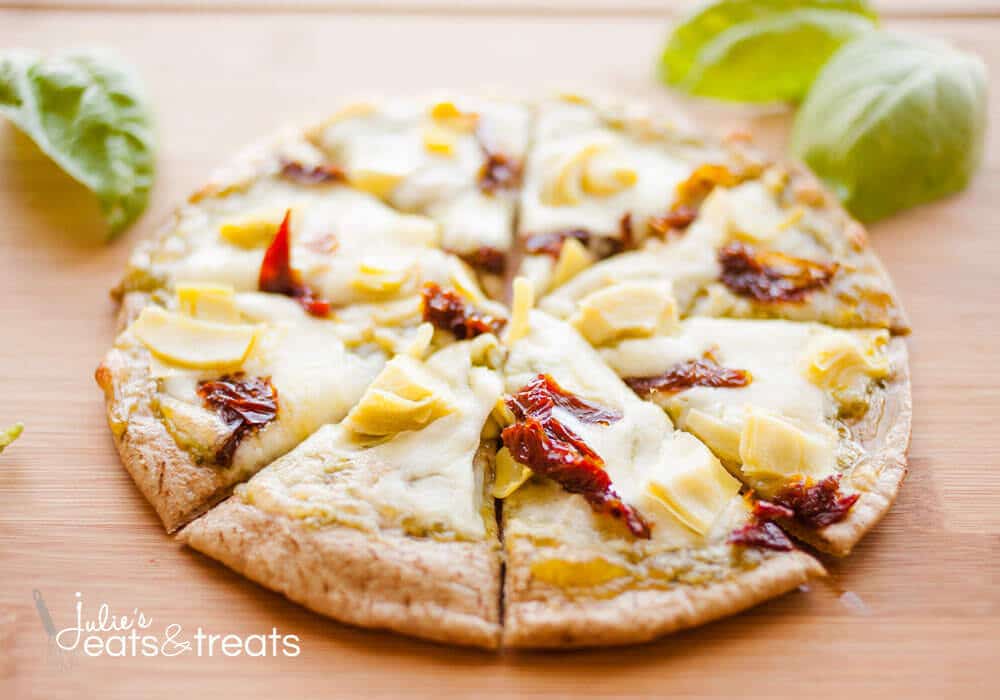 I try to be a little healthy sometimes, so I get the whole wheat pitas from my local Sprouts. Of course, you can use any kind of pita you like.
Don't open the pita. Just use it like a mini pizza crust. Then spread about 1-2 Tbsp. of your favorite sauce on top. For this pizza, I used pesto, because it's what I had on hand. And I also thought it would make the whole thing more sophisticated. Pesto elevates everything.
Then you just cut up the sun-dried tomatoes (as many as you like) and sprinkle them over the sauce. Chop up some artichoke hearts and drop them on top as well. To finish the whole thing off, add a generous amount of shredded mozzarella cheese.
Now it's time to bake. If you have a toaster oven, you are golden. It heats up so quickly and does a perfect job of cooking the pizza. If you don't have a toaster oven, don't despair! You can still use a regular oven. It will just take longer to heat up. But, if you have some friends over who aren't afraid of fancy food, then a regular oven is perfect because you can cook a bunch of pizzas all at once!
You know, this is such a great idea for a party. You could have a pizza bar with lots of toppings, and everyone can make their own pizza! I know this is not a new idea, but using pita bread for the crust makes everything so easy. I bet teenagers would even like to do this! Or, it could be a fun way to get your kids involved in making dinner. They would be happy to choose their own toppings, even if it's just cheese.
Once you pop these mini pizzas in the oven at 400 degrees, you just have to wait about 10 minutes, or until the cheese is nice and bubbly. Then you've got a perfect lunch, appetizer, or dinner, and everyone is happy!
Got leftover pita bread? Here's a great dip to enjoy Humus without Tahini!!!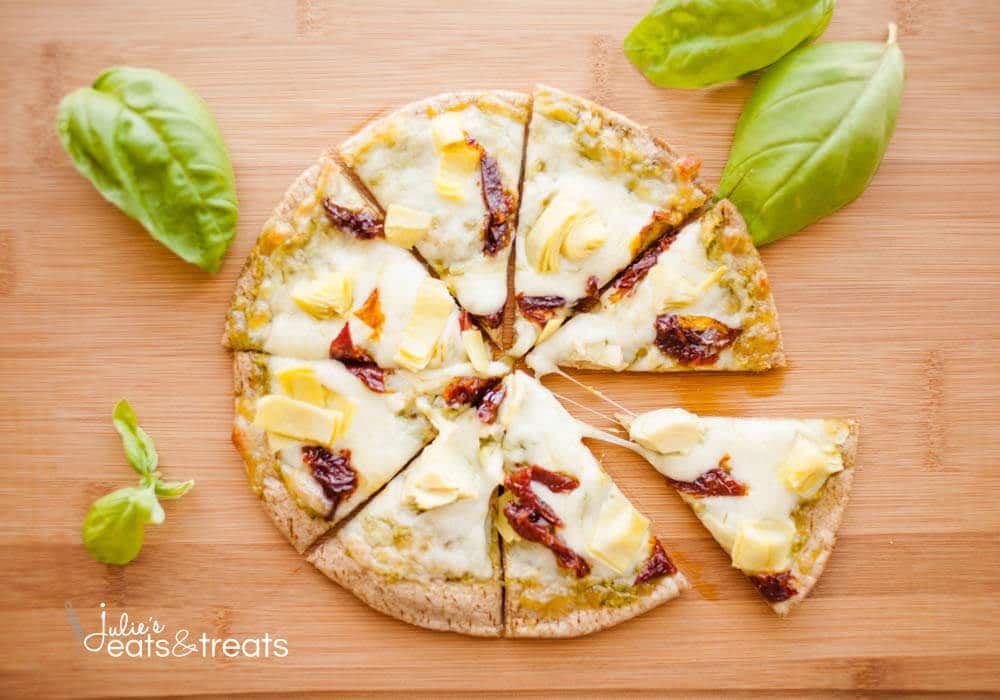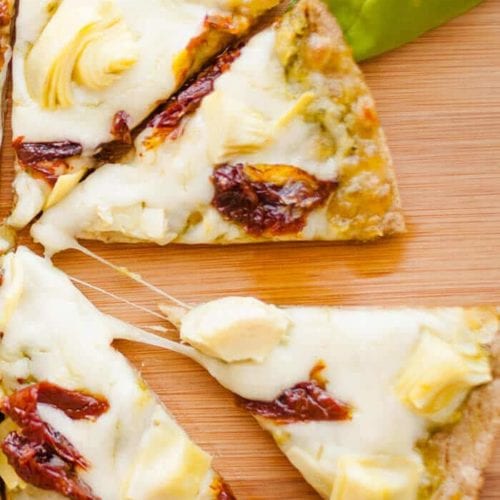 Sun-dried Tomato and Artichoke Pita Pizza
The Perfect Light Lunch Packed with Flavor! Only Ten Minutes and these are ready to eat!
Print
Pin
Rate
Ingredients
1

pita bread

any size

1-2

Tbsp.

pasta sauce

Alfredo sauce, pesto, or cream cheese

1-2

Tbsp.

chopped sun-dried tomatoes

1

artichoke heart

chopped

1/4

cup

shredded mozzarella cheese
Instructions
Preheat your oven or toaster oven to 400 degrees.

Spread the sauce of your choice on top of the pita bread.

Sprinkle with the sun-dried tomatoes and artichoke.

Top with mozzarella cheese.

Bake on a cookie sheet or directly on the rack for 8-10 minutes, until cheese is bubbly.
Nutrition
Calories:
326
kcal
|
Carbohydrates:
42
g
|
Protein:
14
g
|
Fat:
11
g
|
Saturated Fat:
4
g
|
Cholesterol:
22
mg
|
Sodium:
753
mg
|
Potassium:
622
mg
|
Fiber:
3
g
|
Sugar:
6
g
|
Vitamin A:
815
IU
|
Vitamin C:
15.8
mg
|
Calcium:
206
mg
|
Iron:
2.4
mg
LEAVE A COMMENT