Crockpot Swedish Meatballs
Crockpot Swedish Meatballs is a quick and easy dinner recipe that the entire family will love! It uses frozen meatballs to make it quick and easy. A quick gravy of cream of mushroom soup, beef broth and brown gravy mix gives it tons of flavor. Serve it over a bed of egg noodles and pair it with steamed vegetables or homemade roasted vegetables!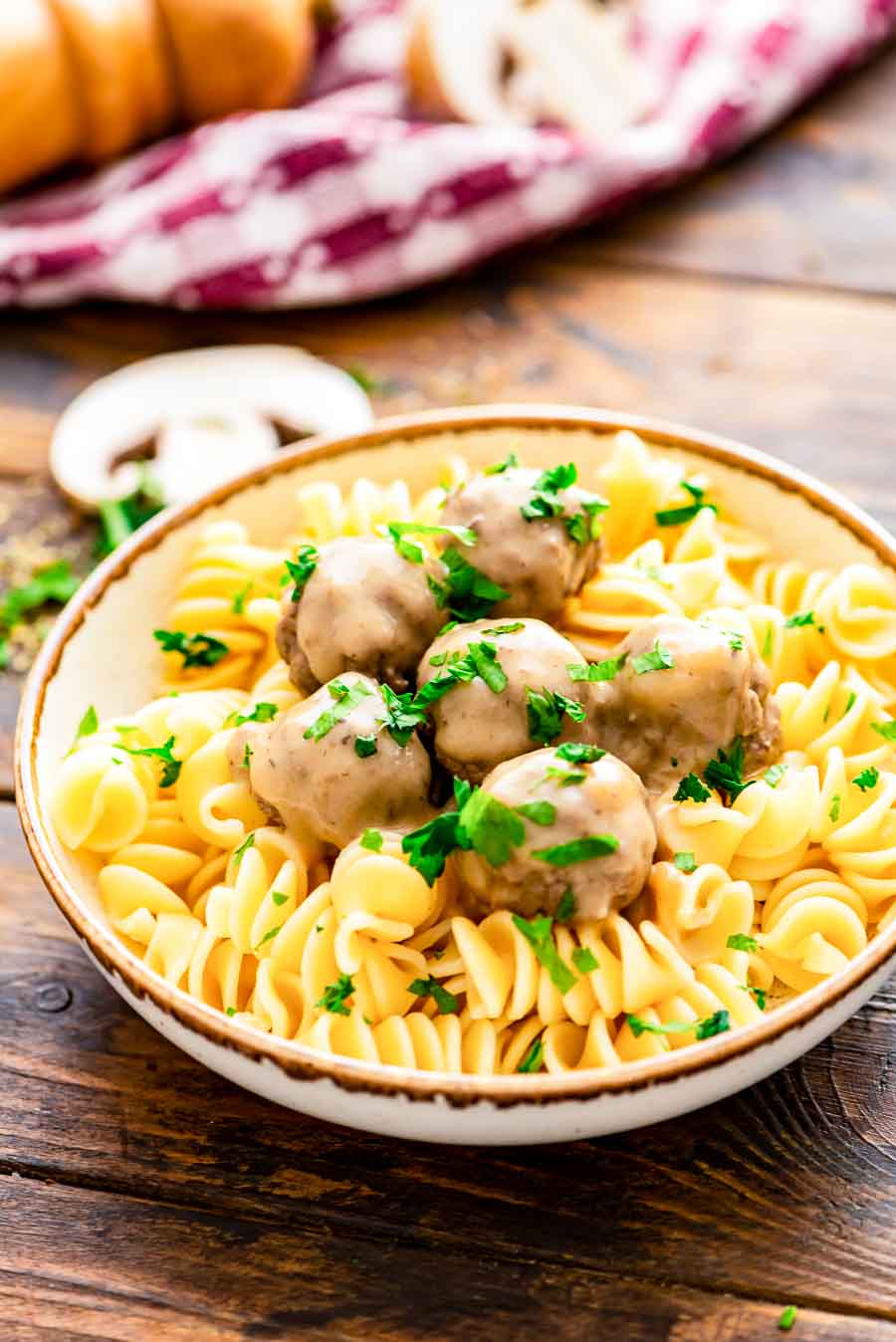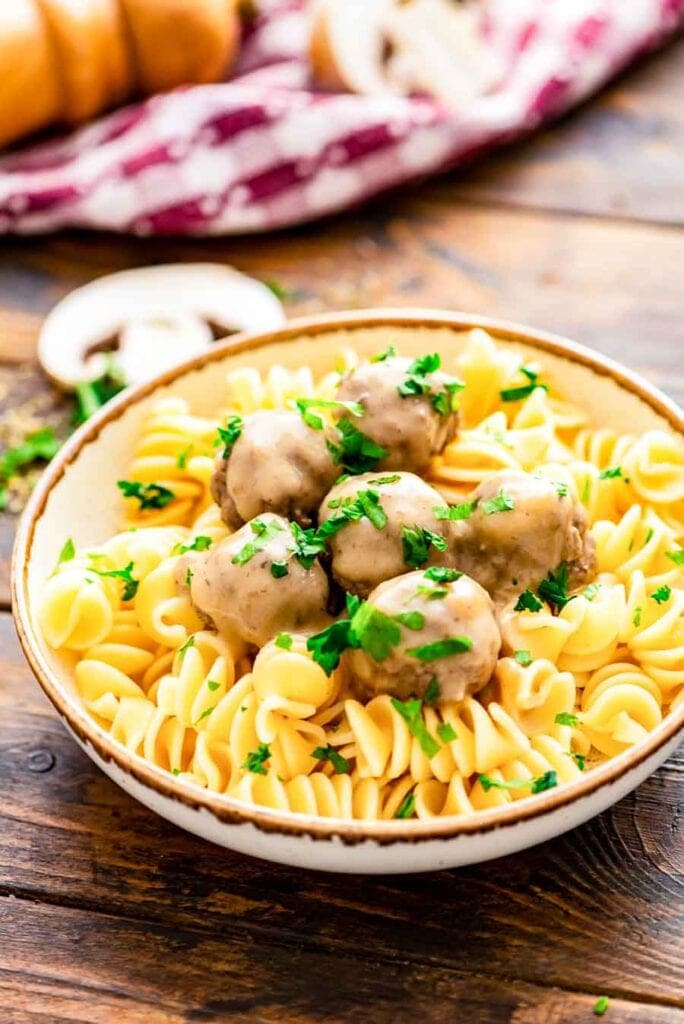 These Swedish Meatballs are so easy and so delicious! Just throw it all in the crock pot in the morning and you'll be greeted by the aroma of dinner being done when you walk in your front door!
Crock Pot Chili Mac, Crock Pot Cheesy Meatball Tortellini and these Crock Pot Swedish Meatballs have made a few appearances at our house since the weather has gotten colder. I've been loving my crock pot lately and my family loves a great comfort food dinner this time of year!
If you've never had Swedish Meatballs you're in for a treat – this recipe is so ridiculously easy but you wouldn't ever guess. By dinnertime, it's all ready to go – all you have to do is boil some noodles and top them with the tender meatballs and rich and savory sauce. Swedish Meatballs is a classic comfort food dinner you have to try!
Want to know the best part? You only need six ingredients and one of them is water so it doesn't even count! I always have the ingredients on hand and this easy dinner has saved me a few times!
I can't wait to show you this easy Crock Pot Swedish Meatballs recipe! I know you're going to love it!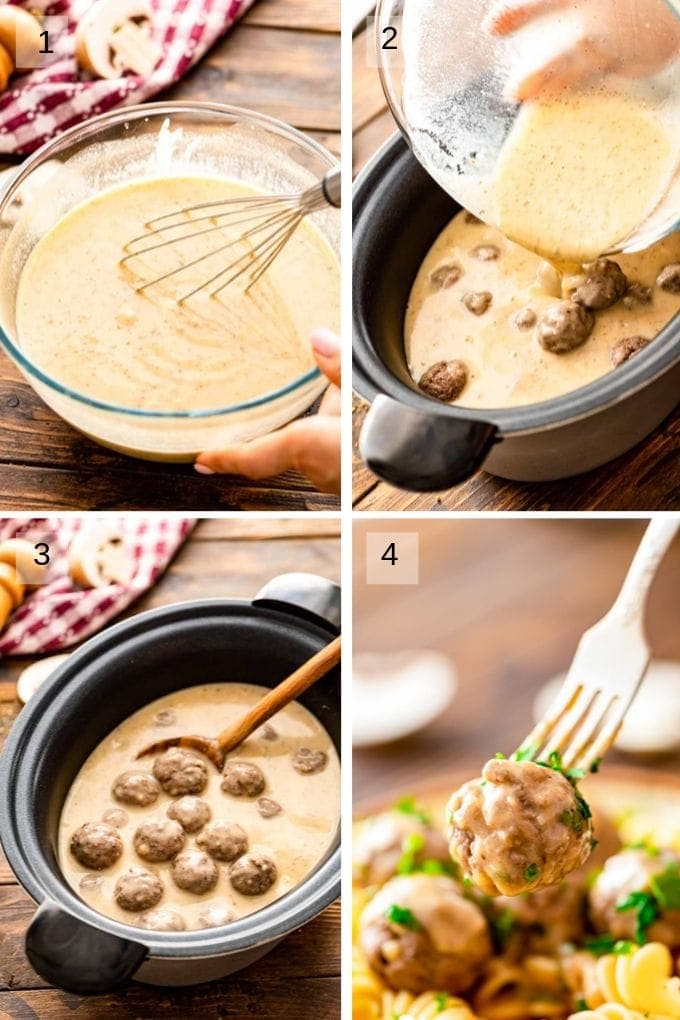 What ingredients do I need?
If you'd rather skip my (very helpful, I think) tips and tricks, essential cooking info, and similar recipe ideas – and get straight to this delicious casserole recipe – simply scroll to the bottom of the page where you can find the printable recipe card.
Frozen meatballs
Cream of mushroom soup
Golden mushroom soup
Beef broth
Brown gravy mix
Water
How to Make Crockpot Swedish Meatballs
Step by Step Photos above!
Combine Gravy Mixture – combine both of the soups, broth, gravy mix and water in a bowl. (Photo 1)
Cook in Slow Cooker – place the meatballs in the slow cooker. Pour the soup mixture over the top of the meatballs. Cook on low for six hours. (Photos 2 & 3)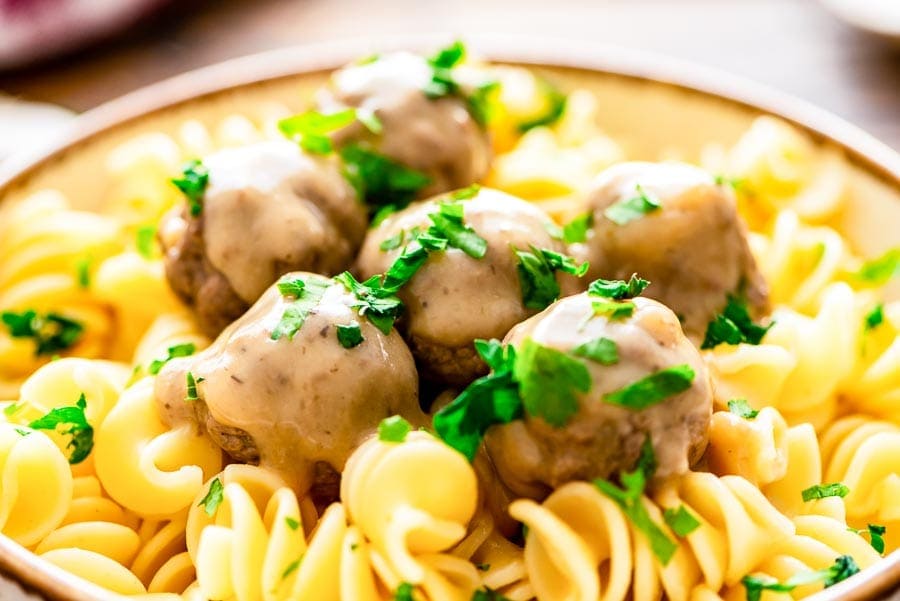 Should I brown meatballs before putting in slow cooker?
Frozen meatballs have already been cooked before they are frozen, so there's no reason to brown them before putting them in the slow cooker. If you make homemade meatballs it is a good idea to brown them first before placing them in the slow cooker or they tend to fall apart.
Why are Swedish meatballs called Swedish meatballs?
Swedish meatballs were long thought to have originated in Sweden, but turns out they might actually have been created in Turkey originally! It's not really the meatballs that set the dish apart from other types of meatballs, but the sauce. Swedish meatballs are served in a rich and creamy gravy instead of tomato sauce like Italian meatballs. So, the meatballs on their own are just meatballs – add the gravy and then you can call them Swedish Meatballs!
How are Swedish meatballs different from regular meatballs?
There's not much difference between Swedish meatballs and other types of meatballs although the seasonings may be different. Someone making Swedish meatballs from scratch may include spices like nutmeg and allspice and they don't have any cheese, unlike Italian meatballs. Like a lot of things, every Swedish Meatball recipe will vary! For these Crock Pot Swedish Meatballs I use frozen meatballs because I like to keep it really simple! What makes them "Swedish" to me is the sauce! It's rich and creamy and so delicious.
What is a good side dish with meatballs?
Crock Pot Swedish Meatballs is the kind of dinner that goes with all kinds of side dishes. Serve them with Easy Homemade Breadsticks to soak up all of that delicious sauce! Or, you can add some vegetables on the side like Roasted Cauliflowe. You could also switch out the noodles and serve the meatballs and sauce over Mashed Potatoes or rice to switch things up.
If you've been looking for a delicious and EASY crock pot recipe you have got to try these Swedish Meatballs! It's one of my family's favorite dinners and I think your family will love it, too!
More easy Crockpot dinner recipes!
Love the slow cooker as much as me for stress-free dinners? Here are a few more of our favorites you might love!
WATCH THE STEP BY STEP VIDEO FOR THIS CROCKPOT SWEDISH MEATBALLS RECIPE BELOW:
If you enjoy watching these videos make sure you subscribe to my YouTube Channel to be notified each time a post a new video!
I'd love it you would rate this recipe!! A five-star rating will make my day!
Don't forget to tag me on Instagram @julieseatsandtreats or #julieseatsandtreats that way I'm sure to see your pictures!!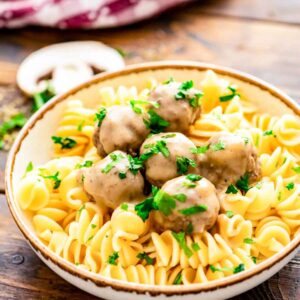 Crockpot Swedish Meatballs
Crock Pot Swedish Meatballs a quick and easy Swedish meatballs recipe for a busy weeknight!
Ingredients
2 1/2

lbs

frozen meatballs

10.75

oz

can cream of mushroom soup

10.75

oz

can golden mushroom soup

14

oz

can beef broth

.87

oz

envelope brown gravy mix

1/2

c.

water
Instructions
Whisk everything except meatballs together. Place Meatballs in Crock Pot. Pour mixture over meatballs.

Cook on low for 6 hours. Serve over egg noodles.
Notes
If you would like a thicker, creamier sauce add 1 c. sour cream at the end of cooking time and stir to combine.
Frozen meatballs have already been cooked before they are frozen, so there's no reason to brown them before putting them in the slow cooker. If you make homemade meatballs it is a good idea to brown them first before placing them in the slow cooker or they tend to fall apart.
Nutrition
Serving:
1
g
Calories:
577
kcal
Carbohydrates:
7
g
Protein:
37
g
Fat:
43
g
Saturated Fat:
16
g
Cholesterol:
141
mg
Sodium:
1256
mg
Potassium:
706
mg
Sugar:
1
g
Vitamin A:
15
IU
Vitamin C:
1.3
mg
Calcium:
34
mg
Iron:
2.5
mg